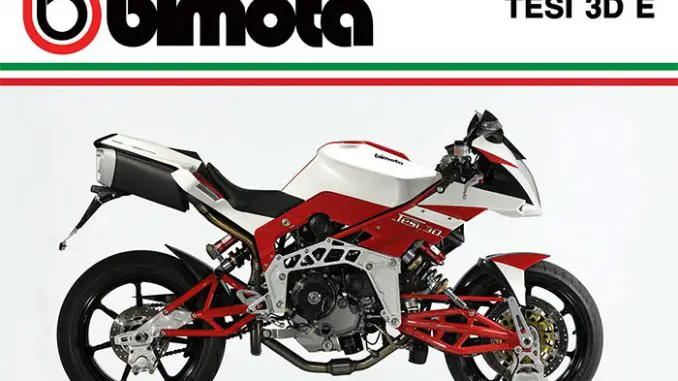 Click photos to enlarge. Our big, clean bike pics make great desktop wallpaper.
2013 Bimota Tesi 3D E Review

2013 Bimota Tesi 3D E
An outstanding experience

Bizarre, futuristic, but overall hard-hitting. The 2013 Tesi sums up an idea turned into an engineer's masterpiece.
From Pierluigi Marconi's project (named after his own graduation thesis) to the actual Tesi 3D, realised thanks to Andrea Acquaviva and Enrico Borghesan's work, the philosophy of the project is never changed.
The TESI is able to enhance the rider's confidence and cornering ability, letting him know since the very start a whole new potential of decent handling. No load transfer, faster entry speed and corners "like it's on rails" no matter the speed level.
It is a very accurate bike, that thanks to lack of load transfer allows a harder braking than any machine of previous generations.
Combining the virtues of a naked motorcycle with sport bike features, praised for its riding position and compactness.

2013 Bimota Tesi 3D E Features and Benefits
Look

The Tesi project third evolution is a really compact bike with an extreme design. The TESI 3DE is defined by its space age lines such as its two tubular swing arms, exquisite detail by Bimota.
Rear end design and function are a work of art, where the exhausts are placed under the seat giving the bike racing style.
Precious alloy plates machined from solid are left purposely on sight to enhance the view. This is the feather in Bimota's cap since most of the brand technologic history is summed up in this model.

Technology

TESI 3DE is a masterpiece of mechanical engineering.
A project that's seen the light in 1991 when the TESI 1D turned out, with the aim to improve load transfer on the front end while braking. A system based on a front mono shock activated by a mechanism that allows turning.
It comes with a load-bearing engine, the frame is finished with two Omega-shape lateral alloy plates that bond the front to the rear end.
The rear suspension uses a cantilever system and a traditional fully-adjustable mono shock. The brake system is designed by Bimota and both the 320mm and the radial piston assure a powerful braking.
Aluminium forged wheels are just another detail that guarantee lightness and quality of TESI 3D.
90° L twin cylinder engine 1078cc and a max power of 100hp. Its starting system is a project fully developed by Bimota aimed to ensure a perfect pulling power throughout the rev range.

---
2013 Bimota Tesi 3D E – Specifications/Technical Details
MSRP Price: See Dealer for Pricing

Model Bimota Tesi 3D E
Valves 2
Engine 90°L twin cylider, 4 strokes
Capacity 1078cc
Bore x stroke 98×71,5mm
Compression Ratio 10,7:1
Fuel system fuel injection
Starter electric
Max power 98 hp/7500 rpm
Max torque 10,5 kgm/5500 rpm
Transmission Chain
Frame avional lateral plates
Front suspension push-rod with preload,extension and compression adjustable monoshock
Rear suspension
push-rod with spring preload, extension and compression adjustable monoshock

Front brakes 2x320mm, 4 Brembo piston calipers
Rear brakes single 220mm, 2 Brembo piston calipers
Dry-weight 167 kg.
Fuel capacity 16 lt.
Top speed 228 km/h
Front tyre 120/70-17"
Rear tyre 180/55-17"
Overall lenght 2100mm
Overall width 720mm
Overall height 1120mm
Seat height 800mm
Wheelbase 1390mm



Bimota S.r.l. si riserva il diritto di modificare ogni caratteristica tecnica, di equipaggiamenti e colori senza preavviso. / Bimota S.r.l. reserves the right to make any kind of modifications to the technical charateristics, equipments and outfits without prior notice.