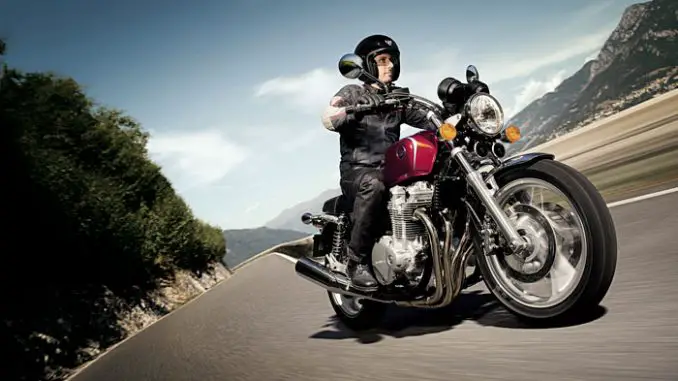 You are here: TMW — 2013 Motorcycle Models — Honda — 2013 Honda CB1100 Review
Click photos to enlarge. Our big, clean bike pics make great desktop wallpaper.
2013 Honda CB1100 Review

2013 Honda CB1100
Mixing naked and classic Honda style with thoroughly modern and engaging performance, the exquisitely built four-cylinder CB1100 has a presence, and personality, all of its own.
For many riders, a motorcycle with a timeless look retains its own special place in the sport—and that's what the CB1100 is all about. Better yet, with this bike it's not just about sleek lines and a purist approach: check out the powerful 1140cc air-cooled DOHC engine that harks back to so many classic high-performance Hondas. The twin-shock rear suspension and 18-inch wheels build on the classic bike theme while still delivering sporty performance, and the powerful, thoroughly modern triple-disc-brake setup offers the option of Combined ABS. There's also the dual-overhead cam layout and four valves per cylinder for superior engine breathing, Honda's sophisticated Programmed Fuel Injection for the latest in accurate fuel metering and consistent power production, plus more contemporary touches. All these modern highlights complement the CB1100's timeless style to create a fresh category of motorcycle that's just right for the times.
The Honda CB1100 mixes originality with a timeless sense of design, and substantial character. It represents a finely balanced blend of performance, with broad capacity, ability and adaptability.
Unmistakably Honda, the CB1100's clean lines elegantly echo the past. The large round headlight, scalloped fuel tank (proudly detailed with the Honda Wing) and silver painted sidepanels add style and substance, while familiar analog dials, slim seat, side-swept 4-2-1 exhaust pipe and chromed front and rear mudguards provide the finishing touches, gently stirring memories of how motorcycles used to look and, as importantly, feel.
Perhaps it's what you don't see that matters more with the CB1100; this is the motorcycle at its most elemental. A steel double cradle frame houses the engine, with 41mm conventional telescopic forks and twin rear shocks providing compliant and finely tuned suspension. The CB1100's riding position is upright and relaxed, a perfect platform from which to watch the world slide by.
From the outset of the project, the CB1100's development engineers decided to use the word 'design' rather than 'styling' for their new bike. Utilising the characteristics of many materials – metal, plastic, leather and rubber – they created individual parts that are both beautiful and functional, and bought them together to stunning effect.

Honda, as a company, looks to the future; yet always with one eye on, and great respect, for the past. To that end, the Honda CB1100 mixes originality with a timeless sense of design, and substantial character. It represents a finely balanced blend of performance, with broad capacity, ability and adaptability.
But it also has something else, almost an intangible – a small part of the soul of a true original: the Honda CB750 Four.
The CB750 Four has cast a long and influential shadow over motorcycling since its debut in 1969. Soichiro Honda, ever the engineer, leading an engineering company, wanted to prove that there was more to the two-wheeled formula than small and medium capacity twin-cylinder motorcycles, and did just that with the ground-breaking 749cc, 67bhp air-cooled, SOHC four-cylinder four-stroke power unit.
A competent chassis – with another first, a single disc brake up front – provided handling and stopping power to match the engine, and the CB750 Four was an instant success. The mass-production superbike had been born, the blueprint drawn for the future.
Motorcycling has changed a great deal over the last 5 decades since the very first CB – the Benly CB92 – was introduced. Motorcyclists themselves have changed too: while many still aspire to the ultimate performance available, just as many today perhaps have other reasons to own a motorcycle.
Some are looking back, at the bike they wanted when they were young but simply couldn't afford. Others want something that performs like a new machine, but with a certain, classic look that lends retro-heritage to a contemporary lifestyle.
And some riders just want an exquisitely engineered motorcycle that blends real-world usability with an honest sense of history. The common factor is fun.

Honda believes motorcycles are very personal things, much more than mere transport. And none more so than the CB1100, as the following insight from the man that created it, shows.
Bike of the New Century.
Back in 1969, Honda's legendary CB750K0 changed the world of motorcycling forever. Powerful, technologically advanced, flawlessly built, it instantly redefined what a motorcycle could be.
And you can say the same about the new CB1100. Same engine architecture, except now it displaces a full 1140cc and offers fuel injection, and much more. Same, timeless style, but updated with contemporary accents. It's a bike a whole new generation of riders is going to appreciate.

Transverse-Four Engine

Smooth, powerful, compact, and free-revving, Honda's inline fours set the standard in the class. The new CB1100's engine displaces 1140cc and features air cooling for a timeless look—why hide it under a fairing?

Steel Chassis

There's something about a good, twin-loop full-cradle steel chassis in basic black that not only looks great, but offers plenty of modern chassis geometry too. You'll find the new CB1100 handles as well as it looks.

Brake Time

The CB1100 features front and rear disc brakes, and the thoroughly modern option of Honda's Combined Anti-lock Brake System. That makes for powerful, sure stops. Because you never know what the open road is going to throw at you.
Mr Mitsuyoshi Kohama, Chief Designer, CB1100
When Mitsuyoshi Kohama was designated Chief Designer of what would eventually become the new Honda CB1100, he set out to create a motorcycle in a very different way than most of us could imagine. For starters, this bike didn't fit into any existing category. This was not to be a new generation of supersport bike or a more comfortable touring machine or a way-out cruiser. Instead, this would be something very different.
This was to be a thoroughly modern motorcycle, yet one that paid homage to the history of Honda. This would be a touchstone motorcycle that resonated with Honda's landmark CB750 Four, a two-wheeled icon, while also providing the performance, reliability and quality of contemporary Honda motorcycles. This would be a modern reincarnation of a timeless form, a purist's kind of motorcycle, if you will. And to please the eye of the discerning purist, this motorcycle had to be a thing of beauty and grace.
How to bridge the many, broad gaps in time, space and functional differences between past and future designs? Let's examine some of the ideas Kohama worked through along the way: "Instant acceleration has its appeal, as does modern styling that conveys the swiftness of the bike. But there's a lot more to the path of motorcycle evolution. I found myself thinking along these lines for the first time when I returned to Japan, after several years in Europe. It was also at this time that I grabbed a pencil and quickly started sketching.
"Tires. Engine. Frame. Tank. Seat. I thought about how to craft all the necessary elements beautifully and combine them in a perfect whole. A simple and efficient double-cradle frame embraces the air-cooled inline-four engine that secured Honda's status as the four-cylinder pioneer and the creator of the CB750 Four. Building on this proud tradition, the approach to the new bike strives for beauty, craftsmanship, ease. In other words, I wanted to create a beautiful motorcycle with artisan-level handiwork that's also approachable and easy to ride. Based on my sketch, this 'bike that defies logic and just demands to be ridden' became a reality."
Even as you begin to see things through the eyes of the designer, you're likely still wondering why Kohama chose to give the CB1100 an air-cooled engine—a very natural question that he explains in very simple terms: "My only reason is that a lot of customers like air-cooled engines. I like the metallic sound the engine makes as it cools. Just looking at the cooling fins inspires me. There is something about an air-cooled engine—a feeling you simply can't get from the liquid-cooled engine in a high-performance bike. To me, as a bike rider and a bike fan, a future without air-cooled engines just didn't seem right. And I was certain I wasn't the only one who felt this way!"
That choice of an air-cooled design notwithstanding, the CB1100 engine incorporates many up-to-date engineering features. Dual overhead camshafts with a central chain drive and a narrow included valve angle of 26.5 degrees for an open combustion chamber that promotes good flame propagation for a clean and efficient burn. Four valves per cylinder; 27mm intakes and 24mm exhausts, with light and narrow 2.5mm valve stems. Honda's modern PGM-FI fuel injection system for superior fuel metering under widely varying conditions. Moreover, with bore and stroke dimensions of 73.5mm by 67.2mm, the engine displaces a full 1140cc for loads of smooth, instantly accessible power that translates to effortless, big-time pull. Journalists who have sampled a brief, early ride rave about how fun and accommodating the CB1100 is to ride. Yet achieving a just-right look as well required uncounted hours of design time.
As an example, the cooling fins that cover the surface of the CB1100's engine not only had to play a functional role in aiding engine cooling, they also had to look just right. Kohama explains, "Fulfilling the requirements of beauty and function resulted in cooling fins that were just 2mm thick—the thinnest of any model in the Honda lineup. Commercially producing such fins is difficult, and at first the factory told us it was impossible. But we developed a new production process to make the fins possible, and they became a part of the bike of which we are extremely proud. Beauty is a subjective thing that can't be expressed in numbers or explained with logic. While valuing the way that air passed over the fins so that they could perform their crucial function of carrying heat away from the engine, we also greatly valued—as fans of bikes and guys who love machinery—the excitement that the appearance of the fins could produce, and we shaped them with appropriate care."
That kind of extreme attention to detail in pursuit of beauty can be found in almost every visible element on the CB1100, as Kohama explained: "In taking on the design of the CB1100, the team and I agreed that our mission was design—not styling. These words tend to get confused with one another, but at base they mean two totally different things. 'Styling' refers to establishing the look the vehicle needs to have, adding motifs, and otherwise enhancing its appearance. On the other hand, the elements of 'design' are mostly to be found in the actual drawings of the machine, serving as the true origins of the form of the vehicle.
"Unlike an automobile, a motorcycle is not covered with a body, so there is no clear division between exterior and interior. Rather, the visible mechanical parts serve as the exterior decoration. For these reasons, we needed to keep our focus on the pure design elements, making each mechanical part as beautiful in form as possible. To create parts that were both beautiful and functional, we utilized the characteristics of many different materials, including metal, plastic, leather and rubber. This approach is what design is all about and lets designers show what they can really do."
Fuel tank. Taillight. Camshaft location and spacing. Footpeg brackets. Part after part, detail upon detail, all carefully shaped as an individual part, and then integrated into a whole to create a beautiful silhouette. "Had the objective been horsepower, there would have been no problem whatsoever," Kohama said. "In striving to bring true joy to CB1100 customers, there were things more important to us than horsepower. So freed from the necessity of maximizing power output, the designers came together and created an air-cooled engine offering not a superficial, decorative appearance, but instead true beauty based on the essence of the molded form. I believe that this was a huge accomplishment.
"Honda motorcycle designers will continue the search for new possibilities in performance and design. At the same time, by building our bikes on Honda's motorcycle origins and polishing them to perfection, we'll seek to offer true joy to bike fans and riders everywhere."
Impact
The CB1100 isn't a tribute to the iconic CB750K0. It's a tribute to a moment in time, when the motorcycle landscape was forever changed. In the timeline of motorcycle evolution, there were two periods: Before the CB750K0, and after. The moment the CB750K0 was introduced at the Tokyo Motor Show in 1968, it was the end of an era and the beginning of high-performance motorcycling.
Considering the sophistication of Honda's GP machines in the 1950s and 1960s—screaming four, five, even six-cylinder racing machines that dominated GP racing—the CB750K0 represented applied technology more than innovative breakthroughs. Honda's genius with the CB750K0 was the ability to produce a four-cylinder SOHC machine of reasonable weight and sophistication that was reliable and still serviceable by owners and Honda's growing network of dealer service shops in the U.S. A 450 was a big motorcycle back then, and the CB750 packed another 300cc of power. A civilized, 120-mph motorcycle with a power-to-weight ratio never before available to the public was a technological tour-de-force, and it ushered in an era of high-performance motorcycling that we enjoy to this very day. There just wasn't anything as spectacular at the 750K0.
But the CB750 did much more than alter the future of motorcycle design. Its global success had a major impact on the Honda Motor Company. Honda made huge investments in R&D with the profits generated by the CB750, and this helped fuel the meteoric growth of the company into the early 1970s. A direct result of this R&D investment was the CVCC (Compound Vortex Combustion Controlled) auto engine. The 1973 oil crisis was in full bloom and consumer demand for fuel efficiency was at an all-time high. In the fall of 1974, Honda introduced the highly fuel-efficient CVCC engine to the Civic line, and within six months Civic sales doubled from 43,000 units to 103,000 units. So began a meteoric rise of Honda auto sales that paralleled the steep motorcycle sales curve, and quickly made Honda a global force to be reckoned with. Without the success of the CB750, Honda's massive investment in the CVCC engine might not have been possible.
For those fortunate enough to experience the CB750K0 or any of those early Honda 750 fours, the CB1100 brings back memories of the biggest game-changing motorcycle the world has ever seen, a machine that not only reset the definition of high-performance motorcycling, but one that also helped propel Honda to a new level of global success on both two and four wheels.
For those who cherish Honda's iconic air-cooled inline fours, the CB1100 whispers: "Come back to me. It'll be just as much fun as it was before."
CB Inline Four Racing Legacy
Perhaps because the CB750K0 Four was the product of Honda's all-out GP racing designs of the 1950s and 1960s it was inevitable that the bike as well as other street-going Honda inline fours to follow were drawn back to the racetrack—with great success that helped to further define the company.
Mann and Honda win Daytona, usher in a new era
For 1970, the long-antiquated rules regulating road racing in the USA were finally rewritten to create a more level playing field; now the displacement limit was raised to 750cc for all race bikes regardless of valve location or number of cylinders. That move signaled Honda's return to road racing, as four race-kitted CB750s were prepared for the 1970 Daytona 200.
Joined by Irishmen Ralph Bryans and Tommy Robb, and UK Honda dealer Bill Smith, American Dick Mann led this new team, qualifying fourth fastest at 152.671 mph. At the green flag, Mann blasted away to a tremendous holeshot to lead the race. He was later passed by Mike Hailwood and Gary Nixon, but both dropped out with mechanical failures and Mann not only regained the lead, he also built up a comfortable cushion. This edge came in handy as he then played a strategy game towards the final laps to ease up on a flagging engine. The ploy worked; Mann won the 1970 Daytona 200 with seconds to spare, earning Honda its first win in AMA competition.
The era of Superbikes
Superbike racing is a uniquely American invention, and the class didn't come to be until many years after Honda's shocking Daytona win in 1970. A decade after that epic win, Honda's created its first Superbike, and it was the quintessential handmade American hot-rod. The second-generation, dual-camshaft CB750F served as the starting point for these efforts. Again, this was a showroom-stock machine pressed into service far above and beyond the call of street duty. Pulled, pushed and stretched into a fire-breathing 1023cc racer, this sometimes surly but always fast beast of a bike would be piloted by a very young but very fast Freddie Spencer.
Spencer's bike was transformed from a 65-horsepower CB750F to a 130-horsepower Superbike in the workshop of Team Honda masterminds in the USA. The American Honda crew created everything from intake and exhaust valves to crankshafts in the process of doubling the standard CB750F's power output. Frames were gusseted. Steering geometry was optimized for 150-plus-mph speeds at fast tracks such as Daytona and Talladega. Hand-machined triple-clamps held stout, heavily modified Gold Wing forks. Swingarms took on the look of suspension bridges. Clearly, going fast on a 1980 Superbike took more bravado than finesse; ridden hard, Spencer's Superbike developed evil habits.
"That old Superbike was a great first effort," recalls Spencer. "But it was a handful. With lots of horsepower and sticky slick tires, chassis rigidity was a problem. And it had a light-switch powerband. All the energy would wind up in the frame, and, boy, that thing would really start moving. Once the power would hit, it would wind up the chassis and I had to leave a few extra feet at the exit of the turns to let it react. You had to gauge how much it was going to slide and flex and eat up race track. This happened in every turn. But it taught me how to ride. Once I got on a GP bike, well, that was easy. I didn't have to deal with all the chassis reactions."
Despite the fact he had never seen the bike before Daytona in 1980, the young Spencer's genius was already evident as he kept the big Honda in contention throughout that year's 100-mile Superbike race, eventually finishing a close second to New Zealander Graeme Crosby. Spencer went on to win three races in 1980, bringing the Honda home first at Elkhart Lake, Loudon and Laguna Seca. In 1981, Spencer won the year-end Daytona National, along with Talladega and Pocono. A steepening learning curve, the most impressive team in the paddock and steady improvements to the motorcycle put Freddie second in the 1981 Superbike points chase-—10 points adrift of another fast kid named Eddie Lawson. Freddie's teammate Mike Spencer ended the season fourth after two second-place finishes.
Go big: Stepping up to the CB900F
The new air-cooled inline-four CB900F replaced the venerable CB750F as the basis for Team Honda's 1982 Superbike program, powering an increasingly dominant Spencer to a season-opening Daytona Superbike win. (Following this historic victory, Spencer left for Europe to enter the Grand Prix wars.) Team Honda achieved this win by creating a new short-stroke engine with a CB750 crankshaft for use on long, fast tracks where the bike could use its full 145-horsepower, 12,000-rpm potential. Honda had never been more serious about Superbike racing, and it showed. Mike Baldwin romped to three race wins and came in second in the points standings, followed by teammate Steve Wise in fifth.
With that, the era of Honda's air-cooled inline-four American road racing program came to a close. New racing regulations for 1983 meant the 1025cc behemoths would be replaced by smaller 750cc machines required to bear a much closer mechanical resemblance to their showroom siblings. Yet in the hearts of many, nothing would ever take the place of those glorious air-cooled fours.
Game Changers
Subhead: Honda's introduction of air-cooled inline four-cylinder engines forever changed the world of motorcycles
Spawned from the famous factory Honda multi-cylinder road racing championship efforts of the 1960s, the 1969 CB750K0 Four forever changed the shape and face of the motorcycling world. The authoritative journal of the day, Cycle magazine, simply called it the Four—because it was the first and only four-cylinder production motorcycle then available to the buying public.
And what a machine it was: in the first-ever head-to-head superbike comparison test Cycle conducted between the seven "all-out road burners" then available, the CB750 Four stood tall above the competition. By posting the fastest lap time, shortest stopping distance and securing a coveted place among the few bikes capable of posting 12-second quarter-mile times, the Four proved to be a most impressive machine indeed.
And that was only the beginning. Following quickly in the tire prints of that first CB750 came a proliferation of air-cooled four-cylinder machines that covered the two-wheeled landscape from sport bikes to cruisers. This was no exercise in cookie-cutter proliferation; technical innovations abounded throughout this lineup, as functional advancements as well as styling treatments evolved at a rapid pace. Inevitably, other companies would follow with their own four-cylinder motorcycles. But it was Honda that led the way.
Within the space allotted here, we present a lucky 13 of these landmark machines—not the full encyclopedia of the trend-setting Fours from Honda, but a wide-ranging assortment of key machines that brings back many happy memories and still makes the pulse race after all these years.
Honda CB History
1969 CB750K0 Four
In the beginning, it was this first-ever mass-production four-cylinder that set the yardstick for what a true Superbike should be. The 1969 CB750K0 literally set the standards for ultimate motorcycling performance for years to come.
1971 CB500 500 Four
For the many riders who found the full-on 750 to be more than they really needed, the CB500 Four provided all the sophistication of a four-cylinder machine in a package that was significantly more rider-friendly, yet eminently capable.
1972 CB350F Four
This jewel-like rendition of the four-cylinder Honda SOHC engine design established a new standard for smooth running when the standard engine configuration of the time centered on parallel twins in this displacement class.
1975 CB400F Super Sport 400 Four
The displacement of the smallest Honda Four grew from 347cc to 408cc, but the classic lines of this motorcycle along with the elegantly styled four-into-one exhaust elevated this little bike to cult status.
1976 CB750A Hondamatic
Honda, as always, was well ahead of the times when in 1976 it introduced the CB750A Hondamatic, which featured an innovative two-speed automatic transmission coupled to a fluid torque converter.
1979 CB650
In 1979, Honda's middleweight SOHC Four grows to 627cc; note the Comstar aluminum wheels and the sleek four-into-two exhaust.
1979 CB750F Super Sport
An all-new bike with 749cc DOHC four-valve engine and new chassis, the hot-rod 1979 750 Super Sport establishes ever-higher performance standards for the class.
1980 CB900C 900 Custom
This four-cylinder cruiser from 1980 could really rip: equipped with a five-speed gearbox plus a dual-range sub-transmission for its 902cc four-valve engine, this 10-speed bike was ready for show or go simply by selecting the high range or low range, with the flip of a switch.
1981 CB900F 900 Super Sport
In stock trim with its 902cc, four-valve engine, the CB900F was a true street-going Super Sport. In the hands of the Honda road race team, this bike morphed into a fire-breathing track-going Superbike that a young Freddie Spencer piloted to notable success.
1983 CB1100F Super Sport
With a displacement of 1062cc, the rip-snorting CB1100F represented the apex of the evolution of air-cooled Honda inline four-cylinder street bikes back in 1983.
1983 CB650SC Nighthawk 650
A new DOHC 655cc four-valve engine with hydraulic valve adjusters and a six-speed gearbox made the sporty 650 Nighthawk something of a sleeper; its superlative performance surprised many big-bike riders who dismissed it as being "only" a 650.
1984 CB700SC Nighthawk S
This unabashed hot-rod rendition of the Honda inline Four series featured a highly tuned 696cc engine with hydraulic valve adjusters, responsive shaft drive and a snorty exhaust note that never failed to bring smiles to the rider's face.
1991 CB750 Nighthawk 750
This spirited and versatile middleweight performer carried the flag for the air-cooled four-valve inline four-cylinder lineup well into the new millennium for Honda.

"It just had to be an air-cooled engine…"

Instant acceleration has its appeal, as does modern styling that conveys the swiftness of the bike. But there's a lot more to the path of motorcycle evolution. I found myself thinking along these lines for the first time when I returned to Japan, after several years in Europe. It was also at this time that I grabbed a pencil and quickly started sketching.

Tyres. Engine. Frame. Tank. Seat. I thought about how to craft all the necessary elements beautifully and combine them in a perfect whole. I wanted to create a beautiful motorcycle with artisan-level handiwork that's also approachable and easy to ride.

"Why are you giving that new engine air-cooling when you know its performance won't be as good? You had better have a pretty convincing explanation!"

That's the kind of thing people said when we began the development process. And I could understand that thinking. Going with an air-cooled engine was bound to seem 'retro' to people at Honda, which had long favored liquid-cooled systems in the pursuit of maximum performance.

When asked to explain my choice, I could only say: "My only reason is that a lot of customers like air-cooled engines." I like the metallic sound the engine makes as it cools… A motorcycle's engine should have oil in it, not water… Just looking at the cooling fins inspires me…
There is something about an air-cooled engine – a feeling you simply can't get from the liquid-cooled engine in a high-performance bike. To me, a bike rider and a bike fan, a future without air-cooled engines just didn't seem right. And I was certain I wasn't the only one who felt this way!
Based on my sketch, this 'bike that defies logic and just demands to be ridden' became a reality. We displayed the CB Four concept model at the Tokyo Motor Show in 1999, and I was extremely thankful for the enthusiastic response it received there. In 2007, aiming to create a bike that fulfilled fans' vision even more fully, we displayed a new concept model at the Tokyo Motor Show, the CB1100F. Eventually, this concept model became the production model known as the CB1100.

2013 Honda CB1100 Key Features
The CB1100: an exquisitely engineered mix of classic and naked styling that offers thoroughly modern and engaging performance with a timeless design. The CB1100 is powered by an air-cooled, in-line four cylinder engine and now makes its long-awaited European debut after quickly gaining a loyal fan base in both Japan and Australia.
The CB1100A's classic double-cradle frame grips the engine with four solid and two rubber mounts, which combined with the internal engine balance shaft ensures that harsh vibration will never spoil your ride..
Triple-piston Nissin calipers up front and Honda's Combined Braking System with ABS help to bring you to a stop quickly and safely..

The CB1100A's large round headlight, analog instruments, slim seat, chrome front and rear fenders, and other classic elements stir memories of superbikes of the past.
– Timeless styling and ergonomics for a relaxed, open seating position and excellent versatility for all kinds of street-riding environments.

– Classic fuel tank shape, handlebar bend, instrument pods, taillight configuration and more are evocative of early Honda four-cylinder bikes that helped establish trends in motorcycle styling.

– Blacked-out engine, black-spoked wheels with brushed edges, and highly polished cases give the CB1100 a unique look.

– Available in Candy Red.

– Transferable one-year, unlimited-mileage limited warranty; extended coverage available with a Honda Protection Plan.
Engine
– All-new 1140cc air-cooled DOHC engine generates impressive amounts of midrange power plus a smooth, sophisticated feel for a rewarding riding experience.
– Programmed Fuel Injection (PGM-FI) continuously monitors numerous variables to ensure the correct fuel mixture is delivered for the existing riding and atmospheric conditions. Net result: remarkably crisp throttle response over a wide variety of riding conditions.

Chassis
– Stout 41mm fork is adjustable for spring preload.

– Classic dual-shock rear suspension system features spring preload adjustability.

– Dual front 296mm disc brakes with powerful four-piston calipers plus a rear 256mm disc brake provide strong stopping power.

– Combined ABS version available for braking confidence in less than ideal conditions.

– Sweeping four-into-one exhaust system is both aesthetically pleasing and remarkably functional.

– Low seat height of 31.3 inches makes the CB1100 especially rider friendly.

– Lightweight and efficient chain final-drive is in keeping with the classic styling theme.
The CB1100 will be available in three different colours:
– Pearl Milky White/Eternal Silver sidepanels

– Glory Red/Eternal Silver sidepanels

– Graphite Black/Graphite Black sidepanels.
Accessories
– Heated Grips
– Heated Grips Attachment
– Rear Carrier
– Carbon Fiber Tank Pad
– Chrome Meter Cover
– Chrome Headlight Case
– Gold-Color Front Fork Adjustment Bolt



2013 Honda CB1100 Features and Benefits

Classic Instrumentation
Chrome-rimmed speedometer and tachometer both analog and easy-to-read. What could be better than that? The new CB1100 also offers a digital clock, odometer and illuminated engine diagnostic indicators.
41mm Front Fork
A traditional design, the 41mm fork features spring preload adjustability and is plenty strong for sporty rides and, along with the wide bar, gives the CB1100 a light feel around town.
Disc Brakes
Nothing retro here: The CB1100's huge twin front discs and single rear disc are drilled for lighter weight and less heat retention, and offer smooth, predictable, powerful stopping capability.
Four-Into-One Exhaust
The CB1100's four-into-one pipe gives this bike a crisp sound, and the chrome finish is a great highlight, too.
Polished Aluminum Engine Covers
The polished aluminum accents on the CB1100 are more expensive, but are an example of the quality, design, and detail that make the CB1100 a uniquely premium motorcycle.
1142cc Air-Cooled Engine
With an engine this size, you get power everywhere—enough to go on a spirited street ride, an hour-long cruise, or carry a passenger with ease.
PGM-FI Fuel Injection
Improved cold-weather startups, no-drama high-altitude riding and no choke are just three benefits of fuel injection.
Comfortable Riding Position
One of the reasons so many riders like Honda's classic fours was because they were comfortable. Same for the new CB1100. Ride it for ten minutes or two hours and you'll see that it's one of the easiest-to-live-with machines in any class.
Aluminum Swingarm
Combined with the CB1100's steel-tube full-cradle twin-loop frame, the stout aluminum swingarm is part of the CB1100's excellent handling package.
Twin-Shock Rear Suspension
Easy to adjust and equipped. Featuring preload adjustability, the CB1100's rear suspension proves that the traditional design, done right, can still provide excellent handling characteristics.
Cast Wheels
Light and easy to keep clean, the CB1100 wheels contribute to the bike's performance and handling, while acknowledging the timeless look of Honda's classic machines.
Available Combined Anti-Lock Braking (C-ABS)

---
2013 Honda CB1100 – USA Specifications/Technical Details
US MSRP Price: $9,999 USD
ENGINE
Engine Type 1140cc air- and oil-cooled inline four-cylinder
Bore And Stroke 73.5mm x 67.2mm
Induction PGM-FI with automatic enrichment circuit, 32mm throttle bodies
Ignition Digital transistorized with electronic advance
Compression Ratio 9.5:1
Valve Train DOHC; four valves per cylinder

DRIVE TRAIN
Transmission Five-speed
Final Drive #530 O-ring-sealed chain

CHASSIS / SUSPENSION / BRAKES
Front Suspension 41mm fork with spring preload adjustability
Rear Suspension Dual shocks with spring preload adjustability
Front Brake Dual four-piston calipers with full-floating 296mm discs
Rear Brakes Single-caliper 256mm disc
Front Tire 110/80-18
Rear Tire 140/70-18

DIMENSIONS
Rake 27.0 degrees (Caster Angle)
Trail 107mm (4.2 inches)
Wheelbase 58.7 inches
Seat Height 31.3 inches
Fuel Capacity 3.9 gallons, including 0.9-gallon reserve

OTHER
Model Id CB1100
Emissions Meets current EPA standards. California version meets current CARB standards and may differ slightly due to emissions equipment.
Available Colors Candy Red

FACTORY WARRANTY INFORMATION
One Year Transferable, unlimited-mileage limited warranty; extended coverage available with a Honda Protection Plan.
Description *Honda's fuel economy estimates are based on EPA exhaust emission measurement test procedures and are intended for comparison purposes only. Your actual mileage will vary depending on how you ride, how you maintain your vehicle, weather, road conditions, tire pressure, installation of accessories, cargo, rider and passenger weight, and other factors.
---
2013 Honda CB1100 – Canadian Specifications/Technical Details
Canada MSRP Price: TBA CDN
See 2013 Honda CB1100A ABS
---
2013 Honda CB1100 – UK Specifications/Technical Details
UK RRP: £9,999 (Prices are recommended and inclusive of VAT @ 20% and delivery. Includes first registration and road tax)
Throttle Bore 32mm
Starter Electric
Max. Torque 93Nm/5,000rpm (95/1/EC)
Ignition Timing 10°
Max. Power Output 66kW/7,500rpm (95/1/EC)
Engine Type Inline four cylinder, air and oil cooled DOHC
Oil Capacity 4.9L
Fuel Tank Capacity 14.6L
Compression Ratio 9.5:1
Engine Displacement 1,140cm3
Carburation PGM-FI electronic fuel injection
ACG Output 333W
Bore × Stroke 73.5 x 67.2mm
Battery Capacity YTZ14S WET 12V-11.2Ah
Fuel Consumption 18.2km/l (51.4mpg) (WMTC)
Ignition System Full-transistor battery ignition
Transmission
Clutch Multi-plate wet clutch
Transmission Type 5 speed
Final Drive Chain
Dimensions and Weight
Seat Height 795mm
Wheelbase 1,490mm
Trail 114mm
Turning Radius 2.7m
Headlights 60/55W
Kerb Weight 248kg
Ground Clearance 125mm
Dimensions (L×W×H) 2195 x 835 x 1130mm
Caster Angle 27°
Frame type Double steel cradle
Wheels, Suspension and Brakes
Brakes Front Hydraulic double disk
Tyre Size Front 110/80-18
Rim Size Front 18M/CxMT2.50
Wheels Front Cast aluminium
Brakes Rear Hydraulic disk
Suspension Front 41mm conventional fork
Tyre Size Rear 140/70-18
Wheels Rear Cast aluminium
Rim Size Rear 18M/CxMT4.00
Suspension Rear Spring preload adjustable,

All specifications are provisional and subject to change without notice.
# Please note that the figures provided are results obtained by Honda under standardised testing conditions prescribed by WMTC. Tests are conducted on a rolling road using a standard version of the vehicle with only one rider and no additional optional equipment. Actual fuel consumption may vary depending on how you ride, how you maintain your vehicle, weather, road conditions, tire pressure, installation of accessories, cargo, rider and passenger weight, and other factors
---
2013 Honda CB1100 – Europe Specifications/Technical Details
European MSRP Price: See dealer for Pricing.
Max. Drehmoment, Nm bei 1/min 93 / 5.000
Zündung Transistorzündung
Starter Elektrostarter
Fahrleistungen
Höchstgeschwindigkeit in km/h k.A.
Kraftübertragung
Getriebe 5 Gang
Endantrieb Kette
Abmessungen
Länge in mm 2.195
Breite in mm 835
Höhe in mm 1.130
Radstand in mm 1.490
Sitzhöhe in mm 795
Bodenfreiheit in mm 130
Tankinhalt in Liter 14,6
Sitzplätze 2
Fahrwerk
Felgen
Felge vorne 18 x 2.50
Felge hinten 18 x 4.00
Bereifung
Bereifung vorne 110/80-18
Bereifung hinten 140/70-18
Radaufhängung
Radaufhängung vorne 41 mm Teleskopgabel
Radaufhängung hinten Schwinge, 2 Federbeine
Federweg in mm vorne/hinten k.A.
Bremsen
Bremse vorne Combined ABS, 296 mm Doppelscheibenbremse
Bremse hinten Combined ABS, 256 mm Einscheibenbremse
Gewichte in kg
Gewicht vollgetankt 248
Zul. Gesamtgewicht k.A.
Max. Zuladung k.A.

---
2013 Honda CB1100 – Australia Specifications/Technical Details
Australia MSRP Price: See dealer for Pricing in AU
ENGINE
TYPE 1140cc air-cooled 4-stroke 16-valve DOHC inline-4
BORE AND STROKE 73.5 x 67.2mm
COMPRESSION RATIO 9.5 : 1
STARTER Electric
CARBURETION PGM-FI, one 36mm throttle body
IGNITION Fully transtorised, computer controlled digital transistorised with electric advance
TRANSMISSION 5-speed
FRAME
DIMENSIONS (LxWxH) 2,195 x 835 x 1,130mm
WHEEL BASE 1,490mm
SEAT HEIGHT 775mm
GROUND CLEARANCE 125mm
FUEL CAPACITY 14.6 litres
KERB WEIGHT 248kg
TYRES
FRONT 110/80 18-inch
REAR 140/70 18-inch
SUSPENSION
FRONT 41mm telescopic fork, 107mm stroke
REAR Twin showa shock absorber with spring pre-load adjustment
BRAKES
FRONT Twin 296mm x 4.5mm floating discs with 4 piston Nissin callipers
REAR 256mm x 6mm disc with single piston Nissin calliper
WARRANTY
WARRANTY PERIOD 24 months