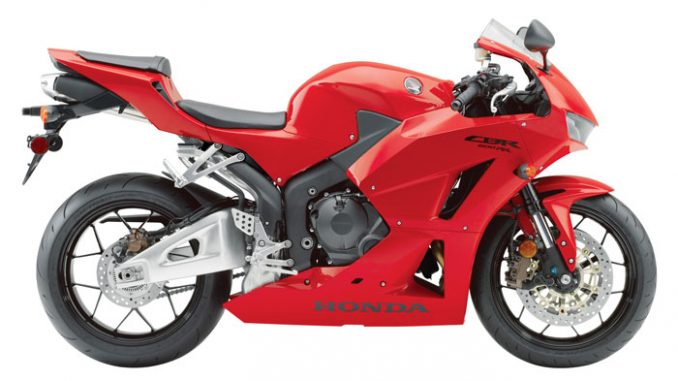 You are here: TMW — 2013 Motorcycle Models — Honda — 2013 Honda CBR600RRA C-ABS Review
Click photos to enlarge. Our big, clean bike pics make great desktop wallpaper.
2013 Honda CBR600RRA C-ABS Review

2013 Honda CBR600RRA C-ABS
Better Than Ever…
With the 2013 Honda CBR600RRA, we've taken a bike that was equally at home on the street or on the track, and made it even better for both. How? By improving engine performance, handling and aerodynamics without changing its unique ability to be practical and comfortable during everyday riding. You can't miss the CBR600RRA's aggressive new bodywork that reduces drag by 6.5 percent – it was inspired by Honda's RC213V MotoGP racer. A new Showa Big Piston fully adjustable fork and distinctive 12-spoke wheels from the CBR1000RRA combine with an upgraded aluminum frame and lighter aluminum swingarm to improve handling – especially under the heavy loads produced by cornering or hard braking. Revised settings in the Programmed Dual Stage Fuel Injection (PGM-DSFI) system improve engine performance below 7,000 rpm, while a carefully retuned air-intake system improves torque above 7,000 rpm. And for the best in braking performance, you can't beat the CBR600RRA's Electronically Controlled Combined ABS brake system that brings world-class stopping power and control to your fingertips. Perfection, improved. That's the 2013 Honda CBR600RRA.
The lineage behind the CBR600RRA C-ABS boasts ongoing track-tested, championship-winning advancements in form and function that have kept this machine at the forefront of the 600cc Supersport class. This newly redesigned CBR600RRA C-ABS delivers stronger engine output for an elevated level of performance, a brand-new front suspension featuring Honda's 41mm Big Piston Fork for exceptional handling and supple action, plus all-new MotoGP-inspired bodywork that's a product of race-tested aerodynamic design. It all adds up to a sportbike that leads the way, whether it's at the track or just a fun afternoon ride on your favorite backroads.
Honda's CBR600RRA C-ABS has long been heralded as the best all-around 600-class sportbike the world has ever seen. A winner both on and off the track, it offers a perfect balance of high-revving power, precise handling, light weight, and a compact overall size.

And for 2013 the best just got a whole lot better. We've given the CBR600RRA C-ABS some major updates, including new 12-spoke wheels, revised ECU settings, and a fine-tuned ram-air system to increase torque. Best of all, the CBR600RRA C-ABS gets a new "Big Piston" fork and retuned rear shock. And it's all wrapped up in some sharp new bodywork. Honda's revolutionary Electronic Combined Anti-Lock Braking System (C-ABS), the first ever on a production Supersport motorcycle.

New Suspension

The 2013 CBR600RRA C-ABS features new suspension front. Up front, the new 41mm "Big Piston" Showa fork is smoother and more responsive; in the back, the Unit Pro Link design provides a smoother response and better performance.

Hot Wheels

New for 2013, we've added 12-spoke aluminum cast wheels, which look great with the CBR60RR's redesigned bodywork.

Tomorrow's Brakes, Today

The Electronic Combined ABS (C-ABS) system is the first of its kind on a Supersport machine. Even the most critical motorcycle testers rave about how well they work.
2013 Honda CBR600RRA C-ABS Key Features
– 599cc liquid-cooled inline four-cylinder

– Honda Electronic Steering Damper

New for 2013
– Redesigned, centrally located ram-air intake system and improved ECU and PGM-DSFI setting deliver more power in the midrange and enhanced throttle response in the high-rpm range.
– New 41mm Showa Big Piston Fork (BPF) features a larger damper piston that generates damping forces at lower internal pressures to allow for smoother, more responsive fork action. Adjustable for spring preload plus compression and rebound damping adjustability.
– Unit Pro-Link® rear suspension features a revised shock with new damper settings for improved overall performance.
– Using knowledge gained from the Honda RC212V MotoGP race program, aerodynamic improvements were made to this newest CBR600RRA C-ABS, which shows a 6.5 percent decrease in drag over the previous model. The development and testing used with this all-new CBR600RRA C-ABS bodywork, in turn, led to aerodynamic advancements that have been incorporated into the current RC213V MotoGP racing machine.
– This newly found aerodynamic efficiency lends itself to more agile handling and improved wind deflection for enhanced rider comfort.
– Repsol Edition racing colors available for the first time ever on the CBR600RRA C-ABS (standard model only).
– Standard model available in Red, Repsol Edition or White/Blue/Red. C-ABS model available in Red only.
– Transferable one-year, unlimited-mileage limited warranty; extended coverage available with a Honda Protection Plan.
Honda Genuine Accessories†
– Sportscreen, Color-Matched Passenger Seat Cowl, Carbon Fiber-Look Rear Fender, Carbon Fiber-Look Exhaust Pipe Cover, Carbon Fiber-Look License Plate Frame, Carbon Fiber-Look Tank Trim, Carbon Fiber-Look Fuel Lid Cover, Racing Sticker Kit, Racing Cover
† WARRANTY: Because we're so confident in the quality of each of our Honda Genuine Accessories, we're pleased to offer one of the best warranties in the industry. One-year warranty begins on the day accessories are purchased by the customer.

2013 Honda CBR600RRA C-ABS Features and Benefits

Line-beam headlights
The new headlight lens shape for 2013 is functional in directing air into the Ram Air System. Line-beam headlight features two-piece reflector design utilizing two H7 bulbs for optimum light distribution and unique compact design. The result: the headlight helps you see better, and also helps maintain visibility in traffic.
Dual-Stage Ram Air
For 2013 the Ram Air funnel has been redesigned to improve torque over 7,000 rpm. Nose mounted, two-stage ram air system provides a high volume of cool air to the airbox, for linear power delivery and superb engine performance.
BPF Front Suspension
The CBR600RRA C-ABS's all-new front suspension uses a Big Piston Fork (BPF). The new 41mm Showa fork is smoother and more responsive, and gives you excellent front-end feedback.
Radial Mounted Front-Brake Calipers
The CBR600RRA C-ABS uses radial-mounted monoblock front-brake calipers. This construction makes the caliper stiffer, and that means you get better brake feel more linear, powerful stopping. Each caliper also uses four chromium-plated aluminum pistons for smooth, stiction-free operation.
New 12-Spoke Wheels
With their consistent rigidity and balance, these sharp-looking 12-spoke cast aluminum wheels work with the new fork and enhances suspension feedback to deliver real handling improvements.
Dual-Stage Fuel Injection
For 2013 the Dual-Stage Fuel injection system was revised to achieve more low to mid range power. Two sets of injectors per cylinder ensure both low- and high-rpm performance. You get near instantaneous high-rpm response, along with great low-rpm metering and clean running.
Centrally Located Fuel Tank
The CBR600RRA C-ABS's 4.8-gallon fuel tank is positioned in the center of the chassis and low in the frame. This allows for a more compact design, but even more important helps centralize the bike's mass. Increased mass centralization means the CBR is more responsive to rider input, especially when leaning the bike into a turn or standing it up at the exit.
Unit Pro-Link Suspension
For 2013, the Unit Pro-Link design incorporates new rear shock settings for better suspension performance.
Electronic Combined Anti-Lock Braking (C-ABS)
Electronically controlled Combined ABS distributes brake force over both wheels, helping to maintain braking confidence in less than ideal conditions. The system electronically measures rider input on the brake lever and pedal and applies only the front or rear brake in some cases, or combines both brakes in other situations.
Redesigned Tail Section with LED Tail Light
For 2013, a new LED tail light sits above the exhaust for a more compact and functional design.
Honda Electronic Steering Damper
Engine/Drivetrain
Superior power-to-weight ratio for outstanding acceleration and handling..

Liquid-cooled DOHC 16-valve 599 cc four-stroke inline four-cylinder engine features oversquare bore and stroke of 67 mm x 42.5 mm..

High-revving engine redlines at 15,000 rpm..

Oil jets beneath the piston provide additional friction reduction and cooling..

Iridium-tip sparkplugs improve fuel combustion and performance..

Improved Dual Stage Fuel Injection (DSFI) system features 40 mm throttle bodies and two injectors per cylinder — one upper and one lower — controlled by an electronic control system (ECU) that senses rpm and throttle opening. Lower injector enhances rideability while upper injector improves top-end horsepower..

Denso 12-hole injectors deliver finely atomized fuel mixture for optimum combustion efficiency and power..
Improved Intake Air Control Valve (IACV) minimizes torque reaction and smoothes response to small throttle changes through gradual reductions of air and fuel intake when the throttle is opened and closed..

Auto enrichment system is integrated into programmed fuel injection (PGM-FI) module, eliminating the need for a manual choke..

Non-resonance knock sensor maintains optimum spark advance while constantly monitoring combustion performance during mid- to high-speed operation..

Two-stage ram-air system provides high volume of cool air to the airbox for linear power delivery and incredible engine performance..

Cylinder head features angled valve insets to improve airflow..

Cylinder head features two springs per intake valve and one spring per exhaust valve for optimum high-rpm valve operation and durability..

Direct shim-under-bucket valve actuation ensures high-rpm performance and durability..

Lightweight forged-aluminum pistons incorporate special shot peening for added toughness..

Lightweight magnesium head cover..

Lightweight stainless steel four-into-one exhaust features an inline-exhaust valve to control exhaust pressure for maximum performance..

Double-pivot tensioner for cam-chain durability..

Right-side starter gears allow increased lean angle..

Smooth-shifting close-ratio six-speed transmission is closely matched to the engine's powerband..

MotoGP-style centre-up exhaust system..
Chassis/Suspension
Fine Die-Cast (FDC) frame uses four large castings for light weight..

The new Showa Big Piston fork features a larger damping volume to effectively reduce the hydraulic pressure generated as the fork legs compress and extend. The result is more precise action during the initial stroke and smoother damping action for improved handling, enhanced front-end feedback, and a more solid feel during hard braking..

Unit Pro-Link rear suspension system is patterned after RC213V MotoGP racer. In this two-piece shock system, the upper shock mount is contained within the swingarm rather than the frame. With no top frame mount for the shock, this unique system reduces negative suspension energy from being transmitted into the frame, allowing optimum frame rigidity and improved rideability out of corners..

Small and light Honda Electronic Steering Damper (HESD) enhances stability..

The CBR600RRA comes with the world's first electronically-controlled Combined ABS for sportbikes. This innovative system combines the benefits of anti-lock brakes and linked front and rear brakes to improve both braking control and safety — all without interfering with cornering ability or other aspects of sport performance. The system measures rider input on both the front brake lever and rear brake pedal (plus data from other sensors), then using sophisticated electronics and two separate power units, generates up to the maximum braking force on both wheels while also preventing wheel lockup. An innovative stroke simulator helps to maintain the same sort of feel at the brake lever and pedal as you're used to. Combine this with the small size and weight of the components, and you have one amazing system. Full braking performance immediately available, giving you that extra peace of mind..

Braking system features twin four-piston radial-mounted front calipers, dual 310 mm front discs and a single 220 mm rear disc for optimum stopping power..

Vertical-piston master-cylinder system produces superior leverage ratio at the front brake lever for higher braking efficiency with excellent feel and controllability. This layout permits the use of a longer brake lever, which means more braking force with less effort from the rider..
Additional Features
Slim turn-signal indicators and fairing design..

Industry-leading ergonomic design features maximum rider comfort for minimum fatigue in all riding conditions..

Centrally mounted fuel tank is positioned low in the frame, increasing mass centralization and allowing a more compact design..

Plastic tank shell cover protects tank and airbox..

Line-beam headlights feature three-piece reflector design utilizing two H7 bulbs for optimum light distribution and a unique compact design..

Instrumentation is very compact and features LCD panel with tachometer, odometer, twin tripmeters speedometer, fuel gauge and clock..

Attractive 12-spoke aluminum-alloy wheels feature race-spec 3.5 x 17-inch front and 5.5 x 17-inch rear dimensions..

One-piece fan assembly for maximum cooling efficiency..

Maintenance-free battery..

Optional seat cowl..

Compact rear cowl storage compartment for U-type locking devices (lock not included) under the passenger seat..

Pivoting, aerodynamic mirrors..

Integrated ignition-switch/fork lock for added security..

Convenient push-to-cancel turn-signal switch..

1 year, unlimited mileage, freely transferable warranty.

---
2013 Honda CBR600RRA C-ABS – USA Specifications/Technical Details
US MSRP Price: See dealer for pricing in USD
Model: CBR600RRA C-ABS
Engine Type: 599cc liquid-cooled inline four-cylinder
Bore and Stroke: 67.0mm x 42.5mm
Compression ratio: 12.2:1
Valve Train: DOHC; four valves per cylinder
Induction: Programmed Dual Stage Fuel Injection (PGM-DSFI) with 40mm throttle bodies, Denso 12-hole injectors
Ignition: Computer-controlled digital transistorized with 3-D mapping
Transmission: Close-ratio six-speed
Final Drive: #525 O-ring-sealed chain
Suspension
Front: 41mm inverted Big Piston Fork with spring preload, rebound and compression damping adjustability; TBD inches travel
Rear: Unit Pro-Link HMAS single shock with spring preload, rebound and compression damping adjustability; 5.1 inches travel
Brakes
Front: Dual radial-mounted four-piston calipers with full-floating 310mm discs
Rear: Single-caliper 220mm disc;
Honda Electronic Combined ABS
Tires
Front: 120/70ZR-17 radial
Rear: 180/55ZR-17 radial
Wheelbase: 53.9 inches
Rake (Caster Angle): 23.5°
Trail: 97.7mm (3.9 inches)
Seat Height: 32.3 inches
Fuel Capacity: 4.8 gallons, including 0.9-gallon reserve
Estimated Fuel Economy**: TBD
Colors:
CBR600RRA C-ABSA: Red
Curb Weight*: 432 pounds (CBR600RRA C-ABSA)
*Includes all standard equipment, required fluids and full tank of fuel-ready to ride.
**Miles per gallon values are calculated estimates of fuel consumed during laboratory exhaust emissions tests specified by the EPA, not during on-road riding. Use for comparison purposes only. Your actual mileage will vary depending on how you ride and maintain your vehicle, weather, road conditions, tire pressure, cargo and accessories, rider and passenger weight, and other factors.
Meets current EPA standards.
Models sold in California meet current CARB standards and may differ slightly due to emissions equipment.
Specifications subject to change.

---
2013 Honda CBR600RRA C-ABS – Canadian Specifications/Technical Details
Canada MSRP Price: See dealer for pricing in CDN
Displacement 599 cc
Bore & Stroke 67 mm x 42.5 mm
Compression Ratio 12.2:1
Valve Train Chain-driven DOHC, 4 valves per cylinder
Fuel Delivery Dual Stage Fuel Injection
Transmission Close-ratio six-speed
Final Drive O-ring-sealed chain
Front Suspension —
Rear Suspension —
Tires 120/70ZR – 17 radial front;180/55ZR – 17 radial rear
Brakes Front dual 310 mm discs with radial-mounted four-piston calipers; rear single 220 mm disc with single-piston caliper. Electronically controlled Combined ABS
Seat Height —
Wheelbase —
Curb Weight —
Fuel Capacity 18 litres
Colour Tricolour, Millenium Red
Warranty 12 months, unlimited mileage, freely transferable warranty; extended coverage available with Honda Plus

---
2013 Honda CBR600RRA C-ABS – UK Specifications/Technical Details
UK RRP: £TBA (Prices are recommended and inclusive of VAT @ 20% and delivery)
TBA

---
2013 Honda CBR600RRA C-ABS – Australia Specifications/Technical Details
Australia MSRP Price: See dealer for pricing in AU
ENGINE
ENGINE TYPE 599cc liquid-cooled 4-stroke 16-valve DOHC inline-4
BORE AND STROKE 67 x 42.5mm
COMPRESSION RATIO 12.2:1
CARBURATION PGM-DSFI electronic fuel injection
IGNITION Computer controlled digital transistorised with electronic advance
STARTER Electric
TRANSMISSION 6-speed
FRAME
DIMENSIONS 2,015mm x 685mm x 1,105mm
WHEEL BASE 1,375mm
SEAT HEIGHT 820mm
GROUND CLEARANCE 135mm
FUEL CAPACITY 18 litres (including 3.5 litre LCD indicator reserve)
KERB WEIGHT 184kg
TYRES
FRONT 120/70 – 17 inch
REAR 180/55 – 17 inch
SUSPENSION
FRONT 41mm fully adjustable inverted HMAS cartridge-type telescopic fork; 110mm stroke
REAR Unit Pro-Link with gas charged remote reservoir damper, adjustable spring pre-load and compression and rebound damping; 129mm axle travel
BRAKES
FRONT 310 x 5mm dual hydraulic disc with radial-mount 4-piston callipers and sintered medal pads
REAR 220 x 5mm hydraulic disc with a single-piston calliper and sintered metal pads
WARRANTY
WARRANTY PERIOD 24 months