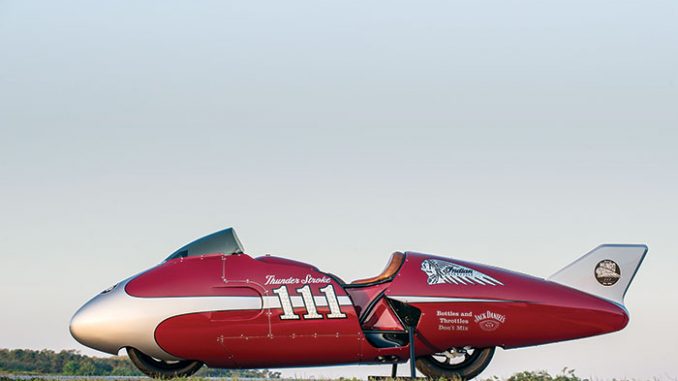 Click photos to enlarge. Our big, clean bike pics make great desktop wallpaper.
2013 Indian Spirit Of Munro Review

2013 Indian Spirit Of Munro
INDIAN MOTORCYCLE SHOWCASES NEW ENGINE WITH CUSTOM-BUILT "SPIRIT OF MUNRO" STREAMLINER
One-of-a-Kind Vehicle Powered by All-New Thunder Stroke 111 Engine Pays Tribute to Burt Munro's 'Munro Special' Portrayed in 'World's Fastest Indian' Motion Picture.
Indian Motorcycle, the first American motorcycle company, revealed a custom-built streamliner named the "Spirit of Munro." The one-of-a-kind vehicle was unveiled in a special surprise announcement on Saturday, March 9, 2013 at Daytona Bike Week following the reveal of Indian Motorcycle's new Thunder Stroke 111™ engine – the incredible new power plant for the upcoming 2014 Indian Motorcycle.
Fully custom-built, the Spirit of Munro is an all-metal tribute to the racers and mechanics throughout history who have collectively built the legacy of record-breaking racing performance and strength that is Indian Motorcycle. The streamliner was named in honor of Burt Munro's, "Munro Special," the historic 1920 Indian Scout that broke the under-1000cc land-speed record in 1967 at the Bonneville Salt Flats as famously portrayed in the motion picture "The World's Fastest Indian." "The Munro family is very happy to see such a wonderful tribute to our Father," says Burt's Son, John Munro. "We see how Dad's passion inspires motorcycle riders to this day, as the Spirit of Munro will surely do for years to come."
"We are a brand that will always strive to push the envelope in everything we do, so when the idea of building a streamliner to both showcase the new engine and pay homage to the racers, mechanics and engineers of the past landed on my desk, it was an easy decision," says Vice President of Polaris Motorcycles, Steve Menneto. "We are proud to showcase America's passion for Indian Motorcycle in such a unique and historic way."
The streamliner was designed from the ground up to house the new Thunder Stroke 111 engine and showcases its awe-inspiring power and performance. The Spirit of Munro is not simply a display; it was built to run. A custom exhaust and intake system is mated with a chain drive conversion to allow for the tall gearing necessary for top speed runs. The all-aluminum bodywork was hand-formed using traditional tools and techniques. Wrapped around the modern Thunder Stroke 111 engine is a custom chassis capable of handling top speeds.
"Part of the process of building a new motorcycle is building many pre-production and production test engines," said Gary Gray, Product Director for Indian Motorcycle. "The Indian Motorcycle engineering team is fully conscious that every day we are working with history and over the course of design and development many parts and complete engines are built, tested, disassembled and measured. We thought it a fitting tribute to place one of our pre-production engines in a one-of-a-kind vehicle to pay homage to the racers who have helped build the legend of the Indian Motorcycle brand over its 112-year history."
Tapped to construct the Spirit of Munro was Jeb Scolman of Jeb's Metal and Speed in Long Beach, California. Jeb's extensive credentials building land speed racers, along with his hand-formed bodywork on a Stutz Blackhawk replica revealed him as the perfect builder for this tribute machine.
"When the guys from Indian Motorcycle called to ask if I would be willing to play a part in this historic endeavor, I could not say 'yes' fast enough," said Jeb Scolman. "We built the Spirit of Munro in just three months of straight long work days. It was a brutal schedule, but to be a part of re-launching this brand and giving Indian Motorcycle fans a historic new piece of Americana makes it all worth the effort."
The bodywork was sculpted to reflect seminal machines from history, as well as creating a unique package for rider and mechanicals. Using aircraft inspired and traditional custom techniques, the Spirit of Munro is a striking tribute to the past, and an irrepressible inspiration for the future of America's first motorcycle company. Adorning the tail of the machine is the logo of another iconic American brand, Jack Daniel's Whiskey who is helping sponsor the motorcycle through their "Bottles and Throttles Don't Mix" responsibility campaign.
Indian Motorcycle and Jack Daniel's are brands that are forever sewn into the fabric of American history. Both brands stand proudly to represent the best at what they do. "When the team at Indian Motorcycle shared their plans to build the Spirit of Munro we knew we had to be part of that project," says David Stang, AVP Events/Sponsorships for Jack Daniel's Whiskey. "We proudly promote the responsible enjoyment of our products, and a serious environment such as land speed racing shows what can be achieved when individuals strive for perfection. When the racing is done, we will toast our heroes of the past and the future."
The Spirit of Munro was on display at the Daytona International Speedway every day of Daytona Bike Week 2013, and took part in the Indian Motorcycle Spring Dash lap of the Daytona 200 on March 16, 2013.
---
2013 Indian Spirit Of Munro – Specifications/Technical Details
MSRP Price: NA
Engine Overview
Displacement 111 c.i. (1811 c.c.)
Maximum Engine Torque More than 115 ft-lbs (156 N*m)
Engine Type 49 deg V – Twin
Cooling system type Air Cooled with Integrated Oil Cooler
Idle speed +/-50rpm 800 RPM
Max Engine speed 5500 RPM

Valvetrain
Valves per cylinder 2
Actuation Three-Cam, Push-rod, OHV
Lifter Type Hydraulic
Compression Release Yes, Automatic
Bore 3.98 in (101 mm)
Stroke 4.45 in (113 mm)
Target Compression Ratio 9.5: 1
Balancer Type Helical Gear Primary Balancer

Drive Train
Primary Drive Gear 55/86 ratio
No. of Ratios 6-speed Overdrive constant mesh
Spur/Helical 1st Spur, 2-6 Helical
Gear Ratios (overall)
1st 9.403
2nd 6.411
3rd 4.763
4th 3.796
5th 3.243
6th 2.789
Final Drive Carbon Fiber Reinforced Belt 30/66 ratio
Clutch Type Multi-plate, Wet clutch, Integral Damper

Fuel Induction system
Throttle actuation Electronic Throttle Control
Throttle Diameter 2.13 in. / 54 mm
Fuel Delivery type Electronic Sequential Port Fuel Injection
Fuel Type Premium recommended
Lubrication system
Oil Type 20W-40
Sump type Semi-dry


Specifications, features and prices to change by manufacturer without notice. All information correct as of posted date.
---
2013 Indian Spirit Of Munro – Press Release
INDIAN MOTORCYCLE REVEALS THE Spirit Of Munro IN AUSTRALIA FOR THE FIRST TIME

Indian Motorcycle Australia pulled the covers the all-new Spirit Of Munro at the Ulysses AGM on the Fraser Coast at April 17, 2013 3.30pm AEST to an eager crowd of over 1,000 Ulysses members.

Due for release later this year, the much anticipated reveal of the all-new Thunder Stroke 111 powering the new Indian Motorcycle drew significant interest from Australia¡¦s largest Motorcycle Club, with members inspecting every little detail of the all-new engine up close and in person.

The engine reveal also coincided with the launch of the exclusive ¡§One-Eleven Original¡¨ riders club. The One-Eleven Original riders refer to the first 111 Indian Motorcycles¡¦ to be sold and delivered in Australia. Indian Motorcycle Australia has commenced accepting orders and deposits for the new Indian Motorcycle and in return prospective owners receive an exclusive One-Eleven
Original kit containing:
– One-Eleven Original Embroidered pit shirt
– Indian glass Warbonnet paper weight
– Indian belt & buckle
– Numbered bike
– Exclusive video content straight from the US design & engineering team
– Numbered print of the original Indian design sketches, signed by US design & engineering team
– Spirit of Munro – BELL helmet with One-Eleven Original livery

Peter Harvey, Country Manager for Indian Motorcycle Australia said "we expected the new engine to generate a lot of interest and unveiling it at Ulysses for the first time outside the USA and second time worldwide is a coup for Australia and Ulysses. Many Ulysses members have taken advantage of being amongst the first to see the heart of the new Indian Motorcycle and place deposits. With only 111 bikes to receive the exclusive One-Eleven Original kit and numbering, Indian Motorcycle enthusiasts and prospective customers will need to move quickly as the response and interest is very strong."

Indian Motorcycle Spirit Of Munro Specifications:
Engine Displacement: 111 cubic inches (1,800+ cc)
Torque: More than 115 ft-lbs (>156 Nm)
Architecture: 49-degree V-twin, air-cooled with integrated oil cooler, left-side air intake, down firing exhaust system, parallel pushrod tubes
Crankcase: Unit design featuring a high capacity semi-dry sump oil system, oversized oil radiator
Timing System: 3 camshafts, pushrods, 2 valves per cylinder acting through maintenance-free hydraulic valve lifters, forged crankshaft
Fuel System: Electronic sequential port fuel injection and electronic throttle control
Compression Ratio: 9.5
Transmission: 6-speed overdrive, constant mesh, helical gearbox
Clutch: Low-effort, multi-plate wet clutch, aluminum basket, integral torsional damper