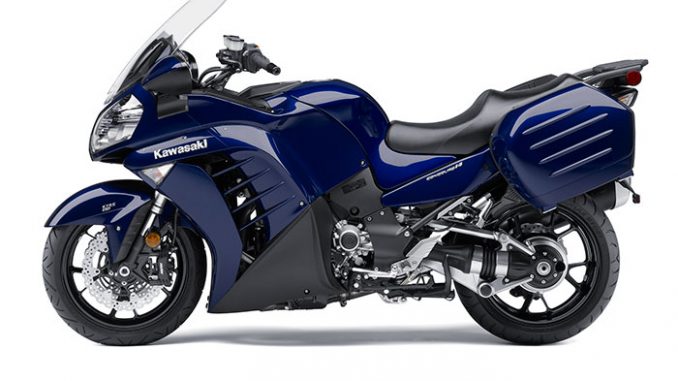 Click photos to enlarge. Our big, clean bike pics make great desktop wallpaper.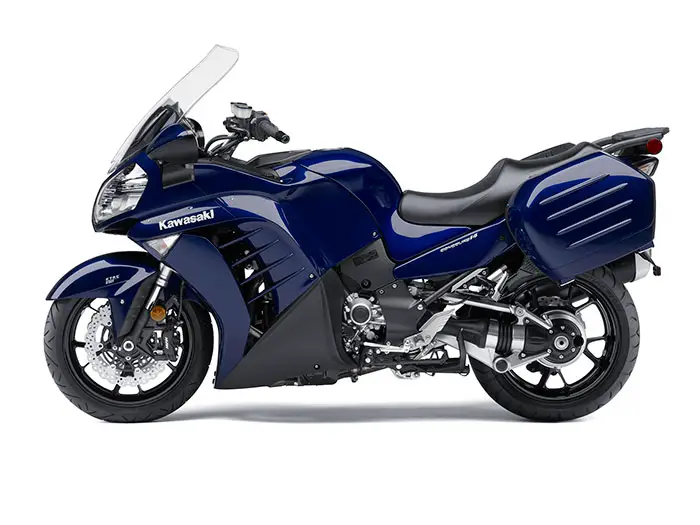 2013 Kawasaki Concours 14 1400GTR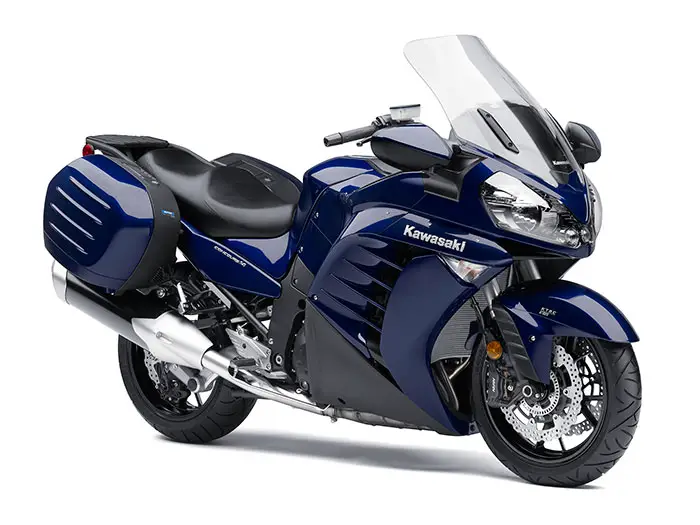 2013 Kawasaki Concours 14 1400GTR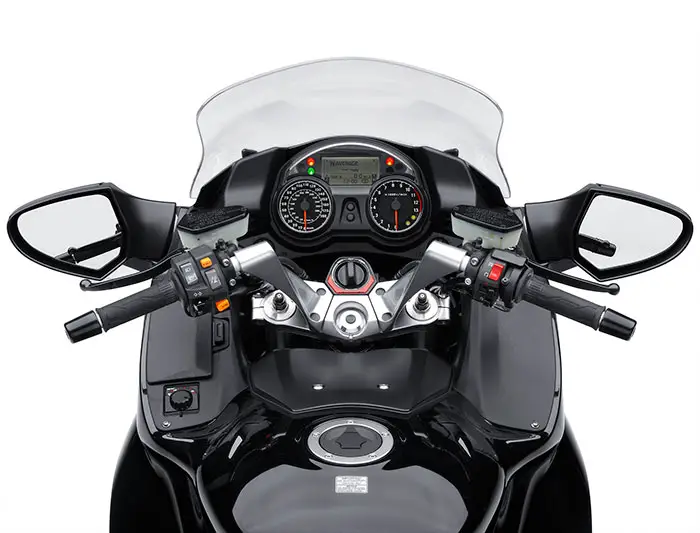 2013 Kawasaki Concours 14 1400GTR
2013 Kawasaki Concours 14 1400GTR Review

2013 Kawasaki Concours 14 1400GTR
Flagship Tourer
Fueling your distance riding ambitions, the 1400GTR with unique to class variable hydraulic valve timing, linked brakes and advanced traction control shrinks maps and confidently crosses continents.

2013 Kawasaki Concours 14 1400GTR Key Features
• Ninja ZX-14-based 1,352cc inline-four with variable valve timing provides smooth power across a wide rev range
• Kawasaki Traction Control (KTRC) reduces engine output when wheelspin is detected, helping the rear tire to regain grip
• Kawasaki Coactive-braking Technology (K-ACT) links front and rear brakes and has two modes to suit different riding styles
• Aluminum monocoque frame is lightweight, narrow and rigid
• Tetra-Lever shaft drive offsets the lifting and squatting tendencies of shaft drive
• Fuel economy assistance mode prioritizes fuel savings, giving up to a 25 percent mileage boost
• Standard heated grips help provide comfort even in harsh conditions
• Convenient Kawasaki Intelligent Proximity Activation Starting System (KIPASS)
• Electrically adjustable windscreen has memory function and suits a variety of riders
• Includes a 36 month limited factory warranty that can be supplemented with up to an additional 36 months of Kawasaki's Good Times™ Protection Plan. That's a total of up to an amazing SIX YEARS of coverage!

2013 Kawasaki Concours 14 1400GTR Features and Benefits

2nd Generation K-ACT
K-ACT (Kawasaki Advanced Coactive-braking Technology) ABS enables riders to execute controlled, balanced braking. Designed to complement riders' applied brake force, K-ACT ABS ensures ideal brake force distribution to maximise braking efficiency.

Tetra-lever shaft drive
To ensure that the GTR's massive torque is transmitted to the tarmac as efficiently as possible, a highly rigid, dual-sided, 4-link swingarm is used. Called the Tetra-Lever, it is designed to offset the lifting or squatting tendency of shaft drives when the throttle is opened and closed.

Kawasaki Traction Control (KTRC)
Kawasaki's first traction control system was designed to provide rider reassurance by facilitating smooth riding on slippery surfaces. The system looks for difference in front and rear wheel speed. When rear wheel spins (i.e. when rear wheel speed is faster than front wheel speed), engine output is controlled to allow the rear wheel to regain grip.

Tyre Pressure Monitoring System
To warn riders of any tyre pressure irregularities, tyre pressure sensors are fitted as standard equipment. The system allows the rider to monitor tyre pressure while underway. When tyre pressure falls below 220 kPa, a low pressure warning is displayed. The ability to take into account temperature changes and display values recalculated for 20°C helps prevent false warnings when air expands as the tyres warm up.

1,352cc in-line Four with Variable Valve Timing
Power comes from a ZZR1400-based engine tuned for more low and mid-range torque. This liquid-cooled, 16-valve, In-Line Four features variable valve timing for high torque output at low and medium rpm.

Economical Riding Indicator
The Economical Riding Indicator (ECO) appears on the LCD screen to indicate favourable fuel consumption. Paying attention to conditions that result in the icon appearing can assist riders to maximise their fuel efficiency. The rider must ride in a gentle manner: less than 6,000 rpm, less than 30% throttle, under 100 mph (where permitted)

Colour-matched 35-litre panniers
The large-volume panniers are integrally designed to complement the GTR's overall styling package. The cases are easily detachable, water-resistant and easily hold a full-face helmet. Mounted as close as possible to the bike's centreline and the bike's centre of gravity, their lightweight construction was designed to minimise their influence on the bike's centre of mass.

Heated Grips
Stepless adjustable heated grips are fitted standard. The rotary switch is located close to the rider for easy access with gloved hands.

KIPASS
KIPASS (Kawasaki's Intelligent Proximity Activation Start System) is a master key system that allows remote activation of the bike's main switch and steering lock. For added security, an immobiliser function is incorporated into the ignition system.

Fuel Economy Assistance Mode
Fuel Economy Assistance Mode can be turned on and off by the rider. Turning on this mode on switches the ECU to a leaner fuel map that prioritises fuel economy over driveability. (Ignition timing and fuel injection are set for maximum fuel efficiency.) When on, a icon appears on the LCD screen. The rider must ride in a gentle manner: less than 6,000 rpm, less than 30% throttle, under 100 mph (where permitted)

Taller and wider electrically adjustable wind screen
The electrically adjustable windscreen is now 70 mm taller and is also wider at the top. Its increased height allows air passing over the top of the screen to flow smoothly around the rider's helmet and the wider top portion of the screen results in less wind striking the rider's shoulders and upper arms.

Instruments
The GTR's multi-function display now includes an outside air temperature monitor. Other new instrument functions include the K-ACT mode indicator, Economical Riding Indicator, and Fuel Economy Assistance Mode icon. The mode-Select button on the front of the left grip (where the passing button used to be) increases convenience by allowing the rider to change LCD modes without having to take their hand off the handlebar.
---
2013 Kawasaki Concours 14 1400GTR – USA Specifications/Technical Details
US MSRP Price: $NA USD
Model not available. See Concours 14 ABS



---
2013 Kawasaki Concours 14 1400GTR – Canadian Specifications/Technical Details
Canada MSRP Price: $NA CDN
Model not available. See Concours 14 ABS
---
2013 Kawasaki Concours 14 1400GTR – United Kingdom Specifications/Technical Details
UK MSRP Price: £13699 (Prices are recommended and inclusive of VAT @ 20% and delivery)
Engine
"
Engine type
Liquid-cooled, 4-stroke In-Line Four
"
Displacement
1,352 cm³
"
Bore x stroke
84.0 x 61.0 mm
"
Compression ratio
10.7:1
"
Valve/Induction system
DOHC, 16 valves with variable valve timing
"
Fuel system
Fuel injection: ø40 mm x 4
"
Ignition
Digital
"
Starting
Electric
"
Lubrication
Forced lubrication, wet sump
Transmission
"
Transmission
6-speed, return
"
Final Drive
Shaft
" Primary reduction ratio
1.556 (84/54)
" Gear ratios: 1st
3.333 (50/15)
" Gear ratios: 2nd
2.412 (41/17)
" Gear ratios: 3rd
1.900 (38/20)
" Gear ratios: 4th
1.545 (34/22)
" Gear ratios: 5th
1.292 (31/24)
" Gear ratios: 6th
1.074 (29/27)
" Final reduction ratio
2.036 (14/22 x 32/10)
"
Clutch
Wet multi-disc, manual
Frame
"
Frame type
Monocoque, pressed-aluminium
"
Rake/Trail
26.1? / 112 mm
"
Wheel travel, front
113 mm
"
Wheel travel, rear
136 mm
"
Tyre, front
120/70ZR17M/C (58W)
"
Tyre, rear
190/50ZR17M/C (73W)
"
Steering angle, left / right
31? / 31?
Suspension
"
Suspension, front
43 mm inverted fork with adjustable rebound damping and spring preload
"
Suspension, rear
Bottom-Link Uni-Trak with gas-charged shock, Tetra-Lever. Rebound damping: Stepless Spring preload: Fully adjustable
Brakes
"
Brakes, front
Dual semi-floating 310 mm petal discs Dual radial-mount, opposed 4-piston, 4-pad
"
Brakes, rear
Single 270 mm petal disc Opposed 2-piston
Dimensions
"
Dimensions (L x W x H)
2,230 mm x 790 mm x 1,345 mm / 1,465 mm (High position)
"
Wheelbase
1,520 mm
"
Ground Clearance
125 mm
"
Seat height
815 mm
" Fuel capacity
22 litres
"
Curb Mass
300 kg (304 kg ABS)
Performance
"
Maximum power
114 kW {155 PS} / 8,800 rpm. 78.2 kW {106 PS} / 8,000 rpm (FRA)
"
Maximum power with RAM Air
117.6 kW {160 PS} / 8,800 rpm
"
Maximum torque
136 N.m {13.9 kgƒ.m} / 6,200 rpm. 121 N.m {12.3 kgƒ.m} / 4,500 rpm (FRA)
---
2013 Kawasaki Concours 14 1400GTR – Australia Specifications/Technical Details
Australia MSRP Price: NA
Model not available. See Concours 14 ABS