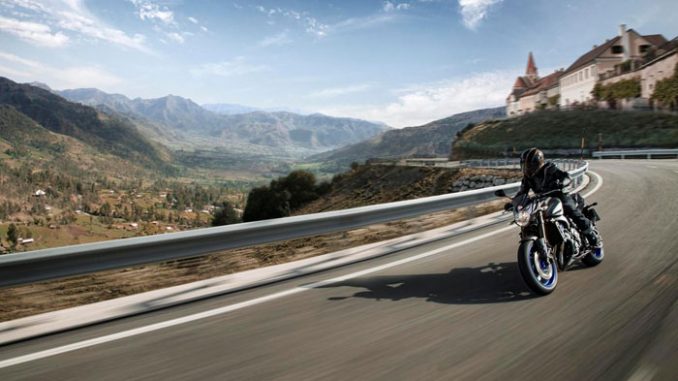 Click photos to enlarge. Our big, clean bike pics make great desktop wallpaper.
2013 Yamaha FZ8 Review

2013 Yamaha FZ8
Does it all. Amazingly Well.
The revised 2013 Yamaha FZ8 features both compression and rebound damping adjustability on the new front fork, while the new shock now features both preload and compression damping adjustability, as well as a stiffer spring. In addition, new fuel injection settings provide a sportier engine feeling, quicker revving power charater, and more direct and linear feeling from the throttle to the rear wheel.
Combining sports performance and aggressive naked styling, with all day riding comfort, the 2013 Yamaha FZ8 is a special breed of motorcycle. Thanks to its upright riding position and comfortable ergonomics, the word practical comes to mind. But don't confuse practical with dull. It delivers solid performance and handling thanks to its 779cc inline four engine and new adjustable suspension front and rear. If you are a sport oriented rider the 2013 FZ8 is a great value.
Practicality Plus
The motorcycle world is becoming more highly specialized by the day.
Special niche models are popping up everywhere. Unfortunately, most of us can only afford one bike. The FZ8 is a brilliant "all-rounder" with an upright riding position that brings fun and excitement to each and every ride. It is ready to slice its way through the "twisties", cruise the back roads in comfort and style or make that daily commute a bunch more enjoyable. For 2013 we have added a more stylish muffler and a new adjustable suspension system front and back. The FZ8 is the ultimate everyday sport bike.

The Purest of Thrills
Only a fool challenges the FZ8. Because the R-series derived high-performance engine is built to outrun anything in the class. And the sophisticated Deltabox chassis and high-specification braking system give this mean and moody fighter the egde over the rest.
A wave of brutal low to mid-range torque makes for awesome acceleration. And when the needle heads towards the red line it is time to hold on tight!
Slicing through mountain passes or powering along the highway, the ultra-light aluminium Deltabox chassis delivers razor-sharp handling with solid high-speed stability. And with new adjustable front and rear suspension, you can dial in the ideal set up

The FZ8-series is based on the idea of a high-performance all-rounder with the power and character to make every ride an exhilarating sports ride.

These dynamic new sports machines are built on a new 779cc engine and all-aluminium frame. The engine offers a balance of middleweight accessibility with big-bore power and instant grunt throughout the rev range. FZ8 steers fast and effortlessly, and handles with surefooted confidence – whether it's cranked right over on a tight, smooth corner or slicing its way through traffic on a congested commute.

The naked FZ8 is a machine with attitude. Muscular, aggressive design gives onlookers a hint of this bike's serious intentions. Sitting between the entry level XJ6 series and big bore FZ1s, the FZ8 is a pure expression of performance and quality craftsmanship desinged for riders who appreciate an optimum blend of power, weight and size.

2013 Yamaha FZ8 Key Features

Fuel Consumption ± 16.5kpl/47mpg(Imp); 39 US MPG

real world comfort & upright ergonomics

adjustable suspension front & rear

FZ8: awesome performance with all-round ability

High-powered 779cc inline 4-cylinder engine

Instant torque meets slingshot horsepower

Light and rigid aluminium Deltabox frame

Radical new muffler designSupersport performance with naked good looks

R-series DNA in the engine and frame

Class-leading braking system

New-for-2013 adjustable suspension

ABS available as an option
The 779cc engine combines advanced top end components, including ceramic-composite-coated cylinders and forged aluminum pistons, with a carefully optimized crankshaft to deliver the perfect power curve and torquey performance character for this category.

The FZ8 fills the gap for sport riders who feel a 600cc is too small and a 1000cc is too big.

Muscular, naked bike styling gives an aggressive, mass-forward stance. This bike screams attitude.

Comfortable, upright riding position with a compact design that contributes to the bike's first-rate handling. This bike simply excels, both in the morning commute and on that spirited weekend ride on a twisty back country road.

Cast aluminum frame and Controlled-Fill aluminum die-cast swingarm is lightweight and provides the ideal rigidity balance for outstanding cornering performance.
2013 Yamaha FZ8 Features and Benefits
ENGINE
•779cc, DOHC, 16 valve (4-valves/cyl), liquid-cooled, 40 degree inclined, inline-four cylinder engine. The engine has been tuned to provide plenty of low to mid-range torque with strong yet linear throttle response. Redline is set at 11,500 rpm and features a "soft" rev limiter to protect the engine.

•Pistons, cylinder, cylinder head, cams, valves and crankshaft are unique to the FZ8. Most other engine components are shared with the FZ1.
•Compact "Pent roof" combustion chamber design features 4-valves per cylinder and a 12:1 compression ratio for excellent torque feeling. Four valves per cylinder enhances the low to midrange torque.
•Pistons, cylinder, cylinder head, cams, valves and crankshaft are unique to the FZ8. Most other engine components are shared with the FZ1.
• Intake valves are 26mm in diameter while the exhaust valves are 22mm. The valve angle is set at 26 degrees to keep the combustion chamber compact

•Crankshaft inertial mass has been optimized to achieve strong torque over a broad rpm range as well as fast throttle response.
• "Fracture split" connecting rods are carburized for extra strength and use a nut less design. The lower end "cap" of the rod is made from the same piece of material as the upper portion; this design is known as "fracture splitting". This design aids in establishing true big end roundness and greater precision in con rod dimensions for excellent durability despite the high horsepower loads.
•Ceramic composite cylinder "bores" are a "liner less" design with the ceramic coating sprayed directly on the aluminum block. This coating enhances the thin film of oil between the cylinder and piston which reduces friction and increases power. Other important benefits include; excellent heat dissipation for consistent power delivery and reduced weight since there are no heavy liners.

• Short skirt, lightweight forged pistons. Lightweight design aids in fast engine response and reduced engine weight. During the forging process, the aluminum is heated to the point where it can be shaped under pressure in a die but not to the point that it melts. By not melting the aluminum, the material stays stronger and hence can be lighter with excellent durability.

•Lightweight, hollow intake and exhaust camshafts provide incredible horsepower and fast engine response. Cam profiles and the cam timing are designed to enhance low to midrange power and torque.
•Inline 4 cylinder crankshaft is based on the FZ1 design.
•Automatic hydraulic cam chain tensioner reduces both maintenance and mechanical engine noise.

•Mikuni "sub throttle valve" fuel injection system is based on the FZ1 design, featuring 35mm throttle bodies fitted with T.P.S. (Throttle Position Sensor). This style of fuel injection uses sub throttle valves in addition to the main valves to further control the intake airflow. The sub valves optimize the intake volumetric efficiency at all rpms and are powered by a stepping motor that is controlled by the ECU. The key benefit is excellent "ride ability" and throttle response.
•This is a closed loop fuel injection system, with an oxygen sensor that monitors the amount of oxygen in the spent exhaust gases and adjusts the fuel -air mixture via the ECU and FI system for maximum performance with minimum emissions. The benefits of fuel injection include choke-free starting, steady idling during warm up, excellent fuel economy, and reduced emissions. The oxygen sensor is located before the muffler, so the use of slip-on mufflers will not affect this system.

•The injectors are sequential high dynamic range type featuring 4 holes and a dual directional spray pattern for excellent power and a linear throttle response across the entire rev range.
•The fuel injection's lightweight Electronic Control Unit (ECU) utilizes a powerful 32-bit processor for fast control of the injection process. The compact design also reduces weight.

•7.8 litre air box features different intake funnel lengths for the inner (150mm) and outer (125mm) cylinders. The benefit is a wide torque curve. A high flow, paper type air filter is utilized.

•R1 inspired "stacked" 3-axis gearbox / clutch design stacks input/output shafts to centralize mass and keeps overall engine size shorter front to back. As a result, the stacked design gives the engineers the freedom to place the engine in the frame for optimum front to rear weight balance and thereby maximizing handling performance.
•Smooth shifting wide ratio 6-speed transmission features optimized gear ratios for maximum performance in the "real world". 5th and 6th ratios are "tall" for reduced engine rpms at highway speeds for excellent rider comfort.
•Compact, heavy duty, multi-plate clutch ensures consistent, positive engagement. The clutch has been designed to provide a light lever pull for excellent rider comfort … especially during stop and go city use.
• 4 into 2 into 1 exhaust system features 35mm diameter, stainless steel header pipes. The header pipe length has been optimized for maximum power and torque. Newly designed, more stylish muffler enhances the overall appearance of the FZ8. This system is fitted with a 3-way honeycomb catalyzer to reduce harmful CO and HC exhaust emissions.
•High-efficiency "curved" design radiator features compact dual ring-type fans for maximum cooling efficiency. This rad and fan design allows more airflow and greater surface area than conventional flat design rads to maintain optimum engine temperatures for consistent power output.
• Large liquid-cooled oil cooler maintains stable lubricant temperatures for extended engine life.
•Convenient spin-on type oil filter.
•Convenient oil level sight glass means easy oil level inspection.
•Maintenance-free transistor-controlled digital ignition (TCI) ensures fast starts and great performance at all rpms.

• Air Induction System (AIS … not ram air) reduces harmful HC and CO emissions for a cleaner environment.

CHASSIS / SUSPENSION
•Gravity cast, lightweight aluminum twin spar frame provides an optimized rigidity balance for incredible sports performance combined with great stability. The engine is a stressed member of the chassis, allowing a lighter main frame design without sacrificing stability or agile handling qualities. The frame is the same spec and shape as the FZ1.
•The riding position is one of the most important features of the FZ8. Based on the FZ1 layout, it offers a balance between a sporty riding position and excellent rider comfort thanks to its upright design.
•Key chassis geometry figures include: 1460mm (57.5″) wheelbase 51% front and 49 % rear weight balance, 25 degrees of rake and 109 mm of trail. The 47 degree lean angle highlights the FZ8 sporty side.

• Detachable steel rear sub frame allows easy access to rear suspension components and reduces costs in the event of a "loop-out".

• C.F. (Controlled Filling) die cast aluminum truss-type rear swingarm offers great rear wheel control and traction for razor-sharp cornering and superb stability at speed. The 3-axis stacked engine design allows enough room for the engineers to use a long design (690mm) swingarm, which minimizes the effect of the chain tension on the bike's handling.

•New, fully adjustable 43mm Kayaba inverted cartridge style fork offers 130mm (5.1″) of wheel travel. The benefits of the inverted design include, reduced "unsprung" weight and reduced fork flex since the larger diameter tubes are gripped in the triple clamps. A reduction in unsprung weight allows improved control of the suspension function. Adjustments include spring pre-load, 13-way compression and 11-way rebound damping. The adjustable design allows the rider to tailor suspension settings to match rider weight, road /track conditions and riding style to maximize handling and suspension performance.

• Lightweight aluminum upper and lower triple clamps.
• Revised adjustable link-type Monocross rear suspension allows the rider to tailor suspension settings to match rider weight, riding style and road /track conditions to maximize handling and suspension performance. Adjustments include spring preload and 20-way rebound damping. Rear wheel travel is 130mm or 5.1″

•Dual 310mm front discs are squeezed by ultra-rigid R6 inspired mono block, 4-piston calipers which provide outstanding stopping power and feel. The master cylinder utilizes a 16mm piston for outstanding stopping power with less lever effort.
•267mm rear disc is squeezed by a lightweight single piston slide-type Nissin caliper with sintered metal brake pads.
•Lightweight cast-aluminum 5-spoke wheels reduce unsprung weight for great handling characteristics. The front wheel is an MT3.50-17 and is fitted with a 120/70-ZR17 radial tire. The rear wheel is a MT5.50-17 fitted with a 180/55-ZR17 radial tire.
•Aggressive single headlight provides plenty of illumination with its 60/55 watt halogen bulb. There is even a super small, colour matched "bikini" windshield mounted above the headlight to add even more style.
•Conventional handlebar design features an upright positioning for maximum everyday riding comfort.

•17-liter fuel tank offers a slim design with great knee grip. The reserve portion of the tank is 3.4 litres.
•Separate rider and passenger seats offers exceptional solo or two-up comfort. Seat width is narrower than the FZ1, making it easier to touch the ground. Seat height is 815mm (32.1″)
•One-piece race inspired instrument features analog tachometer, digital speedometer, odometer, dual tripmeters, fuel gauge, fuel reserve tripmeter (counts kilometres since the fuel went on reserve), clock, coolant temperature and a self-diagnosis mode.

ADDITIONAL DETAILS
•Adjustable, 5-position front brake lever

•Small storage compartment under the passenger seat

• Excessive lean angle engine cut-out switch … if unit is on its side the engine will shut down

•Extended idle cut-off … if engine idles for more than 20 minutes it will automatically shut down

•Lockable steering

•Durable "O"-ring-sealed drive chain

•Lightweight, sealed low-maintenance battery
The FZ8 offers a significant level of power and performance. It is not intended for novice or inexperienced riders.
---
2013 Yamaha FZ8 – USA Specifications/Technical Details
US MSRP Price: $8,890 USD(Matte Gray/Matte Black) Available from February 2013

Engine
Type 779cc liquid-cooled inline 4-cylinder; DOHC, 16 valves
Bore x Stroke 68.0 x 53.6mm
Compression Ratio 12.0:1
Fuel Delivery Fuel Injection
Ignition Digital TCI: Transistor Controlled Ignition with 32-bit ECU
Transmission 6-speed w/multiplate clutch
Final Drive O-ring chain

Chassis
Suspension / Front Telescopic fork; adjustable compression and rebound, 5.1-in travel
Suspension / Rear Single shock; adjustable preload and rebound damping, 5.1-in travel
Brakes / Front Dual 310mm hydraulic discs
Brakes / Rear 267mm disc
Tires / Front 120/70-ZR17M/C 58W
Tires / Rear 180/55-ZR17M/C 73W

Dimensions
Length 84.3 in
Width 30.3 in
Height 41.9 in
Seat Height 32.1 in
Wheelbase 57.5 in
Ground Clearance 5.5 in
Rake (Caster Angle) 25.0°
Trail 4.3 in
Fuel Capacity 4.5 gal
Fuel Economy** 39 mpg
Wet Weight*** 467 lb

Other
Warranty 1 Year (Limited Factory Warranty)
---
2013 Yamaha FZ8 – Canadian Specifications/Technical Details
Canada MSRP Price: $9,599 CDN

Engine Liquid-cooled, DOHC, 16-valve, inline-four
Displacement 779cc
Bore and Stroke 68 x 53.6 mm
Compression Ratio 12:1
Maximum Torque 8.4 kg-m (60.8 ft-lbs.) @ 8,000 rpm
Fuel Delivery Mikuni 35mm throttle body F.I.
Estimated Fuel Consumption* 16.5kpl / 47mpg (Imp)
Lubrication Wet sump
Ignition / Starting TCI / Electric
Transmission 6-speed
Final Drive "O"-ring chain

Suspension (Front) Fully adjustable 43mm inverted fork
Suspension (Rear) Adjustable link Monocross
Brakes (Front) Dual 310mm discs
Brakes (Rear) 267mm disc
Tires (Front) 120/70ZR17
Tires (Rear) 180/55ZR17

Length 2,140mm (84.3″)
Width 770mm (30.3″)
Height 1,065mm (41.9″)
Wheelbase 1,460mm (57.5″)
Rake / Trail 25° / 109mm
Seat Height 815mm (32.1″)
Fuel Capacity 17 litres (3.7 imp. gallons)
Wet Weight 212 kg (467 lb.)
Colour(s) Metallic Black
± Fuel economy estimates are based on US EPA exhaust emission certification data obtained by Yamaha and converted into Canadian measurements. Your actual mileage will vary depending on road condition, how you ride, maintain your vehicle, accessories, cargo and operator/passenger weight.

Specifications, appearance, and price of product are subject to change without notice.
* MSRP does not include freight, PDI (Pre Delivery Inspection), pre-rigging (boats), or taxes. Dealer may sell for less. See your local dealer for out the door pricing.
---
2013 Yamaha FZ8 – UK/Europe Specifications/Technical Details
UK/European MSRP Price: £ See dealer for Pricing.

Engine
Engine type liquid-cooled, 4-stroke, DOHC, forward-inclined parallel 4-cylinder
Displacement 779cc
Bore x stroke 68.0 mm x 53.6 mm
Compression ratio 12.0 : 1
Maximum power 78.1 kW (106.2PS) @ 10,000 rpm
Maximum Torque 82.0 Nm (8.4 kg-m) @ 8,000 rpm
Lubrication system Wet sump
Carburettor Electronic Fuel Injection
Clutch Type Wet, multiple-disc coil spring
Ignition system TCI (digital)
Starter system Electric
Transmission system Constant Mesh, 6-speed
Final transmission Chain

Chassis
Frame Aluminium die-cast, Diamond Shaped
Front suspension system Upside-down telescopic fork, Ø 43 mm inner tube
Front travel 130 mm
Caster Angle 25º
Trail 109 mm
Rear suspension system Linked monoshock with spring preload adjustment
Rear Travel 130 mm
Front brake Hydraulic dual disc, Ø 310 mm
Rear brake Hydraulic single disc, Ø 267 mm
Front tyre 120/70 ZR17M/C (58W)
Rear tyre 180/55 ZR17M/C (73W)

Dimensions
Overall length 2,140 mm
Overall width 770 mm
Overall height 1,065 mm
Seat height 815 mm
Wheel base 1,460 mm
Minimum ground clearance 140 mm
Wet weight (including full oil and fuel tank) 211 kg / ABS 216 kg
Fuel tank capacity 17 litres
Oil tank capacity 3.8 litres
---
2013 Yamaha FZ8 – Australian Specifications/Technical Details
AU MSRP Price: $TBA AUD

Engine
Engine Type Liquid-cooled, 4-stroke, DOHC, forward-inclined parallel 4-cylinder
Displacement 779 cc
Bore x Stroke 68.0 x 53.6 mm
Compression Ratio 12.0 : 1
Lubrication System Wet Sump
Fuel Management EFI
Ignition TCI
Starter System Electric
Fuel Tank Capacity 17 L
Oil Capacity 3.8 L
Final Transmission Chain drive
Transmission 6-speed
Dimensions
Length 2140 mm
Width 770 mm
Height 1065 mm
Seat Height 815 mm
Wheelbase 1460 mm
Ground Clearance 140 mm
Wet Weight 211 kg with 17 litres of fuel
Chassis
Frame Type Aluminium diamond
Suspension Front Telescopic fork with 130mm travel
Suspension Rear Swingarm (link) with 130mm travel
Brakes Front Dual discs
Brakes Rear Single disc
Tyres Front 120/70 ZR17 MC (58W)
Tyres Rear 180/55 ZR17 MC (73W)
Specifications, features and prices to change by manufacturer without notice. All information correct as of posted date.