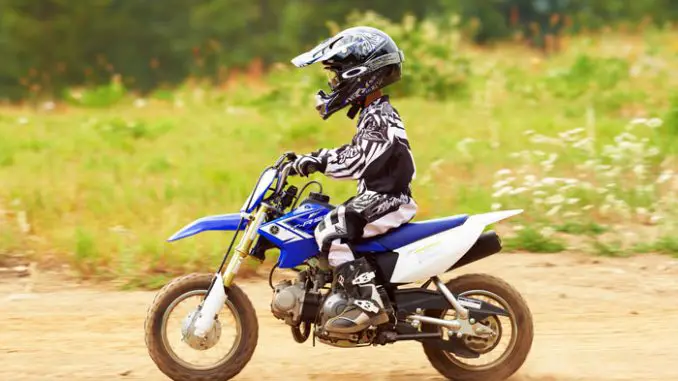 Click photos to enlarge. Our big, clean bike pics make great desktop wallpaper.
2013 Yamaha TT-R50E Review

2013 Yamaha TT-R50E
Push button electric start and three-speed automatic transmission make this the perfect bike for learning…
Our littlest TT-R boasts big YZ styling, four stroke power, a three speed automatic clutch gearbox, even push button electric starting. Go ahead, play in the dirt.
Get Started Today.
The 2013 Yamaha TT-R50 has a push button electric starter, an inverted front fork and Monocross rear suspension, and a three speed automatic clutch transmission great for learning and playing.
For the younger, smaller off-road fanatics in your family, look no further than the user-friendly TT-R50E.

The 50cc four-stroke engine feeds power through a three-speed semi-automatic transmission, great for learning and playing. It's got the style of a big YZ, but low enough for the little ones to climb aboard with a seat that's only 555mm (21.9″) above the ground. Once they're going, you'll be glad to know, the TT-R50E is equipped with powerful drum brakes for dependable stopping power and a speed limiter screw. Like all Yamaha's, TT-R's are packed full of leading-edge engineering and stand up to our stringent standards for reliability. They're built to last. The only thing we can't do is stop your little ones from out growing them! But we've got their next Yamaha waiting when that happens.

2013 Yamaha TT-R50E Key Features

50cc, 4-stroke power

Convenient Electric Starting

Throttle Stop Screw

The TT-R50E gets the same pushbutton electric starting feature as our full line of electric-start TT-Rs.

Great for learning and/or playing, complete with 49cc of four-stroke fun feeding power through a three-speed automatic-clutch transmission.

Big YZ styling meets little people's stature; the seat's only 21.9 inches from the dirt.

Inverted fork and Monocross® rear end provide great handling.

Large chain cover for maximum protection and minimal maintenance.
2013 Yamaha TT-R50E Features and Benefits
Engine:

•Air-cooled, 50cc, SOHC, 2-valve, 4-stroke powerplant produces smooth, reliable novice friendly power that eases the new rider up the learning curve.

•Convenient, push-button electric starting makes starting a snap and takes one of the hassles out of learning how to ride.

•Compact engine cases keep the engine narrow, making it easier for a smaller rider to get their feet firmly on the ground.
•Lightweight crankshaft design means crisp throttle response.
•The cylinder uses a conventional cast iron liner which means the engine can be overbored. The benefit is reduced costs in the event of a problem, plus the unit can be bored for adult pit bike use.
•Valve design features a special "carbon cutter" valve stem which helps to prevent the build up of carbon on the stem, which could cause a valve to stick. This is an important feature when a unit will be operated at sustained low speed and low rpms. Valve adjustments are via rocker arms for ease of maintenance.

•Automatic ratchet-type cam chain adjuster reduces maintenance, extends engine life and reduces mechanical noise.

•Mikuni VM11 carburetor ensures crisp throttle response and great fuel economy. It also features an electric carb heater for reduced engine warm-up time and faster cold starting (heater doesn't function above 16 degrees C or warmer). Carburetor features "Electroless" nickel plating applied to valve seat and nickel silver needle valve to counter act the negative effects of E10 (10% ethanol) fuels.

•Washable foam air filter reduces maintenance costs.

•Smooth-shifting, 3-speed transmission with automatic centrifugal clutch eases the beginner into the basics of shifting, without the complications of a hand operated clutch. The auto clutch means all the rider does is shift the foot pedal … there is no clutching involved.

•Transmission ratios have been designed to compliment the engine's power band.

•CDI (capacitor discharge) ignition system delivers a hot, reliable spark, sure starts and requires no maintenance.

•Centrifugal oil filtering system is basically an automatic system that requires no maintenance.

•Lightweight, upswept exhaust system features numerous heat shields to protect young riders for hot components. This exhaust system produces a quiet exhaust note which will keep the neighbors happy. A cleanable screen-type spark arrestor protects Mother Nature from stray sparks.

Chassis and Suspension:

Rugged "mini-size" steel back bone type frame provides rugged durability whether being ridden by a child or an adult. The engine mounts to the frame at three points, making the entire chassis more rigid for superior handling.

•Triangulated steel tube swingarm is both rugged and rigid.

•Inverted 22mm Showa front fork offers a class leading 96mm (3.8″) of wheel travel providing confidence-inspiring control over rough terrain. The lower fork legs feature rugged plastic protectors that help to protect the fork legs from stone chips.

•Monocross single shock rear suspension with 71mm (2.8″) of wheel travel delivers progressive suspension performance to smooth out rough trails.
•Low 556mm (21.9″) seat height provides a handling-enhancing lower centre of gravity and allows most riders to put both feet firmly on the ground for added confidence.

•Long, motocross-style seat is low, comfortable and allows easy rider movements.

•Front and rear 80mm drum brakes deliver strong dependable stopping power. The brake design and components are the same front and rear.

•2.50×10 front and rear knobby tires feature a 4 ply design, and offer superb traction in the dirt.

•135mm (5.3″) of ground clearance allows the TT-R50E to tackle modest obstacles.

Additional Features:

•Rugged YZ-F inspired plastic body components resist damage in the event of a tip-over. This design gives the TT-R50E that big YZ look while also creating a narrow profile for easy rider movements.
•Key operated, handlebar mounted ignition switch prevents joy rides when an adult supervisor is not present.
•Rugged YZ style handlebar features a re-enforcing cross bar for extra strength and a foam pad to protect the rider. YZ style grips give that big bike feel.

•Special sealed battery is low-maintenance and prevents leakage even during a tip-over.

•Serrated steel folding footpegs provide excellent footing even in wet or muddy conditions.

•Convenient handlebar mounted paddle-style choke lever is easily accessible.

•On/off/reserve fuel petcock
•Throttle stop screw allows parents or adult supervisor to control the top speed of the TT-R50E by restricting how far the throttle can be opened.

•Exhaust heat shields protect young riders from hot components

•Foam handlebar pad

•Keyed ignition allows parents to control use

•Upper and lower chain guards

•E10 compatible fuel system components

IMPORTANT NOTE: Adult supervision and proper protective riding gear, including a helmet and eye protection are a must when a youngster is operating a TT-R50E.
---
2013 Yamaha TT-R50E – USA Specifications/Technical Details
US MSRP Price: $1,540 (Team Yamaha Blue/White) USD

Engine
Type 49cc air-cooled SOHC 4-stroke; 2 valves
Bore x Stroke 36.0mm x 48.6mm
Compression Ratio 9.5:1
Fuel Delivery Mikuni® VM11 carburetor
Ignition CDI
Transmission Constant-mesh 3-speed; automatic clutch
Final Drive Chain

Chassis
Suspension / Front Inverted telescopic fork; 3.8-in travel
Suspension / Rear Single shock; 2.8-in travel
Brakes / Front 80mm drum
Brakes / Rear 80mm drum
Tires / Front 2.50-10-4PR
Tires / Rear 2.50-10-4PR

Dimensions
Length 51.4 in
Width 23.4 in
Height 31.3 in
Seat Height 21.9 in
Wheelbase 36.4 in
Ground Clearance 5.3 in
Fuel Capacity .82 gal
Wet Weight*** 126 lb

Other
Warranty 90 Day (Limited Factory Warranty)
*Prices and specifications subject to change without notice. Please read your Owner's Manual and all labels before operation.
**Fuel economy estimates are based on US EPA exhaust emission certification data obtained by Yamaha. Your actual mileage will vary depending on road
conditions, how you ride and maintain your vehicle, accessories, cargo, and operator/passenger weight.
***Wet weight includes the vehicle with all standard equipment and all fluids, including oil, coolant (as applicable) and a full tank of fuel.
---
2013 Yamaha TT-R50E – Canadian Specifications/Technical Details
Canada MSRP Price: $1,599 CDN
Engine 4-stroke, air-cooled, SOHC, 2-valve, single
Displacement 50cc
Bore and Stroke 36 x 48.6mm
Compression Ratio 9.5:1
Maximum Torque 0.32 kg-m (2.3 ft-lb) @ 5,500 rpm
Fuel Delivery Mikuni VM11
Ignition / Starting CDI / Electric
Transmission 3-speed, semi auto (automatic clutch)
Final Drive Chain

Suspension (Front) 22mm inverted fork / 96mm (3.8″) wheel travel
Suspension (Rear) Monocross / 71mm (2.8″) wheel travel
Brakes (Front) Drum
Brakes (Rear) Drum
Tires (Front) 2.50-10
Tires (Rear) 2.50-10

Length 1,305mm (51.4″)
Width 595mm (23.4″)
Height 795mm (31.3″)
Wheelbase 925mm (36.4″)
Ground Clearance 135mm (5.3″)
Seat Height 555mm (21.9″)
Fuel Capacity 3 litres (0.66 imp. gallons)
Wet Weight 57kg (126 lb)
Colour(s) Yamaha Blue
± Fuel economy estimates are based on US EPA exhaust emission certification data obtained by Yamaha and converted into Canadian measurements. Your actual mileage will vary depending on road condition, how you ride, maintain your vehicle, accessories, cargo and operator/passenger weight.

Specifications, appearance, and price of product are subject to change without notice.
* MSRP does not include freight, PDI (Pre Delivery Inspection), pre-rigging (boats), or taxes. Dealer may sell for less. See your local dealer for out the door pricing.
---
2013 Yamaha TT-R50E – UK/Europe Specifications/Technical Details
UK/European MSRP Price: £ See dealer for Pricing.

More information to follow shortly
---
2013 Yamaha TT-R50E – Australian Specifications/Technical Details
AU MSRP Price: $TBA AUD

More information to follow shortly
Specifications, features and prices to change by manufacturer without notice. All information correct as of posted date.