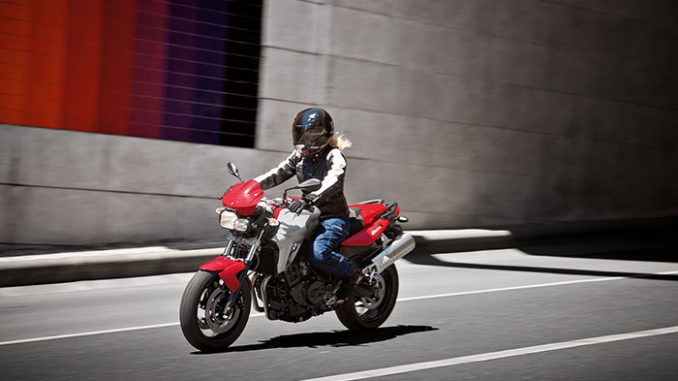 Click photos to enlarge. Our big, clean bike pics make great desktop wallpaper.
2014 BMW F800R Review

2014 BMW F800R on Totalmotorcycle.com
Uncompromising style that everyone loves to ride…
It's definitely the hottest generation of roadsters since the BMW K1300R. Dominance from the very first yard – a perfect combination of pure riding fun and excellent suitability for everyday use.
After its model revision, the F800R is just as sexy as it was before – and the 798 cc 2-cylinder engine is as punchy as ever. The masculine design and minimalist lines offer highly attractive purism.
The familiar, highly economical parallel twin continues to offer superb enjoyment. 86 Nm of torque is an outstanding figure in this class of motorcycle, as is 87 bhp.
In particular because this power is available across a perfectly linear engine speed range – in other words ridability and riding fun across the board; here the BMW F800R offers a breadth of performance which pleases experienced riders just as it does beginners.
Weighing in at just 177 kg with ergonomics which provide a perfect fit for everyone, a clean, crisp suspension and perfectly balanced geometry: the F800R embodies uncompromising style that everyone loves to ride.

2014 BMW F800R Totalmotorcycle.com Key Features

Special Features
BMW Motorrad ABS as Standard
Engine/Driveline
2 cylinder 4 stroke parallel twin engine
Six speed gearbox
Complete stainless steel exhaust system
4 Valve cylinder heads
Digital engine management
Closed loop 3 way catalytic converter with oxygen sensor
O-ring chain with shock damping in rear wheel hub
Running Gear
Braided steel brake hoses
Cast aluminium double sided swing arm
Prop stand with starter inhibit
Continuously adjustable rear rebound damping
Twin disk front break
Single disk rear brake
Hydraulic rear spring preload adjuster
Spoke cast aluminium wheels
Electronics
Speedometer and revolution counter
Hazard warning flashers
Permanent headlamp beam
Electric immobiliser
Info flat screen (digital clock, total and 2 trip odometers, cruising range indicator, service interval indicator)
Equipment
Toolkit
One key system for ignition, steering, fuel filler cap and dual seat locks
Adjustable hand brake
Integral ignition switch and steering lock
One piece dual seat
Pillion Rider footrests and grab rails
2014 BMW F800R Totalmotorcycle.com Features and Benefits
The new F 800 R is radically different, and yet every inch a BMW. The state-of-the-art parallel twin engine with electronic fuel injection develops 87hp from its 798cc, not to mention a mighty 86Nm of torque. And with the deep, throaty exhaust tone, its sound is every bit as impressive as it performs.
The 320-millimetre Brembo double disk brake at the front ensures maximum stopping power, while BMW Motorrad ABS and optional TPC Tyre Pressure Control further enhance safety. The lightweight, rigid aluminium frame and dynamically styled double swing-arm, means the bike is also extremely manoeuvrable. The astonishing dry weight of just 177 kilograms make it an agile motorcycle with incredibly precise handling.
Need proof that this bike is as manageable, balanced and lightweight as we claim it is? Why not check out what stunt rider Mattie Griffin can do on his bike of choice?
---
2014 BMW F800R – Totalmotorcycle.com USA Specifications/Technical Details
US MSRP Price: $NA USD

Model Not Available

---
2014 BMW F800R – Totalmotorcycle.com Canadian Specifications/Technical Details
Canada MSRP Price: $10,800 CDN


Engine

Type
Water-cooled, 4-stroke in-line two-cylinder engine, two overhead camshafts, four valves per cylinder, dry sump lubrication
Bore x stroke
82 mm x 75.6 mm
Capacity
798 ccm
Rated output
64 kW (87 hp) at 8,000 rpm
(output reduction 25 kW (34 hp) at 6,000 rpm possible)
Max. torque
86 Nm at 6,000 rpm (performance reduction: 58 Nm at 3,250 rpm)
Compression ratio
12,0 : 1
Mixture control / engine management
Electronic intake pipe injection / digital engine management (BMS-K+)
Emission control
Closed-loop 3-way catalytic converter, emission standard EU-3

Performance / fuel consumption

Maximum speed
Over 200 km/h
Fuel consumption per 100 km at constant 90 km/h
3.6 l
Fuel consumption per 100 km at constant 120 km/h
4.8 l
Fuel type
Unleaded super, minimum octane rating 95 (RON)

Electrical system

Alternator
three-phase alternator 400 W
Battery
12 V / 14 Ah, maintenance-free

Power transmission

Clutch
Multiple-disc clutch in oil bath, mechanically operated
Gearbox
Constant mesh 6-speed gearbox integrated into crankcase
Drive
Endless O-ring chain with shock damping in rear wheel hub

Chassis / brakes

Frame
Bridge-type frame, cast aluminium, load-bearing engine
Front wheel location / suspension
Telescopic fork, Ø 43 mm
Rear wheel location / suspension
Cast aluminium dual swing arm, central spring strut, spring pre-load hydraulically adjustable (continuously variable) at handwheel, rebound damping adjustable
Suspension travel front / rear
125 mm / 125 mm
Wheelbase
1,520 mm
Castor
90.7 mm
Steering head angle
65°
Wheels
Cast aluminium wheels
Rim, front
3.50 x 17″
Rim, rear
5.50 x 17″
Tyres, front
120/70 ZR 17
Tyres, rear
180/55 ZR 17
Brake, front
Dual disc brake, floating brake discs, diameter 320 mm, 4-piston fixed calipers
Brake, rear
Single disc, diameter 265 mm, single-piston floating caliper
ABS
Optional extra: BMW Motorrad ABS

Dimensions / weights

Length
2,145 mm
Width (incl. mirrors)
905 mm
Height (excl. mirrors)
1 150 mm
Seat height, unladen weight
800 mm (low seat: 775 mm, high seat: 825 mm)
Inner leg curve, unladen weight
1,770 mm (low seat: 1,720 mm, high seat: 1,820 mm)
Unladen weight, road ready, fully fuelled 1)
202 kg
Dry weight 2)
177 kg
Permitted total weight
405 kg
Payload (with standard equipment)
203 kg
Usable tank volume
16 l
Reserve
approx. 3.0 l

---
2014 BMW F800R – Totalmotorcycle.com European/UK Specifications/Technical Details
UK/European MSRP Price: £7,595.00 GBP (On The Road).
Engine
Type Water-cooled, 2-cylinder, 4-stroke, four valves per cylinder, two overhead camshafts, dry sump lubrication
Bore x stroke 82 mm x 75.6 mm
Capacity 798 cc
Rated output 64 kW (87 hp) at 8.000 rpm (output reduction 25 kW (34 hp) at 6.000 rpm possible)
Max. torque 86 Nm at 6.000 rpm (performance reduction: 58 Nm at 3.250 rpm)
Compression ratio 12,0 : 1
Mixture control / engine management Electronic intake pipe injection / digital engine management (BMS-KP)
Emission control Closed-loop 3-way catalytic converter, emission standard EU-3
Performance / fuel consumption
Maximum speed Over 200 km/h
Fuel consumption per 100 km at constant 90 km/h 3,6 l
Fuel consumption per 100 km at constant 120 km/h 4,8 l
Fuel type Unleaded super, minimum octane rating 95 (RON)
Electrical System
Alternator three-phase alternator 400 W
Battery 12 V / 14 Ah, maintenance-free
Power transmission
Clutch
Gearbox Constant mesh 6-speed gearbox integrated into crankcase
Drive O-ring chain with shock damping in rear wheel hub
Chassis / brakes
Frame Bridge-type aluminium frame, load-bearing engine
Front wheel location / suspension Telescopic fork, 43 mm
Rear wheel location / suspension Cast aluminium double sided swing arm, central spring strut, spring pre-load hydraulically adjustable (continuously variable) at handwheel, rebound damping adjustable
Suspension travel front / rear 125 mm / 125 mm
Wheelbase 1,520 mm
Castor 90.7 mm
Steering head angle 65°
Wheels Cast aluminium
Rim, Front 3.50 x 17″
Rim, rear 5.50 x 17″
Tyre, front 120/70 ZR 17
Tyre, rear 180/55 ZR 17
Brake, front Twin disc, floating brake discs, diameter 320 mm, four-piston fixed calipers
Brake, rear Single disc, diameter 265 mm, single-piston floating caliper
ABS As Standard: BMW Motorrad ABS
Dimensions / weights
Length 2,145 mm
Width (incl. mirrors) 905 mm
Height (excl. mirrors) 1,160 mm
Seat height, unladen weight 800 mm (low seat: 775 mm, high seat: 825 mm)
Inner leg curve, unladen weight 1,770 mm (low seat: 1,720 mm, high seat: 1,820 mm)
Unladen weight, road ready, fully fueled 199 kg
Dry weight 177 kg
Permitted total weight 405 kg
Payload (with standard equipment) 206 kg
Usable tank volume 16,0 l
Reserve approx. 4.0 l

Specifications, features and prices to change by manufacturer without notice. All information correct as of posted date.
Technical data relate to the unladen weight (DIN)
1) According to Directive 93/93/EEC with all fluids, fuelled to at least 90% of usable fuel tank
2) Unladen weight without fluids