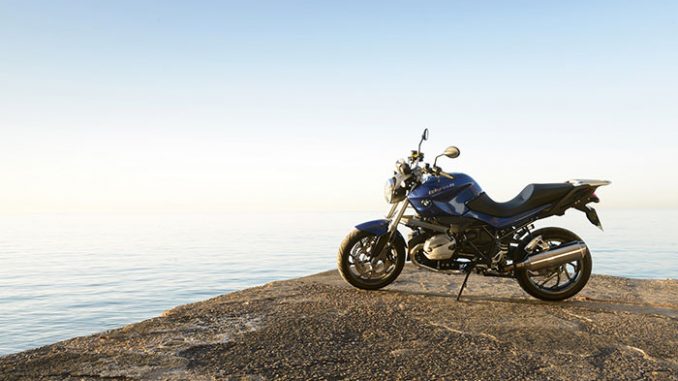 Click photos to enlarge. Our big, clean bike pics make great desktop wallpaper.
2014 BMW R1200R Review

2014 BMW R1200R on Totalmotorcycle.com
The new R 1200 R – a true Rock'n'Roll Roadster….
The all-round model revision of the R 1200 R has produced a truly multi-talented machine. The distinguished design, the newly developed DOHC flat-twin engine and the ingenious chassis with Telelever and Paralever make the R 1200 R a genuine Rock'n'Roll Roadster which will get the most out of every road in terms of riding pleasure.
Visually speaking, the revision of the R 1200 R is once again a real eye-catcher. The purist lines and the even more refined finish demonstrate the powerful character of the machine. New circular instruments, a new higher-quality fork, the new double-butted aluminum handlebars, beautiful new cast wheels, a chrome exhaust manifold as standard and much more besides – all this reflects an attention to detail as far as the eye can see. Especially in the Classic version, with is absolute Rock'n'Roll for the eyes with a wide range of visual highlights such as spoke wheels, chrome features and an attractive paint.
The air/oil-cooled 2-cylinder twin engine offers not only a new sonorous, throaty sound at a whole new level but also a genuine innovation: after their appearance in the GS and RT models, the two overhead camshafts and four radially arranged valves now see their debut here. What is more, output has been increased to 81 kW (110 bhp), with a maximum torque which has also been raised to 119 Nm at 6,000 rpm. This means that the power unit now accelerates with even greater ease from low engine speeds, performing impressively in all situations on the road and delivery even greater pulling power.
The special equipment features available for this all-rounder range from safety features such as standard part integral ABS, to optional ASC and tire pressure monitor through to comfort and tour-oriented features such as ESA (Electronic Suspension Adjustment), case holders and windshield. And there are some impressive motorcycle accessories available for the R 1200 R, too, with an extremely light Akrapovic silencer made of titanium, practical system cases and eye-catching chrome cylinder head covers.
BMW R 1200 R special model "DarkWhite"
Purist look, powerful character and reliable technology: this description perfectly captures the R 1200 R – a roadster straight out of the text book. The 2-cylinder flat twin generates an impressive 110 bhp and a maximum torque of 119 Nm.
BMW Motorrad now presents the Rock'n'Roll Roadster R 1200 R in the form of the exclusive special model "DarkWhite". Numerous technological and visual highlights make it a genuine special edition.
The colours Light white and Black give the "DarkWhite" a powerful contrast which sets it apart from the masses. The "Sport" windshield provides relief at high speeds. The sports seat enables improved contact with the motorcycle. The familiar BMW Motorrad special accessories and options are available for the "DarkWhite", allowing it to be adapted to every type of rider.

2014 BMW R1200R Totalmotorcycle.com Key Features


Special Features
BMW Motorrad ABS as Standard
Engine/Driveline
Complete stainless steel exhaust system, polished manifold, brushed exhaust silencer
Shaft drive
6 Speed gearbox, helical toothed
Closed loop 3 way catalytic converter with oxygen sensor
Digital engine management (BMS-K) with twin-spark ignition system
Air/oil cooled flat twin four stroke DOHC engine (with radial valves)
Running Gear
Continuously adjustable rear rebound damping
Armoured steel clutch hoses
Armoured steel brake hoses
Side stand with starter inhibit
5.5 x 17 inch rear wheel with 180/55 ZR17 Tyre
Hydraulic rear spring preload adjuster
Single disk rear brake
Twin disk front brake (EVO, 320mm dia.)
BMW Motorrad telelever and paralever (EVO)
Electronics
Hazard warning flasher
Power socket
Instrument cluster with digital speedometer and revolution counter
Info flat screen (digital clock, total 2 trip odometers and service indicator)
Low beam headlamp adjustment
Electronic immobiliser
Permanent headlamp beam
Equipment
Front fork spoiler for optimised airflow to radiator
Steel fuel tank
Integral ignition switch and steering lock
Adjustable handbrake and clutch lever
One key system for ignition, steering, fuel filler cap and dual seat locks
Toolkit
2014 BMW R1200R Totalmotorcycle.com Features and Benefits
As a traditional roadster, the BMW R 1200 R offers an almost ideal synthesis of riding dynamics, agility and classic design within the boxer series with a spirited 81 kW (110 HP). It combines nimble handling with impressive good looks and balanced ergonomics, offering maximum motorcycling pleasure at its purest.
In the R 1200 R "DarkWhite" special model, BMW Motorrad highlights its sporty side, something that has always typified BMW roadsters with boxer engines.

The special model underlines dynamic aspirations in an exciting contrast between the bodywork with its light white paintwork and the jet black of the drivetrain and wheels. Frame in asphalt grey, swingarm, rear axle housing and triangular wishbone in matt black and black anodised fork tubes lend the roadster an exclusive high-tech feel. The sports windshield reduces the strain on the rider in the area of the helmet and upper body. The standard sports seat provides perfect contact with the motorcycle.
In addition, the BMW R 1200 R "DarkWhite" special model can be individually enhanced with special accessories and optional extras from the extensive BMW Motorrad range.
The highlights of the BMW R 1200 R "DarkWhite".
• Light white paintwork on front mudguard, fuel tank, taillight cover, headlight cover and fairings.
• Drivetrain and wheels in black.
• Frame in asphalt grey.
• Swingarm, rear axle housing and triangular wishbone in matt black.
• Black anodised fork tube.
• Sports windshield.
• Sports seat.
---
2014 BMW R1200R – Totalmotorcycle.com USA Specifications/Technical Details
US MSRP Price: $14,100 USD


Engine

Type
Air/oil-cooled flat twin ('Boxer') 4-stroke engine, two camshafts and four radially aligned valves per cylinder, central balancer shaft
Bore x stroke
101 mm x 73 mm
Capacity
1,170 cc
Rated output
110hp (81 kW) at 7,500 rpm
Max. torque
88 lb/ft (119 Nm) at 6,000 rpm
Compression ratio
12.0 : 1
Mixture control / engine management
Electronic intake pipe injection / BMS-K+ digital engine management with overrun fuel cut-off, twin-spark ignition
Emission control
Closed-loop 3-way catalytic converter, emission standard EU-3

Performance / fuel consumption

Maximum speed
Over 125 mph
Fuel consumption per 100 km at constant 90 km/h
57 mpg at a constant 55 mph (4.1 l)
Fuel consumption per 100 km at constant 120 km/h

Fuel type
Premium unleaded

Electrical system

Alternator
three-phase alternator 720 W
Battery
12 V / 14 Ah, maintenance-free

Power transmission

Clutch
Single dry plate clutch, hydraulically operated
Gearbox
Constant mesh 6-speed gearbox with helical gear teeth
Drive
Shaft drive

Chassis / brakes

Frame
Two-section frame consisting of front and rear sections, load-bearing engine-gearbox unit
Front wheel location / suspension
BMW Motorrad Telelever; stanchion diameter 41 mm, central spring strut
Rear wheel location / suspension
Cast aluminium single-sided swing arm with BMW Motorrad Paralever; central spring strut, spring pre-load hydraulically adjustable (continuously variable) at handwheel, rebound damping adjustable
Suspension travel front / rear
4.7 in / 5.5 in (120 mm / 140 mm)
Wheelbase
58.9 in (1,495 mm)
Castor
4.7 in (119.1 mm)
Steering head angle
62.9°
Wheels
Cast aluminium wheels
Rim, front
3.50 x 17″
Rim, rear
5.50 x 17″
Tyres, front
120/70 ZR 17
Tyres, rear
180/55 ZR 17
Brake, front
Dual floating discs, diameter 320 mm, four-piston fixed calipers
Brake, rear
Single disc brake, diameter 265 mm, double-piston floating caliper
ABS
STANDARD (part integral)

Dimensions / weights

Length
84.4 in (2,145 mm)
Width (incl. mirrors)
35.7 in (906 mm)
Height (excl. mirrors)
50.1 in (1,273 mm)
Seat height, unladen weight
31.5 inches Standard; variable seat heights available between 29.5 inches and 32.7 inches (available as accessories and/or factory options, see an authorized BMW Motorrad dealer)
Inner leg curve, unladen weight
72.4 inches Standard; variable inner leg curve (inseam) between 67.7 and 73.2 inches (seats available as accessories and/or factory options, see an authorized BMW Motorrad dealer)
Unladen weight, road ready, fully fuelled 1)
509 lbs (231 kg)
Dry weight

Permitted total weight
992 lbs (450 kg)
Payload (with standard equipment)
483 lbs (219 kg)
Usable tank volume
4.8 gal (18 l)
Reserve
approx. 0.8 gal

---
2014 BMW R1200R – Totalmotorcycle.com Canadian Specifications/Technical Details
Canada MSRP Price: $16,050 CDN


Engine

Type
Air/oil-cooled flat twin ('Boxer') 4-stroke engine, two camshafts and four radially aligned valves per cylinder, central balancer shaft
Bore x stroke
101 mm x 73 mm
Capacity
1,170 cc
Rated output
81 kW (110 hp) at 7,500 rpm
Max. torque
119 Nm at 6.000 rpm
Compression ratio
12.0 : 1
Mixture control / engine management
Electronic intake pipe injection / BMS-K+ digital engine management with overrun fuel cut-off, twin-spark ignition
Emission control
Closed-loop 3-way catalytic converter, emission standard EU-3

Performance / fuel consumption

Maximum speed
over 200 km/h
Fuel consumption per 100 km at constant 90 km/h
4.1 l
Fuel consumption per 100 km at constant 120 km/h
5.5 l
Fuel type
Unleaded super and premium, octane number 95-98 (RON) (knock sensor; rated output at 98 RON)

Electrical system

Alternator
three-phase alternator 720 W
Battery
12 V / 14 Ah, maintenance-free

Power transmission

Clutch
Single dry plate clutch, hydraulically operated
Gearbox
Constant mesh 6-speed gearbox with helical gear teeth
Drive
Shaft drive

Chassis / brakes

Frame
Two-section frame consisting of front and rear sections, load-bearing engine-gearbox unit
Front wheel location / suspension
BMW Motorrad Telelever; stanchion diameter 41 mm, central spring strut
Rear wheel location / suspension
Cast aluminium single-sided swing arm with BMW Motorrad Paralever; central spring strut, spring pre-load hydraulically adjustable (continuously variable) at handwheel, rebound damping adjustable
Suspension travel front / rear
120 mm / 140 mm
Wheelbase
1,495 mm
Castor
119.1 mm
Steering head angle
62.9°
Wheels
Cast aluminium wheels
Rim, front
3.50 x 17"
Rim, rear
5.50 x 17"
Tyres, front
120/70 ZR 17
Tyres, rear
180/55 ZR 17
Brake, front
Dual disc brake, floating brake discs, diameter 320 mm, four-piston fixed calipers
Brake, rear
Single disc brake, diameter 265 mm, double-piston floating caliper
ABS
Optional extra: BMW Motorrad Integral ABS (part-integral)

Dimensions / weights

Length
2,145 mm
Width (incl. mirrors)
906 mm
Height (excl. mirrors)
1,273 mm
Seat height, unladen weight
800 mm (option lowered suspension: 750 mm, option extra low seat: 760 mm, option seat 'Sport': 800 mm, option high comfort seat: 830mm)
Inner leg curve, unladen weight
1,840 mm (option lowered suspension: 1,720 mm, option extra low seat: 1,740 mm, option seat 'Sport': 1,800 mm, option high comfort seat: 1,860mm)
Unladen weight, road ready, fully fuelled 1)
227 kg
Dry weight 2)
203 kg
Permitted total weight
450 kg
Payload (with standard equipment)
223 kg
Usable tank volume
18 l
Reserve
approx. 3.0 l

---
2014 BMW R1200R – Totalmotorcycle.com European/UK Specifications/Technical Details
UK/European MSRP Price: £10,075.00 GBP (On The Road). Dark White: € 13,000 EUR
ngine
Type Air/oil cooled flat twin four stroke engine with 4 radially aligned valves per cylinder and central balancer shaft
Bore x stroke 101 mm x 73 mm
Capacity 1,170 cc
Rated output 81 Kw (110 hp) at 7,500 rpm
Max. torque 119 Nm at 6,000 rpm
Compression ratio 12.0 : 1
Mixture control / engine management Electronic intake pipe injection/BMS-K+ digital enfinemanagement with overrun fuel cut-off, twin spark ignition
Emission control Closed-loop 3-way catalytic converter, emission standard EU-3
Performance / fuel consumption
Maximum speed Over 200 km/h
Fuel consumption per 100 km at constant 90 km/h 4.1 l
Fuel consumption per 100 km at constant 120 km/h 5.5 l
Fuel type Unleaded super and premium, octane number 95-98 (RON) (knock sensor; rated output at 98 RON)
Electrical System
Alternator Three-phase alternator 720 W
Battery 12 V / 14 Ah, maintenance free
Power transmission
Clutch Single dry plate clutch, hydraulically operated
Gearbox Constant mesh 6-speed with helical gear teeth
Drive Shaft Drive
Chassis / brakes
Frame Two section frame consisting of front and rear sections, load bearing engine-gearbox unit
Front wheel location / suspension BMW Motorrad telelever; stanchion diameter 41mm, central spring strut
Rear wheel location / suspension Cast aluminium single sided swing arm with BMW Motorrad Paralever; central spring strut, spring pre-load
Suspension travel front / rear 120 mm / 140 mm
Wheelbase 1,495 mm
Castor 119.1 mm
Steering head angle 62.9°
Wheels Cast aluminium
Rim, Front 3.50 x 17″
Rim, rear 5.50 x 17″
Tyre, front 120/70 ZR 17
Tyre, rear 180/55 ZR 17
Brake, front Dual disk brake, floating brake discs, diameter 320mm, four piston fixed callipers
Brake, rear Single disk rear brake, diameter 265mm, double piston floating calliper
ABS As Standard. BMW Motorrad Integral ABS (part-integral)
Dimensions / weights
Length 2,145 mm
Width (incl. mirrors) 906 mm
Height (excl. mirrors) 1,273 mm
Seat height, unladen weight 800 mm (option seat height reduction: 760mm, option seat 'Sport': 800mm, option high comfort seat: 830 mm)
Inner leg curve, unladen weight 1,840mm (option seat height reduction 1,740 mm, option seat 'Sport': 1,800 mm, option high comfort seat: 1,860mm
Unladen weight, road ready, fully fueled 223 kg
Dry weight 198 kg
Permitted total weight 450 kg
Payload (with standard equipment) 277 kg
Usable tank volume 18.0 l
Reserve approx 3.0 l

Specifications, features and prices to change by manufacturer without notice. All information correct as of posted date.
Technical data relate to the unladen weight (DIN)
1) According to Directive 93/93/EEC with all fluids, fuelled to at least 90% of usable fuel tank
2) Unladen weight without fluids