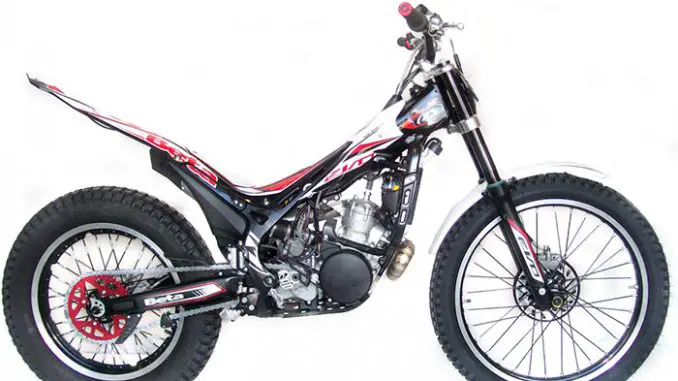 Click photos to enlarge. Our big, clean bike pics make great desktop wallpaper.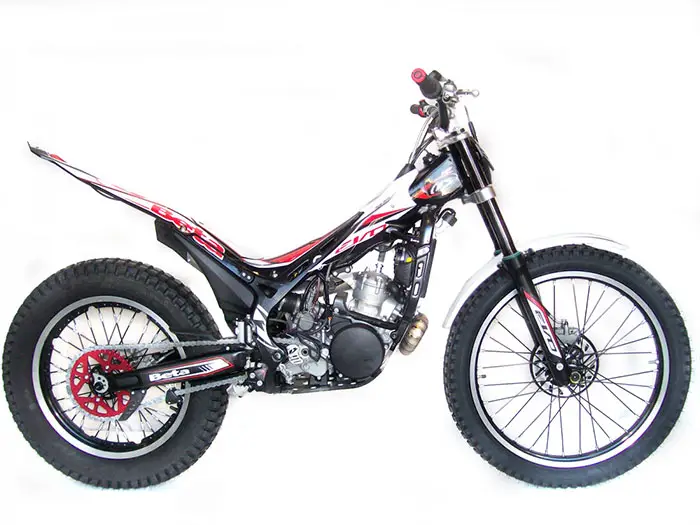 2014 Beta Evo 300 SS (Super Smooth)
2014 Beta Evo 300 SS (Super Smooth) Review

2014 Beta Evo 300 SS (Super Smooth) on Totalmotorcycle.com
Smooth like a babies bottom…
Items included with all SS models:
-Titanium head pipe designed for more torque and a smoother power delivery
-Updated clutch setting for a smoother engagement
-Flywheel weight to help smooth out the power pulses.
-Smaller countershaft sprocket to tie the engine torque to the ground
-Billet throttle wheel with bearing added for a smoother throttle response
-Domino grips that are larger in diameter and wider than stock
-Special graphics

Beta continues to forward momentum with the 2014 Evo range of trial bikes starting with a new crankshaft and crankcase for the 300 2 stroke. This new crankshaft is thinner and larger diameter which moves the reciprocating mass closer to the center of the bike resulting in a more balanced feel while riding. The new 2 stroke range also benefits with a new triple clamp, wider foot pegs, and an innovative skid plate to protect the shock linkage. Also updated is the 250 and 300 4 stroke Evo models with an all new frame. This new Hydro-formed frame shares the design with their 2 stroke brother, allowing less flex, larger amount of fuel, and a slimmer feel.
Powered by the now-famous
Beta 4 stroke engine that every rider has come to love, the 2014 Beta 4 strokes are whisper-quiet and ready for competition or just simple fun!

2014 Beta Evo 300 SS (Super Smooth) Totalmotorcycle.com Features and Benefits
Great performance, reliable and extremely versatile
After winning the 2013 125 class World Title and finishing third in the 2013 World Pro Championship, the 2014 BETA EVO arrives with a new elegant look. A combination of black and white, enriched with red details that highlight the technical and sporty spirit of the bike.
The 2014 EVO continues to be Beta's well-balanced answer to the Trial competitor as well as the hobby riders who pay special attention to performance and reliability.
Remembering that the 2014 BETA EVO, both 2t and 4t, are 100% designed and built in Italy. Their engines feature undisputed technical characteristics, amazing reliability, and a cutting-edge aluminium frame.
BETA has learned from the experience of their Factory Trial Team and takes the advice of its customers to turn them into updates that refine the bike until the desired level of performance is reached.

---
2014 Beta Evo 300 SS (Super Smooth) – Totalmotorcycle.com International Specifications/Technical Details
US MSRP Price: $8,199 USD
Canada MSRP Price: $8,199 CDN
UK/European MSRP Price: £ See dealer for pricing in GBP / EUR

Engine
Type: Single cylinder, 2-stroke, liquid-cooled w/ reed valve
Bore: 79mm
Stroke: 60.5mm
Displacement: 299 cc
Compression Ratio: 10:1
Ignition: Electronic 12 volt, 85 watt w/ dual-map switch (aggressive or soft settings)
Spark Plug: NGK BR7ES
Lubrication: Pre-mix (synthetic oil)
Carburetor: Keihin PWK 28mm
Clutch: Wet multi-disc w/ cush-drive basket
Transmission: 6-speed
Chassis
Frame: Aluminum beam, single wave Hydro-Formed w/built in fuel tank
Wheelbase: 51.4"
Seat Height: 26"
Ground Clearance: 12.2"
Footrest Height: 13.6"
Dry Weight: 147 lbs. dry
Fuel Tank Capacity: .75 US gallons
Front Suspension: 38mm Paioli including hard-coated tubes
Rear Suspension: Single shock, aluminum bodied including linkage, adjustable dampening
Front Wheel Travel: 6.5"
Rear Wheel Travel: 7.1"
Final Gearing: 9t front, 41t rear
Front Brake: 185mm rotor w/ 4-piston caliper
Rear Brake: 160mm rotor w/ twin-piston caliper
Front/Rear Rim: 21" (Front) 18" (Rear)
Front/Rear Tire: Michelin Trial
Warranty: 6 month Limited Warranty
MSRP: $8199.00


Specifications, features and prices to change by manufacturer without notice. All information correct as of posted date.