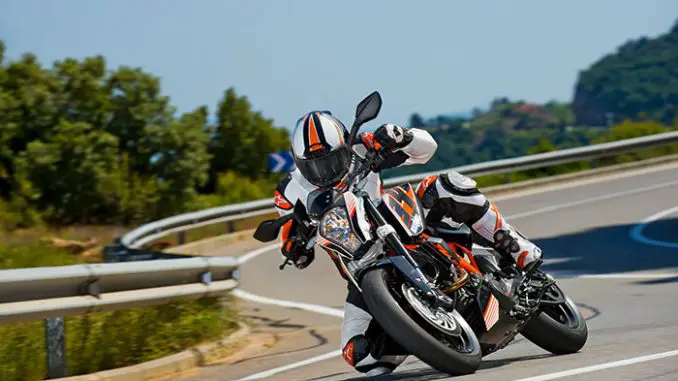 Click photos to enlarge. Our big, clean bike pics make great desktop wallpaper.
2014 KTM 390 Duke ABS Review

2014 KTM 390 Duke ABS on Totalmotorcycle.com
One for all…
The 390 Duke breathes life into values that have made motorcycling so amazing for decades. It combines maximum riding pleasure with optimum user value and is superior everywhere where really nimble handling counts. Light as a feather, powerful and packed with state-of-the-art technology, it guarantees undreamed of dynamic fun, whether you're in the urban jungle or a forest of bends. 390 Duke– nowhere will you find more motorcycle per euro.
2014 KTM 390 Duke ABS Totalmotorcycle.com Key Features

Design 1-cylinder 4-stroke engine, water-cooled
Displacement 373.2 cm³
Performance 32 kW (43 hp)
Weight without fuel approx. 139 kg

2014 KTM 390 Duke ABS Totalmotorcycle.com Features and Benefits
FUEL TANK
The shapely 11 l fuel tank of the 390 Duke 2013 not only provides the rider with perfect knee contact, but also with a greater range, even when ridden on the edge, thanks to the economic engine.
ERGONOMICS
The KTM 390 Duke provides plenty of space and freedom of movement. The gathered sitting position supports relaxed touring, alone or two-up, equally as well as committed cornering. Unsurpassed operability and large contact surfaces ensure optimum control and maximum feedback, with the upright, relaxed sitting position providing a perfect overview at all times.

WHEELS AND TYRES
Equally lightweight and delicate as they are stable, the 17 in cast light alloy wheels are fitted with grippy Metzeler tyres – 110 mm wide at the front and an impressive 150 mm at the rear. The tyres impress with tremendous grip in both wet and dry conditions, as well as providing supreme durability.
BRAKES
A state-of-the-art Bosch 9M ABS makes the pleasure of the impressive Duke dynamics even safer and adds the finishing touch to its peerless chassis qualities. The ABS on the KTM 390 Duke monitors the effect of the potent brake system with radially-bolted, four-piston calliper and 300 mm disc diameter – fun with no regrets, developed in close collaboration with the specialists from Bosch and Brembo. And for the stunt riders among us: the ABS is naturally disengageable
FRAME
32 kW (43 hp) Power plus an unladen weight of only 139 kg guarantee immense, agile riding fun with the new 390 Duke. The first-class chassis, with lightweight tubular space frame in the proven KTM design, turns it into a real surfer through the bends. Masses grouped close to the centre of gravity maximise manoeuvrability and precision – and prepare the 390 Duke perfectly for the rush hour slalom.
TELESCOPIC FORK
The KTM 390 Duke's high-quality upside-down fork from WP Suspension has the same 43 mm outer tube diameter as the RC8 R – in other words, real racing equipment that guarantees highest levels of stability and precision.
SWINGARM
The 2013 390 Duke's lightweight, high-quality, pin-jointed, die-cast swingarm is designed and produced according to the same principle as the 690 Duke. The light alloy swingarm with directly linked WP shock absorber excels with extreme torsional stiffness and outstanding tracking stability.

GREATER RIDING PLEASURE YET EVEN MORE SAFETY – KTM 390 DUKE AND LC4 MODELS ABSOLUTELY A2-COMPLIANT!
Due to ambiguous or even incorrect press reports, confusion currently prevails in the KTM community throughout the EU regarding the A2-compliancy of the following models:
• 390 Duke
• 690 Duke
• 690 Duke R
• 690 SMC R
• 690 Enduro R
The corresponding press reports convey the impression that the mentioned models are too light and hence not approved for A2 beginners. This impression is inconsistent with the truth. The A2 driving licence prescribes a minimum power-to-weight ratio of 0.2 kW/kg, which is why KTM has homologated performance mappings for all the aforementioned models to make them A2-compliant. Thanks to the mappings, all the listed models achieve the minimum power-to-weight ratio precisely – quite the contrary to most of the overweight competition. Assisted by the mappings, every A2 beginner can benefit from the dynamic advantage of the models being so light – whether it be due to increased riding pleasure when accelerating, when riding demanding trails or due to the much more significant safety factor when braking, in general vehicle control or when evading sudden hazards. The models are therefore not only A2-compliant, but also highly recommendable for novice riders, since they guarantee greater riding pleasure yet even more safety.

COCKPIT
The 390 Duke has everything that distinguishes a genuine KTM – from the high-quality chassis components to the multi-function cockpit, which even keeps you up to date with fuel consumption and remaining range. The extensive KTM PowerParts range gives you the option of adding your own individual style.

INJECTION
The intricate engine design, state-of-the-art injection electronics and the close-ratio, six-speed transmission not only help the KTM 390 Duke to achieve impressive performance, but also extremely low fuel consumption. Thanks to the regulated catalytic converter, it produces only minimal emissions.

SILENCER
The compact, three-chamber silencer is positioned close to the bike's overall centre of gravity. This aids the centralisation of masses and enhances the playful handling of the 390 Duke 2013. Thanks to a regulated catalytic converter, the emissions are exemplary.
ENGINE
Completely new, the KTM 390 Duke's state-of-the-art, single-cylinder engine once again underlines KTM's development strength. It's clear that the latest materials and production technologies not only deliver the bike's bountiful torque and overwhelming acceleration at all engine speeds, but also good manners in everyday use and outstanding fuel economy. With 375 cc, the single-cylinder engine only weighs 36 kg, thanks to the compact design – typical of KTM – with transmission shafts arranged one above another. Moreover, it delivers a punchy 44 hp with such technical refinements as NaCaSil cylinder coating and forced oil lubrication with performance-boosting casing evacuation (the suction pump not only transfers oil, but also pressure from the crankcase, thereby reducing the running resistance of the crank drive).
CYLINDER HEAD
Just as on the RC8 R, the four valves in the cylinder head of the 390 Duke are actuated by two overhead camshafts and cam levers. This design is not only extremely reliable, but also very durable and almost frictionless thanks to the ultra-hard carbon coating of the cam levers – releasing even more power.

---
2014 KTM 390 Duke ABS – Totalmotorcycle.com Europe Specifications/Technical Details
European MSRP Price: £4.499,00 GBP/EUR*

ENGINE
Design 1-cylinder 4-stroke engine, water-cooled
Displacement 373.2 cm³
Bore 89 mm
Stroke 60 mm
Performance 32 kW (43 hp)
Starting aid Electric starter
Transmission 6 speed, claw shifted
Engine lubrication Forced oil lubrication with 2 Eaton pumps
Primary gear ratio 30:80
Secondary gear ratio 15:45
Cooling system Liquid cooling system, continuous circulation of cooling liquid with water pump
Clutch Wet multi-disc clutch / mechanically operated
Ignition system Contactless, controlled, fully electronic ignition system with digital ignition timing adjustment
CHASSIS
Frame Tubular space frame made from steel, powder-coated
Fork WP Suspension Up Side Down
Shock absorber WP Monoshock
Suspension travel Front 150 mm
Suspension travel Rear 150 mm
Brake system Front Disc brake with four-pot brake caliper
Brake system Rear Disc brake with one-pot brake caliper, floating brake discs
Brake discs – diameter Front 300 mm
Brake discs – diameter Rear 230 mm
Chain 5/8 x 1/4″ X Ring
Steering head angle 65°
Wheel base 1,367±15 mm
Ground clearance (unloaded) 170 mm
Seat height (unloaded) 800 mm
Total fuel tank capacity approx. 11 l
Unleaded premium fuel (95 RON)
Weight without fuel approx. 139 kg
* Manufacturer's suggested retail price (MSRP), the actual sale prices can vary.
---
2014 KTM 390 Duke ABS – Totalmotorcycle.com USA Specifications/Technical Details
US MSRP Price: $NA USD

Model not available at time of press.

---
2014 KTM 390 Duke ABS – Totalmotorcycle.com Canada Specifications/Technical Details
Canadian MSRP Price: $NA CDN
Model not available at time of press.
Specifications, features and prices to change by manufacturer without notice. All information correct as of posted date.