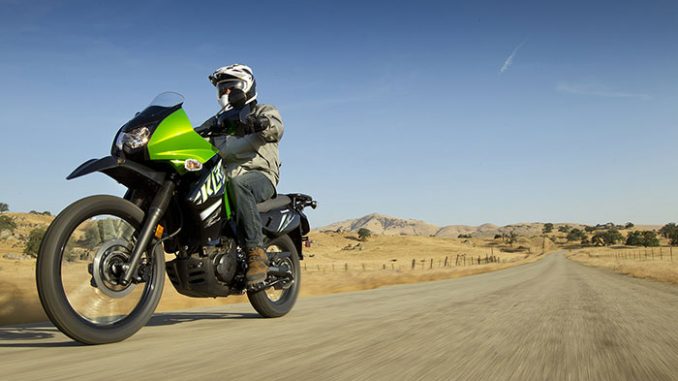 Click photos to enlarge. Our big, clean bike pics make great desktop wallpaper.
2014 Kawasaki KLR650 Review

2014 Kawasaki KLR650
The KLR650 is a touring-hungry dual-purpose bike like no other. Whether crossing the city or crossing the continent, on paved roads or on dirt, the KLR650 is a do-it-all bike that loves to travel long distances…

Still King of the Dual-Sport Class
That the Kawasaki KLR™650 dual purpose motorcycle has remained firmly atop the sales charts in the dual-sport category for nearly a decade is no surprise. Designed from the very beginning to be rugged, fuel efficient and capable of carrying enough cargo to make a pack mule jealous, the KLR also provides effective wind protection for increased long-distance comfort, making it an unbeatable value for adventure-minded riders seeking to follow the horizon wherever it leads.
KLR's hearty single-cylinder, 651cc, four-stroke engine provides ample torque and horsepower to propel this globe-trotting explorer down almost any road or trail, and its healthy low-end grunt and linear throttle response maximize traction regardless of the terrain, so everything from exploring the outback to threading through rush-hour traffic can be handled with the same high level of proficiency.
Matching the engine's abilities every step of the way is the KLR650's suspension. A 41mm fork with 7.9 inches of suspension travel up front and a Uni-Trak® linkage system providing 7.3 inches of wheel travel in the rear combine to make the KLR650 a fun, functional commuter during the week and an adept backroad blaster on weekends.
Braking duties are handled by a dual-piston caliper gripping a 280mm petal-style disc in the front, and a 240mm petal-style disc squeezed by a single-piston caliper in the rear. This suspension and brake package boosts the KLR650's on-road performance without diminishing its versatile off-road capabilities.

An expansive, saddlebag-friendly, rear luggage rack that can be fitted with a tail bag helps to make the KLR650 a worthy touring companion. A large, 6.1-gallon fuel tank and exemplary fuel economy mean the KLR650 can cover an amazing amount of ground between fill-ups.
That fuel range can translate into a long day in the saddle, so good wind protection is a must. This important job is handled by the frame-mounted bodywork, which includes a tall windscreen and large shrouds. Rider comfort is enhanced further by the seat design and plush urethane foam. A high-capacity 36-watt alternator pumps out enough juice for a high-output headlight and has the extra capacity to power the add-on electronic gadgets that no touring rider can live without.
The KLR650's competent on-road performance continues once the pavement stops. A tough engine guard keeps loose rocks and gravel at bay, while its U.S. Forest Service-approved spark arrestor grants the KLR650 access to any terrain open to licensed vehicles. Add the optional Kawasaki tank, tail and saddlebags, and you have a recipe for long-distance exploration, beckoning KLR650 owners to enjoy on- and off-road adventures.
Authentic Kawasaki Accessories are available through Kawasaki dealers.

2014 Kawasaki KLR650 Totalmotorcycle.com Key Features

Key Features
– Ultimate on- and off-road adventure motorcycle is an annual best-seller
– Durable 651cc single-cylinder engine produces smooth, user-friendly power
– Comfortable wind protection and 6.1-gallon fuel tank allows for long-range adventure touring
– Composite rear cargo rack provides plenty of space for luggage
– 41mm telescopic fork supplies all-day rider comfort
– Adjustable Uni-Trak® rear suspension offers a smooth, controlled ride
– Twin-piston front disc brake and single-piston rear disc brake furnish excellent stopping power
2014 Kawasaki KLR650 Totalmotorcycle.com Features and Benefits
Long-distance-minded 651cc Four-stroke Single
– Cam timing and tuning combination aid in producing a broad, user-friendly powerband
– Smooth bends on the one-piece exhaust pipe permit exhaust efficiency at all rpm
– Light, silent cam chain contributes to a quieter engine
– Double engine balancer helps engine run smoothly from idle to redline for less fatigue on long rides
– Advanced piston ring design helps minimize oil consumption
– Oil sight window permits easy and accurate inspection of oil level
Four-valve Cylinder Head
– Compact combustion chamber allows increased compression ratio with less detonation yet provides maximum valve area for optimum flow
– Boosts low-end torque with sufficient power at all rpm
– Secondary air (ASV) system helps reduce exhaust emissions
Liquid Cooling
– Thin and lightweight Denso radiator fitted with a lightweight and thin cooling fan for maximum cooling efficiency, even at low speeds
– Maintains consistent engine temperatures for long engine life and sustained power during hard use
– Allows tighter engine clearances for quieter running
– Includes a temperature gauge
Fully Transistorized Ignition
– Fully transistorized ignition unit more precisely controls timing no matter how fast the rpm changes
– Long, trouble-free lifespan
Electric Starter
– Easy and convenient starting
Handlebar-mounted Choke
– Convenient location makes starting and warm-up easier
Five-speed Transmission
– The engine's broad torque curve means only five speeds are needed for off-road sprinting and relaxed highway cruising
– O-ring drive chain for reduced maintenance and long chain service life

Capable Suspension
– Beefy, 41mm front fork with 7.9 inches of travel is rigid and plush enough to tackle on- and off-road terrain and provide all-day comfort to the rider
– High-mounted front fender for any adventure-touring situation
– Rear Uni-Trak® suspension features a five-way preload shock absorber with four-way rebound damping and 7.3 inches of rear wheel travel
– Progressive rate provides a smooth, controlled ride
– D-section swingarm contributes to the bike's excellent traction
Strong Wheels
– 4mm spokes provide wheel stiffness, further enhancing handling performance and improving steering response
Chassis
– Semi-double cradle frame made of high-tech, round-section, high-tensile steel
– Detachable rear subframe provides access to the rear shock, airbox and carburetor for easy maintenance
– Large rear cargo rack included
Engine Guard
– Protects engine from rocks and trail debris when the going gets tough
Front and Rear Disc Brakes
– Lightweight 280mm front and 240mm rear petal-style discs offer excellent braking
Lighting
– Dual-bulb headlamp offers great night illumination
– Tail light, parking light and the high-mounted turn signals improve the KLR650's visibility at night or in poor visibility conditions
Large 6.1-gallon Fuel Tank
– Generous capacity permits serious adventure touring
Additional Comfort and Touring Features
– Bodywork includes a large fairing for great wind protection
– Alternator output is 17 amps, with a total capacity of 36 watts to provide ample power for the headlight as well as add-on grip heaters and other accessories
– Easy-to-read instrument panel is mounted to the frame and includes a large-face speedometer, tachometer, odometer, trip meter and water temperature gauge
– Urethane seat foam offers all-day comfort for long-distance riding
– Optional extended warranty
---
2014 Kawasaki KLR650 – Totalmotorcycle.com USA Specifications/Technical Details
US MSRP Price: $6,499 USD

Engine:

Four-stroke, DOHC, four-valve single

Displacement:

651cc

Bore x stroke:

100.0 x 83.0mm

Compression ratio:

9.8:1

Cooling:

Liquid

Carburetion:

Keihin CVK40

Ignition:

Electric CDI

Transmission:

Five-speed

Final drive:

Chain

Frame:

Semi-double cradle, high-tensile steel

Rake / trail:

28 degrees / 4.4 in.

Front suspension / wheel travel:

41mm telescopic fork / 7.9 in.

Rear suspension / wheel travel:

Uni-Trak® single-shock system with 5-way preload and stepless rebound damping / 7.3 in.

Front tire:

90/90×21

Rear tire:

130/80×17

Front brake:

Single 280mm petal-type disc, two-piston caliper

Rear brake:

Single 240mm disc, single-piston caliper

Overall length:

90.4 in.

Overall width:

37.8 in.

Overall height:

53.1 in.

Ground clearance:

8.3 in.

Seat height:

35.0 in.

Curb weight:

432 lbs.

Fuel capacity:

6.1 gal.

Wheelbase:

58.3 in.

Color choices:

Ebony
Lime Green
Pearl / Stardust White

MSRP:

$6499

Warranty:

12 months

Good Times™ Protection Plans:

12, 24, 36 or 48 months


---
2014 Kawasaki KLR650 – Totalmotorcycle.com Canadian Specifications/Technical Details
Canada MSRP Price: See dealer for pricing in CDN

Engine

Type 4-stroke, Single
Displacement 651cc
Bore and stroke 100.0 x 83.0 mm
Compression ratio 9.8:1
Valve system DOHC, 4 valves
Fuel system Keihin CVK40 carburetor
Ignition Digital CDI
Cooling Liquid
Lubrication Forced lubrication (wet sump)
Starting Electric

Brakes

Front: type Single 280 mm petal disc
Rear: calipers 2-piston caliper
Rear: type Single 240 mm disc
Front: calipers 2-piston caliper

Dimensions

Overall length 2,295 mm (90.4 in.)
Overall width 960 mm (37.8 in.)
Overall height 1,350 mm (53.1 in.)
Wheelbase 1,480 mm (58.3 in.)
Seat height 890 mm (35.0 in.)
Curb mass** 196 kg (432.1 lbs.)
Fuel capacity 22 litres (4.8 gal.)
Ground clearance 210 mm (8.3 in.)

Drivetrain

Transmission 5-speed, constant mesh, return shift
Final drive Sealed Chain
Primary reduction ratio 2.272 (75/33)
Gear ratio: 1st 2.267 (34/15)
Gear ratio: 2nd 1.444 (26/18)
Gear ratio: 3rd 1.136 (25/22)
Gear ratio: 4th 0.955 (21/22)
Gear ratio: 5th 0.792 (19/24)
Final reduction ratio 2.867 (43/15)
Clutch Wet multi-disc, cable operation

Frame

Type Tubular semi-double cradle, high tensile steel
Wheel travel: front 200 mm (7.9 in.)
Wheel travel: rear 185 mm (7.3 in.)
Tire: front 90/90-21
Tire: rear 130/80-17
Caster (rake) 28.0°
Trail 112 mm (4.4 in.)

Performance

Maximum Power‡ 44 PS @ 4,500 rpm
Maximum Torque‡ 50 N·m @ 5,500 rpm

Suspension

Suspension, front 41 mm telescopic fork
Suspension, rear Uni-Trak single-shock system with 5-way preload and stepless rebound damping adjustment

* The Manufacturer's Suggested Retail Price does not include freight, pre-delivery inspection or applicable taxes. The final price is at the discretion of the dealer. Prices and Specifications are subject to change without prior notice. The amount indicated as "Your price" may include an optional instant Mega Cash credit that is deducted from the manufacturer's suggested retail price before taxes. This promotion is time limited and certain conditions will apply. See your dealer for complete details. Offer not available on financed purchases and cannot be combined with any other special offers. The final price is at the discretion of the dealer. Prices and Specifications are subject to change without prior notice.
** Includes all necessary materials and fluids to operate correctly, full tank of fuel (more than 90% of capacity) and tool kit (if supplied)
‡ Power / Torque figures measured at the crankshaft.
The specifications mentioned here apply to and have been achieved by production models under standard operating conditions. We intend only to give a fair description of the vehicle and its performance capabilities but these specifications may not apply to every machine supplied for sale. Kawasaki Heavy Industries, Ltd. reserves the right to alter specifications without prior notice. Equipment illustrated and specifications may vary to meet individual markets. Available colours may vary by market.