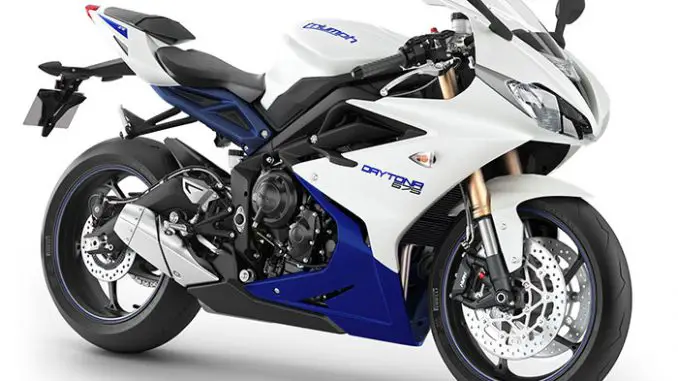 Click photos to enlarge. Our big, clean bike pics make great desktop wallpaper.
2014 Triumph Daytona 675 ABS Review

The 2014 Triumph Daytona 675 ABS on Totalmotorcycle.com
For The Ride…
Apex after apex the new Daytona 675 inspires complete confidence. More power, lighter weight, and easier to ride, our engineers ambition was simple: to create the most perfectly balanced motorcycle. An equal blend of torque, responsiveness, agility, poise and purpose. The result is a bike with class-defining power, performance and handling. A bike that will inspire total confidence. And looks every bit as good.
The engine is brand new featuring twin injectors per cylinder, titanium valves, a 14,400 red line, and a spine tingling induction roar. It's faster on the track, better on the road and even more satisfying to own.
2014 Triumph Daytona 675 ABS Totalmotorcycle.com Features and Benefits
ENGINE

With twin injectors per cylinder the new Daytona can draw more fuel quicker when you open the throttle fully and demand more from the engine.
A first for a production Triumph, we have now fitted substantially lighter titanium valves to cope better with the higher revs. This also means lighter valve springs can be used, reducing valve train wear and friction.
We also knew that the weight reduction was enough to give us the space to add some metal to the valves without compromising the valve train, so the top of the valve 'mushroom' heads were reshaped to improve gas flow around the valve and into the combustion chamber. This means better efficiency and a boost in torque at low and medium revs.

Performance
We built the new Daytona engine with a shorter stroke allowing us to set a 500rpm higher rev ceiling at 14,400 and we increased power to 128PS and maximum torque to 75Nm. The cylinder block is now cast separately from the upper crankcase to cope with higher pressures, more torque and more power.
So the new engine now gives you higher power for longer. Bringing even more performance out of the bike as well as bringing more of the rider out of you

Sound
We enlarged the through-airflow headstock so that the intake mouth is positioned in the highest pressure zone centrally at the front of the bike. Improving flow efficiency, so that air passes in a straight line through the centre of the headstock to the airbox.
And when the air passes through the centre of the cockpit zone, it gives you even more of that distinctive three-cylinder intake snarl. And it's not just the volume of the sound that's better, it's now there over a much wider range of revs for an even more focussed, involving ride than ever before.

CHASSIS

Suspension
Front and rear KYB suspension is, of course, fully adjustable. Both front and rear suspension have the added advantage of separate low- and high-speed compression damping adjustment, making the Daytona as forgiving on the road as it is focused on the track.

Wheels and Tyres
Something as simple as reducing the weight of the wheels can have a dramatic effect on handling. Lighter wheels reduce unsprung mass and minimize the gyroscopic effect of a spinning wheel. This makes it easier to turn the bike in and hold a line through the corner. We've put race-derived Pirelli SuperCorsa tyres on to give you the grip to match the potential lean angles.

Front Forks
The new Daytona 675 is fitted with new, state-of-the-art KYB centre-fixed cartridge forks that use an internal damping cartridge which is rigidly located at both ends, rather than floating at one end as in conventional designs. Because it's supported by thinner walls, it has more room for the damping piston, so a larger diameter one can be used, improving damping accuracy.

Mass Centralisation
By relocating the silencer to under the engine, rapid direction changes are now more fluid and more controlled. Rider input is rewarded with an incredibly controlled response.
Concentrating as much of the mass of the bike at the centre has increased the Daytona 675's agility and grip, so you can achieve higher lean angles through the corners. And you'll find that the bike now responds even more readily to your input through the handlebars.

Frame
The new Daytona 675 frame is made from eight castings. That means fewer welds and a lighter construction with no loss of strength or stiffness for a more focussed ride.
We sharpened the geometry with a change in the rake from 23.9° to 22.9° and a reduction in trail from 89.1mm to 87.2mm. And now, the swingarm pivot position is adjustable so you can tailor the handling more precisely to your riding style and the conditions.

Swingarm
The 2013 Daytona's new rigid aluminium swingarm is designed asymmetrically to make room for the improved exhaust system.You can still adjust its pivot and personalise the bike's geometry, fine-tuning it to suit your riding style and conditions.

Brakes
Nissin radial callipers on the front, give amazing stopping power and confidence-inspiring feel through the lever. The rear Brembo caliper is lighter than before, helping to reduce the unsprung mass, which further improves handling and agility.

Riding Position
We have improved the riding position by raising the bars slightly and included a 10mm reduction in seat height. Still a focussed supersport riding stance designed to get the best out of you in track conditions.

EQUIPMENT

Switchable ABS
Our new ABS system is switchable and includes a track mode with very late intervention, minimised rear wheel lift control and the facility to slide the rear wheel on the entry to corners.
Off the track it's useful for preventing wheel lock-up when hitting a wet patch or after misjudging a corner when braking on a slippery surface such as grass.

Slip-Assist Clutch
The addition of a slip-assist clutch means hard downshifting won't result in a rear-wheel lock-up. It also serves to make the clutch lever action much lighter and smoother.

Instruments-Computer
Instruments feature a lap timer, two trip computers, gear change indicators, shift lights, clock, and can be configured to show tyre pressures (where optional Tyre Pressure Monitoring System is fitted) and ABS switching. So you know more of what's going on as you ride.

Programmable Rev Lights
Programmable gear change indicators let you manually set up where in the rev range you want the lights to come on and prompt a gear change.

Removable Number Plate and Indicators
You can remove the already slender number plate and rear indicator mounting quickly for track day use.

Optional TPMS
With a bike a finely tuned as the Daytona 675, a change in tyre pressure can alter handling. Our Tyre Pressure Monitoring System will let you know any change in pressure, on the track or on the road, before it becomes an issue.

Immobiliser
To protect your Daytona from the wrong kind of attention, we've added a high technology security system. It detects a microchip in the key body and if it's not present the ignition system is disabled.
This prevents a copy of the correct key being used to switch the bike on.

---
2014 Triumph Daytona 675 ABS – Totalmotorcycle.com International Specifications/Technical Details
US MSRP Price: $11,599 USD
Canada MSRP Price: $12,599 CDN
UK/European MSRP Price: 9,249.00 (VAT Included)
Engine and Transmission

typeLiquid-cooled, 12 valve, DOHC, in-line 3-cylinder capacity675cc
bore76mm
stroke49.6mm
systemMultipoint sequential electronic fuel injection with SAI
exhaustStainless steel 3 into 1 exhaust system low single sided stainless steel silencer
final driveO ring chain
clutchWet, multi-plate, slipper
gearbox6-speed, close ratio
oil capacity1US Gallon

Chassis Running Gear and Displays

frameFront – Aluminium beam twin spar. Rear – 2 piece high pressure die cast
swingarmBraced, twin-sided, aluminium alloy with adjustable pivot position
Front WheelsCast aluminium alloy 5-spoke 17 x 3.5in
Rear WheelsCast aluminium alloy 5-spoke 17 x 5.5in
Front Tires120/70 ZR 17
Rear Tires180/55 ZR 17
Front SuspensionKYB 41mm upside down forks with adjustable preload, rebound and compression damping, 115mm travel
Rear SuspensionKYB monoshock with piggy back reservoir adjustable for rebound and compression damping, 135mm rear wheel travel
brakes frontTwin 308mm floating discs. Nissin 4-piston radial calipers.(Switchable ABS model available)
brakes rearSingle 220mm disc, Brembo single piston caliper. (Switchable ABS model available)

Dimensions and Capacities

length2045mm
width handlebars695
height without mirror1112mm
seat height820mm
wheelbase1375mm
rake22.9º
trail87.2mm
tank capacity4.6us gallon
wet weight184 kilo

Performance

max power ec128PS @ 12500
max torque ec74NM @ 11900

Fuel Consumption

urban46.23mpg
56mph/90kph68.36mpg
75mph/120kph52.38mpg

Specifications, features and prices to change by manufacturer without notice. Information from Total Motorcycle.com; All information correct as of posted date.