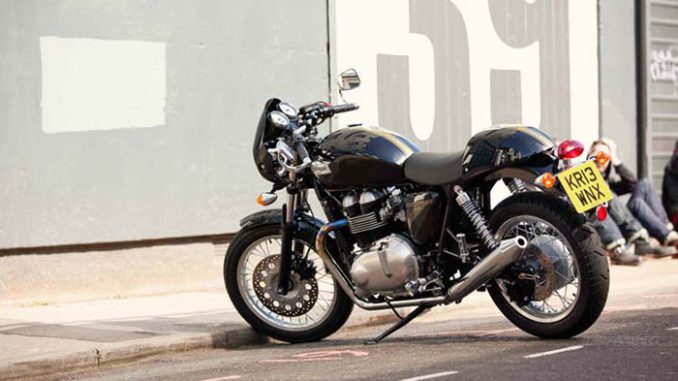 You are here: TMW — 2014 Motorcycle Models — Triumph — 2014 Triumph Thurxton SE Review
Click photos to enlarge. Our big, clean bike pics make great desktop wallpaper.
2014 Triumph Thurxton SE Review

The 2014 Triumph Thurxton SE on Totalmotorcycle.com
Thruxton. The café racer. Reinvented…
Thruxton. Named after the race track where Triumph ruled the roost and inspired by the famous "Ton Up Boys" of the 60s. The Thruxton is our sportiest classic, an authentic café racer delivering that unique Triumph riding experience. Low rise bars, sporty riding position, 18 inch spoked wheels, megaphone style silencers and a modern 865cc parallel-twin engine. It stirs the heart for those around at the time and for those who seek the classic sporty retro cool.
Triumph unveils updated Classics for Model Year 2014
– Triumph gives its Modern Classics Range a new look for 2014
– The Bonneville range receive new colour treatments, grab rails and improved exhaust tones
– The Thruxton receives an accessory upgrade as standard.
– New finishes and colours for the Scrambler
Triumph, the UK's top selling brand of +500cc motorcycles, has gone 'back to the future' with its Bonnevilles, Thruxton and Scrambler, by developing eye-catching new colour schemes, improved tonal characteristics and an even better riding experience, for its legendary classics range. The Hinckley-based manufacturer has given its iconic bikes a refreshing update, improving the looks and sound of these modern classics.

Bonneville – sleek and chic
The 17″ cast front wheeled Triumph Bonneville sports the lowest seat height in Triumphs classics range at just 740mm. The easy riding ergonomics assert the bike's credentials as an ideal city bike thanks to its fusion of effortless manoeuvrability and retro good looks.

With an ever growing following among young, discerning riders, the Bonneville fuses style and substance, with its distinctive 865cc twin engine giving more than enough power on both urban and open roads. The new bike also boasts redesigned silencers, providing an even more satisfying sound.

Visually, the classic Bonneville's fuel tank decal is upgraded to a distinctive badge, while the model now comes in Phantom Black, Lunar Silver or Crystal White/Sapphire Blue. The engine barrel block and cylinder head features new machined cooling fin detail to accentuate the classic British twin engine, while the oil cooler lines are minimised through the use of a solid black treatment.
The Bonneville's new seat design consists of twin contrasting vinyl and an improved filler material for even better comfort. A black grab rail is also fitted as standard on the updated bike.

Bonneville T100 – authentic tribute to a golden age

With a nod to its sixties heritage, the new T100 has a new Crystal White and Aurum Gold paint scheme, inspired by the 1964 Bonneville, with the stylised colour split continuing across the front and rear mudguards.

Like the Bonneville, the T100 also gets the throaty exhaust treatment with an improved aural delivery alongside the same machined detailing on the cylinder head cooling fins. A chrome grab rail and chain guard as standard add a classy finishing touch.
In addition to the 1964 inspired gold and white paint scheme, the new Bonneville T100 continues to be available in Jet Black/Cranberry Red.

Bonneville T100 Black – Black is the new black!

For a mean and moody look, Triumph also offers the T100 in a striking black colour scheme, which is made even more distinctive with the addition of black-finished wheel rims, hubs, handlebars, RSU springs, mudguard stays, mirrors and grab rail. The new bike also enjoys a more compelling voice, thanks to its revised silencer, while the machined detail on the cooling fins is offset beautifully by the black engine finish.

Naturally there's just one colour choice – Jet Black..

Thruxton – retro racing style

Inspired by the café racers of the 60's, Triumph's utterly unique Thruxton oozes retro racing style.
Powered by Triumph's unmistakable 865cc, twin cylinder engine and sporting aluminium rims, an enthusiasts riding position and adjustable rear suspension, the Thruxton benefits from some discrete refinements for Model Year 2014, including revised megaphone silencers for an even more liberated sound.

The latest specification bike also gains the same machined details on the cylinder head cooling fins and black oil cooler lines as the Bonneville, alongside a chrome chain guard. A colour-matched fly screen, with centre stripe detail, joins the seat cowl as standard equipment.

Available in Phantom Black and Brooklands Green.

The Scrambler – classic updates

As with other models in the classics range, the Scrambler gets the 'back to black' treatment on the oil cooler lines, handlebars, wheel rims and hubs, plus the rear master cylinder reservoir cover. A new seat design adds to the relaxed attitude. Additional finishing touches include a clear anodised bash plate and Triumph embossed logo on the rear of the seat.

Two brand new colour schemes are available – a simply stunning Matt Pacific Blue and a striking Lunar Silver/Diablo Red combination.
Our popular modern classics have had a subtle yet refreshing makeover for 2014.
Our Bonneville, still one of the most fun and satisfying rides available, now boasts a selection of new features including new machined cooling fin detail, blacked out oil cooler lines and a premium tank badge. It also comes with a redesigned seat for better comfort and a black grab rail to complete the look. New silencers finish the bike with a brand new retro soundtrack. On-the-road from £6549 the Bonnie comes in Lunar Silver, Crystal White/Sapphire Blue (+£150) or Phantom Black.
The 2014 Bonneville T100 has a similar update with the addition of a chrome grab rail and matching chain guard. The T100 also comes with two tone paint as standard with the choice between Crystal White/Aurum Gold and Jet Black over Cranberry Red. The distinction continues with spoke wheels over the standard Bonnie's cast equivalent. Pick yours up from £7349 OTR.
Our Bonneville T100 Black is a mean, moody version of the standard T100 and comes with a host of blacked out components. These include black wheel rims and hubs, handlebars, RSU springs, mudguard stays, mirrors, engine casings and grab rail to create a T100 with a darker side for just £7149 OTR.
The cafe racer inspired Thruxton has also had a new injection of retro style with a brand new megaphone silencer for a more liberating sound. The latest spec Thruxton also gains the same machined detail on the cylinder head cooling fins and black oil cooler lines as the Bonneville with a chrome chain guard also included. A colour-matched flyscreen, including the gold stripe detail, joins the seat cowl as standard equipment. Available in Phantom Black and Brooklands Green from £7349 OTR.
As with our other modern interpretations of classic motorcycles the Scrambler also returns for 2014 with two brand new colour schemes; a stunning Matt Pacific Blue and a Lunar Silver over Diablo Red. A new seat design adds to the sit up and relaxed attitude with clear anodised bash plate for a striking finishing touch.
Available in dealers from £7349 OTR.
2014 Triumph Thurxton SE Totalmotorcycle.com Key Features

Featured Specifications
Licence: A2 compliant with Triumph accessory restrictor kit fitted
Engine: Air-cooled, DOHC, parallel-twin, 360º firing interval
Front Brakes: Single 320mm floating disc, Nissin 2-piston floating caliper
Exhaust: Stainless steel headers, twin chromed upswept silencers

2014 Triumph Thurxton SE Totalmotorcycle.com Features and Benefits
Styling
A motorcycle to stir the heart. Classic 60's retro styling. Café racer to the max. Beautiful chrome, aluminium-rimmed spoked wheels, sporty colour schemes, megaphone style silencers. Sporting low handlebars and stylish bar end mirrors complete the look.


Engine
Air-cooled DOHC parallel-twin 865cc engine with 360 degree firing interval. Modern engine meets Euro 3 emissions but with retro styling and the authentic sound. 69PS (68bhp) and 69Nm of torque at 5800rpm.


Handling
The sturdy, pre-load adjustable 41mm telescopic forks and twin rear shocks give it superb suspension and compliance with sharp steering geometry.

---
2014 Triumph Thurxton SE – Totalmotorcycle.com USA Specifications/Technical Details
US MSRP Price: $TBA USD
TBA
---
2014 Triumph Thurxton SE – Totalmotorcycle.com Canadian Specifications/Technical Details
Canada MSRP Price: $TBA CDN

TBA

---
2014 Triumph Thurxton SE – Totalmotorcycle.com United Kingdom Specifications/Technical Details
British MSRP Price: On The Road From £TBA GBP

TBA
Specifications, features and prices to change by manufacturer without notice. Information from Total Motorcycle.com; All information correct as of posted date.