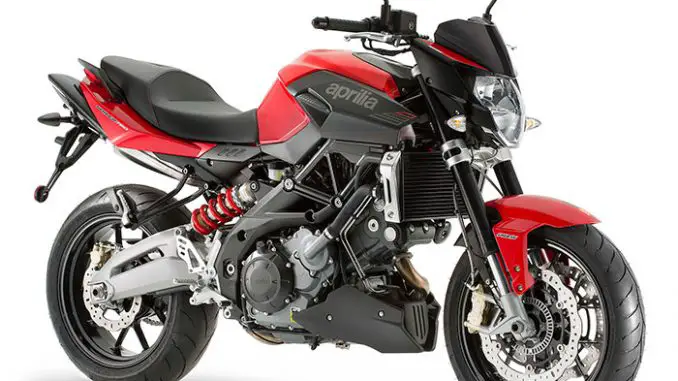 You are here: TMW — 2015 Motorcycle Models — Aprilia — 2015 Aprilia Shiver 750 ABS Review
Click photos to enlarge. Our big, clean bike pics make great desktop wallpaper.
2015 Aprilia Shiver 750 ABS Review

2015 Aprilia Shiver 750 ABS on www.Totalmotorcycle.com
EXCLUSIVE TECHNOLOGY AND ITALIAN STYLE…
The naked Aprilia that took the world by storm with truly unique stylistic and technological content stands out for its strong personality, riding pleasure and ergonomics.
An innovative engine fitted with latest generation integral Ride-by-Wire, a multimap, a first-rate chassis which is able to satisfy all levels of riders, and exceptional technical package. Aprilia Shiver is without a doubt still a benchmark in the naked medium-powered motorcycle segment.

In designing the Shiver Aprilia chose to take an entirely new path, destined to become a benchmark for years to come, creating a bike with an extremely aggressive design, but at the same time clean and elegant. And so the Aprilia Shiver 750 ABS is at the peak of the sporty concept in its segment as a result of an exceptional frame and suspension package and the ultra advanced multimap Ride-by-Wire technology.

Thanks to the technology applied to the 750 cc twin cylinder engine, Aprilia Shiver is the Italian naked that can handle a rider's every need in the medium engine size segment. From daily use to more sporty riding on the most popular routes, or even a holiday for two, Aprilia Shiver 750 ABS is capable of taking on any situation and adapting to the various uses, thanks in part to the possibility of changing the type of engine output at the simple push of a button. This way Aprilia Shiver 750 ABS is able to meet the needs of the most experienced biker as well as those who want to be accompanied in their growth to full motorcycling maturity.

Stable, agile and fast, Aprilia Shiver mounts a new generation twin cylinder engine and provides advanced technical solutions. The 90° V-twin is extremely rational and, thanks to its advanced electronic management, is able to guarantee performance and flexibility of use for the modern and advanced biker at any experience level and on any type of route thanks to torque at the top of its category that guarantees a ride which is always clean and fun. The frame and suspension package, in true Aprilia tradition, has no rivals in terms of construction quality and solidity, providing benchmark riding precision.

2015 Aprilia Shiver 750 ABS www.Totalmotorcycle.com Key Features
The main features of the Aprilia Shiver 750 ABS are:
" V2 90° engine with four valves per cylinder, double overhead camshaft and liquid cooling;
" Built in Ride-by-Wire tri-map technology developed for racing;
" modular trellis/aluminium frame with significant torsional rigidity;
" aluminium swingarm with stiffener brace and lateral shock absorber;
" 43 mm upside down fork;
" racing brakes with radial callipers and 320 mm Wave discs
" Racing style rider/passenger footpegs

2015 Aprilia Shiver 750 ABS www.Totalmotorcycle.com Features and Benefits

Design
As with any Aprilia product, the Shiver 750 ABS is also characterised by a strongly innovative design where form and function combine to create a bike with an extremely distinctive personality. Every trait of the design is in perfect harmony with the Aprilia Shiver 750 ABS's advanced technology.
The frame and engine are the fulcrum around which the project and the characterising aesthetic elements of the Shiver 750 ABS were developed: besides being nice to look at, each detail has a specific function. On this Aprilia naked technical elements themselves therefore become elements of design so that aggressiveness, excitement and elegance blend together perfectly.
Swinging a leg over the saddle, the rider will find a sporty riding position with a posture that allows the bike to be controlled with maximum ease, even and especially on routes where riding is enhanced the most. All of this favours an immediate relationship between the Shiver 750 ABS and its rider, making if feel as though you've always ridden this bike. The stainless steel exhaust is split into two triangular tailpipes which are integrated under the bike's saddle for excellent symmetry of design and ideal distribution of proportions and weight, thanks in part to the rational and efficient lateral placement of the shock absorber.

Engine
The V90 engine is the result of Aprilia's vast experience in high performance mechanics. Thanks to its peculiar technical features the Aprilia twin-cylinder manages to combine a fully exploitable and exceptionally high output level with user-friendly riding options. The research conducted to reach performance levels at the top of its category has led to the decision to adopt some advanced cutting-edge technical solutions. The Aprilia V2 750 engine has a number of core features: extremely generous torque over most of the rpm range, insignificant vibrations, smooth full power delivery and output levels which are top in its category.
Naturally the Shiver once again implements the integral multi-map Ride by Wire technology that has been developed even further exploiting the racing experience gained with the RSV4 superbike. This technical solution obviously represents the state-of-the-art version of engine control systems and Aprilia Shiver confirms its technological leadership position in its sector.
With the simple touch of the starter control the rider can select, even while moving but with closed throttle, one of the three maps, and radically change the motorcycle's character:
– "Sport" to have the "throttle in hand" when a rider needs to let off steam exploiting the entire character of this Italian twin cylinder bike;
– "Touring" when smoother power delivery and fluidity are essential during the moments when the racing desires are set aside to enjoy a more relaxing ride, even two-up;
– "Rain" when grip is not as good as it should be and maximum safety is the main objective.
Thanks to the technical solutions installed on this bike the V90 Aprilia is able to achieve outstanding output values. Maximum output of 95 HP at 9,000 rpm and maximum torque of 81 Nm at 7,000 rpm are exceptional performance numbers. The amazing torque available even at low end engine revs makes Shiver absolutely unbeatable on mixed tracks.

Frame
Aprilia bikes have always been unanimously recognised as bikes that provide the best frame and suspension performance across the board. The Shiver 750 ABS once again confirms the extreme user-friendliness and efficiency of "Made in Aprilia" solutions. The upper part of the steel pipe trellis is connected to large lateral plates with special, high resistance bolts. The assembly that these elements makes up forms an extremely stiff and stable structure, the best possible solution to exploit the power of the Shiver 750 ABS's twin cylinder to its fullest extent.
Building an Aprilia bike always means harmonious and structured efforts between frame and engine builders. The fundamental choices made for the V90° engine led to the construction of an extremely rational, solid and reliable frame, even under extreme riding conditions. The perfect longitudinal insertion of the engine and the lateral placement of the monoshock absorber allowed designers to achieve an extremely compact bike. In fact, thanks to these solutions, valuable space was created for the exhaust manifolds with a shape and volume that are perfectly calibrated for maximum engine performance.
The aluminium swingarm with stiffener brace has been sized to guarantee the bike's solid riding setup even in the most sporty conditions of use.

Suspension
Upside-down fork with 43-mm stanchions and shell cast radial calliper mounts provide benchmark smoothness. Its 120-mm travel allows the rider to easily cope with city roads and mountain paths.
The lateral shock absorber is fitted directly to the swingarm using a cantilever set-up and the spring preload and hydraulic rebound are adjustable; the rear wheel travel is 130 mm.
Dynamic qualities also enhanced by the choice of the 5.5 x 17 rear wheel, which maximises its handling and rapidity in direction changes.

Brakes
Along with the radial callipers that are already mounted (a solution that made this a pioneer in its segment), the Shiver now adds new wave brake discs, providing not only a different aesthetic impact, but also a more decisive and modulated braking action.
The 240 mm rear disc fitted with single piston calliper provides adequate support to the front braking system.
Both the front and rear systems have metal braided braking pipes, derived from the aeronautic sector, which eliminate the annoying buffering effect of conventional pipes and guarantee maximum braking accuracy and top-class system.

---
2015 Aprilia Shiver 750 ABS – www.Totalmotorcycle.com USA Specifications/Technical Details
US MSRP Price: $NA USD

NA
---
2015 Aprilia Shiver 750 ABS – www.Totalmotorcycle.com Canadian Specifications/Technical Details
Canada MSRP Price: $NA CDN
NA


---
2015 Aprilia Shiver 750 ABS – www.Totalmotorcycle.com European Specifications/Technical Details
Europe/UK MSRP Price: £ See Dealer for Pricing in GBP (On The Road inc 20% Vat)
Aprilia 750 is also available in an ABS version, and adopts a 2-channel Continental system capable of guaranteeing maximum safety levels for braking in any conditions.

Aprilia Shiver Technical Specifications
Engine type Aprilia V90 four-stroke longitudinal 90° V-twin engine, liquid cooled, double overhead camshaft with mixed gear/chain timing system, four valves per cylinder.
Fuel Unleaded petrol
Bore and stroke 92 x 56.4 mm
Total engine capacity 749.9 cc
Compression ratio 11: 1
Maximum power at crankshaft 95 HP at 9,000 rpm
Maximum torque at crankshaft 8.25 kgm at 7,000 rpm
Fuel system Integrated Ride-by-Wire engine management system.
Ignition Digital electronic ignition integrated with injection system.
Starter Electric
Exhaust system 2 into 1 exhaust system in 100% stainless steel with three-way catalytic converter and lambda probe
Alternator 450 W at 6,000 rpm
Lubrication Wet sump
Gearbox 6 speeds, drive ratio:
1st 36/14 (2.57)
2nd 32/17 (1.88)
3rd 30/20 (1.5)
4th 28/22 (1.27)
5th 26/23 (1.13)
6th 25/24 (1.04)
Clutch Multiplate wet clutch, hydraulically operated
Primary drive Straight cut gears, drive ratio: 38/71 (1:1,87)
Secondary drive Chain. Drive ratio: 16/44
Chassis Modular tubular steel frame fastened to aluminium side plates by high strength bolts. Removable rear subframe.
Front suspension Upside down fork with 43 stanchions. Wheel travel 120 mm.
Rear suspension Aluminium swingarm with stiffening brace.
Hydraulic shock absorber with adjustable rebound and preload. Wheel travel 130 mm.
Brakes Front: Dual Ø 320 mm Wave stainless steel floating discs. Radial callipers with four pistons.
Metal braided brake pipe.
2-channel Continental ABS system
Rear: ?240 mm wave stainless steel disc. Single piston calliper Metal braided brake hose.
Wheel rims Aluminium alloy
Front: 3.50 X 17″ Rear: 5.5 x 17″
Tyres Radial tubeless tyres;
front: 120/70 ZR 17
rear: 180/55 ZR 17
Dimensions Max. Length 2,120 mm
Max. width 800 mm (at handlebar)
Max. height 1,135 mm (at instrument panel)
Saddle height 810 mm
Centre to centre distance 1,440 mm
Trail 109 mm
Steering angle 25.9°
Tank 15 l

Manufacturer Specifications and appearance are subject to change without prior notice on Total Motorcycle (TMW).