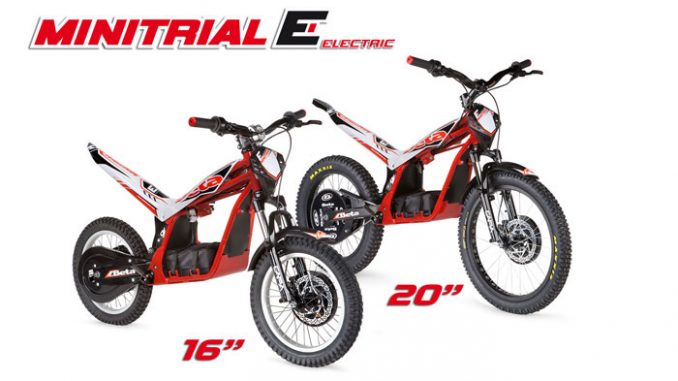 Click photos to enlarge. Our big, clean bike pics make great desktop wallpaper.
2015 Beta Minitrail Electric Review

2015 Beta Minitrail Electric on Totalmotorcycle.com
Seamless power….
The Minitrial Electric model continues and now has a big brother in the form of a twenty inch. The 16″ model is designed for youth riders between the ages of 5-9 years of age and the new 20″ for the older siblings 8-12.
These models have taken electric trials to a new level with their seamless power with no hesitation or gaps like the competition. This alone will build confidence in future trial champions. The frames are aluminum making the bikes a full 8 pounds lighter than other brands. To make things even better, the bikes have full hydraulic brakes with an adjustable air shock in the back.

The Minitrial E has a three-position power switch (slow, Medium, Fast) and will run for roughly a full three hours on the slow/trial position. Prices for the 16″ have remained the same for 2015 while the 20″ is priced $400.00 more at $2299.00.

2015 Beta Minitrail Electric Totalmotorcycle.com Features and Benefits
-Rugged chassis and swingarm: Weight is important in a youth trial bike. Both the frame and the swingarm are constructed of aluminum with a hardness heat treatment, achieving a robust bike that does not exceed 24 kg (53 lbs). Another very important feature is the weight distribution, it is designed with an optimized center of gravity for a comfortable ride while providing maximum traction.
-Programmable digital switchboard: As a result of experience in the evolution of the electronic components in the trial bike, the Minitrial-E has a programmable digital control with 3 power curves. All of them with an initial soft engagement to eliminate the abrupt "on / off" characteristic of electric motors. The first setting, a learning curve for the new rider, the second setting is for wet conditions or for continued learning and the third setting is for the more advanced rider.
-Adjustable Suspension: The front fork with 25 mm tubes, adjustable compression spring in oil bath with an air shock for the rear suspension.
-Shimano Hydraulic Brakes: Provide perfect braking, a mark of quality and reliability for the younger rider.
-Guards: The front brake as well as for the drive chain are enclosed to insure safety.
-Chain Guide: Essential for off road, this unique chain guide insures a proper guide for the chain to reduce failures.

---
2015 Beta Minitrail Electric – www.Totalmotorcycle.com International Specifications/Technical Details
MSRP Price: 16″ $1899; 20″ 2299 USD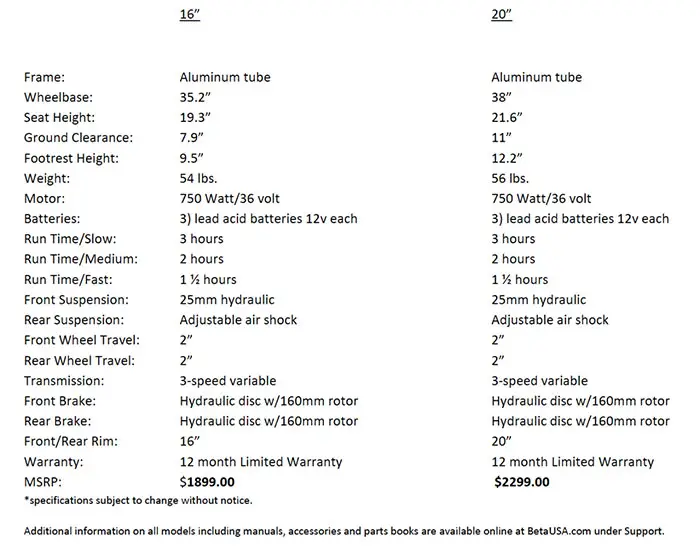 16" / 20"
Frame: Aluminum tube Aluminum tube Wheelbase: 35.2" 38" Seat Height: 19.3" 21.6" Ground Clearance: 7.9" 11" Footrest Height: 9.5" 12.2" Weight: 54 lbs. 56 lbs. Motor: 750 Watt/36 volt 750 Watt/36 volt Batteries: 3) lead acid batteries 12v each 3) lead acid batteries 12v each Run Time/Slow: 3 hours 3 hours Run Time/Medium: 2 hours 2 hours Run Time/Fast: 1 ½ hours 1 ½ hours Front Suspension: 25mm hydraulic 25mm hydraulic Rear Suspension: Adjustable air shock Adjustable air shock Front Wheel Travel: 2" 2" Rear Wheel Travel: 2" 2" Transmission: 3-speed variable 3-speed variable Front Brake: Hydraulic disc w/160mm rotor Hydraulic disc w/160mm rotor Rear Brake: Hydraulic disc w/160mm rotor Hydraulic disc w/160mm rotor Front/Rear Rim: 16" 20" Warranty: 12 month Limited Warranty 12 month Limited Warranty
Specifications and appearance are subject to change without prior notice.