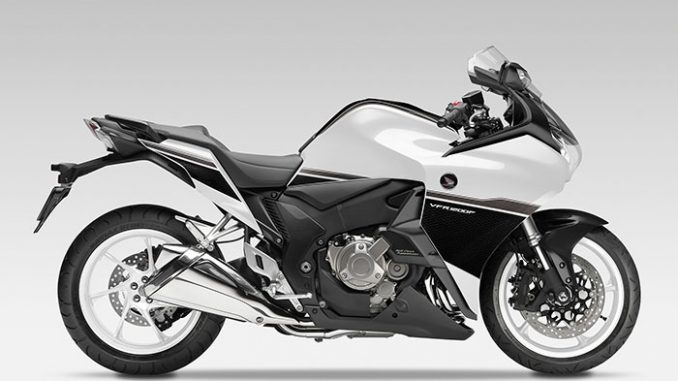 Click photos to enlarge. Our big, clean bike pics make great desktop wallpaper.
2015 Honda VFR1200F Review

2015 Honda VFR1200F on www.Totalmotorcycle.com
Refined Performance…
In 2012 the.engine was updated to offer even greater performance, with significantly more refined torque between 2000rpm and 4000rpm. Changes to the PGM-FI fuel injection system, combined with increased tank capacity, meant the VFR1200F can now travel more than 290kms on a single tank of petrol. The optional Dual Clutch Transmission was improved, with new functionalities. The adoption of a reassuring Traction Control System and along with a more comfortable seating position, further enhance the bike's all-round capabilities.
Launched in 2009, the VFR1200F was developed to deliver a blend of sports and touring capabilities using the latest technologies. It was a clean-sheet interpretation of the ultimate road-sport machine – a concept driven by extensive understanding of customer needs and the adoption of state-of-the-art technologies.
In pursuit of heightened levels of control and feedback, the VFR1200F adopted the latest race-track bred technologies, adapted and evolved to create a machine that can be many things to many riders. The harmonic growl of the flexible and responsive V4 motor rekindles the emotions inspired by previous iconic VFRs, with its unique 'heartbeat' engine feel and an unrivalled level of refined performance.
2015 Honda VFR1200F www.Totalmotorcycle.com Key Features

For 2015 a new white colour scheme has been added.
2015 Honda VFR1200F www.Totalmotorcycle.com Features and Benefits
Engine
Strong midrange performance
The VFR1200F engine was designed to provide its rider with strong power and torque, especially in the low-mid rpm that was further improved in 2012 for a power delivery that is both responsive and exciting. It also delivers the invigorating engine sound and feel that have characterised Honda's previous V4 machines.
Improved fuel efficiency
In 2012 the VFR1200F's advanced PGM-FI fuel injection was revised to improve fuel efficiency. This, in conjunction with an increase in tank capacity of half a litre to 19 litres, means the VFR1200F can now cover more than 290kms on a single tank of fuel.
Smooth delivery
A unique cylinder layout was developed to provide high levels of comfort and control vibrations.. Instead of the traditional V4 cylinder configuration, with the cylinders evenly spaced front-to-rear, the VFR1200F adopts an ingenious solution in order to centralise mass and at the same time achieve a compact, space-saving solution. The rear cylinders are placed side by side but close together, while the front cylinders are more widely spaced. This layout allows for a slim, compact 'waist' that fits comfortably between the rider's legs. It also supports mass centralisation, thus contributing to the bike's balanced feel and ease of control. With no right-left couple imbalance, the need for a balancer is eliminated and friction is reduced.

A Phase-shift Crankshaft complements the advantages of the cylinder layout. Operating with a 28° throw, it effectively reduces primary vibration and noise, eliminating the need for a power-sapping balance shaft. The V4 is characterised by very strong low-rpm torque. To allow the rider to comfortably take full advantage of this torque, delivery is smoothed by four drivetrain dampers, which further eliminate uncomfortable vibration and backlash.
Racing technologies
The VFR1200F utilises the UNICAM single overhead camshaft cylinder head design from the world-class CRF off-road machines. The logic was straightforward: in an environment where space, performance and weight are at a premium this technology was perfect for a project where mass centralisation and ergonomics were prime design criteria. Also borrowed from the CRF range and the RC211V MotoGP racer is the sealed crankcase system that reduces the pumping loss created through piston movement, and air density. This system had never been used on a road machine before but the gains for the rider are identical – electrifying throttle response and improved fuel consumption.

Refined control
A throttle-by-wire system maximises the rider's feeling of connectivity with the VFR1200F. Providing light, precise fuel metering at all engine parameters, this highly developed system gives the rider heightened levels of control, whatever the situation. To aid control under intense deceleration a slipper clutch is fitted, similar to the system on the CBR1000RR Fireblade. When the rider downshifts early the clutch is designed to slip, thus preventing the rear wheel from inadvertently locking up, allowing the rider to stay firmly in control.
Innovative transmission layout and ground-breaking shaft drive system
A compact transmission layout contributes to high-speed stability with good handling and excellent traction capability. The highly developed shaft drive system features an offset propeller shaft and a pivot that expands vertically as well as a sliding constant velocity joint that takes up any variations in length during the rear wheel's arc of travel. At the output shaft a clutch damper absorbs backlash effectively. Thanks to the rigidity of the pivot, stability is improved and throttle-to-drive delivery is much more direct.

Unique exhaust and exhilarating sound
Engineers and designers alike focused not only on the engine's power and delivery, but also on its feel and sound. They chose a configuration which would emulate the briskness of a typical inline-4 engine's performance but deliver this with the beat and feel that are pure V4. The exhaust layout was made as compact as possible with the assembly of catalyser-containing exhaust pipes placed on one side of the sump and the exhaust pipes of the rear cylinder bank placed on the other side. On the bike's right flank a triangular-shaped muffler highlights the styling lines of the bodywork.
The combined induction and exhaust notes create a raw, compelling sound that is authentic Honda V4 and distinguishes the VFR1200F from any other motorcycle. At idle it pulses smoothly, hinting at the engine's huge performance potential. Each twist of the throttle releases a burst of instant V4 aggression that becomes a thrilling howl as it rises quickly through the revs. The sound and beat of this engine contribute to the unique character of the machine and are as essential to the design as the bodywork or riding position.

A key element in the raw emotion of this V4's sound is the exhaust system. Engineered to provide excellent cornering clearance and minimal intrusion to the rider's and pillion's feet position, the high-volume, twin outlet high-chrome muffler produces an unobtrusive but fantastically stirring note. At low revs the noise is off-beat and bass-rich. Further up the rev range, once the servo-operated valve is opened, the noise changes to a truly inspiring, hard-edged V4 growl.
Suspension
Peerless handling and stability
The VFR1200F frame, suspension and drive components are brought together in a unique configuration that facilitates both sports bike power and smooth stability. Its strong aluminium twin-spar diamond configuration frame is both lightweight and rigid. The swingarm and driveshaft length are optimised without extending the overall length of the motorcycle. The long swingarm contributes to balanced, confident manoeuvring and exceptional high-speed stability.
The swingarm is complemented by a compliant Pro-Link rear shock absorber with adjustable rebound damping. At the front, sturdy upside-down 43mm telescopic forks with adjustable preload provide smooth and assured control. Together, these systems ensure a comfortable ride, even with a pillion and luggage on board, and add to the overall feeling of total control.
Brakes
High-performance braking systems
The VFR1200F is equipped with Honda's highly-developed Combined Antilock Braking System. Powerful six-piston calipers for the front and two piston calipers for the rear act on large discs (320mm at the front and 276mm at the rear). The Combined Braking System creates the optimal balance of front and rear braking forces. The addition of a standard-fit compact and lightweight Anti-lock Braking System supports both the motorcycle's sports riding potential and its touring proficiency.
Ergonomic Design
Comfortable dual-seat seat NEW
In 2012 the seat of the VFR1200F – a supportive, vacuum-moulded dual-seat design – was re-designed to offer improved seat grip with new stitching and improved quality with a new seat coating finis. It features a flat and expansive seating area, with the space to adopt a range of different seating positions. This improves comfort during long days on the road. For the pillion, easy-reach grab handles and footrests ideally positioned for comfort, help create a reassuring sense of security.
Instrument panel
The VFR1200F instrument panel combines sophisticated styling and practicality. Shielded and at the same time displayed by the tilt of the aerodynamic windscreen, its elegant design fully complements the airy and spacious feel at the front. It also adds to the sensation of total rider control. A large, sporty analogue rev counter and a digital speedometer are surrounded by LCD readouts which now include actual, average fuel consumption as well as remaining and range of fuel and Traction Control System activation (On/Off). The display also includes a clock, ambient temperature display, HISS indicator and ABS indicator.
Pannier mounts
To enhance the touring potential of the VFR1200F, the rear is equipped with integrated luggage mounts. These mounting points are unobtrusively cast into the injection moulded under-seat area and pillion footrest mounts. They allow easy installation and removal of specially designed optional panniers without interrupting the motorcycle's clean styling.
Ergonomic hand controls
The VFR1200F features a state-of-the-art ergonomic design of the handlebar and switch layout. The designers focussed on meeting the rider's need to reach controls comfortably and for ease of operation, particularly considering the hand position during cornering. As a result, the VFR1200F received new handlebar switches and a new layout with reversed horn and indicator controls. The indicator switch shape is designed around natural thumb movement for effortless operation.
The 2015 VFR1200F will be available in three colours.
– Pearl Glare White
– Candy Prominence Red
– Titanium Blade Metallic
Optional equipment
A wide range of optional equipment has been developed by Honda Access Europe specifically for the VFR1200F. These accessories were designed in line with the new all-round sports bike concept and in every detail, from the choice of materials to integration with the bike's contours, they complement its styling and performance. They include:

– 29-litre pannier set: Fits motorcycle's integral pannier attachments with no need for additional stays. Aerodynamically shaped. Coloured to match the motorcycle's bodywork. Operated with the motorcycle key. Left pannier can hold one full-face helmet.

– 31-litre top box: Features locking, quick-detach mounting system. Lid matches motorcycle's bodywork. Can hold a full-face helmet as well as other luggage.

– Inner bags for the top box and panniers: Black with zipper and Honda Wing logo. Carrying straps and handles included. Pannier inner bags can be zipped together for easy carrying.

– 7-litre tank bag: Black with embroidered VFR logo. Includes preset for easy installation. Adjustable shoulder strap, carrying handle and rain cover included.

– 3-position adjustable add-on screen: Integrates perfectly with the standard windscreen. Extends wind protection for taller riders. WVTA approved (what does WVTA stand for?)

– Replacement low/narrow seat: Maintains the bike's ergonomics. Provides easier reach to the ground for shorter riders. 25mm lower than factory standard seat.

– Heated grips: Kit includes integrated controller. Compact for maximum comfort and design integration. 3-step variable heating levels.

– Motorcycle navigation kit: Features unique controller that allows operation without removing hands from the handlebars. Earphone and car kit included. Honda dealers included in POI list.
---
2015 Honda VFR1200F – www.Totalmotorcycle.com USA Specifications/Technical Details
US MSRP Price: $ USD



---
2015 Honda VFR1200F – www.Totalmotorcycle.com Canadian Specifications/Technical Details
Canada MSRP Price: $ CDN
---
2015 Honda VFR1200F – www.Totalmotorcycle.com European/UK Specifications/Technical Details
UK/European MSRP Price: £ See Dealer for Pricing in GBP (On The Road).
ENGINE
Type Liquid-cooled 4-stroke UNICAM 76° V-4
Displacement 1,237cc
Bore x Stroke 81 x 60mm
Compression Ratio 12:1
Max. Power Output ED: 127kW @ 10,000rpm
Max. Torque ED: 129Nm @ 8,750rpm
Oil Capacity 4 litre
FUEL SYSTEM
Carburation PGM-FI electronic fuel injection
Fuel Tank Capacity 19 litres
Fuel Consumption MT 16km/l (45.2mpg)
DCT 16.4km/l (46.3mpg)
(Tested in D-Mode WMTC mode*)
ELECTRICAL SYSTEM
Starter Electric
Battery Capacity 12V/11.2AH (YTZ14)
ACG Output 570W
DRIVETRAIN
Clutch Type Wet, multiplate slipper type
Transmission Type Constant mesh 6-speed
Final Drive Shaft
FRAME
Type Diamond; aluminium twin-spar
CHASSIS
Dimensions (LxWxH) 2,244mm x 752mm x 1,222mm
Wheelbase 1,545mm
Caster Angle 25.5°
Trail 101mm
Seat Height 815mm
Ground Clearance 128mm
Kerb Weight 267kg
SUSPENSION
Type Front 43mm cartridge-type telescopic fork with stepless preload adjustment, 120mm axle travel
Type Rear Pro-Link with gas-charged damper, 25-step (*stepless remote-controlled hydraulic) preload and stepless rebound damping adjustment, 130mm axle travel
WHEELS
Type Front 5-spoke hollow gravity die cast aluminium
Type Rear 7-spoke gravity die cast aluminium
Rim Size Front 17M/C x MT3.5
Rim Size Rear 17M/C x MT6
Tyres Front 120/70 ZR17M/C (58W)
Tyres Rear 190/55 ZR17M/C (75W)
BRAKES
ABS System Type Combined ABS
Type Front 320mm dual floating hydraulic disc with two 6-piston calipers, C-ABS and sintered metal pads
Type Rear 276mm hydraulic disc with 2-piston caliper, C-ABS and sintered metal pads
ELECTRICS
Headlight 12V, 55W x 1 (low) / 55W x 1 (high)

All specifications are provisional and subject to change without notice.

# Please note that the figures provided are results obtained by Honda under standardised testing conditions prescribed by WMTC. Tests are conducted on a rolling road using a standard version of the vehicle with only one rider and no additional optional equipment. Actual fuel consumption may vary depending on how you ride, how you maintain your vehicle, weather, road conditions, tire pressure, installation of accessories, cargo, rider and passenger weight, and other factors.