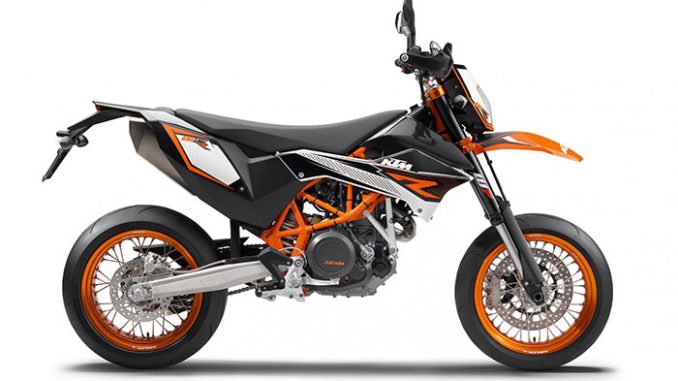 Click photos to enlarge. Our big, clean bike pics make great desktop wallpaper.
2015 KTM 690 SMC R Review

2015 KTM 690 SMC R on www.Totalmotorcycle.com
NOT A SINGLE GRAM OF FAT; JUST MUSCLE …
What isn't there, doesn't weigh anything either – the 690 SMC R is designed according to this motto. It arrives at the starting line in peak condition with twin plug ignition, ride-by-wire, new ABS and a revamped chassis. Powerful, sports-oriented, yet still very comfortable – what could make a drifter happier? The KTM 690 SMC R: the unrivalled Supermoto for the most demanding requirements, which leaves all others in its wake: suitable for racing or everyday use, potent design, state-of-the-art.

2015 KTM 690 SMC R www.Totalmotorcycle.com Key Features

LOW FUEL CONSUMPTION



SUPERMOTO FOR EVERYBODY



STRAPPING, YET REFINED SINGLE-CYLINDER



DYNAMIC CORNERING FUN

2015 KTM 690 SMC R www.Totalmotorcycle.com Features and Benefits


WHEELS (PATENTED, TUBELESS, SPOKED WHEELS)
Thanks to specially designed, air-tight rim profiles on tubeless, wire-spoked wheels, KTM 690 SMC R rolls on Conti AttackSM tubeless tyres. The lightweight wheels reduce unsprung masses and gyroscopic forces, making the suspension even more effective and the steering even lighter. They also increase the grip of what are already the best Supermoto tyres on the market.

FRAME AND SWINGARM
The 690 SMC R ranks among the most powerful curve-bandits on the road. Alongside the outstandingly tuned suspension, two major contributors to its excellent tracking stability are the lightweight tubular space frame made from chrome-molybdenum steel and the high-quality die-cast swingarm – both of them extremely torsion-resistant.

SUSPENSION COMPONENTS
By professionals for everyone: The KTM 690 SMC R's WP upside-down fork, with a whole 250 mm of suspension travel and 48 mm outer tubes, is adjustable in many ways and masters the balancing act between everyday use and attack with the greatest of ease. It is designed as a split fork with separate damping circuits (compression damping on the left fork tube, rebound damping on the right) that can be adjusted independently from each other. This means that they cannot interact as they do in conventional open bleed systems – thus guaranteeing even sportier, more purposeful and rider-optimised ride characteristics. The pivot-arm articulated WP pressurised-gas monoshock with 250 mm of travel even features high-speed and low-speed compression adjustment.

ABS
The 690 SMC R enters the fray with Bosch 9M+ABS – highly effective, disengageable and optionally with Supermoto ABS (PowerParts dongle) for real Supermoto drifting: Freely lockable rear wheel with a sharp ABS function up front.
BRAKES
The 690 SMC R's extremely powerful and easily applied Brembo® brakes impress with outstanding controllability. On the front wheel, a radially-mounted, four-piston, fixed brake calliper bites onto a floating 320 mm brake disc.

INJECTION / ENGINE MANAGEMENT
The 690 SMC R has always been amazingly economical with fuel and it runs even more efficiently. Why? Thanks to its low weight, its highly efficient engine management system with twin plug ignition and electronic injection with ride-by-wire. And also to its state-of-the-art OHC single-cylinder engine.

ERGONOMICS
The self-supporting rear end/fuel tank unit made from robust plastic bears an equally comfortable and low seat. This is augmented by the tank fairings and the ideally angled, wide aluminium handlebar to form a perfect arrangement that makes controlling the 690 SMC R extremely simple – both on the road and on the track. Superb handling, remarkable versatility, perfect vehicle control both on the road and on the track, plus excellent contact points and maximum freedom of movement for hitting the gas with commitment – 690 SMC R.
SUITABLE FOR A2 DRIVER´S LICENSE HOLDER
A restricted power version is available for those riders who just got an A2 driver´s license. Restricted power doesn´t necessary means restricted fun: thanks to its lightweight and dynamic chassis KTM 690 SMC R is the perfect buddy to push your limit.


BALANCER SHAFT
The finely balanced crank drive of the 690 single-cylinder converts terrific combustion pressure into unrivalled single-power, thanks to its balancer shaft, which eliminates vibration without having any detrimental effect on the super-single.

ENGINE
Modernised once again with twin plug ignition and ride-by-wire, the state-of-the-art, water-cooled LC4 single-cylinder on the 690 SMC R delivers an impressive 49 kW (67 hp) from 690 cc of displacement. It combines powerful acceleration from the very lowest revs with an outstanding free-revving nature and refined engine running. It's extremely economical with fuel and saves its owner even more money thanks to long service intervals of 10,000 km. Annoying rear wheel chatter? Prevented reliably by its slipper clutch that's fitted as standard. A twin plug ignition system now controls two differently sized spark plugs in each cylinder head independently of each other in such a way that more efficient combustion and a smoother, optimally controlled combustion sequence are achieved at all times. The result: even more and even better controlled power, lower fuel consumption, and less emissions.

INJECTION / ENGINE MANAGEMENT / RIDE-BY-WIRE
The guarantee for smooth throttle response, not just no throttle control cable: The 690 SMC R is equipped with a cable-free ride-by-wire system for opening the throttle valve. This significantly improves the power delivery, making the potent single-cylinder's throttle response and ride quality even smoother. It also electronically translates the throttle commands of the rider into throttle valve positions perfectly suited to the riding conditions. As before the rider has the choice between three different mappings for influencing the engine characteristics.

---
2015 KTM 690 SMC R – www.Totalmotorcycle.com USA Specifications/Technical Details
US MSRP Price: $NA USD

Model not available
---
2015 KTM 690 SMC R – www.Totalmotorcycle.com Canadian Specifications/Technical Details
Canada MSRP Price: $NA CDN
Model not available
---
2015 KTM 690 SMC R – www.Totalmotorcycle.com European Specifications/Technical Details
Europe/UK MSRP Price: £7999 GBP (On The Road inc 20% Vat)
ENGINE
Design Single-cylinder, 4-stroke, spark-ignition engine, liquid-cooled
Displacement 690 cm³
Bore 102 mm
Stroke 84.5 mm
Performance 49 kW (66 hp)
Starting aid Electric starter, automatic decompressor
Transmission 6-speed, claw shifted
Engine lubrication Pressure lubrication with 2 Eaton pumps
Primary gear ratio 36:79
Secondary gear ratio 16:42
Cooling system Liquid cooling system, continuous circulation of cooling liquid with water pump
Clutch APTC™ Anti-hopping clutch in oil bath / hydraulically operated
Ignition system Contactless, controlled, fully electronic ignition system with digital ignition timing adjustment
CHASSIS
Frame Tubular space frame made from chrome molybdenum steel, powder-coated
Fork WP Suspension Up Side Down 4860 ROMA
Shock absorber WP Suspension 4618 with Pro Lever linkage
Suspension travel front 215 mm
Suspension travel rear 250 mm
Brake system front Disc brake with radially mounted four-piston brake caliper
Brake system rear Disc brake with single-piston brake caliper, floating
Brake discs – diameter front 320 mm
Brake discs – diameter rear 240 mm
Chain 5/8 x 1/4″ X Ring
Steering head angle 63°
Wheel base 1,480±15 mm
Ground clearance (unloaded) 270 mm
Seat height (unloaded) 890 mm
Total fuel tank capacity approx. 12 l
Unleaded premium fuel (95 RON)
Weight without fuel approx. 144 kg
* Manufacturer's suggested retail price (MSRP), the actual sale prices can vary.
Manufacturer Specifications and appearance are subject to change without prior notice on Total Motorcycle (TMW).