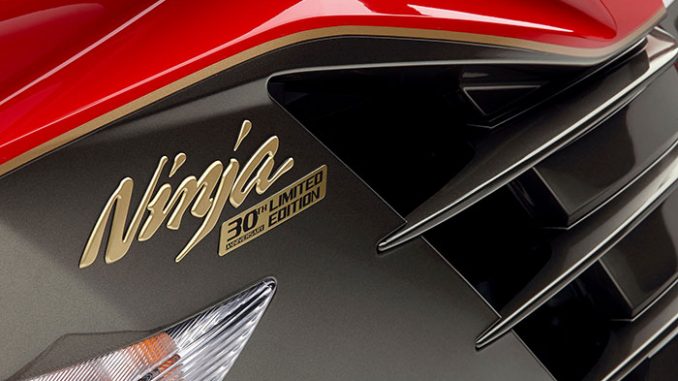 Click photos to enlarge. Our big, clean bike pics make great desktop wallpaper.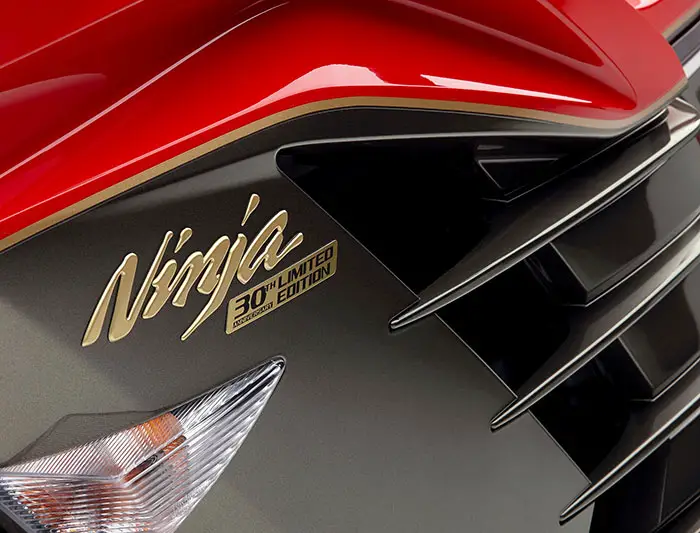 2015 Kawasaki Ninja ZX-14R ABS 30th Anniversary / LE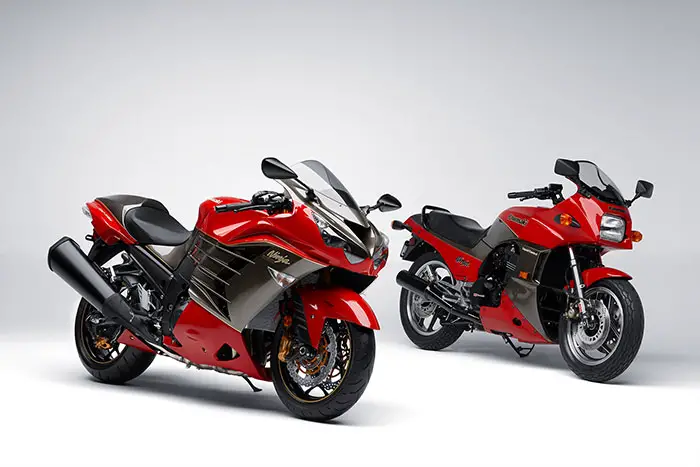 2015 Kawasaki Ninja ZX-14R ABS 30th Anniversary / LE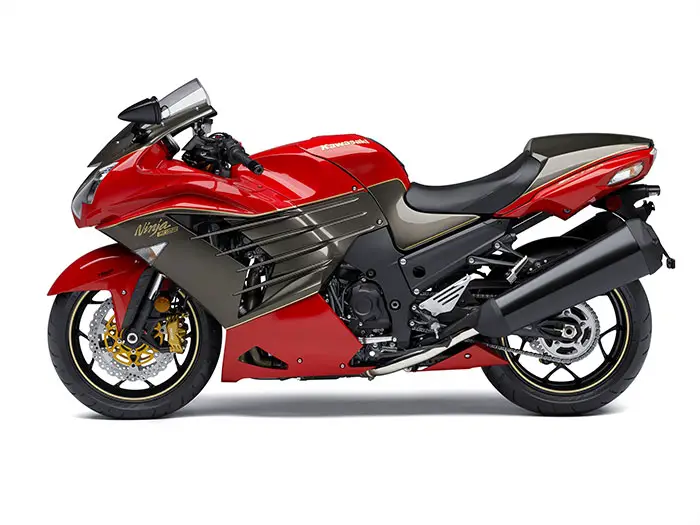 2015 Kawasaki Ninja ZX-14R ABS 30th Anniversary / LE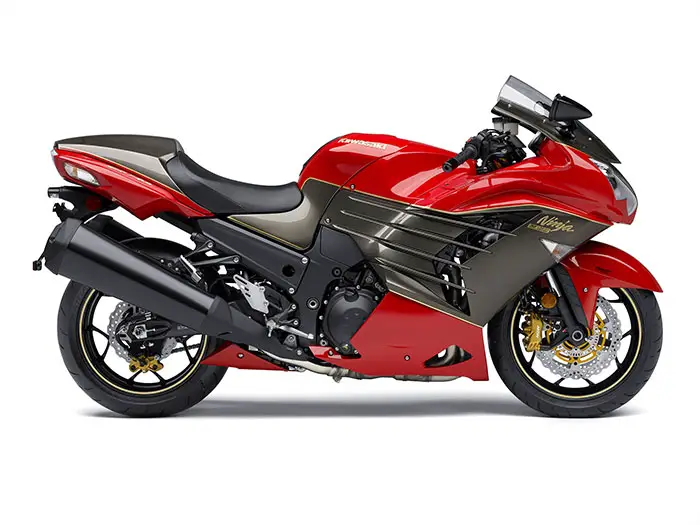 2015 Kawasaki Ninja ZX-14R ABS 30th Anniversary / LE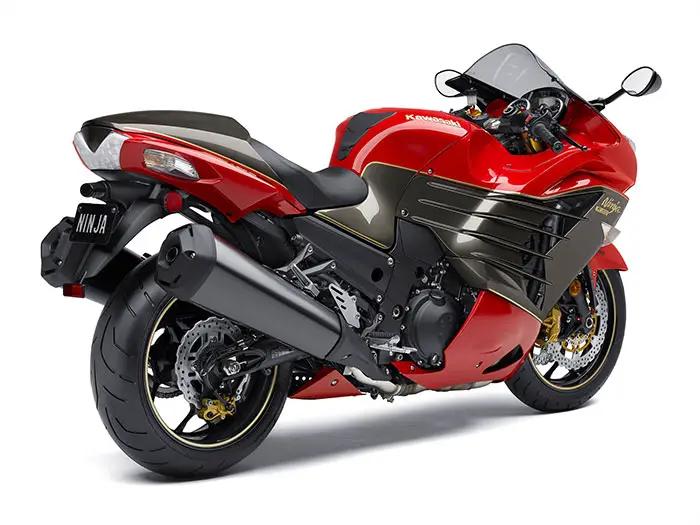 2015 Kawasaki Ninja ZX-14R ABS 30th Anniversary / LE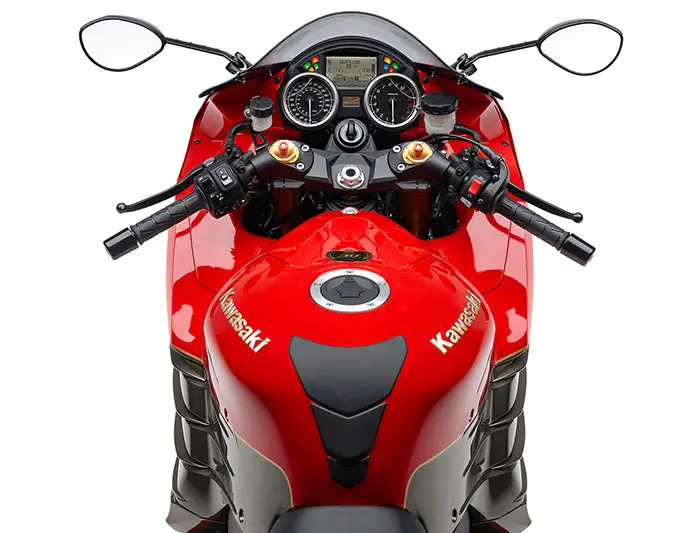 2015 Kawasaki Ninja ZX-14R ABS 30th Anniversary / LE
2015 Kawasaki Ninja ZX-14R ABS 30th Anniversary / LE Review

2015 Kawasaki Ninja ZX-14R ABS 30th Anniversary / LE on www.Totalmotorcycle.com
Prepare to experience performance in a way that only a Kawasaki can deliver. The ZX-14 is the ultimate blend of extreme excitement and everyday versitility. Feel at home traversing the mountain roads, or feel the ultimate rush hurtling down the dragstrip…
Kawasaki celebrates the 30th anniversary of the Ninja with a very limited edition of numbered 2015 ZX-14R ABS motorcycles
Only 300 ZX-14R Limited Edition motorcycles will be available, all individually numbered and finished in exactly the same shade of Firecracker Red and Metallic Graystone paint as the 1984 Ninja® 900 – the motorcycle that started the superbike revolution. It even has the same narrow Gold pinstriping and gets gold brake calipers. 30th Anniversary logos on the fairing sides and a numbered badge on the gas tank will further identify the Limited Edition models.
NEW 2015 KAWASAKI NINJA ZX-14R LIMITED EDITION FEATURES
•Limited to 300 numbered models
•Unique numbered badge on gas tank
•Finished in Firecracker Red / Metallic Graystone paint with Gold pinstriping and brake calipers
•Available to order at a Kawasaki dealer from July 15, 2014, 9:00am PDT
•Powerful 1441cc inline four-cylinder engine with selectable Power Modes
•ABS, Traction Control and adjustable suspension
•Kawasaki One-Year Warranty
Kawasaki recently released Anniversary Editions of the Ninja ZX-10R and ZX-6R featuring color schemes to celebrate the company's success in the 2013 World Superbike Championship. Now the flagship ZX-14R commemorates the original spirit of the 1984 Ninja 900, which was the first fully faired superbike and sported Kawasaki's most powerful engine of its day. Similarly, the 2015
ZX-14R continues that cutting edge tradition by featuring one of the most powerful production engines in the world and can claim to be the quickest production motorcycle in the world.
LIMITED EDITION
Following the official announcement of the 2015 Ninja ZX-14R ABS Limited Edition at the Laguna Seca round of the 2014 World Superbike Championship, potential customers can order one of the 300 models on July 15, 2014 at 9:00am PDT.
Orders must be taken by a Kawasaki dealer, along with a $1,000 non-refundable deposit. Orders will be accepted on a first-come, first-served basis via a time and date stamp.
Although the anniversary of the Ninja takes place this year, Kawasaki decided to make the ZX-14R ABS Limited Edition a 2015 model. Each ZX-14R will have the bodywork painted in the same Firecracker Red and Metallic Graystone paint as the original machine.
During the motorcycle's inception, the development team looked at updating the original colors with a modern interpretation of the famous red and gray paint. However, they kept returning to the classic colors that stood out better than any new combinations. Parked side by side, the 1984 Ninja 900 and 2015 ZX-14R ABS Limited Edition bring together 30 years of motorcycle enthusiasm and passion.
The ZX-14R also received Gold pinstriping to define the painted areas. The development team also chose to finish the brake calipers in an identical gold to add another touch of class to Kawasaki's flagship motorcycle.
Only 300 2015 ZX-14R ABS Limited Edition motorcycles will be available for purchase in the USA and Latin American markets. A separate edition of 30 motorcycles will also be produced for the Canadian market, with specific numbering for that production run. Otherwise, these very special models will not be available in any other market around the world, making them an instant collectors' edition.
ENGINE & TRANSMISSION
Just as the 1984 Ninja 900 boasted the most powerful production engine of its day, so does the 2015 Kawasaki ZX-14R Limited Edition. The 1,441cc DOHC inline-four represents the pinnacle of supersport power and performance.
The character of the power delivery is as important as the peak number, so the surface-milled combustion chambers and polished intake ports help to spread the powerband as wide as possible.
The dual gear-driven counterbalance set-up has been optimized to work with the long-stroke crankshaft, providing the legendary smooth power delivery of the ZX-14R across the entire rev range.
The high-lift camshafts are operated by a cam chain and tensioner to operate reliably at high RPM, while the lightweight forged pistons are cooled by an oil jet that pumps lubricant at the underside of each piston for better cooling and increased performance. They also have extra strong alloy connecting rods with robust 40mm crankshaft main journals.
The fuel delivery is precisely metered by a Digital Fuel Injection (DFI®) system that offers automatic idle adjustment to reduce emissions. The intake system uses a ram-air effect to generate more power at high RPM, while the exhaust comprises a high-performance system with large-diameter tapered header pipes and large-volume mufflers, each with an advanced catalyzer to minimize emissions.
The benefit of this continuous engine development is class-leading power everywhere across the rev range. The advantages are most profound in the mid- and high-RPM range, yet the 1.4-liter engine can also provide incredible acceleration from as little as 4,000rpm. This translates into the sort of thrust any rider can appreciate in a wide variety of situations.
Of course, every aspect of the ZX-14R has to be capable of running with its phenomenal powerplant, so the transmission gears have been both heat- and surface-treated to ensure strength, smooth shifting and a long service life.
POWER MODES, ABS, TRACTION CONTROL
The most important aspect about a high-performance motorcycle is the ease with which a rider can control it, and the 2015 Ninja ZX-14R ABS has a host of features to keep the rider in charge.
The rider can also choose to select two engine power levels by using the two-mode Hi/Low power selector switch. This gives the rider to select either full power or reduce it by 75-percent to suit the prevailing conditions.
Furthermore, there is a three-mode Kawasaki Traction Control (KTRC) system, where the first two modes are intended to maximize acceleration and is similar to the S-KTRC system found on the ZX-10R. The third mode is tuned for low-traction (wet/slippery) conditions, similar to the Concours® 14 sport tourer. The KTRC system can also be turned off completely by the rider using the bar-mounted toggle/push switch, which also operates the Power Modes. KTRC activity can be monitored on the cockpit's LCD info screen.
Finally, there is a back-torque-limiting "slipper" clutch assembly, a technology taken directly from the racetrack. It helps eliminate the wheel-hop and torque effects of energetic downshifting while braking for a corner, or even during spirited stops, giving the rider even greater control.
CHASSIS
Kawasaki engineers designed the monocoque chassis to deliver a light-handling and maneuverable motorcycle. For real sport riding performance, the engineers designed the frame's aluminum castings and forgings to allow unique flex and rigidity characteristics, giving an ideal balance to exploit the world class power and acceleration capabilities of the ZX-14R.
Front and rear suspension tuning helps maintain the wheel control, ride comfort and maneuverability. Both the 43mm fully adjustable inverted front forks and multi-adjustable single rear shock offer excellent responses throughout a wide speed range, while the machined ten-spoke wheels reduce unsprung weight to aid acceleration, handling and suspension action.
The Ninja ZX-14R ABS features a powerful and responsive anti-lock brake system (ABS), for additional rider confidence on mixed or slippery surfaces. Triple-petal-type brake rotors and radial-mount calipers help provide powerful, fade-free stops and a progressive feel at the lever.
BODYWORK
Dynamic styling has been a Kawasaki hallmark ever since the Ninja 900 first hit the streets in 1984, so it's only fitting that the pinnacle of this long line of sportbikes would still look the part.
From nose-to-tail, the ZX-14R's bodywork honors the angular and flowing shapes that have made recent Ninja models among of the most attractive sportbikes on the road. The front is especially imposing, with an aggressive fairing fitted with a unique quad-headlight assembly and large ram-air duct to force cool air into the intake system.
The traditional four-fin styling theme along the side of the fairing has a pronounced 3D design, with effort taken to conceal its fasteners as much as possible.
The bike's tail section is especially sculpted, with integrated turn signals and a cool rear seat cowl – supplied as standard on the 2015 ZX-14R ABS Limited Edition – boosting its aerodynamic performance when the pillion seat isn't in use.
The seat offers excellent thigh support, making it comfortable on long journeys and allowing shorter riders to reach the ground. The bodywork's venting system also extracts heated air from the engine bay and routes it away from the rider and passenger.
Instruments and controls feature a multi-function switch on the left handlebar to operate all the system's functions. It allows the rider to toggle through setting on the LCD screen using the upper/lower buttons, scrolling through fuel consumption, remaining range, battery voltage, external temperature, traction control, etc. You can both choose and adjust functions using the 'Select' button in the center of the toggle switch. There is even an "Eco" indicator on the LCD screen that tells the rider when they are getting maximum fuel economy and mileage.
The end result of all this technology and features is a dominating supersport riding experience that is available to a limited number of riders in this very special 30th Anniversary paint scheme. Of course, the 2015 ZX-14R ABS will also be available in other colors without a limit on production for riders not able to secure one of the 300 Limited Editions motorcycles.
As always, Kawasaki Genuine Accessories are available through authorized Kawasaki dealers for all ZX-14R models.
KAWASAKI ONE-YEAR WARRANTY
Completing the appeal of the 2015 ZX-14R ABS is Kawasaki's promise to keep you running Strong with our standard One-Year Limited Warranty. We don't just want you to enjoy the ZX-14R we want you to live the supersport lifestyle and be absorbed in its 30-year heritage: a heritage of performance and passion.
2015 Kawasaki Ninja ZX-14R ABS 30th Anniversary / LE Totalmotorcycle.com Key Features

Key Features
o One-of-a-kind 1,441cc inline-four engine is the most powerful motorcycle engine Kawasaki has ever produced, delivering the most power of any current production sportbike
o ABS brake model helps increase rider confidence and helps provide additional security in slippery situations
o KTRC traction control system addresses varying riding conditions via three different modes controlled by a switch on the left handlebar
o Back-torque-limiting slipper clutch assembly helps control chassis upset from rear-wheel torque effects while braking and downshifting
o High performance exhaust system features large-diameter tapered head pipes, a catalyzer and an efficient muffler assembly for low noise and emissions
o Aluminum monocoque frame is narrow, strong and rigid for impressive sport riding performance that complements the engine's power
o Aluminum swingarm assembly is longer than traditional designs and incorporates strengthening gussets to withstand the engine's substantial torque
o Supersport bodywork embraces the visual cues of Kawasaki siblings, includes a rear seat cowl and adds better air management for improved rider and passenger comfort
o Ten-spoke wheels reduce unsprung weight for better handling and maneuverability
o Radial-mount calipers feature individual pads for each piston, improving heat management
o Balanced, adjustable suspension settings front and rear for a comfortable ride without sacrificing performance
o Flagship finish quality with hidden bodywork fasteners

2015 Kawasaki Ninja ZX-14R ABS 30th Anniversary / LE Totalmotorcycle.com Features and Benefits
1,441cc Four-cylinder Liquid-cooled DOHC Engine
o Long-stroke design, ported cylinder heads, lightweight forged pistons, and aggressive camshaft profiles provide more torque and power throughout the rev range than any other production sportbike
o Piston jet system sprays a continuous stream of cooling lubrication to the underside of each piston for cooler running temperatures, more consistent power output and excellent long-term durability
o Strong cam chain and tensioning system offers excellent high-RPM durability
o Thick 40mm crankshaft main journals contribute to long-term engine durability
o Surface and heat treatments allow the transmission gears to better harness the engine's prodigious power output
o Chrome composite-plated aluminum cylinder bores are lightweight, durable, and effectively transfer heat away from the combustion chamber and piston for maximum durability at high power outputs
o Mechanical noise is kept to a minimum via special piston profiles and a urethane insulation sheet on the inside of the magnesium chain cover
High-flow Exhaust System
o Header assembly has tapered-diameter pipes for optimal engine response and power output
o The internal construction of the dual mufflers minimizes the impact of noise and emissions regulations, while maintaining impressive top-end power
o Airflow directed into the exhaust by the large secondary air ports in the cylinder head and head cover, plus a third honeycomb catalyzer in the exhaust collector, help meet strict Euro III emissions standards
Gear-driven Dual Engine Balancers
o Balance weights keep the engine in ideal balance, resulting in improved comfort for riders and passengers
o Already in perfect primary balance, the ZX-14R's engine design features dual secondary balancers that virtually eliminate unwanted vibrations for extremely smooth operation and reduced rider fatigue
Ram Air Induction
o Central ram air duct draws cooler, higher-pressure air from the face of the fairing and efficiently guides it through the larger and more efficient air cleaner and into the engine for maximum power output
Digital Fuel Injection
o DFI® throttle body assembly features individual 44mm throttle bodies fitted with an idle speed control and sub-throttle valves controlled by the 32-bit ECU. They provide precise response, smooth performance, automatic idle speed adjustment, and help the bike meet strict Euro III emissions requirements
o High performance intake tract porting optimizes flow characteristics
o Fuel injectors deliver lateral spray at a 20-degree angle to disperse the finely atomized (75-micron droplet size) fuel over a wide area
Dual-Mode Digital Ignition
o Rider selectable Full & Low power maps offer a choice between full power and approximately 75-percent power output to help suit changing conditions
o Digital Timing Advance enhances low- and mid-range power
o Individual spark plug-mounted ignition coils fire each of the four spark plugs independently to achieve the optimum timing for that cylinder
o ECU includes an idle speed control system for easier starting and warm-up
KTRC Traction Control
o KTRC Kawasaki Traction Control system features three different selectable modes to suit rider preference and different riding conditions
o Modes are selected by a handy switch assembly on the left handlebar
o Modes are indicated on the LCD cockpit display
Back-Torque Limiting "Slipper" Clutch
o Back-torque limiting "slipper" clutch assembly helps control rear-wheel torque effects while downshifting or coasting to minimize wheel hop, chatter and reduce rider stress
o Radial-pump hydraulic clutch master cylinder offers smooth and precise engagement and optimal feel at the lever
ABS Disc Brakes with petal-type Rotors and Radial-Mount Calipers
o ABS brakes offer excellent performance and enhanced confidence in adverse conditions
o Compact, lightweight ABS unit is highly effective without adding excessive weight
o Petal-type brake rotors provide better cooling and enhanced warp resistance than traditional discs
o Radial mounted four-piston front brake calipers offer greater rigidity than traditional caliper mounting to improve brake feel
o A separate brake pad is used for each piston. Individual pads provide increased cooling efficiency and can absorb more heat without deforming so they maintain a consistent brake feel longer
o Radial-pump front brake master cylinder provides excellent lever feel and feedback
Monocoque Aluminum Frame
o Lightweight monocoque frame is a hollow aluminum box that arches over the engine from the steering head to the swingarm pivot. It is narrow, strong, rigid and very light
o Many of the frame's cast aluminum sections – steering head and swingarm pivot areas – are produced via a die-casting process for weight savings
o Rigidly mounted engine is a stressed frame member, which increases the frame's torsional rigidity and saves weight versus traditional designs
o Engine is positioned forward in the frame, with the long wheelbase and front/rear weight balance carefully designed to achieve high-speed stability and responsive handling
o Long swingarm design helps maximize forward drive and is gusseted to better cope with the engine's healthy torque output
o Massive head pipe casting contributes to frame rigidity
o Frame houses the air box and air filter in a space-saving design that simplifies air cleaner maintenance
o Battery is also housed within the frame and is easily accessible through an aluminum frame cover
Comfortable Sporting Suspension
o Inverted and multi-adjustable 43mm cartridge-type fork provides excellent wheel control and without sacrificing ride comfort
o Stepless damping adjustment allows ultra-precise tuning of fork reactions
o Fully adjustable bottom-link Uni-Trak® rear suspension is a compact design that offers premium control and feedback
o Linkage rates designed to allow linear suspension action and excellent wheel control
o Bottom-link design helps create a lower center of gravity, which makes the motorcycle more nimble
Aggressive Supersport Bodywork
o Monocoque frame is positioned over the engine so the sleek fairing is uninterrupted by protruding frame spars, adding to the extremely long and low styling
o Efficient fairing venting offers excellent engine-heat control to help maintain rider and passenger comfort on hot days
o Standard rear-seat cowl adds aesthetic appeal
o Both the front and rear turn signals are integrated into the bodywork and have clear lenses to enhance for a more modern appearance
o Quadruple projector beam headlights give the ZX-14R a distinctive look. The outer lights contain position lamps and high beams, while the low beams are located in the center lamps
o Lightweight Denso radiator with dual fans and high-density cores provides maximum cooling efficiency
o Limited Edition bodywork finished in Firecracker Red / Metallic Graystone / Gold pinstriping
Full Instrumentation
o Black-faced dual analog speedometer and tachometer are easy to read
o Multi-function LCD digital display includes an odometer, two trip meters, fuel gauge, gear position indicator, clock, and many other variables, including traction-control and power mode information through its LCD indicator
o Programmable shift indicator lamp illuminates at pre-set rpm to signal rider upshift
o Programmable clutch engagement lamp illuminates at pre-set RPM to signal the rider to engage the clutch
o Controller Area Network (CAN) interface between the gauges uses fewer wires yet allows a greater volume of information, such as estimated fuel mileage, to be exchanged

---
2015 Kawasaki Ninja ZX-14R ABS 30th Anniversary / LE – www.Totalmotorcycle.com USA Specifications/Technical Details
US MSRP Price: $15,899 USD

Engine: Four-stroke, liquid-cooled, DOHC, four-valve per cylinder, inline-four
Displacement: 1,441cc
Bore x stroke: 84 x 65mm
Compression ratio: 12.3:1
Fuel injection: DFI® with four 44mm Mikuni throttle bodies
Ignition: TCBI with Digital Advance
Transmission: Six-speed
Final drive: Sealed chain
Rake / trail: 23-deg / 3.7″
Front tire: 120/70 ZR17
Rear tire: 190/50 ZR17
Wheelbase: 58.3″
Front suspension / wheel travel: 43mm inverted cartridge fork with adjustable preload,
18-way compression and 15-way rebound damping adjustment / 4.6″
Rear suspension / wheel travel: Bottom-link Uni-Trak® and gas-charged shock with adjustable preload, stepless rebound and compression damping adjustments, adjustable ride height / 4.9″
Front brakes: Dual semi-floating 310 mm petal discs with dual radial-mounted four-piston calipers in gold, ABS
Rear brakes: Single 250mm petal disc with twin-piston caliper in gold, ABS
Overall length: 85.4″
Overall width: 30.3″
Overall height: 46.1″
Ground clearance: 4.9″
Seat height: 31.5″
Curb weight: 590.9 lb
Fuel capacity: 5.8 gallons
Color: Firecracker Red / Metallic Graystone / Gold pinstriping
MSRP: $15,899
Warranty: 12 months
Good Times™ Protection Plan (Optional): 12, 24, 36 and 48 months

---
2015 Kawasaki Ninja ZX-14R ABS 30th Anniversary / LE – www.Totalmotorcycle.com Canadian Specifications/Technical Details
Canada MSRP Price: $18,199 CDN
Engine

Type 4-stroke, In-Line Four
Displacement 1,441cc
Bore and stroke 84.0 x 65.0 mm
Cooling Liquid
Compression ratio 12.3:1
Valve system DOHC, 16 valves (4 valves per cylinder)
Fuel system DFI with 44 mm Mikuni Throttle Bodies (4)
Ignition Digital
Lubrication Forced lubrication (wet sump with cooler)

Brakes

Front: type Dual semi-floating 310 mm petal discs
Front: calipers Dual radial-mount, opposed 4-piston, 4-pad
Rear: type Single 250 mm petal disc
Rear: calipers Opposed, twin-piston

Dimensions

Overall length 2,170 mm (85.4 in.)
Overall width 770 mm (30.3 in.)
Overall height 1,170 mm (46.1 in.)
Wheelbase 1,480 mm (58.3 in.)
Ground clearance 125 mm (4.9 in.)
Seat height 800 mm (31.5 in.)
Curb mass** 265 kg (584.2 lbs.)
Fuel capacity 22 litres (4.8 gal.)

Drivetrain

Transmission 6-speed, return, positive neutral finder
Final reduction ratio 2.471 (42/17)
Gear ratio: 6th 1.036 (29/28)
Gear ratio: 5th 1.154 (30/26)
Gear ratio: 4th 1.333 (32/24)
Gear ratio: 3rd 1.545 (34/22)
Gear ratio: 2nd 1.947 (37/19)
Gear ratio: 1st 2.611(47/18)
Primary reduction ratio 1.556 (84/54)
Final drive Sealed chain
Clutch Wet multi-disc, manual

Frame

Type Monocoque, aluminium
Wheel travel: front 117 mm (4.6 in.)
Tire: front 120/70ZR17M/C (58W)
Wheel travel: rear 124 mm (4.9 in.)
Tire: rear 190/50ZR17M/C (73W)
Caster (rake) 23º
Trail 93 mm (3.7 in.)
Steering angle (left/right) 31º / 31º

Suspension

Suspension, front 43 mm inverted cartridge fork. with adjustable preload, stepless rebound and compression damping adjustments
Suspension, rear Bottom-Link Uni-Trak and gas-charged shock with adjustable preload, stepless rebound and compression damping adjustments
* The Manufacturer's Suggested Retail Price does not include freight, pre-delivery inspection or applicable taxes. The final price is at the discretion of the dealer. Prices and Specifications are subject to change without prior notice. The amount indicated as "Your price" may include an optional instant Mega Cash credit that is deducted from the manufacturer's suggested retail price before taxes. This promotion is time limited and certain conditions will apply. See your dealer for complete details. Offer not available on financed purchases and cannot be combined with any other special offers. The final price is at the discretion of the dealer. Prices and Specifications are subject to change without prior notice.
** Includes all necessary materials and fluids to operate correctly, full tank of fuel (more than 90% of capacity) and tool kit (if supplied)
‡ Power / Torque figures measured at the crankshaft.
The specifications mentioned here apply to and have been achieved by production models under standard operating conditions. We intend only to give a fair description of the vehicle and its performance capabilities but these specifications may not apply to every machine supplied for sale. Kawasaki Heavy Industries, Ltd. reserves the right to alter specifications without prior notice. Equipment illustrated and specifications may vary to meet individual markets. Available colours may vary by market.