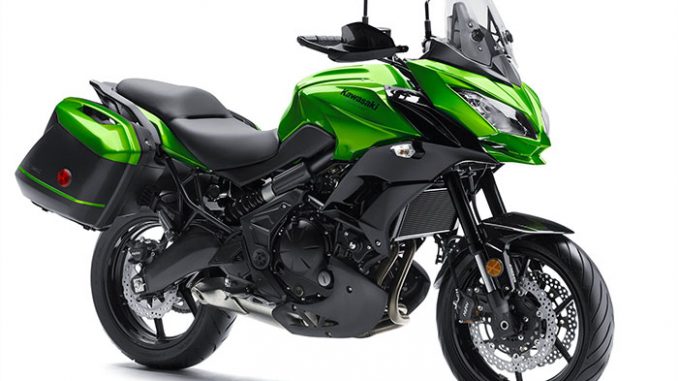 Click photos to enlarge. Our big, clean bike pics make great desktop wallpaper.
2015 Kawasaki Versys 650 LT Review

2015 Kawasaki Versys 650 LT on www.Totalmotorcycle.com
A multi-talented, middleweight motorcycle that will make your commuting and paved adventures lots of fun!
The Kawasaki Versys® 650 LT comes into the 2015 model year with a host of updates, including dramatic new styling, more power and torque, improved comfort as well as rubber-mounted engine and handlebar, plus new suspension to maximize your street-riding fun. The 2015 Versys 650 LT is one of those rare motorcycles that is equally at home commuting on the local freeway or mixing it up on your favorite back road. Whatever your destination, this reliable, versatile, comfortable and nimble motorcycle will eat up the miles and encourage you to take the long way home.
Two versions of the 2015 Kawasaki Versys 650 will be offered– a Standard ABS model, with everything you've come to expect from this flexible motorcycle, as well as an LT model. The LT includes all the same high specification but will additionally have KQR™ (Kawasaki Quick Release) Hard Saddlebags and Hand Guards to increase its overall versatility.
KEY FEATURES OF THE 2015 KAWASAKI VERSYS 650 LT:
•NEW Front-end styling with an aggressive and functional design
•NEW Repositioned footpegs and rubber-mounted engine for extended comfort
•NEW Larger windshield with increased adjustability provides better wind protection
•NEW SHOWA front suspension with easy adjustment
•NEW KYB rear shock with remote preload adjuster
•NEW Passenger grips for increased confidence and comfort incorporating KQR™ saddlebag mounting system
•NEW Brake master cylinders and Nissin calipers
•NEW More power and torque from 649cc parallel-twin engine with Digital Fuel Injection (DFI®)
•NEW Larger fuel tank for extended range
•NEW Rear subframe allows increased payload capacity
•NEW KQR™ (Kawasaki Quick Release) Hard Saddlebags and Hand Protectors (standard equipment on the LT model)
•Extensive selection of Kawasaki Genuine Accessories
The 2015 Kawasaki Versys 650 LT continues to lead the way in the street adventure segment with its proven reliability, back road ability and awesome performance. And, with the 2015 updates, Kawasaki has ensured it will continue to be the top choice as the go-to bike for riding enthusiasts needing a dependable, versatile machine at an affordable price.
FUN & COMFORT
One of the standout attributes of the 2015 Kawasaki Versys 650 LT is its upright riding position, which is ideal for commuting, back road runs and even weekend jaunts. Its narrow frame allows the Versys 650 LT to be nimbler than its bulky competition. And for 2015, the comfort has been enhanced with the relocation of the footpegs. Located 15mm lower and 20mm further forward in comparison to the 2014 model, the footpegs allow the rider to enjoy this versatile motorcycle in greater comfort.
The stepped seat has a tapered front and low profile, assisting riders to reach the ground. The raised passenger area is also very comfortable for extended journeys. Combined with the new footpeg location and increased wind protection, the 2015 Versys 650 LT is a truly comfortable companion.
The 2015 model also gets a new rear subframe and revised rear suspension that will allow the motorcycle to carry a larger payload. It will also make longer road trips a pleasure, thanks to a compliant ride and impressive suspension action that allows you to make the most of any road.
As an added bonus, the new subframe was designed to integrate the KQR™ (Kawasaki Quick Release) Hard Saddlebags. The two bags, when combined with the purchase of the additional KQR 47-liter Top Case, will provide up to 103 liters of extra storage space. The One Key system allows a single key to be used for the motorcycle ignition and the saddlebags. So you can gear-up for longer journeys, wherever your paved road adventure may lead.
A revised upper triple-clamp has also been added for 2015. It has a rubber-mounted handlebar, which helps to reduce vibration for the rider. The rubber collars tame vibration while new rubber pads control movement fore and aft.
STYLING
The 2015 Kawasaki Versys 650 LT has all-new, dynamic styling that is sure to catch your eye. To sculpt the aggressive new appearance, the designers took inspiration from Kawasaki motorcycle heritage with the creation of a new front fairing, where we now find a design that is equally good-looking as it is functional. Rather than the previous stacked headlights, it has two horizontal headlights incorporated into the upper cowling. The new look exudes Kawasaki's sportbike DNA in a uniquely Versys-specific package.
Design elements include a chin spoiler under the headlights, as well as air passages on the side of the cowling. The spoiler provides downforce at higher speeds, while the passages direct air around the rider and passenger.
The new cowling also incorporates a larger windshield. It is almost twice as large as last year's model, giving increased wind protection and reduces buffeting on the rider. It can be adjusted in height by up to 2.4" (60mm) without needing any tools, and thereby suit a wide range of riders.
The passenger handholds and tail section have been updated. The LED tail light incorporates an all-new design that reinforces the sporty image.
To add to its stunning new looks, the 2015 Kawasaki Versys 650 LT is available in either Candy Lime Green or Pearl Stardust White to emphasize the sharp new lines.
POWERTRAIN
The dependable fuel-injected 649cc, parallel twin engine remains the best choice for this light and nimble street motorcycle with its lively performance and smooth acceleration. Derived from the Ninja® 650 motorcycle but tuned for greater torque, the engine inspires confidence for daily commuters and provides fun on weekend trips. The torquey twin delivers a deep ribbon of power in the low- and mid-range of the powerband, while also pulling vigorously to the top of the rev range.
For 2015, the engine receives a new one-piece exhaust that boosts high-RPM power, which is matched by ECU changes that have also optimized fuel economy. When combined with a larger 5.5-gallon fuel tank, the fun-to-ride 2015 Kawasaki Versys 650 LT can now enjoy extended periods between fill-ups.
Adding to the versatility of the motorcycle is its proven six-speed transmission that seamlessly shifts between the gears, making maneuvering even easier.

CHASSIS & CONTROLS
Long-travel, high-tech suspension coupled with the revised riding position is critical to the multi-role mission of the 2015 Kawasaki Versys 650 LT. Combine these enhancements with the updated frame and you have one of the most versatile bikes in Kawasaki's line-up.
In the front, the all-new, adjustable Showa fork is utilized to increase rider confidence and comfort in all situations. It splits the damping and spring functions into separate fork tubes, giving the rider adjustability while also saving weight.
New longer outer fork tubes help to improve rigidity and provide the ultimate combination of light handling and supreme comfort.
At the rear, a new KYB shock allows riders to quickly make preload adjustments via the new remote-mounted adjuster. This can compensate for cargo or passenger weight or be tuned to the rider's preference.
The crisp, linear ABS brake system is revised and included as standard equipment for 2015. The brakes incorporate several updates including new Nissin block-style calipers, new brake pad material, new master cylinders and a larger rear disc to help enhance overall braking power.
Completing the upgrade is a new, easy-to-read instrument cluster that features a revised fuel gauge, maximum range indicator and ECO Economical Riding Indicator that shows the rider when maximum efficiency is being achieved.
With all these revisions, a great motorcycle is now epic. The 2015 Kawasaki Versys 650 LT is a highly versatile motorcycle that is equally at home on the commuter run, cruising the freeway or on your favorite back road. It's all about having fun, enjoying life and experiencing as many fun roads as you can. This is what the dependable, comfortable, reliable and fun-to-ride 2015 Kawasaki Versys 650 LT allows you to do with ease.
LT MODEL
The 2015 Versys 650 will be available in two models. There is the fully equipped Standard model, and then the new LT model, which has the same specification and will be supplied with standard KQR (Kawasaki Quick Release) 28-liter Hard Saddlebags and Hand Guards. This equipment will add even greater flexibility to an already accomplished motorcycle. The saddlebags, for example, will be invaluable for both daily commuting and to make it more practical for weekend escapes. Furthermore, the Kawasaki Quick Release system makes it very easy for the rider to remove and mount the bags in a matter of seconds.
The Hand Guards will further add to its appeal, bring welcome protection from the elements, increasing the long-distance comfort of the Kawasaki Versys 650 motorcycle.

2015 Kawasaki Versys 650 LT www.Totalmotorcycle.com Key Features

Key Features
– Amazingly versatile motorcycle is exceptionally comfortable
– NEW Front-end styling with an aggressive and functional design plus larger windshield
– NEW Front and rear suspension
– NEW Front and rear brake master cylinders, calipers and pad material
– NEW Dunlop tires
– NEW Larger, adjustable windshield
– NEW Instrument cluster and ignition switch position
– NEW Increased power and torque from the 649cc parallel twin with Digital Fuel Injection (DFI®)

2015 Kawasaki Versys 650 LT www.Totalmotorcycle.com Features and Benefits
649cc DOHC Parallel Twin Engine
Most compact engine in its category, helps reduce the dimensions of the entire motorcycle
Triangular crank and transmission shaft layout keeps the motorcycle short
Semi-dry sump oil system reduces overall engine height
Narrow, chrome composite-plated aluminum cylinders help reduce engine width
Tuned to deliver smooth, responsive power in the low- to mid-RPM range for exceptional roll-on response – ideal for negotiating city traffic, tight back roads or freeways
180-degree crankshaft and a balancer shaft produce a remarkably smooth engine
Oil jets on the connecting rod ends spray oil on the undersides of the pistons to aid cooling
Under-engine muffler with 3-way catalyzer helps mass centralization for light handling and great looks
NEW One-piece exhaust and muffler helps to boost top-end performance
NEW Exhaust end-cap design for smarter appearance
NEW Fuel pump for improved fuel delivery
NEW Revised ECU settings to match exhaust updates and enhance fuel economy

Liquid-cooled
NEW KAMS (Kawasaki Air Management System) radiator air ducting system
Engine temperatures remain consistent for long engine life and sustained power in tough conditions
Coolant routed through the engine case reduces the number of external hoses

Digital Fuel Injection (DFI®)
A pair of 38mm Keihin throttle bodies with ECU-controlled sub-throttle valves mean optimum performance
Sub-throttle valves, located behind the main throttle valves, give the Versys 650 LT precise throttle response and great feel
Automatic fast idle system makes starting and warm-up easy, even on cold days
Precise fuel injection provides great fuel mileage, and the 3-way catalyzer significantly reduces emissions

Six-speed Transmission
Versys 650 LT motorcycle has a racing-style cassette transmission layout that is extremely compact

Slender Double Pipe Perimeter Frame
Frame is small, light and narrow at the knees and pegs for excellent comfort and control
3D computer analysis in the design process achieved the optimum balance of stiffness for superior ride and handling
NEW Rear subframe design adds strength for saddlebag mounting

Suspension
NEW Showa front fork has spring components in the left tube and damping components in the right, saving weight
NEW KYB offset lay-down rear shock includes new remote adjustable preload
Lay-down single shock complements the distinctive frame design, with an integrated line flowing from steering head to rear hub
Short, compact frame and engine design allows the swingarm to be longer, improving overall handling

Anti-Lock Disc Brakes
NEW Front and rear brake block-style calipers, front and rear master cylinders and brake pad material for increased braking performance
Standard ABS brakes
Same disc design as found on some Kawasaki sportbikes: the petal design offers improved cooling and warp-resistance compared to traditional discs

Six-spoke Wheels
NEW Versys 650-specific Dunlop Sportsmax D222 tires for light handling and comfort
The six-spoke wheels are similar to the ones found on the Ninja® ZX™-6R and ZX-10R motorcycles. They use less material between the spokes, so rim thickness is reduced along with overall weight
Lightweight wheels increase suspension performance, handling, acceleration, deceleration and initial turn-in performance

Comfortable Ergonomics
NEW Footpeg location is 15mm lower and 20mm further forward to accommodate a wide range of riders
NEW Subframe design with increased stiffness, enhanced grab rails and comfortable seating position make the Versys 650 ABS more enjoyable for the passenger, as well as allowing use of Kawasaki Quick Release (KQR™) saddlebags (standard equipment on the 2015 Versys 650 LT model)
Seat is tapered at the front to make it easier for most riders to reach the ground
Rubber bushings at the rear engine mounts, on the handlebar mount and hollow rubber-covered footpegs result in reduced engine vibration and a more comfortable ride

Unique Bodywork
NEW Bodywork design emphasizes sporty appearance of this touring motorcycle
NEW Cowling with twin horizontal headlights and a new LED tail light give the Versys 650 LT a distinctive, high-tech appearance
NEW Adjustable and larger windshield provides a large still-air pocket for comfort, and its tool-less adjustability makes it adaptable to fit the rider's preference

Instruments
NEW Easy-to-read instrument panel has a large analog tachometer and digital readout for the speedometer, fuel gauge, odometer, dual trip meters and clock

Versys 650 LT model
NEW KQR™ (Kawasaki Quick Release) 28-liter Hard Saddlebags and Hand Guards are standard equipment
Hard Saddlebags allow riders to carry gear on the daily commute or weekend jaunts. They mount and dismount quickly using the Kawasaki Quick Release (KQR) system and also have the Kawasaki One Key system that allows them to be locked using the motorcycle's ignition key
Hand Guards are mounted with aluminum brackets and use composite covers to protect hands from the elements when riding in all weather

Kawasaki Genuine Accessories
– KQR™ (Kawasaki Quick Release) 47-liter Top Case with Kawasaki One Key system. It can accommodate two full-face helmets, is color-matched to the motorcycle and can be used with the standard Hard Saddlebags
– Optional Saddlebag and Top Case Liners
– LED Light Bar to provide greater visibility for the rider and for other road users
– Grip Heaters for cold weather riding
– Helmet Lock to secure your helmet to the motorcycle
– Radiator Guard to protect from debris and stones
– Frame and Front Axle Sliders
– Gear Position Indicator to let the rider know what gear is selected
– DC Power Outlet to charge devices
– GPS Mount to allow you to mount a GPS device
– Windshield to provide more protection from the elements
– Gel Seat to provide more comfort for longer journeys
– Backrest Pad to keep the passenger more comfortable
– Tank and Knee Pads to improve comfort and to protect the paintwork
– U-Lock Bracket to secure a lock when not in use
---
2015 Kawasaki Versys 650 LT – www.Totalmotorcycle.com USA Specifications/Technical Details
US MSRP Price: $ See dealer for pricing in USD

Engine: Four-stroke, liquid-cooled, DOHC, four valves per cylinder parallel twin
Displacement: 649cc
Bore x stroke: 83 x 60mm
Compression ratio: 10.8:1
Cooling: Liquid
Fuel injection: DFI® with two 38mm Keihin throttle bodies
Ignition: TCBI with electronic advance
Transmission: Six-speed with positive neutral finder
Final drive: Sealed chain
Frame: Double pipe diamond frame constructed from high-tensile steel
Rake / trail: 25 degrees / 4.3″
Wheelbase: 55.7″
Front suspension / wheel travel: 41mm hydraulic telescopic fork with stepless adjustable rebound and preload / 5.9″
Rear suspension / wheel travel: Single offset laydown shock with remote adjustable spring preload / 5.7″
Front tire: 120/70×17
Rear tire: 160/60×17
Front brake: Dual 300mm petal rotors with two-piston calipers and ABS
Rear brake: Single 250mm petal rotor with single-piston caliper and ABS
Overall length: 85.2″
Overall width: TBD
Overall height: 55.1″ (windshield low) / 57.1 (windshield raised)
Seat height: 33.1″
Curb weight**: TBD
Fuel capacity: 5.5 gallons
Colors: Candy Lime Green, Pearl Stardust White
MSRP: $TBD
Warranty: 12 months
Optional Kawasaki Protection Plus: 12, 24, 36, and 48-month plans are available
---
2015 Kawasaki Versys 650 LT – www.Totalmotorcycle.com Canadian Specifications/Technical Details
Canada MSRP Price: $NA CDN
Model not available

* The Manufacturer's Suggested Retail Price does not include freight, pre-delivery inspection or applicable taxes. The final price is at the discretion of the dealer. Prices and Specifications are subject to change without prior notice. The amount indicated as "Your price" may include an optional instant Mega Cash credit that is deducted from the manufacturer's suggested retail price before taxes. This promotion is time limited and certain conditions will apply. See your dealer for complete details. Offer not available on financed purchases and cannot be combined with any other special offers. The final price is at the discretion of the dealer. Prices and Specifications are subject to change without prior notice.
** Includes all necessary materials and fluids to operate correctly, full tank of fuel (more than 90% of capacity) and tool kit (if supplied)
‡ Power / Torque figures measured at the crankshaft.
The specifications mentioned here apply to and have been achieved by production models under standard operating conditions. We intend only to give a fair description of the vehicle and its performance capabilities but these specifications may not apply to every machine supplied for sale. Kawasaki Heavy Industries, Ltd. reserves the right to alter specifications without prior notice. Equipment illustrated and specifications may vary to meet individual markets. Available colours may vary by market.