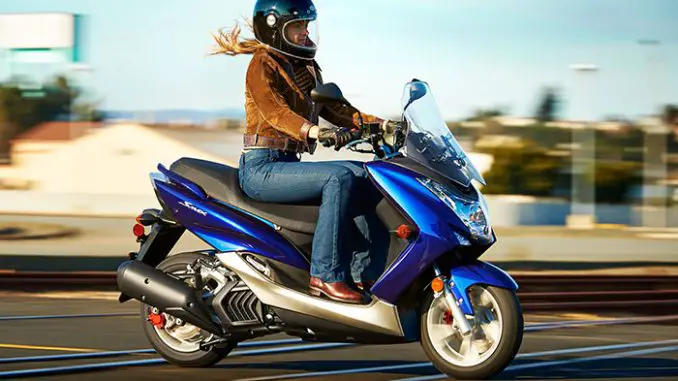 Click photos to enlarge. Our big, clean bike pics make great desktop wallpaper.
2015 Yamaha SMAX Review

2015 Yamaha SMAX on www.Totalmotorcycle.com
Your Sporting Adventure Starts Here…
Introducing the newest way to start your sport scooter adventure. The all new 2015 Yamaha SMAX features a potent, highly efficient 155cc fuel injected engine, fully automatic transmissing, lightweight frame for sporty handling, spacious design perfect for 1 or 2 up riding, under seat storage large enough for a full face helment or groceries and more.
The all new SMAX scooter is a surprising little performer. It is both fun and easy to ride and can carry a passenger too. Its sporty design begins to hint at its full capabilities. Whether zipping around town or hitting the open road, the 155cc single cylinder SMAX can easily keep up with traffic. And it is virtually vibration free with lots of wind and weather protection too. If you are looking for fun, affordable transportation the fully automatic SMAX is waiting to impress you too.
81 MPG
2015 Yamaha SMAX www.Totalmotorcycle.com Key Features
Top Features:

ALL-NEW FOR 2015
All-new powerful 155cc, liquid-cooled 4-stroke, SOHC fuel-injected engine is highly fuel efficient while producing excellent acceleration and power for commuting or highway riding.
•Continuously Variable Transmission (CVT) makes operating the SMAX a snap without the need to use a hand clutch or shift gears.
•The SMAX features an all-new frame designed for overall balance and provides plenty of foot space.
•Large storage area that holds approximately 32 liters of under seat storage – big enough for a full face helmet or groceries.
•Two-up riding is comfortable for both riders with the spacious, well laid-out design.


/// Performance
All new 155cc, 4-valve, fuel injected single with a catalyzer equipped exhaust system provides very peppy performance. Even as the 9,500 rpm redline approaches on the centrally located tachometer, the engine remains quiet and virtually vibration free. It is a great "all round" commuter bike that can be ridden at 100 km /hr. comfortably.

/// The Extras
Hidden under the comfortable 2 person seat is a large 32 litre storage area capable of holding an open face or half helmet plus a rain suit and a laptop computer. Front & rear disc brakes provide solid stopping power while the bright halogen headlight surrounded by LED position lights and brilliant LED tail light add extra visibility in traffic.
2015 Yamaha SMAX www.Totalmotorcycle.com Features and Benefits

/// Engine
• All new, 155cc, liquid-cooled, SOHC, 4-valve, fuel injected, 4-stroke, single produces solid, predictable power and good fuel economy.
• Fan-assisted, liquid-cooling maintains consistent engine temperatures, even while idling at stoplights or in stop and go traffic for maximum efficiency and extended engine life.
• Fast, dependable push button electric starting
• Maintenance-free TCI (transistor controlled) ignition provides a precise, high-voltage spark for seamless engine performance, sure starts and excellent reliability.
•Four valve cylinder head design utilizes two intake valves and two exhaust valves for maximum breathing efficiency and great power output. Valves are operated by friction reducing roller rocker arms which also help to reduce mechanical engine noise.
• Both the intake and exhaust valves feature a special "carbon cutter" design which removes any carbon build up from the valve stems, keeping the engine operating at maximum efficiency, even during extended slow speed use (carbon build up on the valve stems can lead to sticky valves and poor performance).
• Lightweight, aluminium cylinder features ceramic composite plating on the cylinder bore which insures uniform heat dissipation, reduced friction and reduced weight.
• Lightweight forged aluminium piston is used to provide fast engine response while a carburized connecting rod provides excellent strength and durability.
• Gear driven balancer shaft reduces engine vibration to a minimum for a super smooth ride… even at higher speeds and high rpms.
• A wet sump-type oil delivery system is utilized. A special centrifugal oil filtering system is used. This system removes any particles found in the oil and never requires cleaning or maintenance.
• Automatic cam chain tensioner reduces engine mechanical noise and maintenance time
• 30mm Throttle body fuel injection system features a single 6 hole fuel injector providing crisp throttle response, reduced fuel consumption and reduced emissions. Other fuel injection benefits include no choke starting or idle adjustment to fuss with… it is all controlled automatically.
• "Closed loop fuel injection system" which means there is an oxygen sensor in the exhaust that monitors the exhaust emissions and constantly regulates / adjusts the fuel/air mixture for reduced emissions and optimum performance.
• Easy access, oil coated paper-type air filter is used. Airbox design makes servicing easy and reduces intake noise.
• Fully automatic, CVT transmission (constantly variable transmission) ensures easy "twist-the-throttle-and-go operation". There is no hand clutch or gear shifting to worry about. A wide range reduction ratio is used for peppy performance.
• Stylish muffler contains a catalytic converter to reduce harmful hydrocarbons and nitrous oxide exhaust emissions. The muffler produces a quiet exhaust note and features heat shields to protect rider and passenger from hot components.

/// Chassis/Suspension
• Rugged "underbone-style" steel frame makes getting on & off the SMAX easy. Electrostatic paint process helps to prevent corrosion.
• High tech, triangulated lightweight aluminum swingarm
• Trailing axle, 33mm hydraulic front fork delivers good bump-absorbing performance and comfort. Wheel travel is 79mm (3.1″).
• Horizontally mounted single shock Monocross rear suspension. The horizontal positioning of the shock helps lower the centre of gravity for lighter, more agile handling. Wheel travel is 93mm (3.7″).
• 267mm wave-style front disc brake with twin piston caliper provides excellent stopping power.
• 245mm rear disc brake features a single piston caliper for strong stopping power.
• Rugged, yet lightweight, die cast aluminium, 13 inch, 5-spoke "mag style" wheels are fitted with wide, aggressive tubeless tires.
• Roomy, dual texture, two-person seat ensures excellent rider and passenger comfort. Cool "touch to open" passenger footpegs.
• Ultra convenient, locking, 32 litre under seat storage compartment can hold most open face and all ½ helmets and a rain suit or other items like a laptop etc.
• There are 2 – special helmet holder "pins" under the front of the seat that can be used to store and secure 2 helmets. The helmets remain on the outside of the seat but can't be removed since the straps are locked under the seat.
• 7.5 litre fuel tank features an integrated electric fuel pump.
• Easy access, front fairing mounted gas cap locks for peace of mind
• Multifunction, 3 in 1 main key switch combines the ignition, fork lock and under seat storage compartment lock into one convenient switch. This switch also features an anti-theft "shutter" that can be closed to prevent someone from tampering with or attempting to force the ignition switch.
• Specially designed polycarbonate windshield reduces buffing and the "vacuum effect" at higher speeds. It is scratch resistant
• Stylish, single 60/55-watt, multi-reflector, halogen headlight maximizes visibility and illumination. Headlight can be adjusted right & left and up & down.
• Eye catching LED position lights are located below the main headlight to make the rider and machine more visible in traffic.
• Full-size floorboards and wide front apron provide excellent splash and wind protection as well as highlighting the SMAX's sports styling.
• Comprehensive, sporty instrument panel includes centrally mounted analog tachometer, digital speedometer, odometer and tripmeter. Other features include a clock, fuel gauge, plus a range of warning lights. There is even an oil change tripmeter to track oil change intervals.

/// Details
• Handy front mounted storage pocket is perfect for small items like a cell phone or wallet.
• Front mounted fold out hook for additional carrying convenience, perfect for bags & handbags
• Brilliant LED rear tail light
• Extra-long rear fender extension reduces road splash
• Easy-to-use centre and side stands
• Easy access oil level dip stick
• Side reflectors enhance visibility
• Locking gas cap
• Low maintenance, sealed battery

---
2015 Yamaha SMAX – www.Totalmotorcycle.com USA Specifications/Technical Details
US MSRP Price: $3,690 – Matte Titan – Available from October 2014;
$3,690 – Ultramarine Blue – Available from October 2014

Engine
Engine Type 155cc liquid-cooled, 4-stroke, SOHC single cylinder, 4 valves
Bore x Stroke 58.0 x 58.7mm
Compression Ratio 11.0:1
Fuel Delivery Fuel Injection
Ignition TCI: Transistor Controlled Ignition
Transmission Automatic CVT
Final Drive V-Belt Automatic

Chassis
Suspension / Front 3.1 in of travel
Suspension / Rear Mid ship horizontal positioned rear shock – 3.6 in of travel
Brakes / Front Hydraulic disc, 267mm
Brakes / Rear Hydraulic disc, 245mm
Tires / Front 120/70-13
Tires / Rear 130/70-13

Dimensions
L x W x H 79.9 x 28.1 x 51.0 in
Seat Height 31.3 in
Wheelbase 55.3 in
Rake (Caster Angle) 26°
Trail 82mm
Fuel Capacity 2.0 gal
Fuel Economy** 81 mpg
Wet Weight*** 328 lb

Other
Warranty 1 Year (Limited Factory Warranty)




---
2015 Yamaha SMAX – www.Totalmotorcycle.com Canadian Specifications/Technical Details
Canada MSRP Price: $3,999 CDN
/// ENGINE
ENGINE
4-stroke, liquid-cooled, SOHC, 4-valve, single
DISPLACEMENT
155cc
BORE AND STROKE
58 x 58.7 mm
COMPRESSION RATIO
11 : 1
MAXIMUM TORQUE
1.4 kg-m (10 ft-lb) @ 6,000 rpm
FUEL DELIVERY
30 mm Throttle body fuel injection
LUBRICATION
Wet Sump
IGNITION / STARTING
TCI / Electric Start
TRANSMISSION
Fully automatic CVT
FINAL DRIVE
V-belt / Spur gear

/// CHASSIS
SUSPENSION (FRONT)
33 mm trailing axle fork
SUSPENSION (REAR)
Single shock Monocross
BRAKES (FRONT)
267 mm disc / twin piston
BRAKES (REAR)
245 mm disc / single piston
TIRES (FRONT)
120/70-13
TIRES (REAR)
130/70-13

/// CRITICAL DATA
LENGTH
2,030 mm (78")
WIDTH
715 mm (28.1")
HEIGHT
1,295 mm (51")
WHEELBASE
1,405 mm (55.3")
GROUND CLEARANCE
90 mm (3.5″)
SEAT HEIGHT
795 mm (31.3")
FUEL CAPACITY
7.4 litres (1.6 Imp. gallons)
WET WEIGHT
149 kg (228.5 lb)
MAXIMUM LOAD
160 kg (352 lb)
COLOUR(S)
Matte Titan
Dark Purplish Metallic Blue
Specifications, appearance, and price of product are subject to change without notice.
* MSRP does not include freight, PDI (Pre Delivery Inspection), pre-rigging (boats), or taxes. Dealer may sell for less. See your local dealer for out the door pricing.
± Fuel economy estimates are based on US EPA exhaust emission certification data obtained by Yamaha and converted into Canadian measurements. Your actual mileage will vary depending on road condition, how you ride, maintain your vehicle, accessories, cargo and operator/passenger weight.

Manufacturer Specifications and appearance are subject to change without prior notice on Total Motorcycle (TMW).