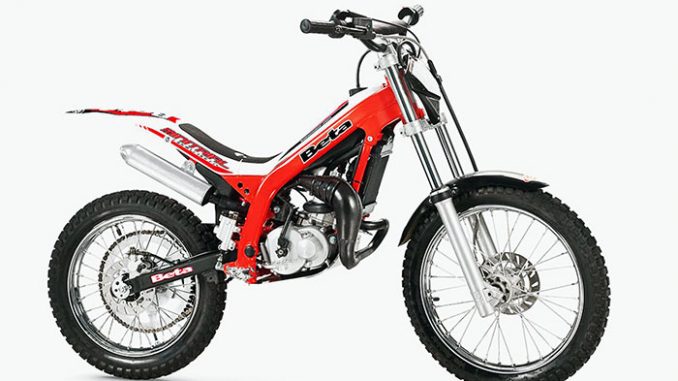 2016 Beta Minitrail LC
2016 Beta Minitrail LC Review

2016 Beta Minitrail LC on www.Totalmotorcycle.com
Small But BIG on Fun!
The smallest vehicle of the Trial family from the Tuscany firm, dedicated to the young champions of this sport, is stepping up in quality and performance with the new liquid-cooled engine and an improved frame.
2016 Beta Minitrail LC www.Totalmotorcycle.com Key Features
New single-cylinder 2-stroke, liquid-cooled, 72.4 cc displacement.
Dell'Orto PHBN carburetor ø 17.5 mm with external adjustments for improved performance and greater regularity of operation
Radiator with electric fan.
Primary drive with straight teeth Z15/58
CDI with mapping defined for better power delivery of the engine and ease of use of the motorcycle.
Hydraulic front fork ø 32 mm for greater riding feeling.
Hydraulic front and rear brake discs for greater power.
Ground Light increased to 320mm to improve the ability to overcome obstacles.
New skid plate, more protective
New front mask, same as used on the bigger "sisters" EVO.
New colours and graphics inspired by the EVO 2013 models.
2016 Beta Minitrail LC www.Totalmotorcycle.com Features and Benefits

History
Betamotor has always been connected with the history and evolution of life on two wheels. The company was founded in Florence in 1904 under the name "Società  Giuseppe Bianchi", for building handmade bicycles. At the end of the 1940s, with the changes that had taken place in Italian society and the development of motorised transport, the company switched to motorcycle production. The simple expedient of attaching an engine with a roller transmission to one of its bicycles, a typical example of Italian creativity, resulted in the first motorbike produced by the Tuscan firm.
The two men who ran the company, Enzo Bianchi and Arrigo Tosi, joined their initials to form the brand-name Beta, and the company's bikes have been sold under this name ever since.
The CERVO 48 was the first model to be put on the market. It featured transmission by a rubberised roller acting directly on the rear tyre, alongside a chain for starting and final drive. In 1948, the company launched the CIGNO, which was powered by a single-cylinder 48cc motor. Its double cradle frame, telescopic forks and shock absorbers gave it a very sporty look.
In 1950, Beta entered the more demanding 125cc class with the production of the ITAL-JAP 125, fitted with pressed-steel girder forks and telescopic rear shocks.
Another model launched in the '50s was the M.T. 175: derived from competition bikes, the M.T. used a two-stroke single-cylinder engine capable of reaching 81 mph. A touring version was subsequently developed, the S.V 175.
A wide range of road bikes was produced in this period, with a tendency towards sportiness. The ASTRO 98, MERCURIO 150, FOLGORE 175 and ORIONE 200 are only some of the models fitted with single-cylinder four-stroke pushrod engines, delivering quite a respectable performance for the time. In the 1960s, Beta began in-house production of the motors which from then on would be fitted across the range. The development of new models went hand in hand with a commitment to competition: the '50s saw Beta's first successes in Hillclimbing, Motogiro and in the Milan-Taranto race, with its 175cc models.
In the '70s, with the emergence of the off-road sector, Beta began to specialise more and more in the production of off-road vehicles. This specialisation has always been accompanied by a matching commitment in the area of competition, the test-bench for excellence in the production of Beta motorcycles – initially in motocross and enduro, trial from the early '80s and Enduro since 2006. The close involvement with motorcycle racing led to the victory of 7 Trial Outdoor World Championships, 6 Trial Indoor World Championships, 7 European Championships and over 100 National Championships all around the World.
In 2004, the Beta marque returned to four-stroke enduro with a major investment both in product development and in its presence on the competition track. In this new field, Beta remains faithful to its mission, that is to inspire in motorcyclists a natural and instinctive riding style. Highly technical and sports-oriented the DNA of its bikes may be, but they still need to transmit optimum feel and deliver maximum fun.
In 2004 Beta presents the first 4-stroke engine designed and specifically dedicated to Trial, enlarging its range and making its brand becoming increasingly synonymous with the sport.
Year 2010 represents a milestone in the Beta's history: the birth of the 4-stroke engine enduro. This allows Beta to become completely independent in the production and gradually increase its presence in this market.
---
2016 Beta Minitrail LC – www.Totalmotorcycle.com Specifications/Technical Details
US MSRP Price: $2999 USD
Canada MSRP Price: $ See Dealer for pricing in CAD
Europe/UK MSRP Price: £ See Dealer for pricing in GBP (On The Road inc 20% Vat)
Engine Specs:
Type: Single cylinder, 2-stroke, liquid cooled
Bore: 48 mm
Stroke: 40 mm
Displacement: 72.4 cc
Compression Ratio: 7.96 : 1
Ignition: Electronic
Spark Plug: Champion RN3C
Lubrication: Pre-mix (synthetic oil)
Carburetor: Dell'Orto 17.5 mm
Clutch: Wet, automatic (3-shoe clutch)
Transmission: Single-speed auto

Chassis Specs:
Frame: Steel frame w/ engine as support
Wheelbase: 39.6"
Seat Height: 23"
Ground Clearance: 10.5"
Footrest Height: 12.6"
Dry Weight: 97 lbs. dry
Fuel Tank Capacity: 0.6 US gallons
Front Suspension: 32 mm fork
Rear Suspension: Single shock
Front Wheel Travel: 5.2"
Rear Wheel Travel: 4.5"
Final Gearing: 10t front, 66t rear
Front Brake: 160mm rotor w/ hydraulic caliper
Rear Brake: 150mm rotor w/ mechanical caliper
Front/Rear Rim: 14" (Front) 16" (Rear)
Front/Rear Tire: Trial pattern
Warranty: 6 month Limited Warranty
MSRP: $2999.00
Manufacturer Specifications and appearance are subject to change without prior notice on Total Motorcycle (TMW).