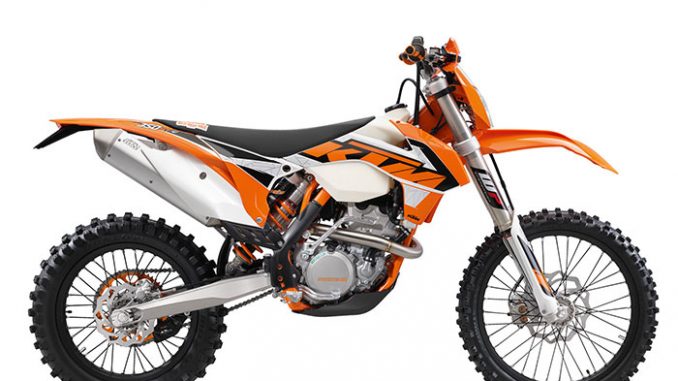 Click photos to enlarge. Our big, clean bike pics make great desktop wallpaper.
2016 KTM 350 XCF-W Review

2016 KTM 350 XCF-W on www.Totalmotorcycle.com
Best in class…
The 350 XCF-W is the ultimate machine when four-stroke rideability and maximum enduro performance are called for. Thanks to its compact, powerful DOHC engine, its low weight and its perfectly tuned suspension, this machine masters each and every tough spot in cross-country riding with ease. And thanks to its excellent handling, it always holds the advantage when the going gets tough. The longer the distance, the more the rider benefits from this, pros and beginners alike.
2016 KTM 350 XCF-W www.Totalmotorcycle.com Key Features
See Below
2016 KTM 350 XCF-W www.Totalmotorcycle.com Features and Benefits

250 agility with 450 power


Crankshaft
The 350 XCF-W has a heavier crankshaft in order to achieve a more even power delivery and better traction through the greater gyrating mass. The crankshaft employs a plain big end bearing, and two force-fitted bearing shells run directly on the crank pin. The necessary oil feed for this bearing is ensured by the engine's pressure lubrication. This design increases the engine's long-term durability and lengthens crankshaft service intervals, which is a customer benefit in terms of time, effort and cost.

Cylinder head
The DOHC cylinder head contains four ultra-lightweight titanium valves (intake 36.3mm, exhaust 29.1mm), activated by two overhead camshafts via very small, DLC coated followers that weigh only 8g. The super lightweight design allows for extremely high engine speed levels of up to 12,000 rpm. The camshaft timing is perfectly tuned for performance in low end for Enduro specific performance.

DDS clutch
The one-piece basket of the DDS clutch (damped diaphragm steel) is machined from solid high-tensile steel in one solid part together with the primary drive gear. This process guarantees unbeatable reliability and, together with the thin steel linings, contributes to the narrow engine width due to a compact rivet-less design. The diaphragm spring makes it possible to implement an additional rubber damping system inside the clutch hub, ensuring reliability for the transmission and excellent traction. Finally, the hydraulic clutch mechanism by Brembo in conjunction with the diaphragm spring provides a very light clutch operation and controllable modulation.

Engine
The 350cc 4-stroke engine with a state-of-the-art electronic fuel injection system offers a very wide power band and is distinguished by a dynamic but fatigue proof power delivery. At over 45hp of maximum power, the 350 XCF-W is strong enough to beat any 450 in it's class.

Engine Management System (EMS)
The Engine Management System by Keihin with electronic fuel injection via a 42mm throttle body ensures a snappy response and maximum engine performance. An oil-cooled 196 W alternator provides sufficient energy for the fuel injection, lighting and other electrical loads. With an optional map-select switch from the Power Parts program, the EMS can allow the rider to select different engine characteristics. In addition, the optional User-Setting-Tool provides the ability to readout engine data with a laptop and change the ignition and injection mapping with just a few mouse clicks.

Generator
The 350 XCF-W engine is equipped with a 196 W alternator with integrated starter freewheel. The alternator provides sufficient energy for the fuel injection, lighting and other electrical loads. The oil-cooled rotor has a larger diameter with a bigger flywheel mass and is contained in a larger ignition cover.

Starter
The 350 XCF-W is equipped with a kick-starter as well as electric starter as standard. The electric starter is well protected behind the cylinder.

Transmission
The 6-speed gearbox is specially matched to the power delivery of the 350cc engine and any kind of off-road duty. It is distinguished by easy and precise shifting.

Valve train
The crankshaft drives an intermediate multifunctional shaft on the side, which in turn drives the coolant pump and the two camshafts via the cam chain, while also acting as a counter balancer. A hydraulic chain tensioner ensures reliable chain tension to achieve highly precise valve timing.

Bodywork


Airbox
The air filter can be quickly replaced without the use of any tools, thanks to an ingenious airbox design guarantees optimum filter protection from flying dirt while creating maximum airflow for high performance. The airbox covers are manufactured in a 2-component process with in-mold graphics. In addition, two extra flaps on the left cover allow it to be secured with bolts if desired.

Bodywork
The bodywork has been designed ergonomically and functionally in such a way that the whole motorcycle is in perfect harmony with the rider down to the very last detail.

Handlebar
All XC-W models are fitted with super strong, tapered Neken handlebars made of high tensile aluminum alloy that can be mounted in four positions. Standard equipment hand guards made of a new 2-component polymer for durability and effective hand protection.

Speedo
The speedometer by MAE integrates all the warning and indicator lights in a single unit. This gives the cockpit a clean and minimal look, with clear and readily available information.

Fuel tank
The large capacity fuel tank is constructed of lightweight polyethylene and specifically designed for off-road use. A ¼-turn bayonet filler cap features a release mechanism for quick and easy refueling.

Graphics
New graphics with clear lines visually underscore the exacting standards of what KTM deems a true, cutting-edge off-road bike

Superior chassis


Cooling system
KTM's proven integrated cooling system routes the coolant from the cylinder head through the frame triangle directly to the aluminum radiators made by WP.

Exhaust system
Light and robust. The aluminum silencer on all XC-W models are renowned for their outstanding performance, while keeping noise to a level well within FIM rules.

Frame
The modern frame design of the 350 XCF-W, comprising lightweight, high strength, chrome-molybdenum steel section tubes, combines maximum longitudinal stiffness with optimum torsional stiffness. This guarantees easy handling and precise steering behavior, as well as excellent ride stability. It clearly represents the benchmark in terms of weight and stability. Thanks to the frame design and the rear PDS damping system, impacts at the rear wheel are absorbed and dissipated optimally. For 2016 the frame is protected by a new, robust skidplate.

Suspension/damping
The KTM 350 XC-W is fitted with a new front fork featuring newly designed fork boots with shorter offset, increased trail and a new suspension settings, optimally tuned to weight and engine. In addition, the fork features new fork guards allowing for easier cleaning. At the rear, a PDS shock absorber from WP Suspension works with a direct linkage to the upper side of the swingarm. A wide range of setting options for rebound damping and high- and low-speed compression damping are standard and can be adjusted to suit racing and trail conditions.

Swingarm
The cast aluminum swingarm has been developed with state-of-the-art calculation and simulation software and constructed for minimum weight, optimum stiffness and precisely defined flexibility.

Triple clamps
The high-end CNC machined triple clamps have been specifically designed for off-road use and ensures precise handling thanks to precision clamping of the fork legs. The rider receives precise feedback from the front wheel, even in the toughest terrain, thereby increasing riding safety and speed.

Wheels and brakes


Brakes
High-tech Brembo brakes have always been standard equipment on KTM off-road bikes, and combined with the lightweight Wave discs, they are the ultimate solution in braking technology. Being the class-leading brakes in off-road, they are unchanged for 2016.

Front axle
The front axle has been reduced in size from 26mm to 22mm to reduce weight and offer better front end feel. The adjusted offset from 35mm to 33mm increases trail and provides more stability.

Front fork guards
The fork protectors have been adapted to the fork shoes and are also lighter. The open design offers the same level of protection while giving easier access to the fork legs for quicker cleaning and faster maintenance.

Wheels
The black colored aluminum Giant rims with black spokes are mated to CNC machined hubs and lightweight aluminum nipples to achieve maximum stability at minimum weight. These high quality, lightweight black rims have been developed for KTM and offer top performance when fitted with the new Dunlop GEOMAX AT81 tires on all XC-W models.
---
2016 KTM 350 XCF-W – www.Totalmotorcycle.com USA Specifications/Technical Details
US MSRP Price: $ See Local Dealer for Pricing in USD

Engine
" Design
1-cylinder, 4-stroke engine
" Displacement
349.7 cm³
" Bore
88 mm
" Stroke
57.5 mm
" Starter
Kick and electric starter
" Transmission
6-speed
" Primary drive
24:73
" Secondary gear ratio
13:52
" Clutch
Wet, DDS multi-disc clutch, Brembo hydraulics
" EMS
Keihin EMS
Chassis
" Frame design
Chrome-molybdenum steel central-tube frame
" Front suspension
WP USD Ø 48 mm
" Rear suspension
WP PDS shock absorber
" Suspension travel (front)
300 mm
" Suspension travel (rear)
335 mm
" Front brake
Disc brake
" Rear brake
Disc brake
" Front brake disc diameter
260 mm
" Rear brake disc diameter
220 mm
" Steering head angle
63.5 °
" Wheelbase
1482 ± 10 mm
" Ground clearance
345 mm
" Seat height
970 mm
" Tank capacity (approx.)
8.5 l
" Weight READY TO RACE (without fuel)
107.2 kg
---
2016 KTM 350 XCF-W – www.Totalmotorcycle.com Canadian Specifications/Technical Details
Canada MSRP Price: $ CDN
NA

---
2016 KTM 350 XCF-W – www.Totalmotorcycle.com European Specifications/Technical Details
Europe/UK MSRP Price: £ GBP (On The Road inc 20% Vat)
NA
*Starting at MSRP is the manufactured suggested price and excludes delivery, setup, tax, title, license, and additional fees and expenses. Bikes may be shown with optional accessories. Final sale price determined by an authorized dealer. Specifications and MSRP are subject to change.
Manufacturer Specifications and appearance are subject to change without prior notice on Total Motorcycle (TMW).