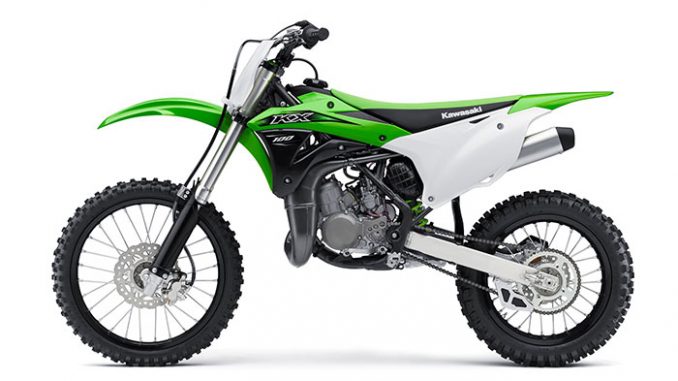 2016 Kawasaki KX100
2016 Kawasaki KX100 Review

2016 Kawasaki KX100 on www.Totalmotorcycle.com
LEAVE THE PACK BEHIND…
We designed the KX100 from the ground up for teenage chargers who are between the mini 85s and full-size 250s. Its 19-inch front and 16-inch rear wheels are sized just right for adolescent racers and its generous 275mm of front and rear wheel travel is widely tuneable to let your inner-race shine.
Your young racer is hungry for victory and faster lap times, but the big bikes are just out of reach. Mold your young champion the right way by investing in the same bike that launched amateur stars like Ryan Villopoto and Adam Cianciarulo onto the box in the big leagues.
The transition to the bigger bikes has never been more fun for any rider looking to get more experience thanks to the perfect blend of
responsive power, adjustable suspension and larger wheels than the KX85. Ride your way. Build confidence. Win races.
Don't be fooled by its small stature, the powerful 99cc two-stroke engine in the KX100 has "big bike" looks capable of turning heads and winning races with ease. It has the same heritage as Kawasaki's bigger motocross bikes and is able to get it done on the track thanks to handlebar adjustment to ensure the rider is in the best position to win. Therefore, it is the natural step from smaller dirt bike before the rider is ready to move onto a full-size motocross bike.
The single-cylinder engine has a Nikasil-coated cylinder and two-piece KIPS® (Kawasaki Integrated Powervalve System) valve among its arsenal of power-producing parts. It also has a large-capacity radiator to keep things cool in the heat of a race.
As you'd expect from the Kawasaki KX family, the chassis is highly competitive, using race-style petal-shaped brake rotors front and rear. It also has a 36mm inverted front fork with 20-way adjustable compression damping and 10.8" of travel. The rear suspension uses Kawasaki's Uni-Trak® linkage for enhanced operation. The rear shock has 24-way compression and 21-way rebound damping, plus adjustable spring preload and the same 10.8" of travel.
Color: Lime Green
Absolutely nobody can exceed the championship legacy of Kawasaki and the KX™ motorcycle. At any level. KX has more combined professional 250 and 450 class SX titles than anyone. At the amateur level, legends like Villopoto, Carmichael, Stewart, Emig, and McGrath all launched their incomprehensible professional careers with support from Team Green™, our amateur Motocross program. The common thread? The KX is The Bike That Builds Champions.
2016 Kawasaki KX100 www.Totalmotorcycle.com Key Features
The Kawasaki KX™ family of motocross bikes is the breeding ground for champions. The proof began in 1974, when the first KX450, KX250 and KX125 were unveiled in the US. Since then, Kawasaki has been a dominant force in the history of supercross and motocross racing. We build the bikes that make champions.
Look no further than four-time supercross champion, Ryan Villopoto who is one of the most successful riders of all time, and is continuing his winning ways on the world stage in the FIM Motocross World Championship. Riding the KX450F, Villopoto is proof that the best way to start a championship run is on a Kawasaki.
Amateur racers who purchase a Kawasaki KX motocross bike gain access to Team Green™ – Kawasaki's industry-leading support program that has been around since 1981 and has helped many motocross/supercross stars move through the program.
Team Green's Trackside Support program covers more than 50 local, regional, and national amateur motocross and off-road events across the country, where Kawasaki technicians and race transporters provide emergency parts, technical assistance and racing tips to all Kawasaki riders.
2016 Kawasaki KX100 www.Totalmotorcycle.com Features and Benefits

ENGINE
The KX™100 motorcycle is the choice of future Motocross champions. With more power and larger wheels than the KX85, this 99cc liquid-cooled, two-stroke supermini gives amateur riders the perfect blend of proportionate power increase with a larger chassis before transitioning to the big bikes. Carbon ber reed valves and Kawasaki Integrated Power-valve System (KIPS®) two-piece exhaust valve fused with a six-speed transmission deliver instant power when the rider demands it.


BRAKES
Efficient braking performance comes courtesy of a 220mm petal brake rotor in the front and a 184mm petal brake rotor in the rear.
The petal design reduces unsprung weight while also helping to keep the brake pads clean and cool. The result is consistent braking performance with a rm, progressive feel.
Inspire condence in your growing rider with premium stopping power.


SUSPENSION
Both the front and rear suspension can be easily adjusted to better suit each individual rider. The 36mm inverted cartridge forks with shim-stack-type valving feature 20-way adjustable compression damping and 10.8 inches of travel. In the rear, the UNI-TRAK®
suspension has adjustable spring preload as well as 24-position compression damping adjustment, 21-position rebound damping adjustment resulting in 10.8 inches of high-quality travel.
---
2016 Kawasaki KX100 – www.Totalmotorcycle.com USA Specifications/Technical Details
US MSRP Price: $4599 USD

Power
Engine
2-stroke, 1-cylinder, piston reed valve, water-cooled
Displacement
99cc
Bore x Stroke
52.5 x 45.8mm
Compression ratio
10.2:1 (low speed) – 8.7:1 (high speed)
Fuel System
Keihin PWK28
Ignition
CDI w/digital advance
Transmission
6-speed, return shift
Final Drive
Chain
Performance
Front Suspension / Wheel Travel
36mm inverted telescopic cartridge fork with 20-way compression damping / 10.8 in
Rear Suspension / Wheel Travel
Uni-Trak® single shock system with 24-way compression and 21-way rebound damping plus adjustable spring preload / 10.8 in
Front Tire Size
70/100-19
Rear Tire Size
90/100-16
Front Brakes
Disc
Rear Brakes
Disc
Details
Frame Type
High-tensile steel perimeter design with subframe member
Rake/Trail
29° / 4.3 in
Overall Length
75.6 in
Overall Width
30.1 in
Overall Height
45.3 in
Ground Clearance
13.0 in
Seat Height
34.3 in
Curb Weight
169.7 lb**
Fuel Capacity
1.32 gal
Wheelbase
51.6 in
Color Choices
Lime Green
---
2016 Kawasaki KX100 – www.Totalmotorcycle.com Canadian Specifications/Technical Details
Canada MSRP Price: $5099 CDN
Engine
Displacement 99cc
Type 2-stroke, Single with KIPS
Bore and stroke 52.5 x 45.8 mm
Cooling Liquid, twin radiators
Compression ratio 10.2 (low speed), 8.7 (high speed)
Fuel system Keihin PWK28 carburetor
Ignition Digital-CDI
Lubrication Petrol mix (32:1), 2-stroke racing oil
Induction 2-petal carbon-fibre piston reed valve
Brakes
Front: type Single 220 mm disc
Front: calipers Dual-piston caliper
Rear: type Single 184 mm disc
Rear: calipers Single-piston caliper
Dimensions
Overall length 1,920 mm (75.2 in.)
Overall width 765 mm (28.9 in.)
Overall height 1,150 mm (43.5 in.)
Wheelbase 1,310 mm (50.8 in.)
Ground clearance 330 mm (15.0 in.)
Seat height 870 mm (34.3 in.)
Curb mass** 77 kg (157 lbs.)
Fuel capacity 5 litres (1.21 gal.)
Drivetrain
Transmission 6-speed, constant mesh, return shift
Final drive Chain
Primary reduction ratio 3.400 (68/20)
Gear ratio: 1st 2.538 (33/13)
Gear ratio: 2nd 1.875 (30/16)
Gear ratio: 3rd 1.500 (27/18)
Gear ratio: 4th 1.250 (25/20)
Gear ratio: 5th 1.090 (24/22)
Gear ratio: 6th 0.956 (22/23)
Final reduction ratio 3.923 (51/13)
Clutch Wet multi-disc
Frame
Type Tubular single cradle, high tensile steel perimeter
Wheel travel: front 275 mm (10.8 in.)
Tire: front 70/100-19
Wheel travel: rear 275 mm (10.8 in.)
Tire: rear 90/100-16
Caster (rake) 29°
Trail 108 mm (4.1 in.)
Steering angle (left/right) 45° / 45°
Suspension
Suspension, front 36 mm inverted telescopic cartridge fork with 20-way compression damping
Suspension, rear Uni-Trak single-shock system with 24-way compression and 21-way rebound damping, plus adjustable spring preload
---
2016 Kawasaki KX100 – www.Totalmotorcycle.com European Specifications/Technical Details
Europe/UK MSRP Price: £ GBP (On The Road inc 20% Vat)
NA
*Starting at MSRP is the manufactured suggested price and excludes delivery, setup, tax, title, license, and additional fees and expenses. Bikes may be shown with optional accessories. Final sale price determined by an authorized dealer. Specifications and MSRP are subject to change.
Manufacturer Specifications and appearance are subject to change without prior notice on Total Motorcycle (TMW).