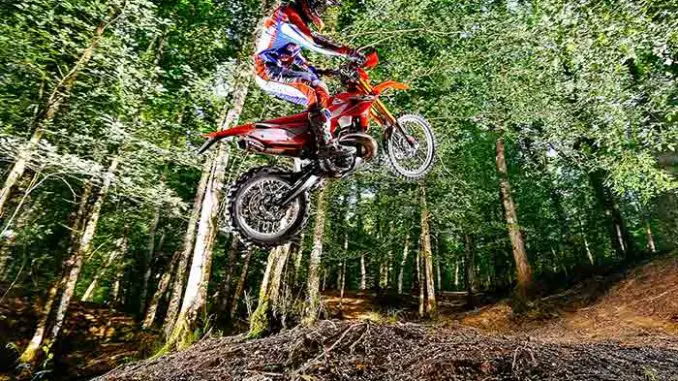 2017 Beta 250RR 2-Stroke Review

2017 Beta 250RR 2-Stroke on www.Totalmotorcycle.com
Off-Road Competition…
Beta USA presents its new 2017 Offroad and Offroad Street Legal range
After a greatly successful 2016 season in both sales and racing, Beta returns in 2017 with their Enduro range that continues the forward progress of the brand through refinements in features and quality. The 2016 season has seen Beta achieve their first-ever overall victory in the World Enduro Championship in Portugal with racer Steve Holcombe along with many other victories from Johnny Aubert and Alex Salvini, both at the World and National level. Beta USA continues to push the racing scene with their factory team effort in National Enduro, GNCC, EnduroX, Hare & Hound, as well as National Trial.
Beta takes the information they have learned from their race teams as well as information from the everyday casual rider and combined the two to further enhance the riding experience. The 2017 RR models continue to offer an "easy to ride" philosophy while also providing the rider with a stable and distinct design along with the quality one expects from the brand.
The 2017 models, available in 2 stroke 250 and 300 cc and 350/390/430/500 cc. for 4 stroke, are a direct evolution of the 2016 version and retain their most successful features.
2017 Beta 250RR 2-Stroke www.Totalmotorcycle.com Key Features
•Electronic Oil Injection eliminates the need to pre-mix fuel.
•Dual Map ignition with switch now comes standard
•New rear shock compression adjuster to improve nigh and low speed sensitivity
•Front fork offers 5mm more travel for improved handling
•All new, more durable meter with more features
•New silver Excel wheels with black spokes
•New Graphics package
2017 Beta 250RR 2-Stroke www.Totalmotorcycle.com Features and Benefits
250/300 RR and 350/390/430/500 RR-S Chassis:
A number of features have been tweaked on all the models of the range and some of them come directly from experience at top competitive levels. The chassis, with the well-tested chrome-moly steel frame with double split cradle has the following new features:
• Sachs fork: increased 5mm in length to provide longer travel. Liqui Moly fork oil has been installed to reduce heat build up and friction in the fork.
• Sachs rear shock: new high/low speed adjustment system, now more accurate and independent from each other. This allows the rider to make more fine adjustments based on his or her riding style and needs.
• Triple clamps: new design that is lighter and offers more rigidity.
• Silver rims with black spokes: supplied by Excel, these new wheels are lighter and give the new bike a distinctive look.
• Digital meter: (RR 2 strokes) new design, along with the timer, kilometre/mph indicator with more adjustment features including instant speed, average and maximum speeds as well as the ability to adjust mileage in smaller increments. Also new for 2017 is a built in battery voltage reading.
• Voyager GPS: (RR-S) models arrive with the Trial Tech Voyager GPS meter
• New fuel cap: has built-in breather valve
• New graphics
250/300 RR Engine:
A fine development was carried out also on the engines, which also thanks to the contribution of the Beta Factory Team riders – Steve Holcombe and Johnny Aubert for 2 stroke and Alex Salvini for 4 stroke – have led to the introduction of important new features.
For the 250 and 300 2 stroke, introduced in 2016, the automatic oil injection system continues: as well as ensuring a perfect fuel-oil mix under any condition, it eliminates the trouble of having to premix the oil and fuel and eliminating the need to carry oil with you in the event of a fuel top up.
Dual map ignition – two settings that can be changed from a switch on the handlebar that allow the rider to choose between wet or dry map settings.
350/390/430/500 RR-S Engine
Electronic Fuel Injection continues on all 4 stroke models including 350, 390, 430 and 500. Thanks to its great reliability, easy control and outstanding throttle response, it has generated great positive
feedback from end users. The system continues to be refined by the Beta team of engineers along with Synerject. The 42mm throttle body provides the optimum performance without the "hard hit" most current EFI off road motorcycles suffer from.
Camshafts – the new lift profiles radically change the core of 4 stroke engines, making them even easier to ride, while retaining their top performance.
Valve springs – which, combined with the camshafts, are used to considerably improve performance of the engine at the bottom end of the power delivery and also reducing the engine braking.
Dual map ignition – two settings that can be changed from a switch on the handlebar that allow the rider to choose between wet or dry map settings.
Sachs Front Fork
RR models arrive with the Gen4 Sachs front fork. This fork has been tested by the Beta engineering team many times over to improve the feel of the front end. We feel this is the best open cartridge fork on the market today
Adjustable Power Valve
All Beta 2 strokes have an adjustable power valve that uses a 5mm allen socket. Riders can simply dial it in for less hit or back it out for more allowing the engine to be adjusted per the rider's preference.
Oil Injection
Electronic oil injection eliminates the mess of pre-mixing your fuel. System electronically regulates the oil flow depending on throttle position. This system reduces smoke by more than 50%
FMF Exhaust
All Beta RR 2 strokes come standard with a nickel plated FMF exhaust pipe and an exclusive FMF muffler designed by the Beta engineers. This is an option on most other brands.
Pushbutton Seat
All Beta RR and RS models arrive with a push button quick release seat. This allows for easier access to the air filter, battery, and tool kit.
---
2017 Beta 250RR 2-Stroke – www.Totalmotorcycle.com USA Specifications/Technical Details
US MSRP Price: $8499 USD
Engine Specs:
Type: Beta-Built single cylinder, 2-stroke, liquid cooled, with BPV power valve system and electric start with back up kick starter.
Bore: 66.4mm
Stroke: 72mm
Displacement: 249cc
Compression Ratio: 12.8:1
Exhaust Valve Beta Progressive Valve (BPV)
Ignition: AC-CDI Kokusan w/dual map switch
Spark Plug: NGK BR7ES
Lubrication: Electronic Oil Injection
Oil Tank Capacity: 650cc
Carburetor: Keihin PXK 36mm
Clutch: Wet multi-disc
Transmission: 6-speed Final Drive: O-ring chain
Chassis Specs:
Frame: Molybdenum steel/double cradle w/quick air filter access.
Wheelbase: 58.3"
Seat Height: 36.6"
Ground Clearance: 12.6"
Footrest Height: 16"
Steering Rake/Offset 27 degree rake/20mm Offset
Dry Weight: 224 lbs.
Fuel Tank Capacity: 2.5 US gallons
Front Suspension: 48 mm Sachs USD fork, adjustable compression and rebound, TFX technology.
Rear Suspension: Aluminum Body Sachs shock w/adjustable rebound and hi/low speed compression
Front Wheel Travel: 11.4"
Rear Wheel Travel: 11.4"
Front Brake: 260mm floating rotor
Rear Brake: 240mm rotor
Front/Rear Rim: 21" (Front) 18" (Rear)
Front/Rear Tire: Michelin Enduro Competition
Warranty: 6 month Limited Warranty
Manufacturer Specifications and appearance are subject to change without prior notice on Total Motorcycle (TMW).