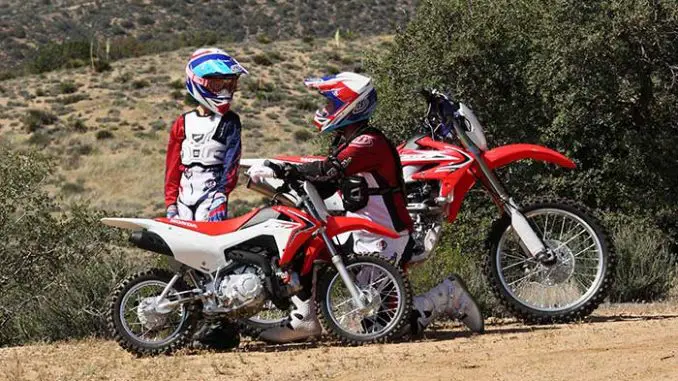 You have come to the right spot. Total Motorcycle – Built by Riders, For Riders; Enjoy the ride…
2017 Honda CRF110F Review

2017 Honda CRF110F on www.Totalmotorcycle.com
The Right Size For Fun…
A fun off-road motorcycle packed with features for the younger rider, the CRF110F features an air-cooled 110cc engine with a durable four-speed transmission and automatic clutch, and it comes with both push-button electric start and manual kick start. Like the CRF50F, it has an adjustable throttle limiter for tailoring available power depending on skill level.
With its low seat height, modest size, and four-speed transmission with automatic clutch, the CRF110F fills an important entry spot among Honda's family of off-road bikes. The 109cc powerplant is tuned to meet the needs of those new to riding, and with a throttle-limiter feature, it offers parents additional tuning options. Also, the CRF110F features a convenient electric starter plus race-inspired styling evocative of the awesome CFR450R and CRF250R motocross bikes. It all adds up to a great option for new riders.
Stylish stepping stone.

Here's one of the best parts about choosing an off-road motorcycle from Honda. You don't have to pick one that's too big, or one that's too small. Because with a whole range of models, from mini to mighty, you're sure to find one that's just the perfect fit in terms of both size and performance.
Take our CRF110F, for example. In terms of seat height and weight, it's between our CRF125F and our CRF50F. And it offers a 110cc air-cooled engine that's super reliable and built to deliver the kind of power your young Red Rider needs. In addition, the CRF110F features both an effortless electric starter and a kick starter, as well. And it all teams up with our four-speed transmission with automatic clutch that's been proven in thousands of bikes, so younger riders never have to worry about stalling or a handlebar-mounted clutch.
The CRF110F is a great off-road, fun bike that younger riders are going to love. And, better than that, they're going to remember all the fun they had riding it—and with you—for the rest of their lives.
Be A Responsible Rider: All parents need to consider their youngsters' age, size, ability and maturity before allowing them to ride. Obtain a copy of "Off-Road Safety Tips" from your local Honda Dealer.

Plenty of power.
The CRF110F's 110cc engine offers a generous, wide powerband without revving too high—perfect for young riders to learn on. Plus, the CRF110F offers a throttle limiter to allow parents to choose the appropriate amount of available power.

No clutch lever, no worries.
With our proven four-speed transmission with automatic clutch, riders can concentrate on shifting gears without the worry of a manual clutch or stalling.

Get them off to a great start.
The CRF110F includes an effortless electric starter. We've even included a backup kick starter, so getting underway is a cinch, even if the battery charge gets low.
Endless thrills

Graduate to the next level.
The CRF110 is all about big-bike feel and huge fun. Built for the 8-11 age range, it's got a sturdy chassis, electric starter and reliable 4-stroke engine. It is the perfect stepping-stone up to more competition-focused 125cc/150cc MX and enduro machines.
Journey of a lifetime
When a youngster gets that unstoppable urge to ride there's no better starting point than a bright red Honda CRF off-roader.
Honda's rugged CRF110F gives easy riding confidence to young riders, and opens doors to enjoyment that lasts a lifetime. It features an electric starter, a brand new steel frame with improved suspension, which adds to the 'big-bike' feel and performance. Keeping young guns riding – and grinning – all day long.

Easy riding
Growing skills and experience.
The days riding off-road, in trail parks, motocross tracks or even back yards, can be very much a family activity that involves everyone. The CRF110F is a great, and enjoyable, introduction to motorcycling, the perfect bike on which to build skills and machine control, so useful later on, whether out on the road or in competition.

The Off Road look
The CRF450R-inspired looks give it MX credibility.
Not only does the CRF110F have a strong engine, it has a robust suspension system and a strong chassis too.

A completely new body kit, with echoes of the CRF450R's 'triangle proportion' gives the CRF110F a crisp and modern appearance. The newly designed chain cover looks great and with the addition of a handlebar pad aids safety.

Better than tough
New riders are tough on machinery, and that's why you need a bike that's just as tough. With a new 110cc engine, the new CRF110F comes through with flying colors. And to keep it running flawlessly, it's loaded with features like a maintenance-free Capacitor Discharge Ignition (CDI), automatic cam-chain tensioner, plus proven Honda engineering and build quality.