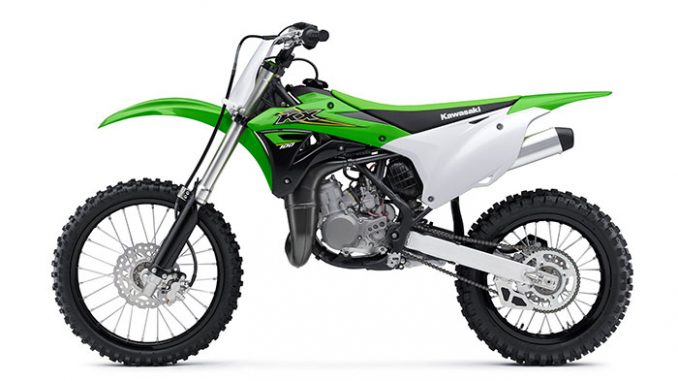 2017 Kawasaki KX100 Review

2017 Kawasaki KX100 on www.Totalmotorcycle.com
Perfect Transition…
KAWASAKI KX™100
Despite its smaller size, the powerful 99cc two-stroke engine in the KX100 motorcycle shares the same "big bike" looks capable of turning heads and outperforming its competition. Built from the same championship winning formula as Kawasaki's full-size motocross models, an adjustable handlebar mounting system allows for riders to place themselves in the best ride position to win. As demonstrated by many of the sports stars, the KX100 is the natural step before riders are ready to transition from the 85cc class to a full-size motocross bike.
The single-cylinder engine features a Nikasil-coated cylinder and two-piece KIPS® (Kawasaki Integrated Powervalve System) contributing to a powerful and durable engine that delivers broad and responsive power. A large capacity radiator helps maintain optimum operating temperatures, even in the most extreme racing conditions.
Similar to its fellow Kawasaki KX counterparts, the chassis of the KX100 motorcycle is highly responsive and designed for winning races. Front suspension duties are handled by 36mm inverted front forks with 20-way adjustable compression damping and 10.8 inches of travel. The rear suspension is supported by Kawasaki's Uni-Trak® linkage suspension for precise handling. A high performance rear shock boasts a 24-way compression and 21-way rebound damping, coupled with adjustable spring preload and the same 10.8 inches of travel.
THE KX™100 MOTORCYCLE IS THE CHOICE OF FUTURE MOTOCROSS CHAMPIONS. WITH MORE POWER AND LARGER WHEELS THAN THE KX™85, THIS TWO-STROKE SUPER-MINI GIVES RIDERS THE PERFECT BLEND OF PROPORTIONATE POWER INCREASE WITH A LARGER CHASSIS BEFORE TRANSITIONING TO THE BIG BIKES.
We designed the KX100 from the ground up for teenage chargers who are between the mini 85s and full-size 250s. Its 19-inch front and 16-inch rear wheels are sized just right for adolescent racers and its generous 275mm of front and rear wheel travel is widely tuneable to let your inner-race shine.