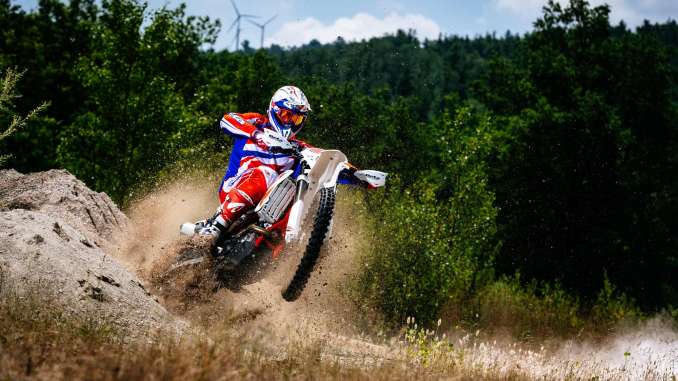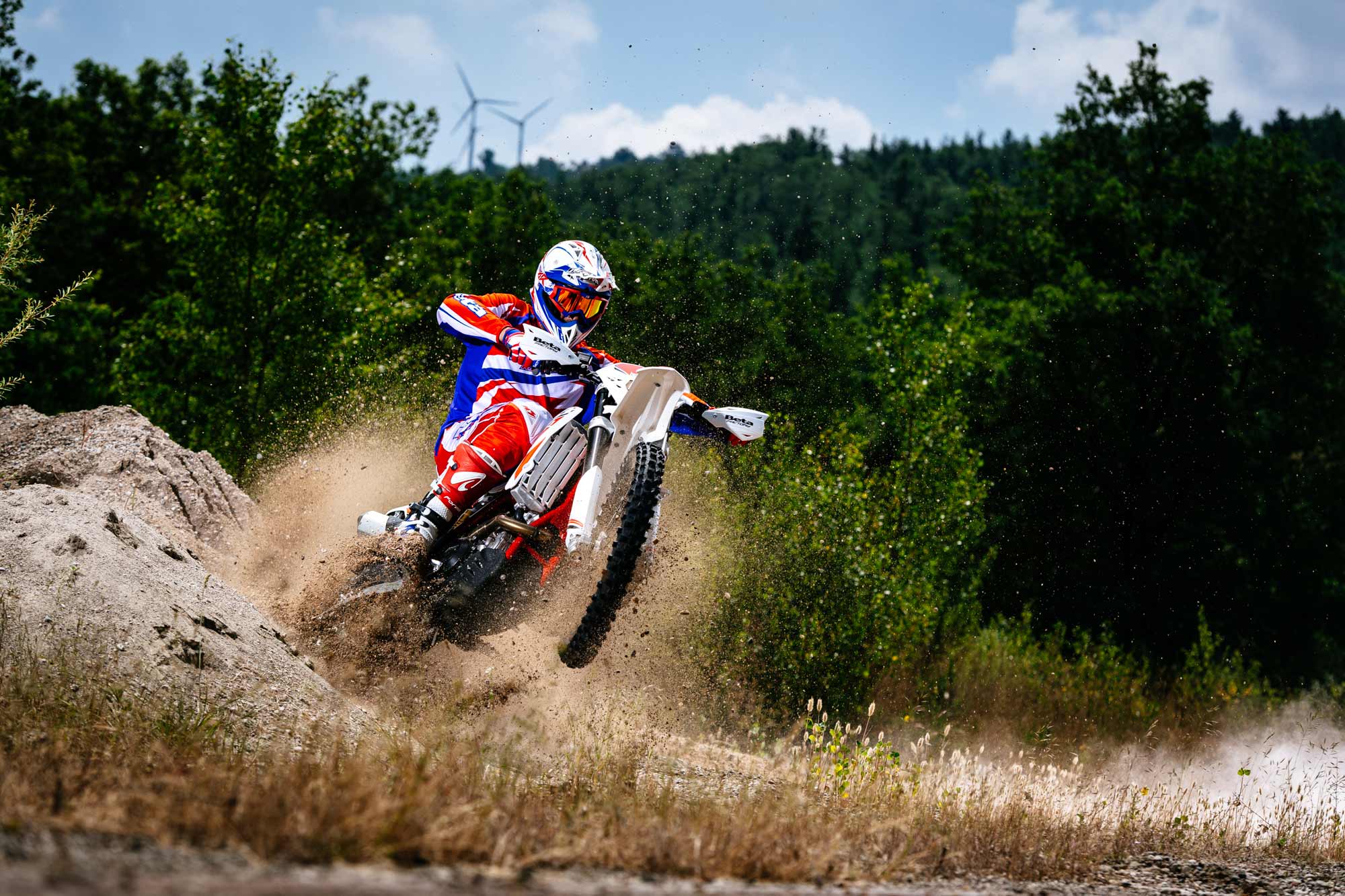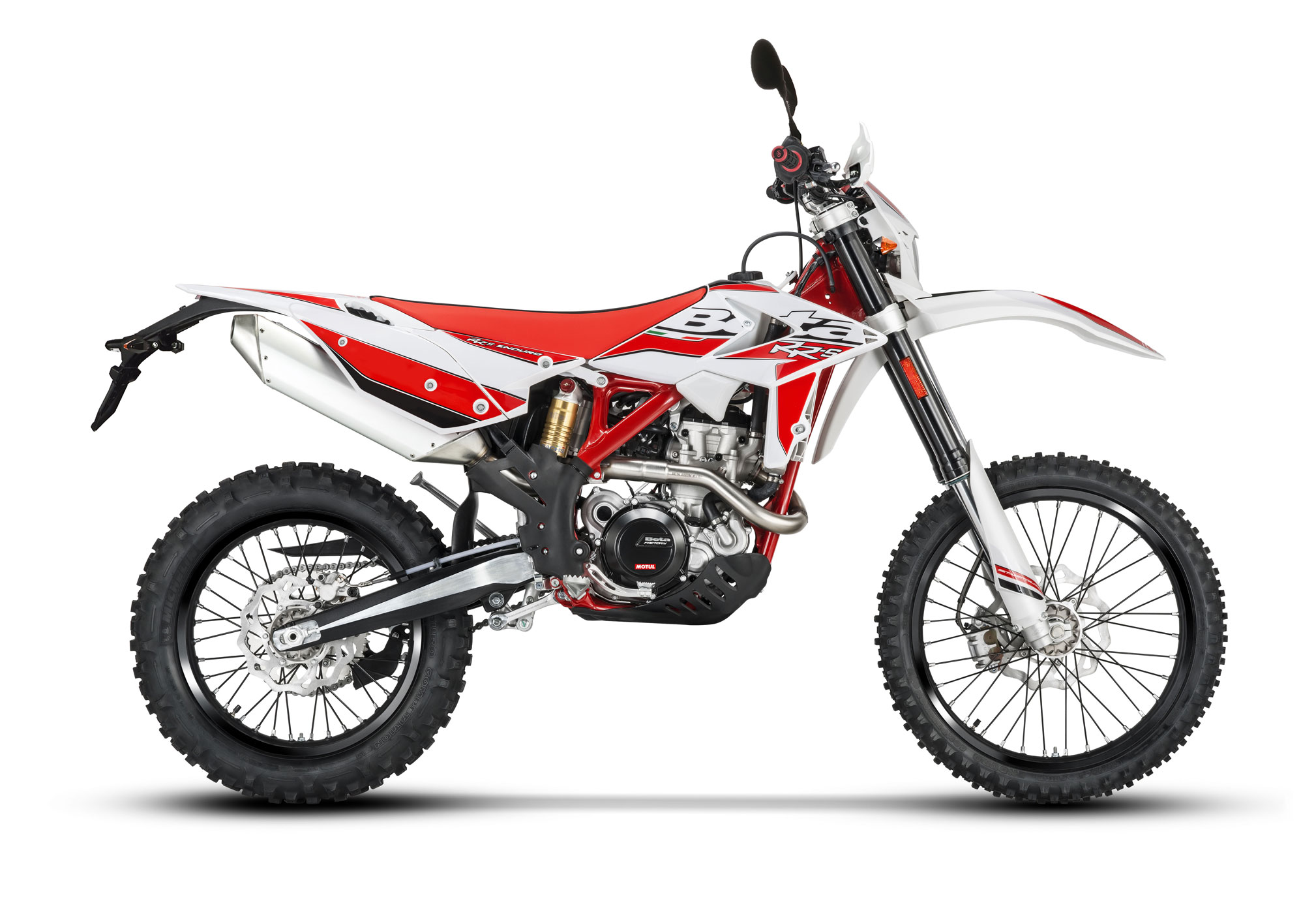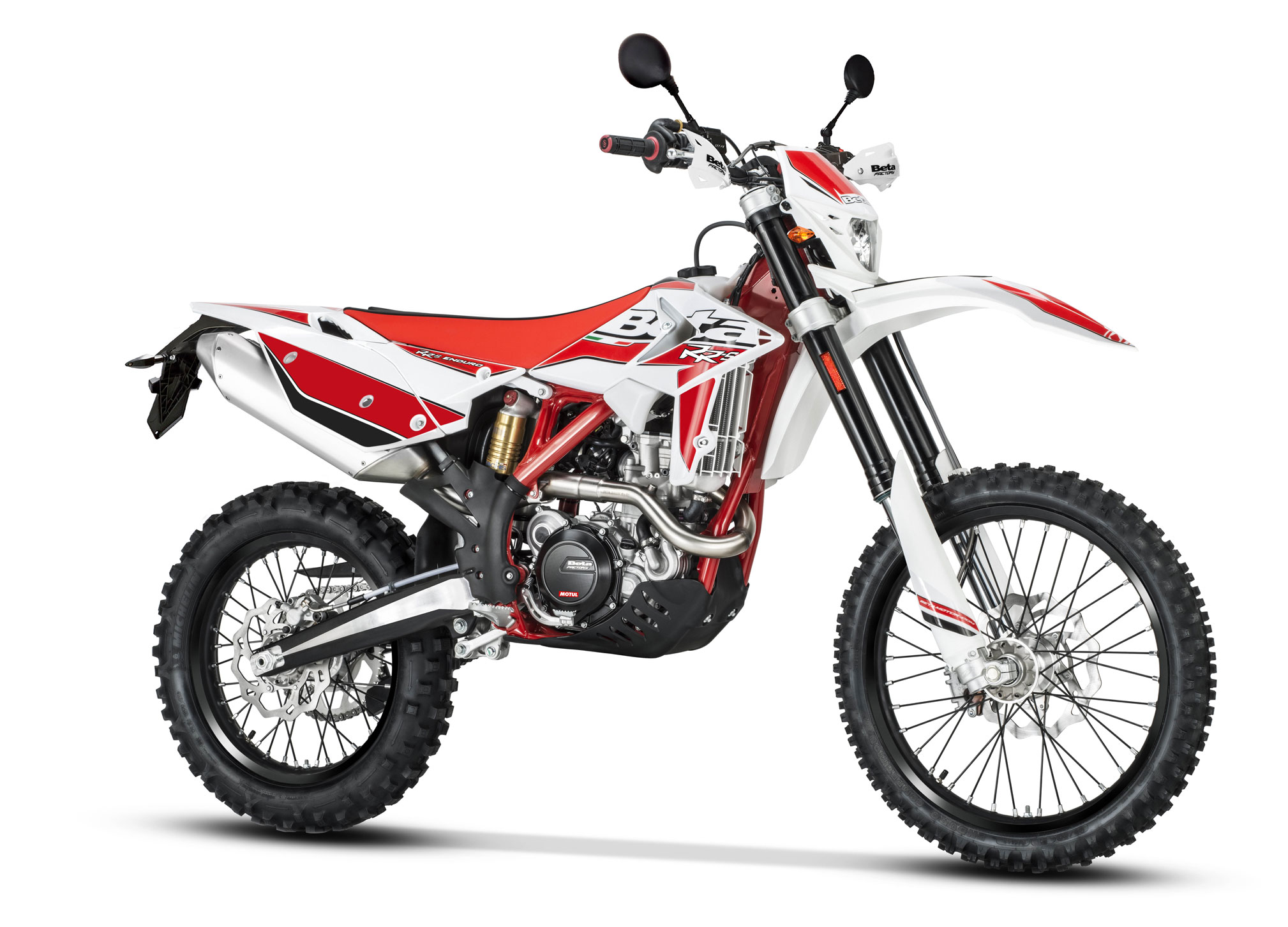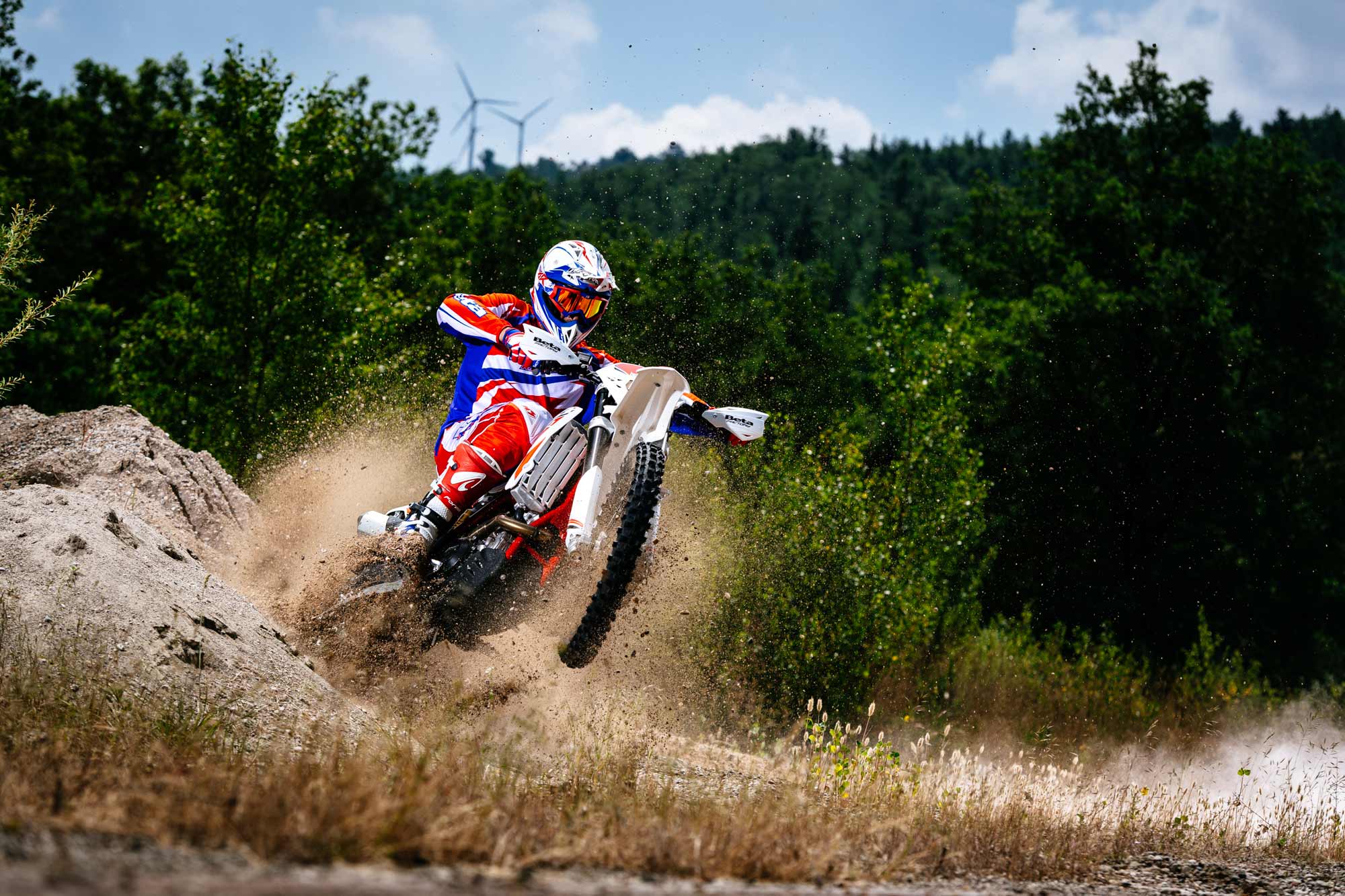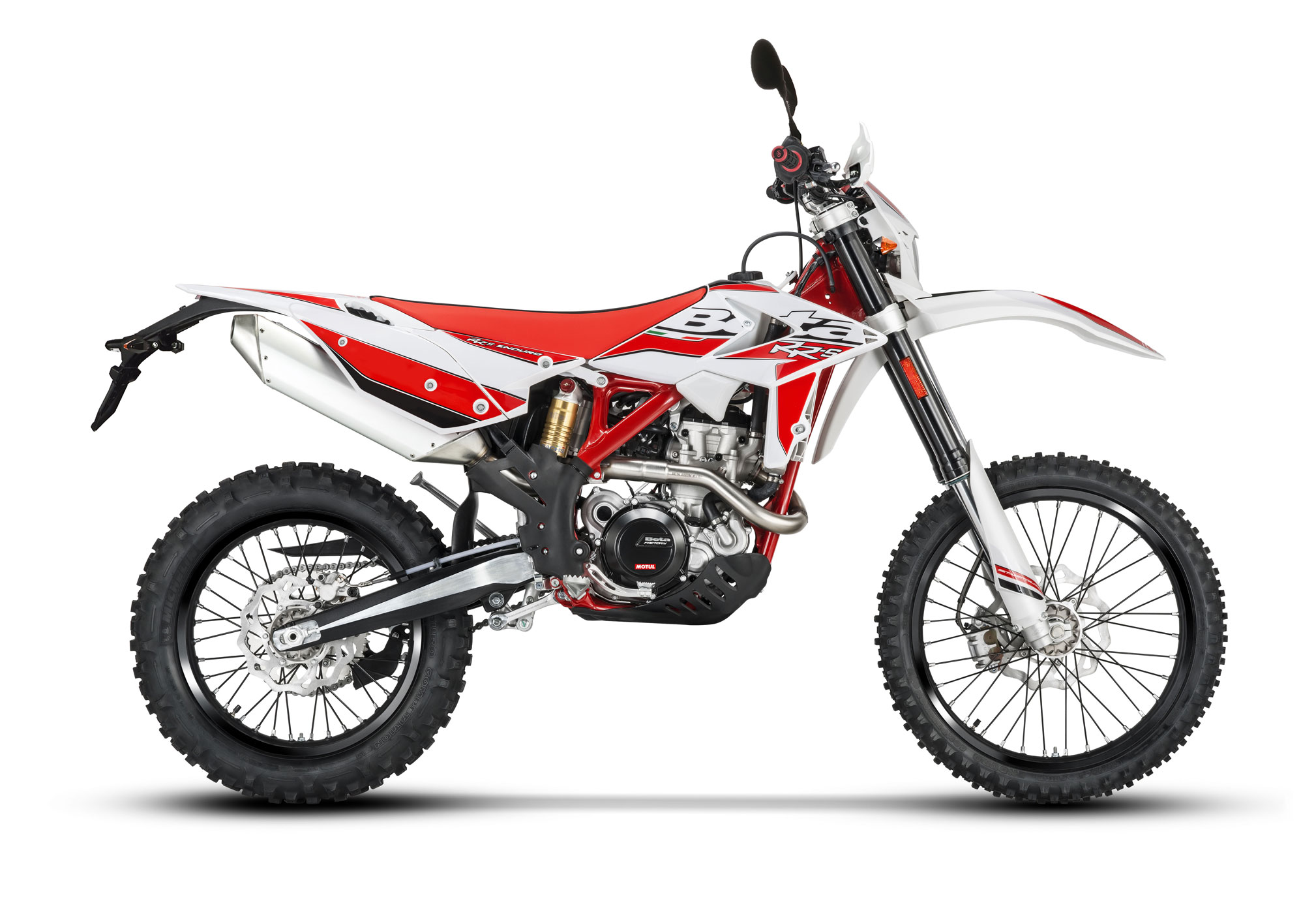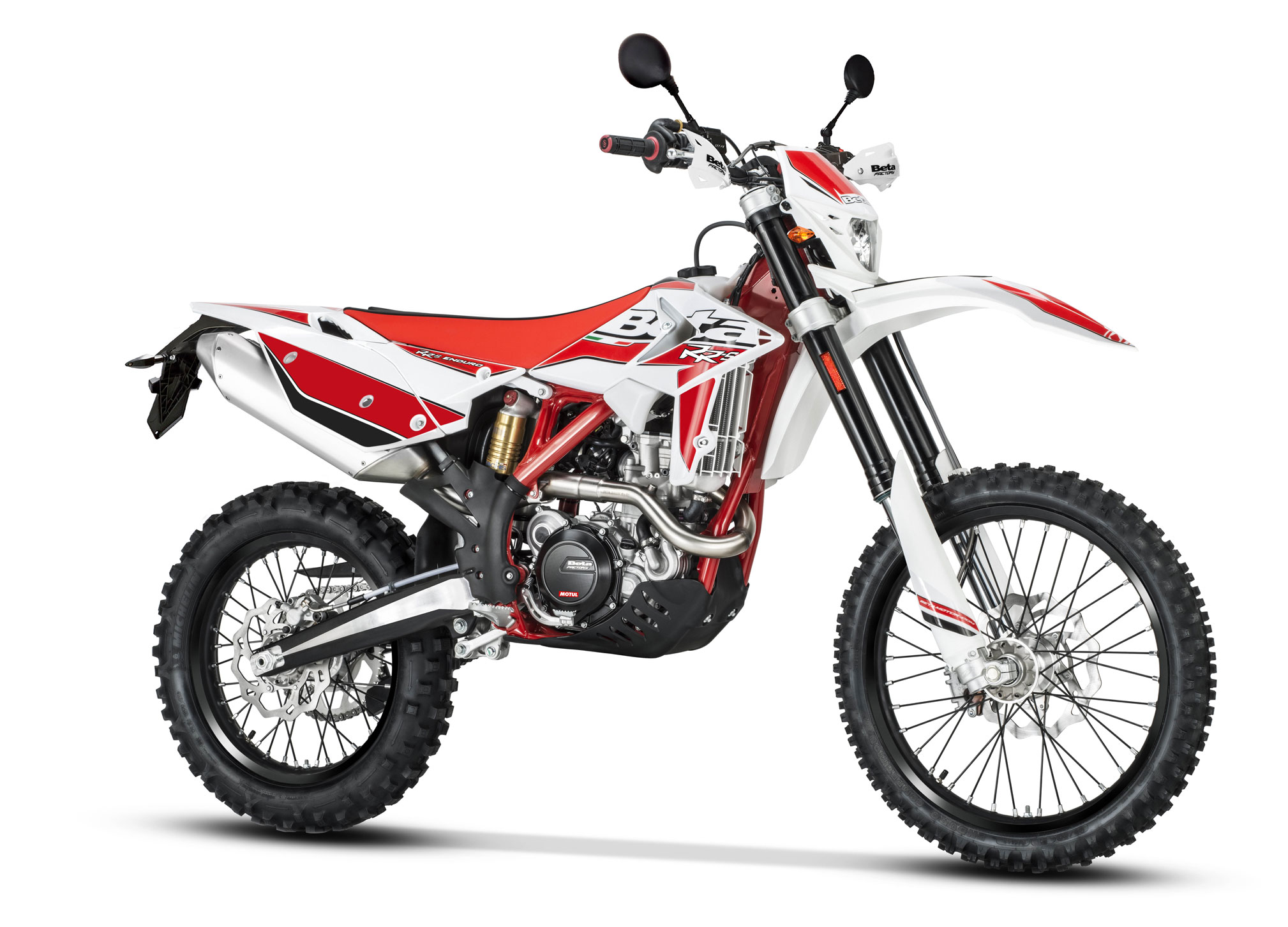 EXPERT RIDES NEED A BIKE THAT MATCHES THEM.
2018 Beta 500 RR-S REVIEW BY TOTAL MOTORCYCLE
Lighter weight with better performance than ever before
The new Enduro RR my 2018 is coming on the market with many new features.
The Tuscan manufacturer was able to transfer of much of the know-how gained from the great racing successes of the 2016 season from the competition bikes to the production models after victories in both the Riders World Championship (E3 class) and the Manufacturers World Championship (EnduroGp class). The Beta engineers at Rignano, with guidance from their top riders, Steve Holcombe and Alex Salvini, have designed a new line of motorcycles that are remarkably lighter in weight with better performance than the previous models; 4.7 kg lighter for the 2-stroke versions and a whopping 5.3 kg shaved off the 4-stroke bikes.
But this drop in weight is not the only feature worthy of note. The engines, running gear and suspension are products of a significant technical evolution which has further enhanced the strengths of this new generation of RR models giving them an ease of handling with a solid and immediate feeling as well as a high degree of reliability.
The design was also revised with the introduction of a new rear fender, a new color for the plastics and graphics and, on the 4-stroke versions, a muffler with a completely new profile as well as a new internal layout.
Keeping with Beta tradition, six different displacements will be available for the RR my 2018: 250 and 300 cc 2-stroke and 350, 390, 430 and 480 cc 4-stroke models, each distinguished by their own specific character. This new range will allow every rider to find just the right Beta model at the right price.
2018 Beta 500 RR-S Totalmotorcycle.com Key Features
Engine
Electronic Fuel Injection, 4-valve, six speed transmission
Trail Tech Voyager GPS
Trail Tech Voyager GPS with navigation, engine & outside temperature, ability to download trail routes, hours, mileage, trip meter, and much more.
Fold Down Mirrors
Mirrors fold down while trail riding
Rear Suspension Linkage
Provides a more plush rear suspension
350cc: This is the easiest handling bike in the 4-stroke model range; it favors riding at higher revs while keeping its power output very linear.
390cc: This delivers the ideal mix of handling and power while making great traction its winning hand.
430cc: This engine gives great performance and delivers its best results when taking advantage of its long gearing and strong torque characteristics.
480cc: This bike expresses itself best on wide open spaces. Its characteristics are similar to the 430cc model but with even better output and torque range, suitable to more expert riders who are physically prepared.
2018 Beta 500 RR-S Totalmotorcycle.com Features and Benefits
Engine
Compared to the 2017 model year, a great deal of development has gone into both our two and four-stroke engines which share a series of common innovations. As well as increasing performance, these new features have shaved off about 1.7 kg from both versions:
New clutch A total overhaul has developed a more compact and lighter weight clutch that improves its scalability, precision and stability as operating temperatures change. This solution also permits the use of a much more tapered external clutch cover, making the lines even more graceful.
Elimination of the kick-start: the incredible work put into making the electric starter more reliable has allowed the kick-start lever to be removed, significantly reducing weight. Given the engine arrangement, a kick-start can still be ordered as an option.
New gear shifting selector system: improves the precision of the transmission eliminating any possible uncertainties when shifting gears.
New filter box: intense testing was done on the 4-stroke engine injection mapping and on the 2-stroke engine timing advance curves to optimize output enabling the introduction of a new filter box.
Furthermore, both the 2-stroke and the 4-stroke versions have been specially engineered for their unique architectures. Specifically:
4-Stroke:
EFI with dual injectors: The introduction of dual injectors allows the application of dedicated maps for each engine displacement in order to increase engine performance (particularly in the middle and high rpm) and to increase mixture control which subsequently increases mileage.
Vehicle
A great deal of attention has also gone into the rest of the motorcycle including the chassis and suspension which continues to use a Sachs rear shock absorber and Sachs 48 mm diameter front fork but with a new fork sleeves. Both vaunt specific calibration settings suitable for the demands of the new frame.
Many innovations have been combined with this time-tested solution aimed at improving the aesthetic appearance as well as the dynamic performance of the motorcycle, through a weight reduction – not counting the engine – that ranges from 3 kg for the 2-stroke models up to 3.6 kg for the 4-strokes.
New Chassis
The front-end has been completely redesigned enabling an increase in the flexural and torsional rigidity characteristics compared to previous versions and with a notable reduction in weight thanks to an improved structural layout. This generates a consistent improvement in handling and riding precision.
Slimmer filter box and rear end giving the bike a slimmer, more aggressive look.
Lithium battery: lighter in weight, more powerful and reliable.
Fork with a new fork sleeves: though also lighter in weight, this was developed to increase rigidity and improve sliding. These have been specifically calibrated to suit the demands of the new chassis.
A mono-shock absorber with new settings has been adapted for the demands of the 2018 version chassis.
New muffler (4-stroke versions only): revised external profile and internal layout to improve engine performance, especially at low rpm.
New skid plate (2-stroke versions only): improved fastener accessibility for quicker removal.
New muffler heat shield: protects the rider from burns on both the 2- and 4-stroke versions.
Takasago Excel rims: with a new opaque black finish specifically designed for Beta.
New colors and graphics.
2018 Beta 500 RR-S – Totalmotorcycle.com North America Specifications/Technical Details
USA MSRP Price: $9999 USD
Canada MSRP Price: $ See Dealer for Pricing in  CDN
Engine Specs:
Type: Single cylinder, 4-valve, (steel intake and exhaust) 4-stroke liquid cooled, cooling fan, electric start.
Bore: 100mm
Stroke: 60.8mm
Displacement: 478cc
Compression Ratio: 12.1:1
Ignition: DC-CDI with dual map selection, Kokusan. 200 watt output at 6000 RPM
Spark Plug: NGK LKAR8A-9
Lubrication: Twin oil pumps with cartridge oil filter. Separate oil for engine and clutch .8 liter each
Fuel System: 42mm Electronic Fuel Injection
Clutch: Wet multi-disc
Primary Ratio: 31:73
Transmission: 6-speed
Final Drive: O-ring chain, DID
Chassis Specs:
Frame: Molybdenum steel with double cradle split above exhaust port. Quick Air filter access from the side.
Wheelbase: 58.1"
Seat Height: 36.6"
Ground Clearance: 12.6"
Footrest Height: 16.25"
Dry Weight: 246 lbs. (wet weight, no fuel)
Electrical: Trail Tech Voyager GPS unit
Fuel Tank Capacity: 2 US gallons
Front Suspension: 48 mm Sachs USD fork, adjustable compression and rebound, TFX technology.
Rear Suspension: Aluminum Body Sachs shock w/adjustable rebound and hi/low speed compression
Front Wheel Travel: 11.6"
Rear Wheel Travel: 11.4"
Final Gearing: 15t front, 48t rear
Front Brake: 260mm rotor
Rear Brake: 240mm rotor
Front/Rear Rim: 21" (Front) 18" (Rear)
Front/Rear Tire: Michelin Enduro, DOT approved
Warranty: 12 month Limited Warranty
2018 Beta 500 RR-S – Totalmotorcycle.com European Specifications/Technical Details
Europe/UK MSRP Price: £ See Dealer for Pricing in GBP (On The Road inc 20% Vat)
CHASSIS
Frame Molybdenum steel with double cradle split above the exhaust port
Wheelbase 1490 mm
Max length 2180 mm
Max width 807 mm
Max height 1270 mm
Seat height 940 mm
Ground clearance 320 mm
Footrest height 413 mm
Dry weight 110,0 kg (front 53,0 kg; rear 57,0 kg)
Fuel tank capacity 8,0 l.
Reserve 2,0l.
Cooling system capacity 1,3 l.
Front suspension Hydraulic USD fork with ø48 mm shaft
Rear suspension Monoshock with progressive compound lever
Shock absorber stroke 135 mm
Front wheel travel 295 mm
Rear wheel travel 290 mm
Front brake Wave disc ø260 mm and double-piston floating caliper
Rear brake Wave disc ø240 mm and single-piston floating caliper
Front rim 21 x 1,6 – 36 holes
Rear rim 18 x 2,15 – 36 holes
Front tyre 90/90 – 21
Rear tyre 140/80 -18
ENGINE
Type Single cylinder, 4-stroke, liquid-cooled
Bore 100 mm
Stroke 60,8 mm
Displacement 477,5 cc
Compression ratio 11,86:1
Valve train DOHC finger follower / 4 valve, intake titanium, exhaust steel
Starter Electric starter
ACG Kokusan
Spark plug NGK LKAR 8A-9
Lubrication 2 oil pumps
Fuel system Synerject dual electronic injection
Throttle body Ø 42 mm – Synerject
Clutch wet multi-disc clutch
Primary drive Z.31/72
Transmission 6 gears
Final transmission chain
Manufacturer Specifications and appearance are subject to change without prior notice on Total Motorcycle (TMW).