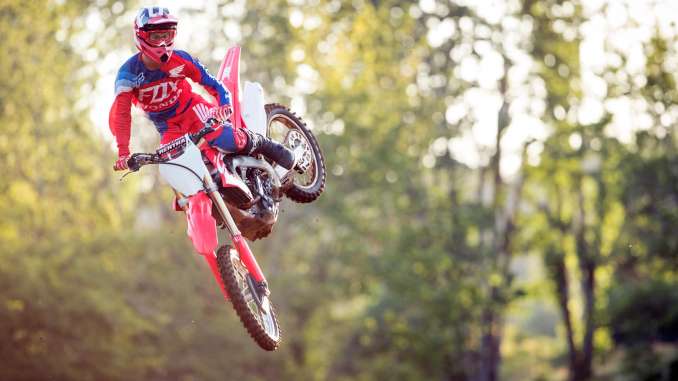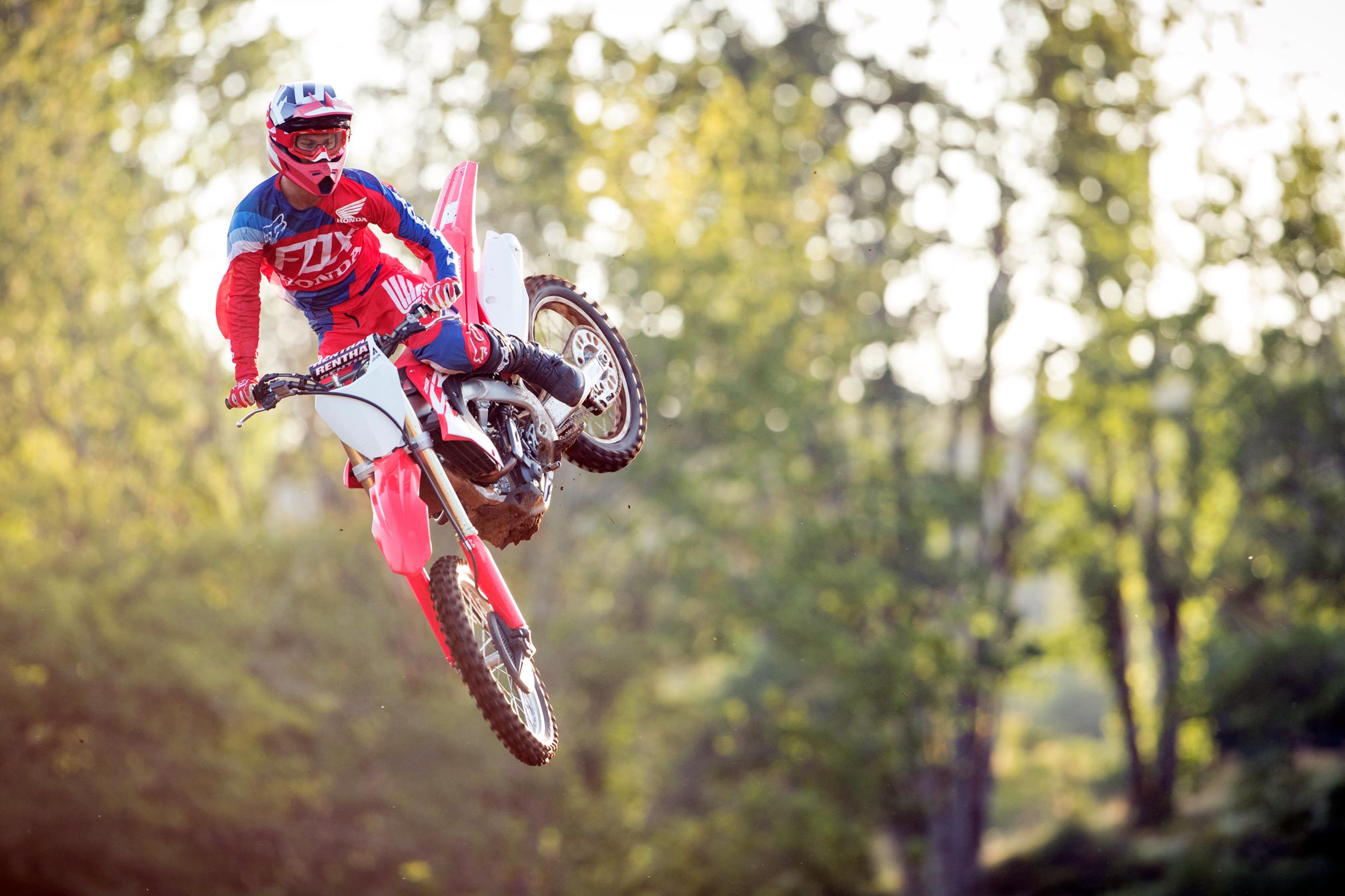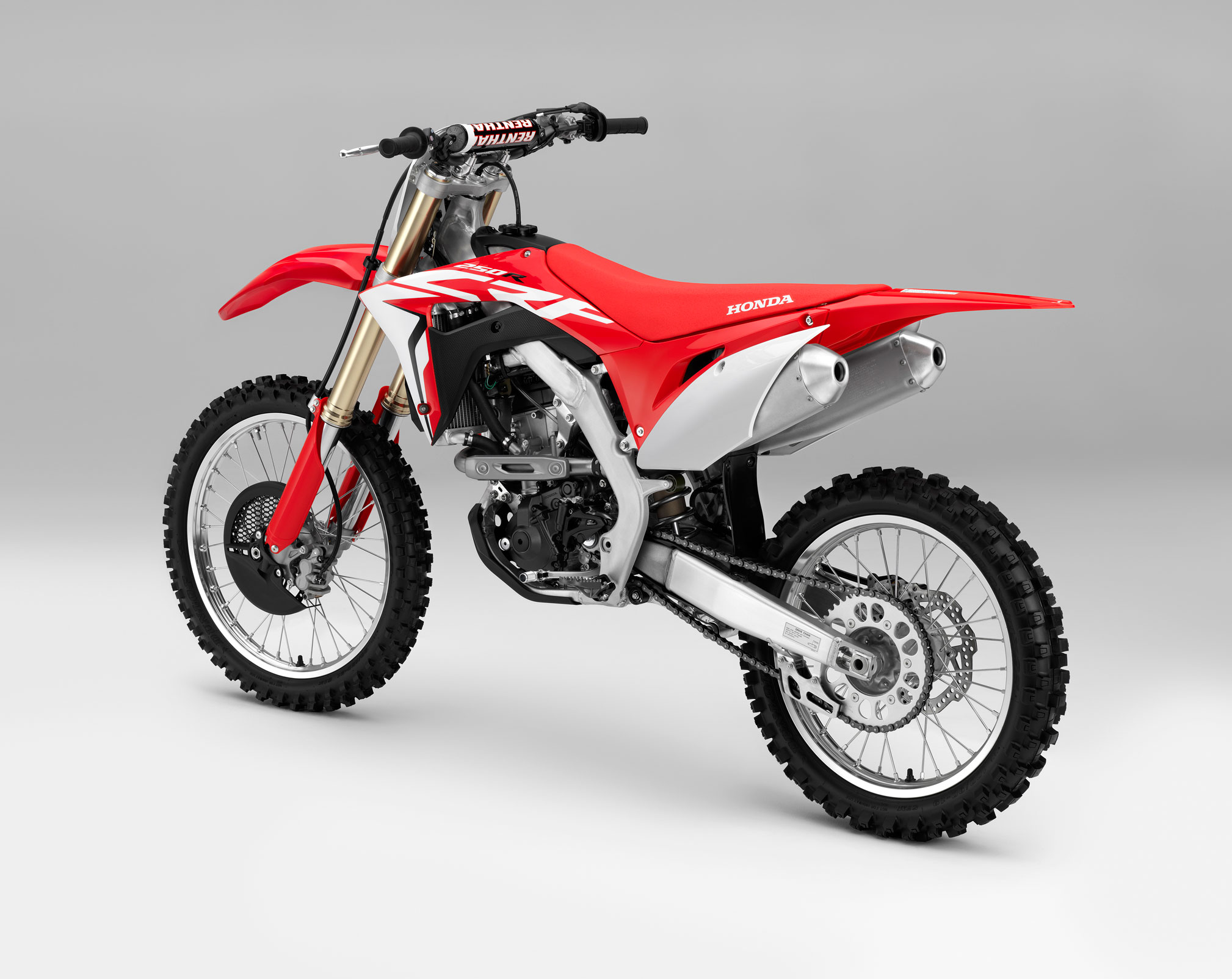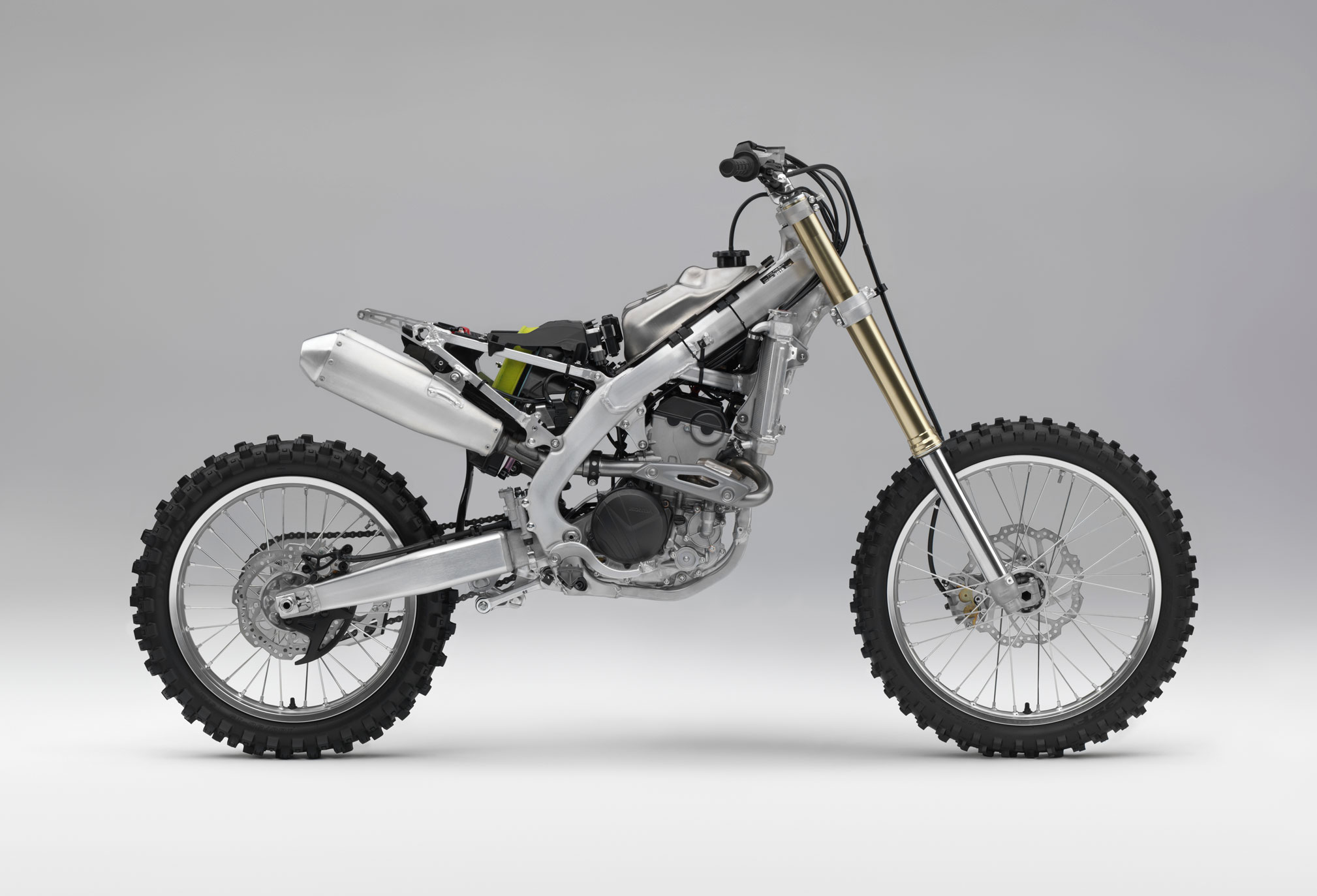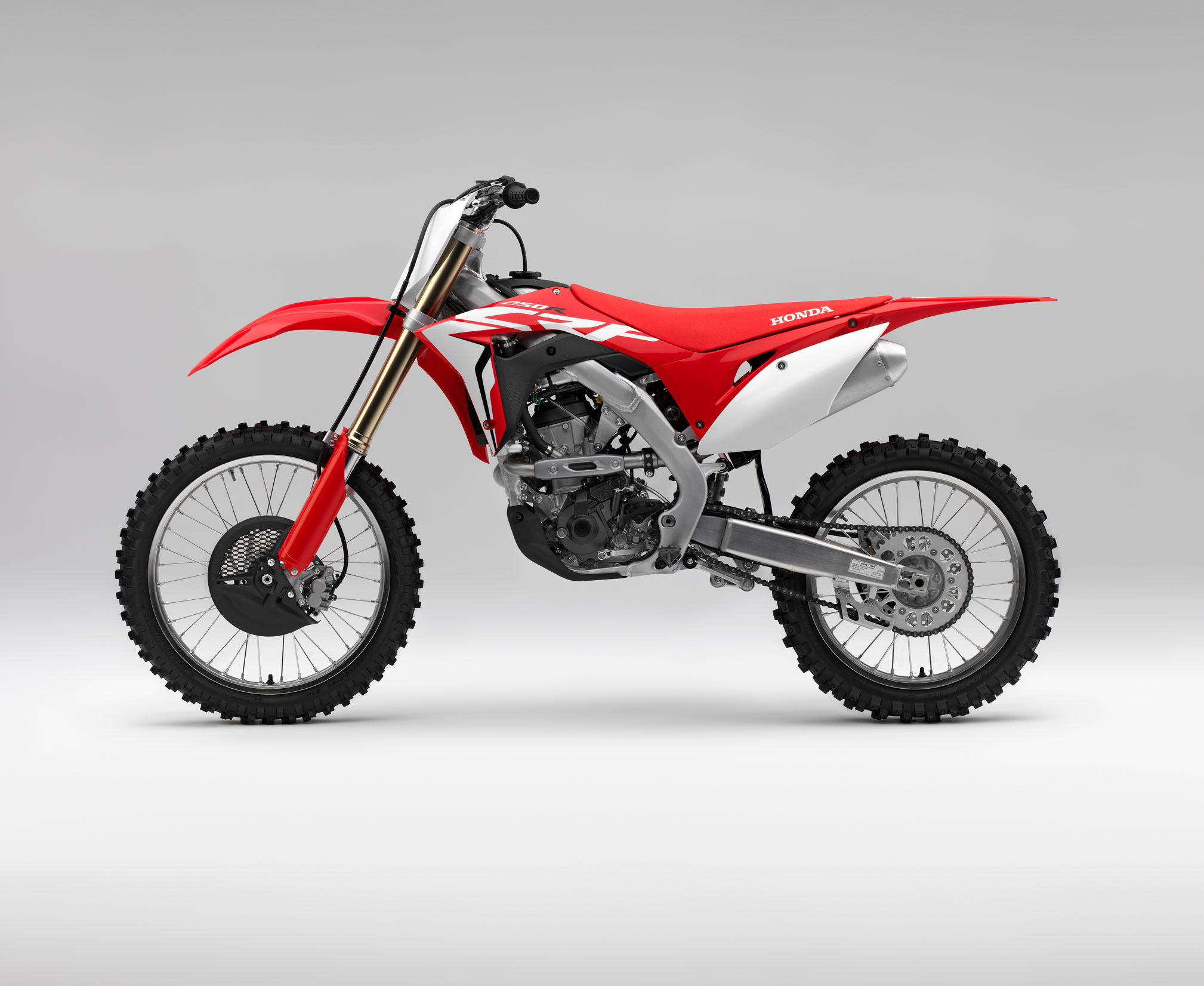 WINNING STARTS WITH THE HOLESHOT.
What does it feel like to win? What does it sound like? What does it take to win? Motocross isn't a sport for the timid. When you show up at that starting gate, both you and your bike need to be ready to grab the holeshot and hang on to it until the checkered flag. That's why Honda is determined to give you the best bike in the 250 class, the all-new 2018 CRF250R. Major upgrades everywhere, including a new DOHC engine featuring increased power and higher redline, give you the advantages you need and make the CRF250R an absolute holeshot machine.
The "Absolute Holeshot" philosophy that helped revolutionize the latest-generation CRF450R now makes its way to the all-new CRF250R, a model that has earned no fewer than nine AMA Supercross championships and two AMA Motocross championships over the years. Updates are aimed at achieving maximum power (particularly at high revs) and superb handling, the vastly updated four-stroke engine now featuring a dual-overhead-cam design, twin exhaust ports, and more over-square dimensions. Mass is lower and more centralized, through vehicle-packaging updates like a titanium fuel tank and extruded-aluminum subframe brackets, while a lighter aluminum frame with optimized flex characteristics helps handling and rider feedback. An electric starter, powered by a lightweight lithium-iron phosphate battery, is now standard.
2018 Honda CRF250R Totalmotorcycle.com Key Features
CRF450R has become the top-selling 450cc motocross model, and now that the CRF250R shares many of the same performance-focused updates, we're confident it will enjoy similar success in the market and on racetracks everywhere."
ENGINE
In order to achieve their powerplant development goal of increased power (particularly at higher revs), engineers gave the 249cc engine an all-new dual-overhead-cam design, using a finger rocker arm with Diamond Like Coating (DLC). The titanium intake and exhaust valves are larger and have a higher lift and narrower angle, while the valve springs' coils now have an oval cross-section to keep engine height as low as possible. The engine has more over-square dimensions, the cylinder offset has been increased, and the piston now features a bridge-box design–a first for a production Honda motocrosser. The intake system is now of a downdraft design for maximum efficiency, there are twin exhaust ports, and the dual exhaust features smoother routing and optimized pipe length. An electric starter is standard, powered by a small, lightweight lithium-iron phosphate battery. The end result of the copious changes is an engine with more power across the rev range, especially impressive at peak rpm.
CHASSIS
The 2017 CRF450R set new standards for vehicle packaging in a motocross machine, with highly concentrated mass and a very low center of gravity; the 2018 CRF250R follows suit, with weight reduced overall but particularly up high and at the ends of the vehicle. Layout is slim and low, and the machine has superb rear-wheel traction but minimal front-end lift–ideal for strong starting and acceleration. The main spars of the new-generation, lighter aluminum frame are now tapered to optimize flex characteristics and provide good stability and reliable rider feedback, while a shorter wheelbase
improves overall agility. An all-new titanium fuel tank and extruded subframe end save precious weight up high, a new Showa coil-spring fork contributes a plush suspension feel, and a lower, more centralized shock location improves stability. Bodywork mirrors the design of the CRF250R's bigger brother in form and function, with a minimalist appearance and in-mold film graphics. Dunlop's superb Geomax® MX3S tires are standard.
As a result of the engine and chassis updates, the 2018 CRF250R enjoys a three-percent improvement in start performance compared to its predecessor, along with improved acceleration and handling.
KEY UPDATES
• More over-square bore/stroke dimensions
• Increased valve size/lift, narrower valve angle, oval cross-section valve springs
• Higher compression ratio
• Downdraft air intake
• Dual exhaust ports/headers/exhausts
• Electric start
• Lighter frame/subframe with optimized flexibility characteristics
• Revised chassis geometry for lighter handling, improved rear traction, reduced front-end lift
• Coil-spring fork
• Titanium fuel tank
2018 Honda CRF250R Totalmotorcycle.com Features and Benefits
Effortless directional changes on the fly
Compact engine design and overall dimensions allow for excellent mass centralization and enhanced balance.
Even more power
New smooth and efficient DOHC engine is designed for more top-end power and improved acceleration, featuring increased cam lift, larger titanium valves
Programmed for power
The Programmed Fuel Injection (PGM-FI) system mapping is designed to take full advantage of all upgraded engine components and features shorter ratios for both first and second gear.
Engine Mode Select button
The CRF250R's engine stop switch and Engine Mode Select Button (EMSB) are now incorporated into an intuitive handlebar housing with small light indicator to select between three engine mode maps: standard (mode 1), smooth (mode 2) and aggressive (mode 3)—perfect for dialing in the best power curve for better starts, better drive out of corners, better traction, or simply to better suit your riding style. Modes two and three can even be fine-tuned using the optional HRC setting tool. Mode selection is easily accomplished without changing the rider's hand position or shutting down the engine (as long as the engine is idling).
Improved tuning
Tuned for dynamic riding performance, the intake and exhaust are expertly engineered to work in conjuction with a new 13.9:1 compression ratio, increased bore and reduced stroke for optimal power and balance.
Keeping cool
The new front mudguard design efficiently directs more air to the large radiators to handle the output from the more powerful DOHC engine
Easy electric start
New standard electric start replaces the kickstarter to get you going quickly and effortlessly with the simple push of a handlebar mounted button.
Excellent feel & feedback
Sharing the same mass-centralized chassis and new 6.3 L titainium fuel tank as the race ready CRF450R results in a lower centre of gravity, while the 7th generation aluminum frame and new aluminum rear subframe combine for improved lightweight performance and an increased 327 mm of ground clearance.
Precise handling
The Honda Progressive Steering Damper allows more-aggressive chassis geometry for quicker steering, while also assisting straight-line handling. Damping action smoothly progresses as handlebar deflection increases, which produces very natural steering characteristics and feel.
Improved Showa fork
The new 49 mm fully adjustable Showa coil-spring front fork air fork on the CRF250R includes a number of clever innovations resulting in reduced weight, improved balance, superior suspension action and simplified adjustability.
Full adjustment
Pro-link® rear Showa suspension offers full damping adjustability and over 12 inches of smooth, well-controlled travel.
Stop hard
The full 260 mm two piston front brake and 240 mm rear one piston brake feature an advanced wave-pattern rotor design, offering excellent stopping power plus superior lever feel.
Better grip
The Dunlop MX3S Geomax tires offer excellent traction in a wide variety of conditions with 21 inch front and 19 inch rear aluminum wheels.
Move freely
Optimized rider ergonomics with a very narrow midsection allow you to move freely on the bike and fully utilize the CRF's incredible agility.
Easy to adjust
Quick-adjust clutch perch simplifies cable adjustment.
Reduced rider fatigue
Aluminum handlebar is rubber-mounted to reduce rider fatigue and improve comfort.
Comfort paired with control
Wide, long footpegs offer greater support for more comfort and control.
Preventative indicator
The engine stop switch with integrated LED indicator lets you know if the PGM-FI system is working properly.
Simplified maintenance
The design of the fuel hose connector simplifies maintenance.
Connectivity simplifies setup
Optional HRC setting kit includes an easy-to-use programming system with precise data for setting up the machine to meet all race situations. Ignition timing and fuel mapping settings can be uploaded by connecting the motorcycle to a computer and following simple step-by-step instructions. The system radically simplifies the setup process and makes tuning accessible to a wide spectrum of riders. Connection is simple with only one connector and no need to remove the fuel tank.
2018 Honda CRF250R – Totalmotorcycle.com USA Specifications/Technical Details
US MSRP Price: $ USD
  ENGINE
Engine Type
249cc liquid-cooled single-cylinder four-stroke
Bore And Stroke
79.0mm x 50.9mm
Induction
Programmed fuel-injection system (PGM-FI); 46mm throttle bore
Ignition
Full transistorized
Compression Ratio
13.9:1
Starter
Electric with lithium-iron-phosphate battery
Valve Train
DOHC, four-valve; 33mm intake, titanium; 26mm exhaust, titanium
  DRIVE TRAIN
Transmission
Constant-mesh 5-speed return; manual
Final Drive
#520 Chain; 13T/48T
Clutch
Multiplate wet (5 springs)
  CHASSIS / SUSPENSION / BRAKES
Front Suspension
49mm fully adjustable leading-axle inverted telescopic Showa SPG coil-spring fork; 12.0 inches travel
Rear Suspension
Pro-Link system; fully adjustable Showa single shock; 12.4 inches travel
Front Brake
Single 260mm hydraulic disc
Rear Brake
Single 240mm hydraulic disc
Front Tire
Dunlop Geomax MX3S 80/100-21 with tube
Rear Tire
Dunlop Geomax MX3S 120/90-19 with tube
  DIMENSIONS
Rake
27° 22′ (Caster Angle)
Trail
116mm (4.6 inches)
Wheelbase
58.3 inches
Seat Height
37.8 inches
Curb Weight
238 pounds (Includes all standard equipment, required fluids and a full tank of fuel–ready to ride)
Fuel Capacity
1.6 gallons
Ground Clearance
12.9 inches
Length
85.9 inches
Width
32.6 inches
Height
50.2 inches
  OTHER
Available Colors
Red
Model ID
CRF250R
2018 Honda CRF250R – Totalmotorcycle.com Canadian Specifications/Technical Details
Canada MSRP Price: $ CDN
Engine & Drivetrain
Engine type
Liquid-cooled single-cylinder 4-stroke
Displacement
249 cc
Bore & stroke
79 mm x 50.9 mm
Compression ratio
13.9:1
Valve train
DOHC, 4-valves
Fuel delivery
PGM-FI electronic fuel injection with 46 mm throttle body
Transmission
Close-ratio five-speed
Final drive
#520 O-ring-sealed chain; 13T/48T
Chassis & Suspension
Front suspension
Showa 49 mm telescopic inverted coil spring; 305 mm (12 in.) travel
Rear suspension
Pro-Link® Showa single shock with spring preload, 17-position rebound damping adjustment, and compression damping adjustment separated into low-speed (13 positions) and high-speed (3.5 turns); 313 mm (12.3 in.) travel
Dimensions & Additional Information
Tires
Front: 80/100-21
Rear: 100/90-19
Brakes
Front: 260 mm dual-piston caliper
Rear: 240 mm disc
Ground clearance
327 mm (12.9 in.)
Seat height
957 mm (37.8 in.)
Wheelbase
1,486 mm (58.5 in.)
Curb weight
108 kg (238 lb) including required fluids and full tank of gas—ready to ride
Fuel capacity
6.3 L
Colour
Extreme Red
2018 Honda CRF250R – Totalmotorcycle.com European Specifications/Technical Details
Europe/UK MSRP Price: £ GBP (On The Road inc 20% Vat)
Engine
Bore × Stroke (mm) 76.8 x 53.8
Compression Ratio 13.8:1
Engine Displacement (cc) 249
Engine Type (cm³) Liquid-Cooled 4-Stroke Single Cylinder Unicam
Max. Power Output 29.4 kW / 11,500rpm
Max. Torque 27.1 Nm / 9,00rpm
Starter Kick
Wheels
Brakes Front 260mm hydraulic wave disc
Brakes Rear 240mm hydraulic mave disc
Suspension Front Showa 49mm inverted SFF-TAC air fork (310mm stroke)
Suspension Rear Showa monoshock using Honda Pro-Link system (317.6mm stroke, 133mm axle travel)
Tyre Size Front 80/100-21
Tyre Size Rear 100/90-19
Wheels Front Aluminium spoke
Wheels Rear Aluminium spoke
Dimensions and Weights
Caster Angle 27°
Dimensions (L×W×H) (mm) 2,181 x 827 x 1,271
Frame type Aluminium twin tube
Fuel Tank Capacity (Litres) 6.3 litres
Ground Clearance (mm) 322
Kerb Weight (kg) 105.6
Seat Height (mm) 951
Trail (mm) 117
Wheelbase (mm) 1489
Transmission
Clutch Wet, multiplate
Final Drive Chain
Gearbox Constant mesh
Instruments and Electrics
Ignition System Full Transistor
Manufacturer Specifications and appearance are subject to change without prior notice on Total Motorcycle (TMW).