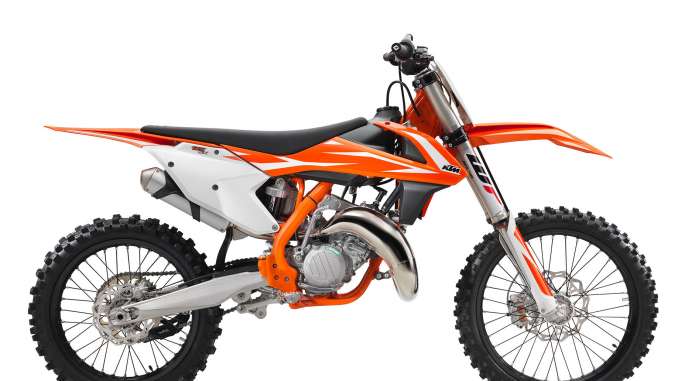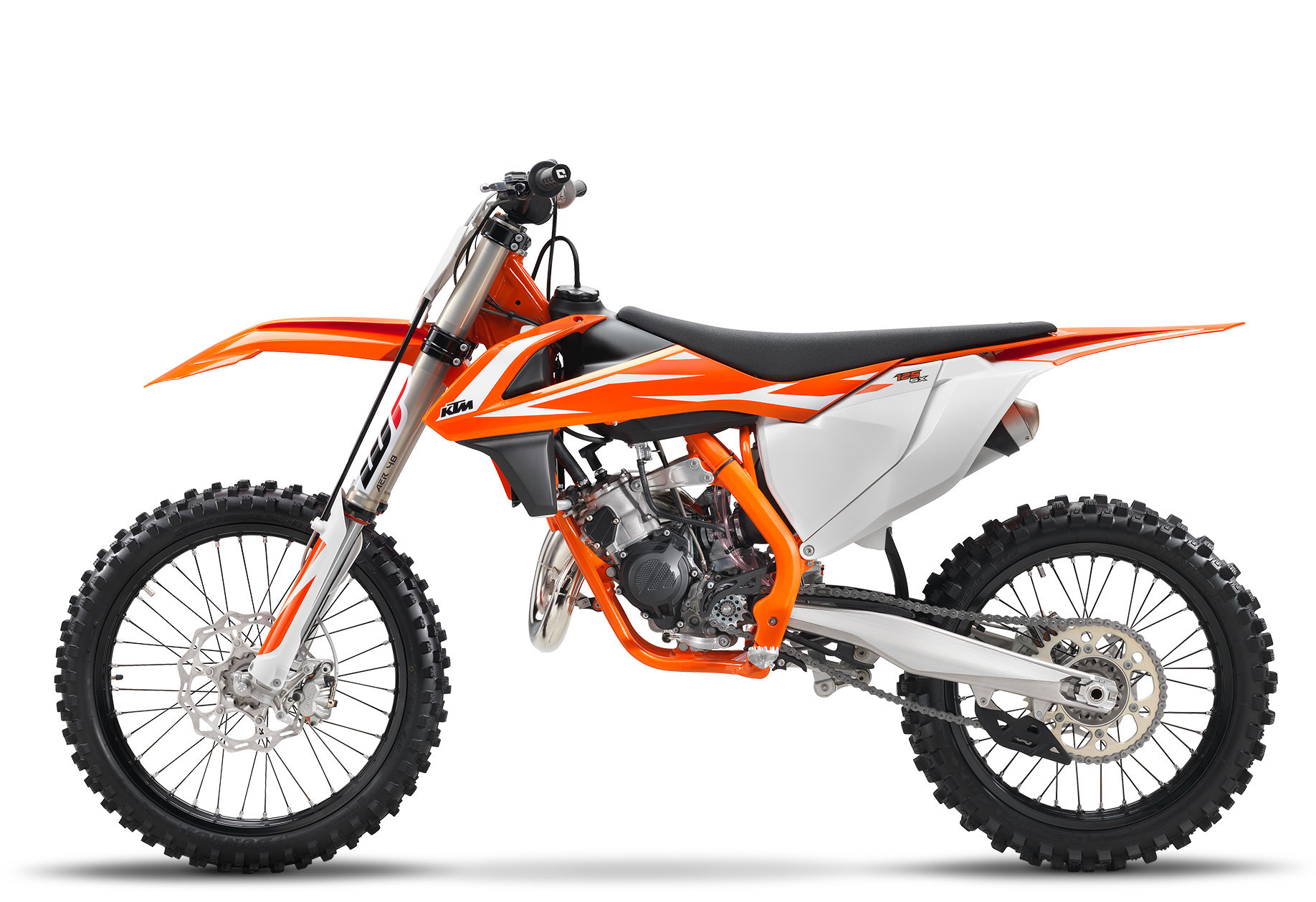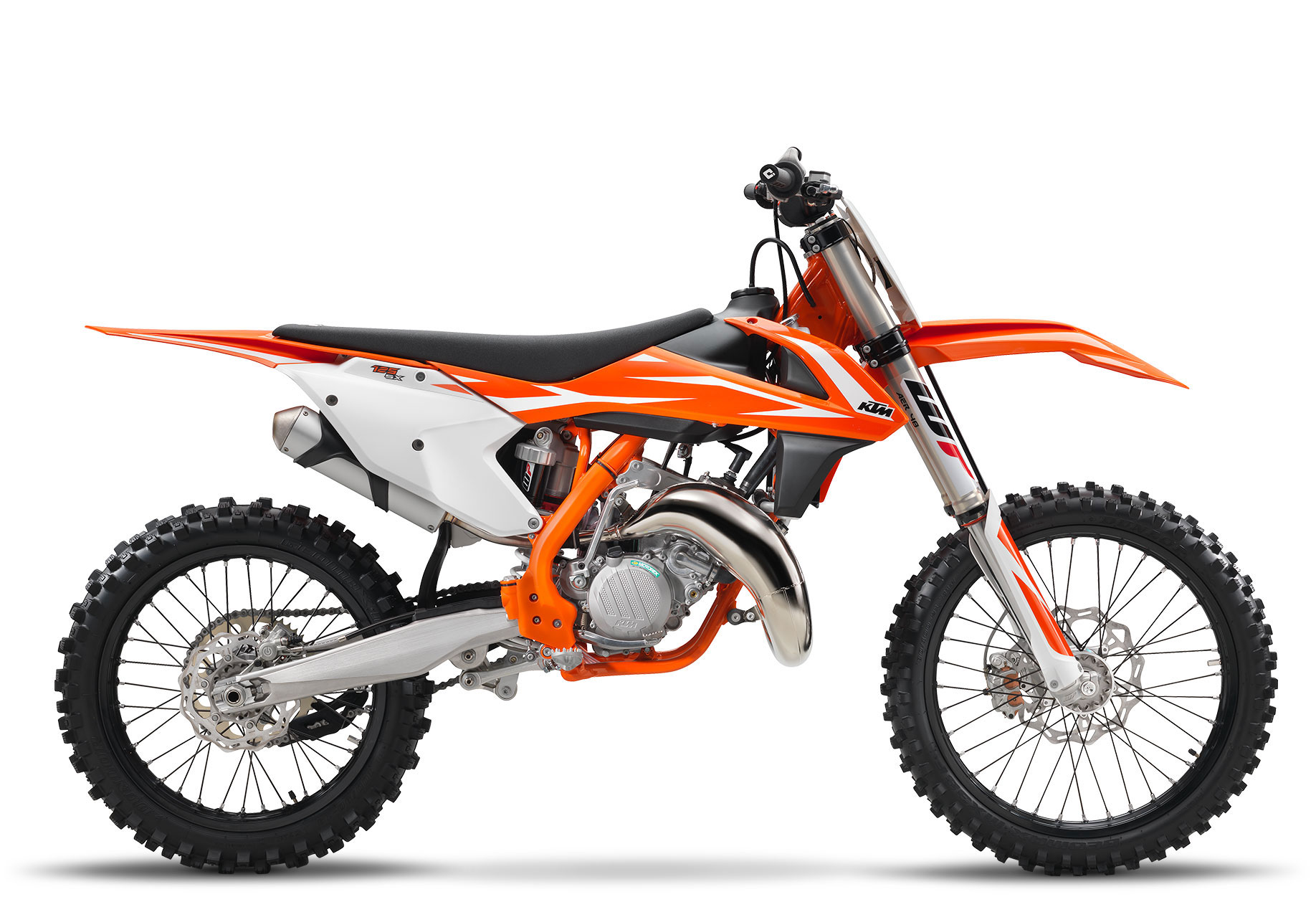 KICK START YOUR RACING CAREER.
The whip cracking KTM 125 SX has been at the front for years. With phenomenal performance on tap, it will be there for many more seasons to come. A compact chassis and the lowest weight out there is teamed up with a high performance 125cc 2-stroke engine for a surefire trophy collection. Get shredding, youngsters.
2018 KTM 125 SX Totalmotorcycle.com Key Features
With its 2-stroke and 4-stroke machines, from the KTM 50 SX to the KTM 450 SX-F ultimate powerhouse, KTM offers high quality serial equipment in all of its motocross range. As developed for its factory racing teams, which have won numerous races and championships, including last year's AMA 450 Supercross title with Ryan Dungey, as well as the FIM MX2 World Championship with Jeffrey Herlings, these KTM serial machines are renowned for being READY TO RACE right out of the crate.
For model year 2018 KTM introduces a brand new KTM 85 SX for junior riders that are cutting their teeth in the schoolboy ranks. With the serious competitor in mind, this machine has a new engine that is 0.69 kg lighter than the previous model, with improved power and rideability throughout the complete RPM range. In addition, the KTM 85 SX receives a lighter chassis with a revised chromium molybdenum steel frame as crafted by WP Performance Systems, as well as a lighter subframe. This READY TO RACE Mini, which joins the KTM 50 SX and KTM 65 SX in KTM's line-up of premium junior equipment, is fitted with high-quality Formula brakes, WP AER 43 forks and a specifically developed WP Xplor progressive damping system (PDS) shock absorber, which provides excellent sensitivity and outstanding bottoming resistance with full adjustability.
In the adult range the KTM 125 SX and KTM 150 SX now feature new aluminum head stays, as well as a new CDI control unit for improved starting behaviors. As with all of KTM serial equipment, the 4-stroke range, including the KTM 250 SX-F, KTM 350 SX-F and KTM 450 SX-F, boasts high-quality, class-leading components from the all-important E-starter, to the WP suspension, traction control and map selection, and much more to compliment the super lightweight, yet powerful championship winning engines.
In addition, the complete model year 2018 SX range including both 2-stroke and 4-stroke machines feature revised suspension settings in the WP AER 48 forks, along with a factory-looking orange frame plus, brand new graphics to finish the look.
2018 KTM 125 SX Totalmotorcycle.com Features and Benefits
SMALL BORE, BIG POWER
ENGINE
The latest KTM 125 SX engine is the most powerful and most competitive engine in its class; a clear statement that KTM is keen on keeping 2-stroke technology at the forefront of development. The secret to their success is an outstanding power-to-weight ratio, low costs and simplicity. This 125cc ripper has been developed with the latest KTM engineering know-how and the most advanced technology available. The results: class-leading power across the rev range, while being extremely compact and ultra-light at a mere 17.2kg. Our work here is done; now it's up to you to collect the trophies.
CYLINDER
This compact cylinder with a 54mm bore features a cutting-edge power valve unit with a sophisticated mechanism for the lateral support exhaust ports. Matched to a twin-component cylinder head, it is KTM's secret to all-round grunt. The layout of the water jackets in the cylinder and head guarantees efficient heat dissipation when the going gets tough.
CRANKCASES
The KTM engineers designed lightweight die-cast crankcases featuring a high crankshaft position located close to the center of gravity, which results in optimal mass centralization and outstanding rideability.
CRANKSHAFT
This reliable piece of engineering has been skillfully balanced to guarantee minimal vibration. In its latest form, it allows an increase of the displacement to 144cc just by replacing cylinder, piston and head. There's no more need to change the crankshaft. Two-in-one in no time
TRANSMISSION
A robust 6-speed transmission was designed specifically for the small 2-stroke engine, its gear ratios perfectly in sync with the 125's power band. A reworked 3rd, 4th and 5th gear further improve reliability. The latest production technologies allowed for compact dimensions and minimal weight. Keeping safety in mind, an advanced ´No Dirt´ gear shift lever design prevents dirt from blocking the joint.
CARBURETOR
The KTM 125 SX is fitted with a MIKUNI TMX carburetor. This 38mm flat slide carb lives to provide smooth and controllable power all the way up to the rev limitation. With a new intake manifold the carburetor is turned 7° in order to reduce the overflow of fuel. And it's less sensitive to different altitudes and temperatures, so you can pin it wherever, whenever.
EXHAUST
The engineers meticulously tuned the resonator chamber for maximum torque and power, so this little screamer is as tough as it is strong.
Ignition
All 2-stroke models feature a new CDI control unit with an advanced hardware which improves the starting behavior of the engine. The ignition curves remain unchanged.
SLEEK & SLICK
Weight
KTM engineers just love dropping weight year after year. The result: the 2018 KTM SX models are the slimmest, lightest dirt bikes out there.
FRAME
The high-tech, lightweight chrome-moly steel frame has a knack for easy handling, outlandish rideability, precise cornering and excellent stability. You can also count on high torsional rigidity and low longitudinal stiffness. This results in better absorption of the energy created from the front and rear suspension, sucking up jumps and bumps. In short: more comfort and less rider fatigue. Laterally attached, engine head stays (the connection between cylinder head and frame) are now made of lightweight aluminum. They contribute to more precise cornering and a reduced vibration level. The engineers were able to pull off all that, while making their frame a big fat kilogram lighter than that of the lightest competitor on the market. In addition, it is easier to maintain, easier to work on and supplies more space for the tank and other components. The bike also features an extra-light subframe made of stable aluminum profiles, which tiptoes the scales at less than 900g.
FOOTPEGS
Sophisticated ´No Dirt´ footpegs prevent clogging of the footpeg pivot, even when digging in deep ruts. Looking for a higher riding position? Then just mount the footpegs of the MY18 KTM EXC models, which are 6mm higher than the SX versions.
AIR FILTER BOX
The air filter box design offers maximum protection of the air filter against soiling, while ensuring maximum airflow. The large Twin Air filter is mounted in a stiff cage, which at the same time holds the system in place. This design is so simple, you could still pop a fresh one in with a face full of mud. Without tools. In seconds.
HANDLEBAR
KTM engineers sure know how to handle handlebars. This tapered one, made of high-strength aluminum, is fixed in damped rubber mounts and has two different positions.. ODI lock-on grips make grip changes easy and do not require any wire or glue to be secured.
SWINGARM
The cast aluminum design offers low weight and a perfect flex behavior. The single-component casting process eliminates any inconsistencies and inherent weak points created by welding. It's better looking too.
FUEL TANK
A lightweight polyethylene tank with a capacity of 7.0 liters of juice. The filler cap has an inside thread, which makes for easy and reliable closure.
WHEELS
Featuring lightweight, CNC machined hubs and high-end Excel rims, they guarantee maximum stability and minimal unsprung weight. The wheels are shod with the latest Dunlop Geomax MX 3S tires.
COOLING SYSTEM
KTM's proven cooling system routes the coolant from the cylinder head through the frame triangle, directly to aluminum radiators made by WP. Thanks to flow optimized internal circulation and CFD-calculated ventilation, the system is superbly efficient. In addition, new radiator protections improve heat dissipation. Especially in the mud. They are also integrated into the front part of the shrouds to protect the radiators in a crash.
LOOKS THAT MATTER
BODYWORK
KTM R&D, KISKA Design and all our factory riders had their say in shaping the plastics with one goal: complete harmony between rider and bike. Perfect ergonomics and contact points provide maximum comfort in movement on the SX. The I-beam structures of the front and rear fenders guarantee maximum stability and a low weight thanks to well thought-out construction and mounting. They also stay cleaner for longer.
GRAPHICS
A new, tailor-made kit and a Factory orange frame. Because in this sport, champs deserve to look the part regardless of the dirt.
YOU CAN HANDLE IT
Shock absorber
The WP shock absorber has been developed with the entire frame and swingarm architecture in mind, including the linkage and the WP AER 48 front fork. It features machined and black anodized components and is a valuable, high-end product compared to roughcast reservoirs. A new, confidence inspiring setting with improved damping characteristics perfectly matches the front-end setup and its sparkling WP color scheme lets everyone know you have excellent taste in suspension.
FORK
The lightweight WP AER 48 front fork, a 48mm USD air-sprung fork developed by WP in close collaboration with KTM, is a split fork with separate functions for each leg. That means damping functions are on the right side, whereas the air spring is in the left. This left leg features a 2-chamber system with a capsuled air cartridge to prevent loss of air pressure. Should the outer seal start to leak, the internal cartridge pressure will keep the bike in position. The air spring is easy to adjust to any rider weight via a single air valve. No special tools are required; the fork air pump supplied with the bike will do just fine. The right fork leg integrates a damping cartridge that tailors to all your damping needs. It can be adjusted to the track conditions and the rider's preferences with a twist of a dial (compression from the top, rebound from the bottom, 30 clicks each). Right off the dealer floor, this fork (with reworked damping characteristics) is more comfortable and more sensitive than ever. But you can still hammer the hell out of it.
TRIPLE CLAMP
Top quality, CNC machined triple clamps have been a KTM trademark for years to ensure precise handling. The rubber damped handlebar fixation allows for two positions and an hourmeter is fitted in order to let the rider know it's time for a service.
BRAKES
These high-tech Brembo babies are combined with lightweight Wave brake discs. You couldn't brake any harder, better, faster or stronger. .
2018 KTM 125 SX – Totalmotorcycle.com North American (USA, Canada) Specifications/Technical Details
US MSRP Price: $ See Dealer for Pricing in USD
Canada MSRP Price: $ See Dealer for Pricing in  CDN
Engine
Design
1-cylinder, 2-stroke engine
Displacement
124.8 cm³
Bore
54 mm
Stroke
54.5 mm
Starter
Kickstarter
Transmission
6-speed
Primary drive
23:73
Secondary gear ratio
13:50
Clutch
wet multi-disc clutch, Brembo hydraulics
EMS
Kokusan
Chassis
Frame design
25CrMo4 steel central-tube frame
Front suspension
WP-USD, AER 48, Ø 48 mm
Rear suspension
WP shock absorber with linkage
Suspension travel (front)
12.2 inch
Front brake
Disc brake
Rear brake
Disc brake
Front brake disc diameter
260 mm
Rear brake disc diameter
220 mm
Chain
5/8 x 1/4″
Steering head angle
63.9 °
Seat height
37.8 inch
Weight READY TO RACE (without fuel)
192.24 lb.
Suspension travel (rear)
11.81 inch
Tank capacity (approx.)
1.85 US gal
2018 KTM 125 SX – Totalmotorcycle.com European Specifications/Technical Details
Europe/UK MSRP Price: £6099 GBP (On The Road inc 20% Vat)
Engine
Design
1-cylinder, 2-stroke engine
Displacement
124.8 cm³
Bore
54 mm
Stroke
54.5 mm
Starter
Kickstarter
Transmission
6-speed
Primary drive
23:73
Secondary gear ratio
13:50
Clutch
wet multi-disc clutch, Brembo hydraulics
EMS
Kokusan
Chassis
Frame design
25CrMo4 steel central-tube frame
Front suspension
WP-USD, AER 48, Ø 48 mm
Rear suspension
WP shock absorber with linkage
Suspension travel (front)
310 mm
Suspension travel (rear)
300 mm
Front brake
Disc brake
Rear brake
Disc brake
Front brake disc diameter
260 mm
Rear brake disc diameter
220 mm
Chain
5/8 x 1/4″
Steering head angle
63.9 °
Wheelbase
1485 ± 10 mm
Ground clearance
375 mm
Seat height
960 mm
Tank capacity (approx.)
7 l
Weight READY TO RACE (without fuel)
87.2 kg
Manufacturer Specifications and appearance are subject to change without prior notice on Total Motorcycle (TMW).