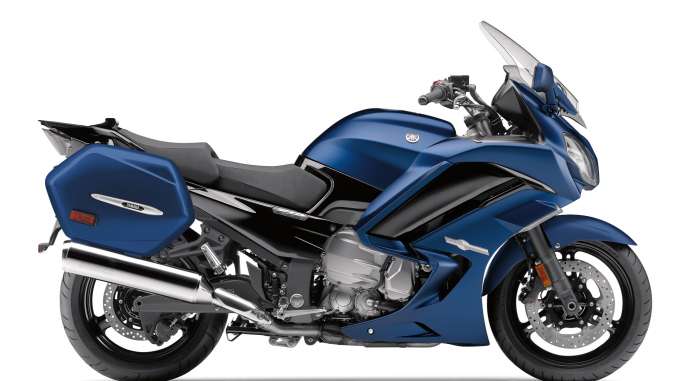 SPORT TOURING IN STYLE.
The FJR1300A offers Yamaha leading-edge technology providing you long distance touring capability with class-leading performance and comfort.
The FJR1300A has an outstanding reputation for performance and reliability in the sport touring class.
The FJR1300A sports a 6‑speed transmission, advanced YCC‑T engine control, LED lighting and a range of adjustable comforts benefiting rider and passenger.
Over the past decade this supremely capable motorcycle has given thousands of owners the opportunity to experience supersport-level performance with outstanding comfort.
Everything about this Sport Touring model is designed to cover significant distances in record time. With its 6-speed transmission and A&S clutch, the 1,298 cc 4-cylinder engine delivers forceful acceleration and outstanding high speed cruising performance at the twist of your wrist.
Featuring a 25-litre fuel tank and aerodynamic fairing with electronically adjustable screen – as well as cruise control and adjustable riding position – the latest FJR1300A gets you there like nothing else.
///Power
1298cc, DOHC, 16-valve, liquid-cooled inline-four engine delivers serious power and torque. 6-speed transmission combines with the cruise control system for effortless cruising. Red line is a low 9,000 rpm for an incredible reliability record.
///Instrumentation
Comprehensive and customizable instrument allows the rider to switch between kilometers & miles per hour and pre-set heated grips among many other features.
///Storage
Quick-release luggage mounts mean fast removal of the 30 litre colour matched hard saddlebags. Small item storage compartment is located in the upper left side of the fairing. Inside this compartment is a 12 volt 30 watt DC power outlet for added convenience.
Putting the "Sport" in Supersport Touring
The FJR1300A features a compact and lightweight, 1298cc, DOHC, 16 valve, liquid-cooled inline four-cylinder engine that delivers superb power and torque for unequaled muscular acceleration across the RPM range.
Six-Speed Transmission
The FJR1300A features a compact six-speed transmission, with ratios providing evenly spaced gearing for sporty riding with a tall 6th gear for relaxed highway riding. Additionally, the transmission gears are designed to offer smooth, quiet running ideal for long distance riding.
Advanced YCC-T Engine Control and Rider Aids
Yamaha's exclusive Chip Controlled Throttle (YCC-T) is a ride-by-wire system that provides crisp, seamless throttle response. YCC-T also allows for other advanced systems that are ideal for Supersport Touring such as traction control, cruise control and D-Mode adjustable engine mapping.
LED Lighting System
Using an all-LED headlight system and LED tail light design, the FJR1300A features stylish, supersport-inspired bodywork with integrated airflow management that keeps the rider comfortable when weather conditions vary.
Adjustability for Rider and Passenger Comfort
A range of features make the FJR1300A the ideal travel companion, including adjustable ergonomics, a push-button adjustable windscreen, a plush seat designed for rider and passenger, integrated hard luggage and a large 6.6 gallon fuel tank.
2018 Yamaha FJR1300A Totalmotorcycle.com Features and Benefits
///ENGINE
• 1298cc, DOHC, 16-valve (4/cyl), liquid-cooled inline-four engine delivers serious power & torque
•plenty of torque over a wide RPM range … 14.1kg-m (102 ft-lb) @ 7,000 rpm
•low 9,000 rpm red line for incredible reliability & service life (ask somebody who owns one !)
•engine meets or exceeds Europe's EU-4 emission regulations
• 4-valve cylinder head design.
•compact combustion chambers with 10.8 compression ratio
•30mm intake & 26mm exhaust valves
•exhaust valves feature carburized tips for durability (carburizing is a heat treating process that improves strength & durability)
• 4-valve design optimizes breathing efficiency & overall engine performance
•valve adjustment interval is 42,000 kms
• One-piece cylinder & upper crankcase assembly.
•excellent engine rigidity (engine is a stressed member of the chassis)
•lighter & more rigid than two-piece designs
•High lift intake & exhaust cams.
•side-driven double-overhead camshafts
•outstanding low to mid rpm torque & horsepower
•effortless sport touring with great passing power
• "Liner-less" ceramic composite plated cylinder bores.
•ceramic coating sprayed directly on the aluminum block
•eliminates the heavy liners & reduces weight
•excellent heat dissipation for consistent power delivery
•coating enhances the thin film of oil between the cylinders & pistons, reducing friction & increasing power
• High performance, short skirt, forged aluminum pistons.
•light weight for fast throttle response
•reduced reciprocating mass lessens mechanical vibration
•Low- vibration crankshaft.
•carburized connecting rods for excellent strength & durability
• Dual axis gear-driven secondary counter balancer.
•reduces engine vibration for enhanced rider & passenger comfort
• Automatic cam chain tensioner.
•reduces both maintenance & engine mechanical noise
•Maintenance-free transistor controlled ignition (TCI).
•produces a strong spark for fast starts
•provides precise ignition timing / mapping for optimum engine performance at all rpms
•High performance direct ignition coils.
•ignition coil is built directly into the spark plug cap
•significant weight reduction
•Yamaha Chip Control Throttle (YCC-T).
•YCC-T electronically controls throttle valves for outstanding throttle response & controllability
•YCC-T system provides precise control of intake air volume for a smoother torque curve
•ECU that controls YCC-T is capable of responding to changes at a speed of 1000th of a second
• Yamaha D-Mode variable throttle control … 2 modes available.
•works in conjunction with the YCC-T system
•enables the rider to adjust the performance characteristics of the engine based on riding preferences or riding conditions
•S-Mode allows the rider to enjoy full engine performance & power
•T-Mode slows throttle response for situations that require softer power characteristics, such as slippery or wet conditions
•"T-Mode" is well suited for more relaxed touring & reduces fuel consumption
• Traction control system
•works in conjunction with the YCC-T system
•utilizes front & rear wheel sensors (same sensors as ABS system)
•system senses when the rear wheel begins to spin & modifies the YCC-T function, ignition timing & fuel injection to reduce power and eliminate wheel spin
•traction control helps maintain traction when accelerating on slippery surfaces
•system is automatically engaged when the ignition is on … can be turned off if desired
•Electronic cruise control system.
•also part of the YCC-T family of functions
• "settable range" is from 50 to 160 km/hr & transmission must be in 3rd gear or higher
•cruise control can be cancelled by activating front or rear brakes, pulling in the clutch, completely closing the throttle grip or using the activation button
•control buttons are located on the L.H.S. handlebar switch gear
• Closed loop Mikuni, 42mm, throttle body fuel injection system.
•crisp, seamless throttle response regardless of weather or altitude
•system uses throttle position sensor (TPS)
•4-hole Denso injectors
•"closed loop system" uses a heated oxygen sensor to "sniff" spent exhaust & automatically adjust the fuel / air ratio for reduced emissions
•heated oxygen sensor provides precise fuel – air ratio information, especially at lower engine temperatures
•fuel injection benefits include choke-free starting, steady idling during warm up, excellent fuel economy & reduced emissions
• Viscous paper-type air filter.
• Compact engine uses a stacked "Tri-Axis" design.
•stacked design reduces engine length & centralizes mass
•design allows the engineers to place the engine in the "sweet spot" of the frame
•optimized front & rear weight distribution for excellent handling characteristics
•6-speed transmission
•overdrive 6th gear provides more relaxed, higher speed cruising … engine rpm is reduced in top gear
•transmission features helical gears & separate gear dog design for smooth, quiet operation
•gear ratios optimize the FJR's wide spread of power
•Special "scissors-type" primary driven gear.
•reduces drive train backlash
•reduces transmission noise
• Hydraulic clutch with slipper & assist functions.
•slipper clutch function reduces the negative effects of engine braking on handling & suspension
•assist function reduces clutch lever effort by up to 20%
•hydraulic design provides smoother operation & requires less maintenance
• Clean, quiet shaft drive.
•shaft drive system is super-durable & low maintenance
•system features mechanical cam dampers in the drive pinion for quieter, smoother power delivery to the rear wheel.
• Curved radiator uses twin "ring-type" cooling fans.
•excellent heat dissipation … curved rad offers more cooling surface than a flat rad
•special air management moves hot air out of the cockpit area to reduce heat to the rider
•ring type fans "pull" more air than a conventional type fan
• Easy-access spin-on oil filter & drain plug make oil changes fast & easy.
•4-into-1-into-2 stainless steel exhaust with new catalyzers.
•optimizes engine performance across the power band
•new dual, three-way catalytic converters reduce emissions
•the FJR1300 meets or exceeds EU-4 emission standards
•Excessive lean angle cut-out switch prevents the engine running in the event of a tip over.
///CHASSIS
•Aluminum twin spar, diamond-type frame.
•frame design offers an excellent rigidity balance for optimum handling & loading
•engine is a stressed chassis member allowing for the use of a lighter main frame design
•perfect combination for sharp, accurate handling & great stability
• Fully detachable aluminum rear sub frame
•reduces cost in the event of damage
•easier rear shock access
• Lightweight, cast aluminum swingarm.
•swingarm incorporates the shaft drive into its left side to reduce unsprung weight
•reduced unsprung weight helps to optimize suspension & handling performance
•Key chassis geometry figures include:
•caster angle = 26 degrees / trail = 109mm
•front – rear weight distribution is 51.9% front & 48.1% rear
• Fully adjustable, 48mm, conventional style forks offer 135mm (5.4″) of wheel travel.
•adjustments include 15 mm of spring preload, 21-way compression & 16-way rebound damping
•incredible suspension performance with excellent "feedback"
•allows the rider to "tune" suspension to match riding style, rider weight, load & road conditions
•Adjustable link Monocross rear suspension with 125mm (4.8″) of wheel travel.
•features a handy, two-stage (soft / hard) spring preload adjustment lever that allows the rider to switch between solo & two-up preload settings
•shock adjustments include: 20-way rebound damping
•Dual 320mm front discs squeezed by Nissin 4-piston calipers … with ABS & UBS.
•excellent barking performance with good feedback to the rider
•282mm rear disc brake with single piston caliper … with ABS & UBS.
•caliper is mounted on the underside of the swingarm to reduce torque action for superior suspension performance
•Front & rear brakes feature Yamaha's latest anti-lock brake (ABS) & variable unified brake (UBS) technology.
•ABS braking offers excellent control under hard braking or braking on wet or slippery surfaces
•controlling ECU & hydraulic unit are combined into a single compact unit allowing for mass centralization & reduced weight
•when ABS system senses impending wheel lock-up (via active type wheel sensors) it regulates the hydraulic brake pressure to the point just before the wheel(s) lock-up
•UBS system "unifies or links" the front & rear brakes when brakes are applied
•applying the front brake will engage the UBS and to a varying degree will apply some rear brake force
•applying rear brake will activate rear brake and to a varying degree will apply some front brake force
•linked brakes may improve stopping power by accurately balancing front & rear brake pressures according to natural weight transfer
• Lightweight cast-aluminum 3-spoke wheels.
•lightweight design reduces unsprung weight for excellent suspension & handling performance
•rims sizes: front = MT3.50×17 (120/70ZR17) & MT5.50×17 (180/55ZR17)
•premium sport touring tires
•Adjustable handlebars offer three positions of adjustability.
•from centre position, the bars can be adjusted 5.5 mm forward or 5.5mm back
•total adjustment range is 11mm (0.4″) … tools required
•Adjustable rider seat height.
•long distance designed separate rider & passenger seats
•quick adjust rider seat with height adjustment range of 20mm (0.8″)
•seat adjustment takes mere seconds & requires no tools
•Stylish single piece upper fairing.
•provides great aerodynamics for reduced drag
•excellent wind & weather protection
•air flow management has been optimized for superior rider comfort
•Small item storage compartment (in fairing) with 12V / 30W DC power outlet
•1 litre capacity is perfect for small items such as cell phone, wallet, garage door opener, etc.
•storage compartment lid can only be opened when the ignition is on
•inside the storage compartment is a 12 volt, 30 watt DC power outlet
•Push button operated electrically adjustable windscreen.
•windshield design reduces the "vacuum effect" (negative pressure) in the cockpit area
•adjustment range is 130mm (5.1″)
•windshield features a memory & will hold its last position when the key is turned off
•"Twin-eye" LED headlights.
•lightweight, compact, long life LEDs
•each headlight contains both low & high beam LEDs
•provides excellent illumination & visibility
•LED position lights on left & right sides of main headlights
•easy access headlight adjusters to compensate for varying loads
•Middle cowl with adjustable air flow vents.
•no tools required adjustable side cowl vents
•adjustment range is 20mm (0.8″)
•allows more or less air flow into the rider's hip & leg area
•LED rear taillight assembly.
•LED turn signals are integrated into taillight
•eye catching & unique tail light, brake light & turn signal displays … all LED
•Quick-release, locking, colour matched, 30 litre side bags.
•fast & easy removal of the 30 litre, colour matched bags … no tools required
•FJR1300 has been designed to look great with or without the saddlebags installed
•Ergonomically shaped, large-capacity 25-litre fuel tank
•offers an excellent riding range
•steel construction allows use of magnetic tank bags
•reserve portion is 5 litres (low fuel light illuminates)
•Multi-function instrument / meter assembly.
•left side of meter is an analog tach (electric) with revised face
•middle section features an LCD digital speedo, fuel gauge, D-Mode indicator, clock & ECO mode indicator (ECO indicator … indicates if the bike is being ridden in a fuel efficient manner)
•right side is a digital DOT matrix display including odometer, dual tripmeters, outside air temp, coolant temp, instant & average fuel consumption, estimated travel range (based on remaining fuel), time trip & low fuel tripmeter
•other DOT matrix display functions include grip heater status & gear position indicator
•full range of warning & indicator lights including cruise & traction control status
•speedo can be changed to display either kilometers or miles per hour
• Immobilizer ignition system.
•reduces the possibility of "ride away" theft
•system must recognize the "coded ignition key" in order for the unit to start
•if the immobilizer ignition does not recognize the key (or a thief's screwdriver or other type of "jimmy tool") the bike will not start even if the ignition is forced into the on position
•if the system does not recognize the coded chip in the ignition key, it will not allow the ignition system, fuel pump or starter motor to function.
///ADDITIONAL FEATURES
• FJR features convenient "one-key" system to operate all keyed devices on the bike including the main ignition, steering lock, saddlebags & optional top case locks.
•integrated cargo platform above the tail section doubles as a mount for optional top box
•variable heated grips … 10 levels of heat adjustment
•5-position adjustable front brake & clutch levers
•separate rider & passenger footrests reduce vibration & weight
•folding mirrors
• under seat storage area can hold a small U-lock
•centre stand
• easy access YDT (Yamaha Diagnostic Tool) connector
• low-maintenance sealed battery (battery should be charged during winter storage)
The FJR1300 offers a significant level of power and performance. It is not intended for novice or inexperienced riders.
2018 Yamaha FJR1300A – Totalmotorcycle.com USA Specifications/Technical Details
US MSRP Price: $16,399 USD
Engine Type 1298cc liquid-cooled DOHC inline 4-cylinder; 16
valves
Bore x Stroke 79.0mm x 66.2mm
Compression Ratio 10.8:1
Fuel Delivery Fuel injection with YCC-T
Ignition TCI: Transistor Controlled Ignition
Transmission 6-speed; multiplate assist-and-slipper wet clutch
Final Drive Shaft
Suspension / Front 48mm fork, fully adjustable; 5.3-in travel
Suspension / Rear Single shock, adjustable spring preload and
rebound damping; 4.9-in travel
Brakes / Front Dual 320mm discs; Unified Brake System and
ABS
Brakes / Rear 282mm disc; Unified Brake System and ABS
Tires / Front 120/70ZR17
Tires / Rear 180/55ZR17
L x W x H 87.8 in x 29.5 in x 52.2 – 57.3 in
Seat Height 31.7 or 32.5 in
Wheelbase 60.8 in
Rake (Castor Angle) 26.0°
Trail 4.3 in
Maximum Ground
Clearance
5.1 in
Fuel Capacity 6.6 gal
Fuel Economy 36 mpg
Wet Weight 635 lbs (CA model 637 lbs)
Warranty 1 Year (Limited Factory Warranty)
Color Matte Phantom Blue
2018 Yamaha FJR1300A – Totalmotorcycle.com Canadian Specifications/Technical Details
Canada MSRP Price: $18,499 CDN
///Engine
Engine
Liquid cooled, DOHC, 16 valve (4 valves/cyl), in-line four
Displacement
1298cc
Bore and Stroke
79 x 66.2mm
Compression Ratio
10.8:1
Maximum Torque
14.1kg-m (102 ft-lb) @ 7,000 rpm
Engine Management
YCC-T, D-Mode, Traction Control, Cruise Control
Fuel Delivery
Mikuni 42mm throttle body F.I.
Estimated Fuel Consumption±
15.2kpl / 42.9mpg (Imp.)
Ignition / Starting
TCI / Electric
Transmission
6-speed
Final Drive
Shaft
///Chassis
Suspension (Front)
Fully adjustable 48mm fork / 135mm (5.4″) wheel travel
Suspension (Rear)
Adjustable link Monocross / 125mm (4.8″) wheel travel
Brakes (Front)
Dual 320mm discs / 4-piston calipers / ABS equipped & unified
Brakes (Rear)
282mm disc / single piston caliper / ABS equipped & unified
Tires (Front)
120/70ZR17
Tires (Rear)
180/55ZR17
///Critical Data
Length
2,230mm (87.8 ")
Width
750mm (29.5″)
Height
1,325mm (52.2″) to 1,455mm (57.3)
Wheelbase
1,545mm (60.8″)
Rake / Trail
26° / 109mm (4.3″)
Ground Clearance
130mm (5.1″)
Seat Height
805mm (31.7″) or 825mm (32.5")
Fuel Capacity
25 litres (5.5 imp.gal.)
Wet Weight
288 kg (635 lb)
Colour(s)
Matte Dark Purplish Metallic Blue
2018 Yamaha FJR1300A – Totalmotorcycle.com European Specifications/Technical Details
Europe/UK MSRP Price: £ See Dealer for pricing in GBP (On The Road inc 20% Vat)
Engine type
4-stroke, liquid-cooled, forward-inclined parallel 4-cylinder, DOHC, 4-valves
Displacement
1,298cc
Bore x stroke
79.0 mm x 66.2 mm
Compression ratio
10.8 : 1
Maximum power
107.5 kW (146.2PS) @ 8,000 rpm
Maximum torque
138.0 Nm (14.1 kg-m) @ 7,000 rpm
Lubrication system
Wet sump
Clutch type
Wet, multiple-disc coil spring
Fuel system
Fuel Injection
Ignition system
TCI
Starter system
Electric
Transmission system
Constant Mesh, 6-speed
Final transmission
Shaft
Fuel consumption
6.2 l/100km
CO2 emission
140 g/km
Chassis
Frame
Aluminium, Diamond Shaped
Front suspension system
Telescopic forks, Ø 48 mm
Front travel
135 mm
Caster angle
26º
Trail
109 mm
Rear suspension system
Swingarm, (Link type suspension)
Rear travel
125 mm
Front brake
Hydraulic dual disc, Ø 320 mm
Rear brake
Hydraulic single disc, Ø 282 mm
Front tyre
120/70 ZR17M/C (58W)
Rear tyre
180/55 ZR17M/C (73W)
Dimensions
Overall length
2,230 mm
Overall width
750 mm
Overall height
1,325/1,455 mm
Seat height
805/825 mm
Wheel base
1,545 mm
Minimum ground clearance
130 mm
Wet weight (including full oil and fuel tank)
289 kg
Fuel tank capacity
25 litres
Oil tank capacity
4.9 litres
Manufacturer Specifications and appearance are subject to change without prior notice on Total Motorcycle (TMW).