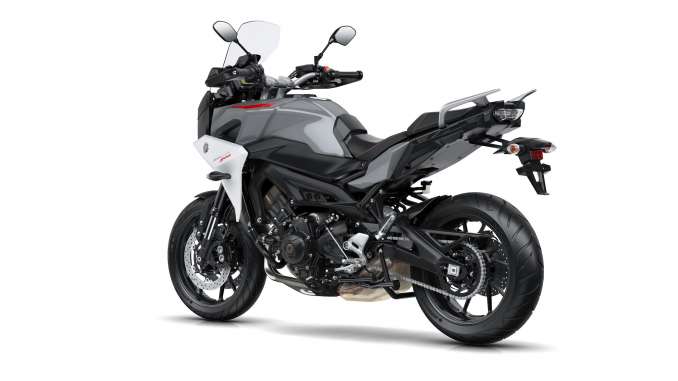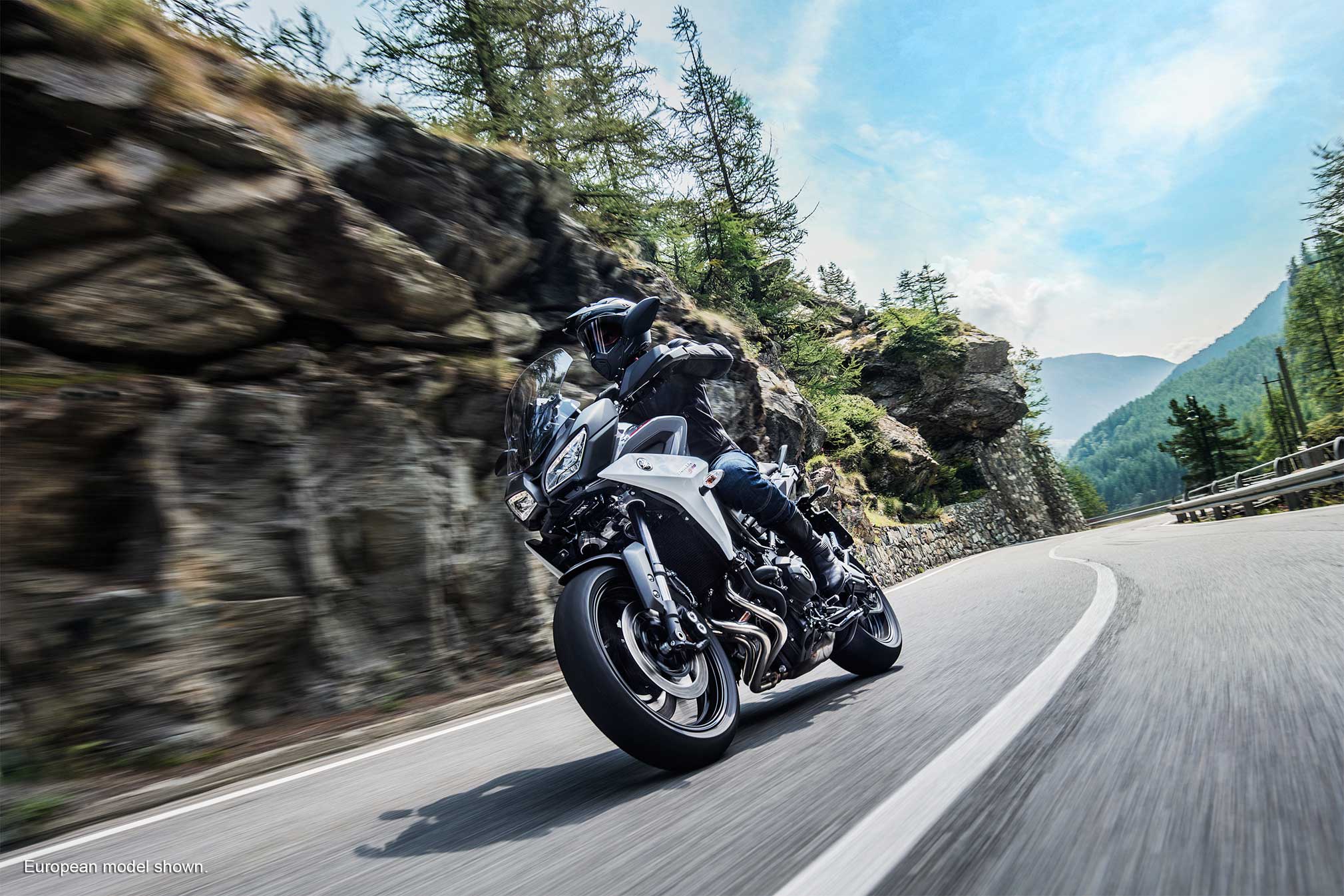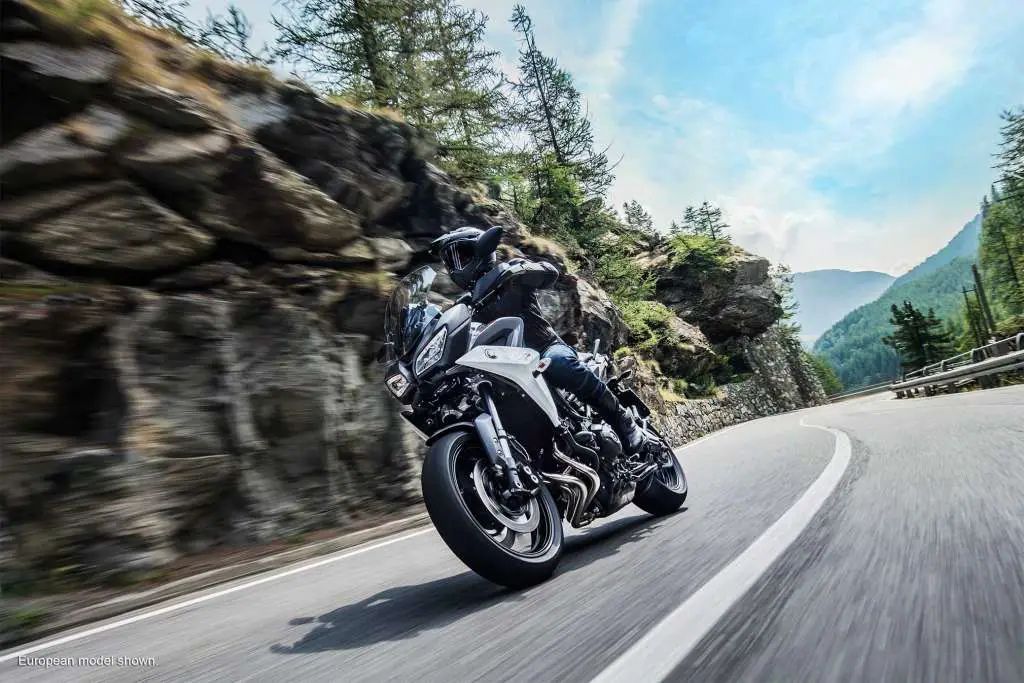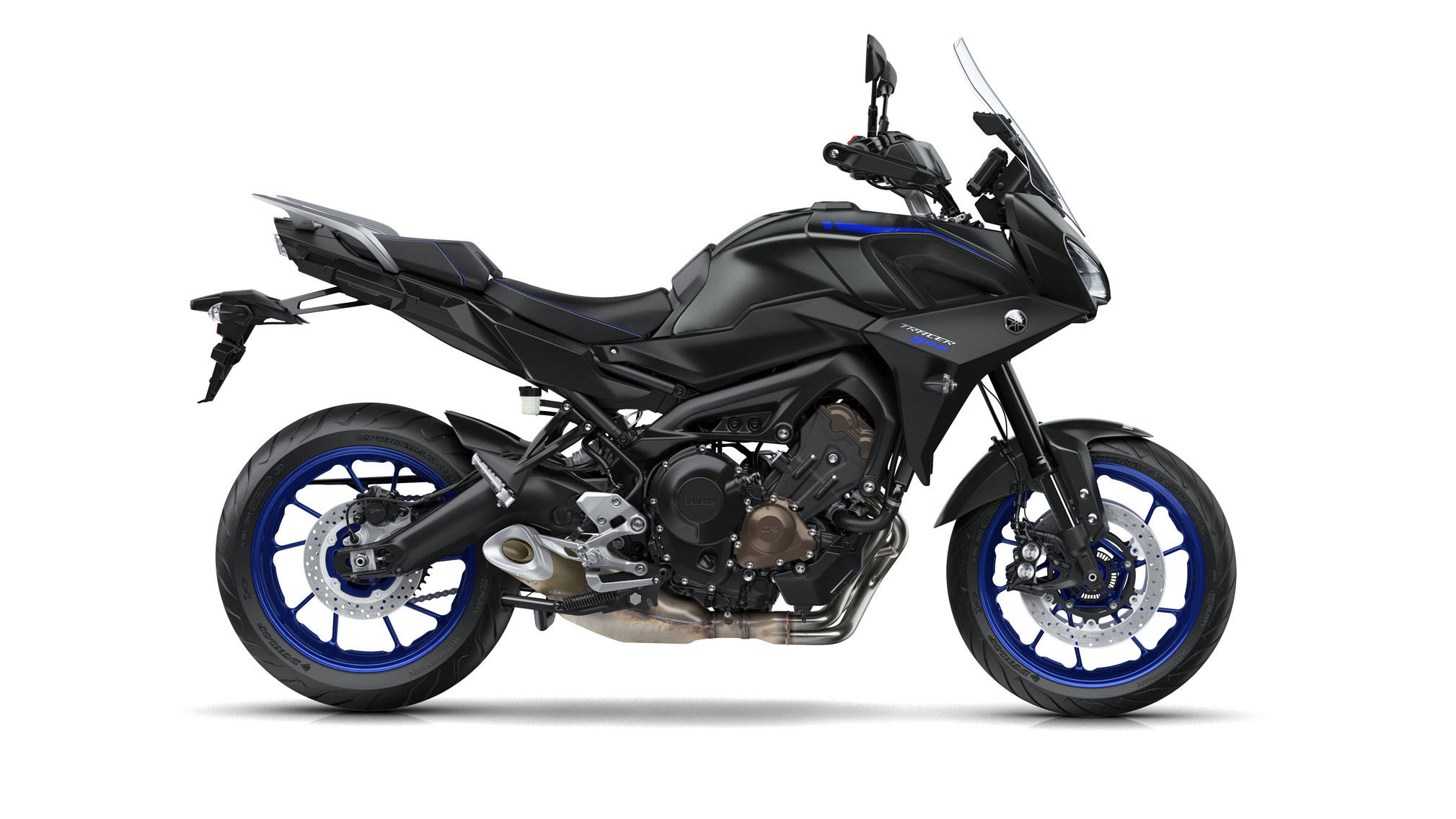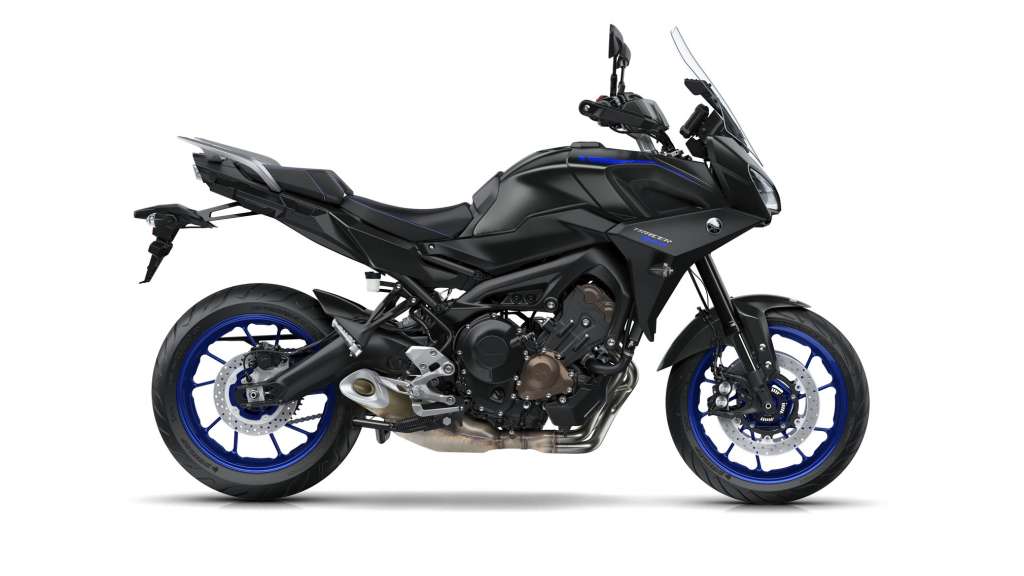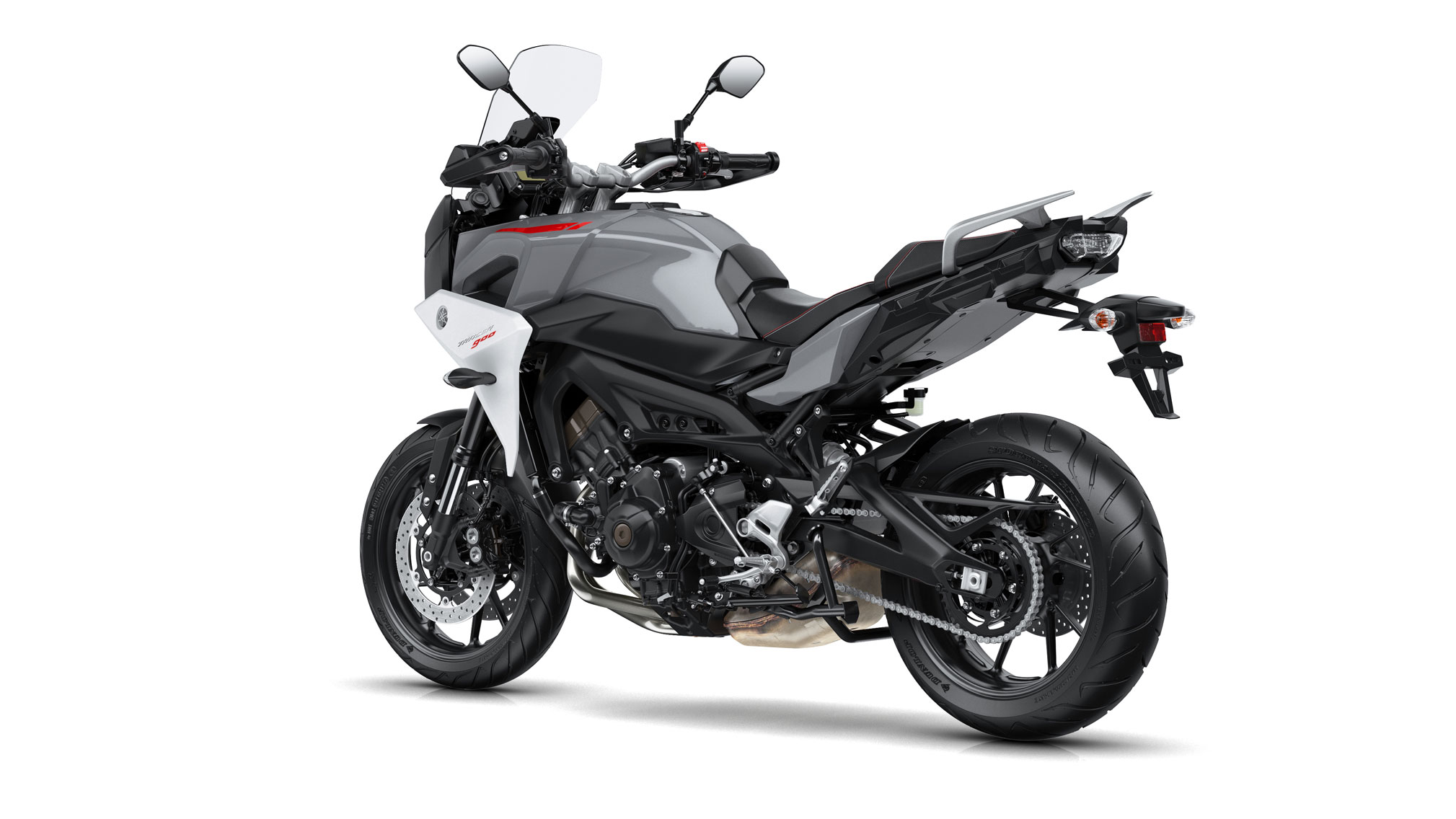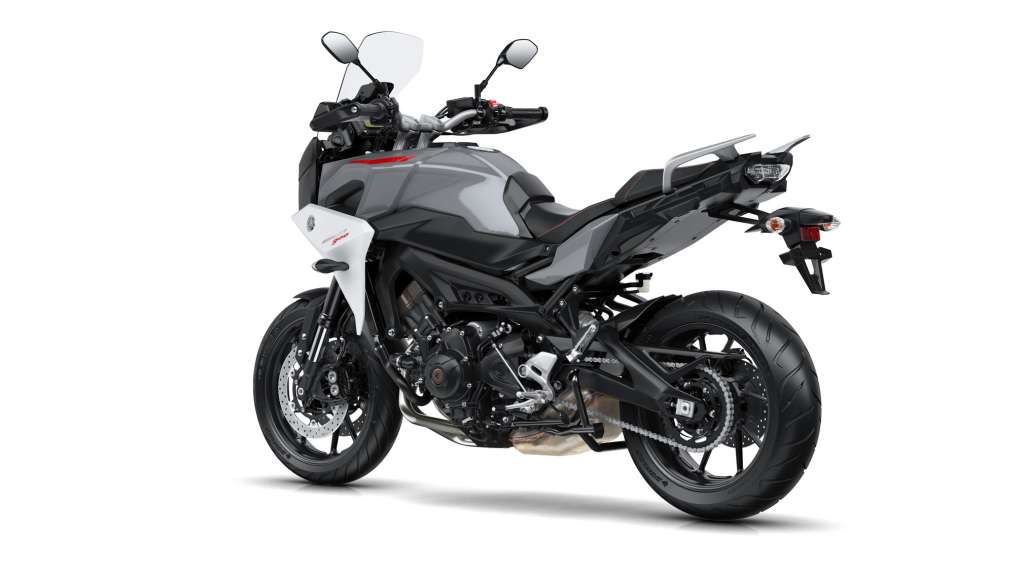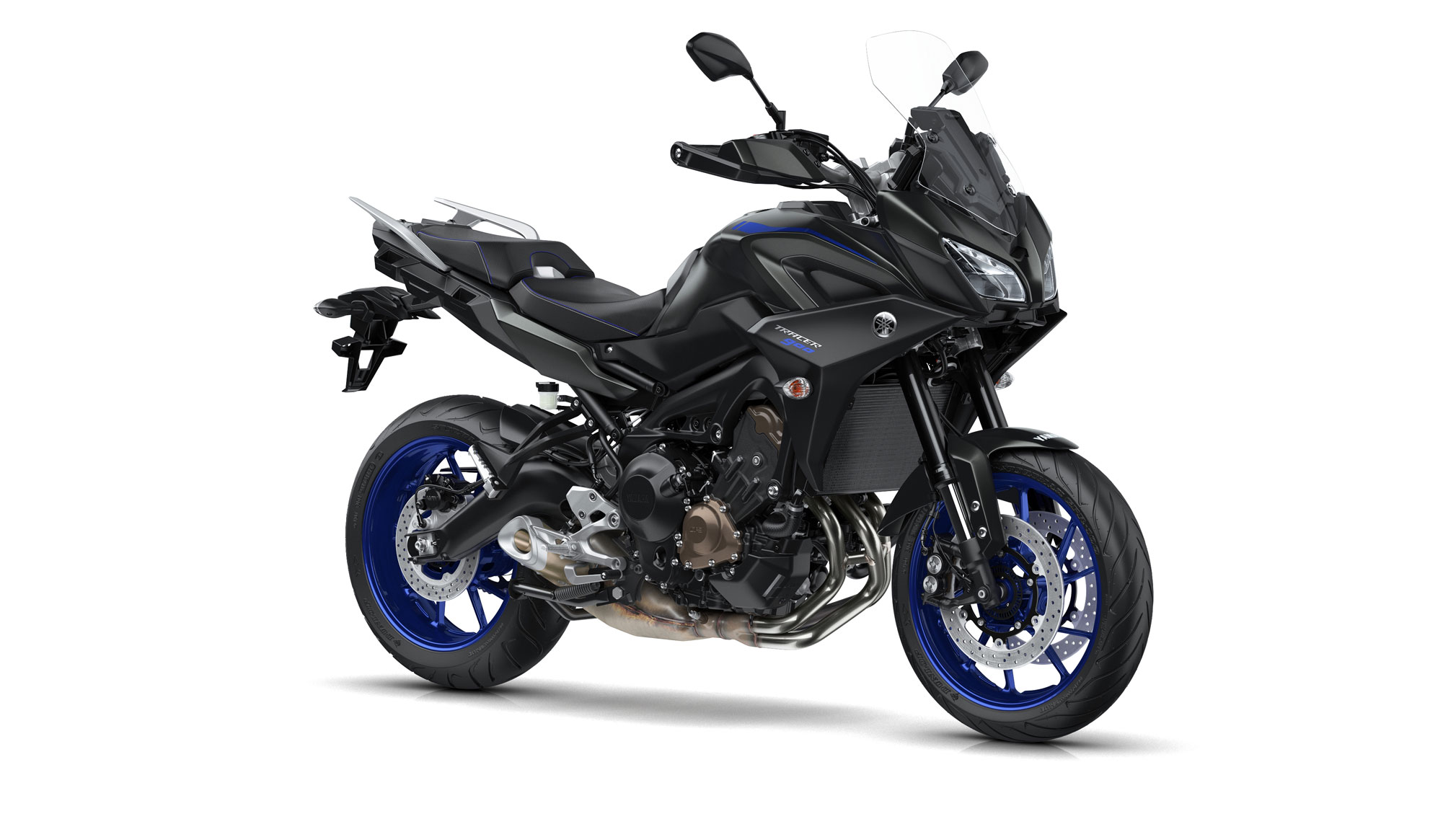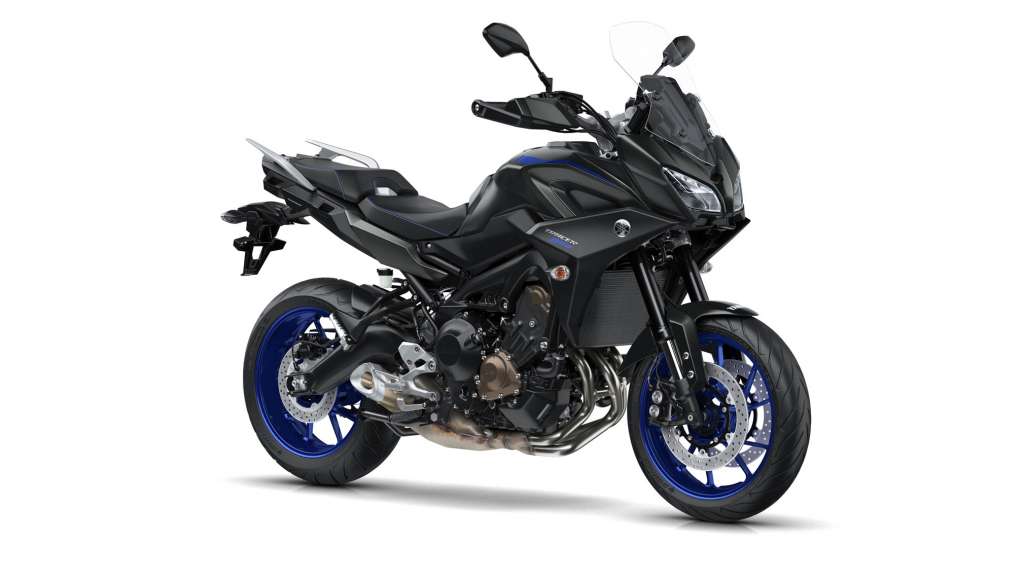 SPORT PERFORMANCE. RELAXED ERGONOMICS.
2018 Yamaha Tracer 900 Review on Total Motorcycle:
We took our best-selling Sport Tourer. Then we analysed every feature to see how we could make it even better. Its new high quality body panel design give a more refined appearance – while the improved ergonomics and larger adjustable windscreen ensure increased riding comfort.
The torque rich 3-cylinder engine gets your adrenaline flowing on demand – and for outstanding agility with high speed stability the lightweight aluminium chassis has a longer swingarm.
This motorcycle has been designed to give you an instant escape route from the daily routine. And with its 18-litre tank, this Sport Tourer is built to go far. Choose the Tracer 900. And turn up your emotions.
With the new 2018 Tracer 900, Yamaha has taken its popular FJ-09 sport touring platform and upped the ante with even greater comfort, performance and value. New styling, improved touring features and a new swingarm are among the highlights of the 2018 Tracer 900. With sport-minded performance and relaxed ergonomics, the Tracer 900 can tackle the twisties, the open road or the daily commute with poise.
///Power
The 2018 Tracer 900 utilizes a torquey and powerful 847 cc "CP3" (Crossplane Concept) engine that offers usable low-end torque and enough power to satisfy the most experienced sport rider. A Tracer-specific Yamaha D-Mode system allows the rider to adjust power delivery based on conditions and preferences.
///Versatility
The Tracer 900 takes the FJ-09's versatile nature to the next level. The relaxed, upright riding position is enhanced by a new seat shape and design, revised handlebar setup, new passenger footpegs and a larger windscreen. A longer swingarm improves cornering and drive characteristics, while styling has been freshened up with revised bodywork and a new rear fender. Standard ABS, traction control, D-Modes and an 18-litre tank further position the 2018 Tracer 900 as an incredibly versatile sport touring machine offering tremendous value at an attractive price.
///Key Improvements for 2018
•New bodywork including revised front cowling area
•New, larger windscreen
•Longer swingarm
•Revised rider and passenger seats
•Narrower handlebars and lighter, narrower hand guards
•New, dynamically-styled passenger grips
•Integrated sidecase mounts
•New rear fender
•New passenger footpegs and brackets
///Key Highlights:
•Sporty 847 cc, DOHC, 4-valve, inline three-cylinder "CP3" Crossplane Concept engine with lots of torque and character
•Yamaha's Chip Control Throttle (YCC-T) with three-position "D-Mode" (riding mode) system
•Traction Control (two modes and off)
•Upright riding position
•CF die-cast aluminum frame and revised aluminum swingarm
•Standard ABS braking system
•Adjustable, tapered aluminum handlebar
•Stylish bodywork with higher quality fit and finish
•Separate rider and passenger seats
•18-litre fuel tank
•Multi-function meter assembly with 12-volt DC outlet
•Convenient centre stand
More refined high quality body design
Improved ergonomics and increased wind protection
Compact and lightweight 847 cc, 3-cylinder engine
New swingarm for improved touring characteristics
New seating for increased rider/passenger comfort
New larger screen, adjustable using one hand
New passenger footrests for increased comfort
Slim and lightweight CF die-cast aluminium frame
A&S clutch, D-MODE, TCS, ABS
Large capacity long-range 18-litre fuel tank
Main stand fitted as standard equipment
Integrated side case mounts
2018 Yamaha Tracer 900 Totalmotorcycle.com Features and Benefits
///ENGINE
•Slim, compact, 847cc, DOHC, 4-valve, liquid-cooled, 42.5 degree inclined, inline-three cylinder engine. The engine has been tuned to provide plenty of low & mid-range torque with strong yet linear throttle response.
•engine meets or exceeds strict EU-4 regulations
• 4-valve, downdraft style combustion chamber
•excellent torque output… especially in the low to mid rpm range
•4-valve design maximizes flow into & out of combustion chamber
•31 mm intake & 25 mm exhaust valves
•valve angle is 26.5 degrees to keep combustion chamber compact
•stainless steel valves feature an Isonite surface treatment & carburized tips for excellent durability & wear resistance
• Valve adjustment intervals are every 42,000 kms.
•120 degree crankshaft with "even" 240 degree firing order.
•design reduces inertia torque while emphasizing linear torque in response to the rider's throttle action
•design has been optimized to achieve strong torque over a broad rpm range
•fast, linear throttle response
•engine design allows a whole new level of "rider – machine communication"
• Lightweight "coupling force balancer" is used to reduce engine vibration for excellent rider comfort.
• "Fracture split" connecting rods feature a "nut less" design.
•lower end "cap" of the rod is made from the same piece of material as the upper portion; the 2 pieces are "split" apart using a special fracturing process & then machined
•design aids in establishing true big end roundness & greater precision in con rod dimensions for excellent durability despite the high horsepower loads
•Lightweight, forged, aluminum short skirt pistons.
•design aids in fast engine response
•reduces mechanical vibration
•excellent durability
•Direct ceramic composite plated cylinder uses "liner less" bores
•ceramic coating sprayed directly on the aluminum block, eliminating the liner & reducing weight
•excellent heat dissipation for consistent power delivery
•coating enhances the thin film of oil between the cylinder & piston, reducing friction & increasing power
•Offset cylinder design
•cylinder is "offset" relative to the crank (toward exhaust side)
•reduces frictional losses between the pistons & cylinder wall during the power stroke for improved power output
•One-piece cylinder and upper crankcase assembly
•superior engine & chassis rigidity (engine is a stressed member)
•reduces weight
•Lightweight hollow camshafts.
•cam profiles are designed for excellent torque in the low & mid rpm range
• Crankcases feature a "Tri-Axis" layout for the crank, main & drive axles.
•creates a more compact & shorter engine front to back
•shorter engine allows for optimum engine placement in the "sweet spot" of frame for desired weight distribution & great handling
•"Closed loop" 41 mm Mikuni throttle body fuel injection system.
•system uses throttle position sensor (TPS) & acceleration position sensor (APS)
•injectors feature 12 holes & 20 degree spray pattern
•injectors spray fuel directly at the intake valve
•"closed loop system" uses an oxygen sensor to "sniff" spent exhaust & automatically adjust the fuel / air ratio for reduced emissions
•fuel injection benefits include choke-free starting, steady idling during warm up, excellent fuel economy & reduced emissions
•Yamaha Chip Control Throttle (YCC-T)
•YCC-T electronically controls throttle valves for outstanding throttle response & controllability
•YCC-T system provides precise control of intake air volume for a smoother torque curve
•ECU that controls YCC-T is capable of responding to changes at a speed of 1000th of a second
• Yamaha D-Mode variable throttle control… 3 modes available
•enables the rider to adjust the performance characteristics of the engine based on riding preferences or riding conditions
•standard mode emphasizes very linear throttle & torque feel of the engine
•A Mode allows the rider to enjoy even sportier engine performance in the low to mid rpms
•B Mode reduces throttle response for riding situations that require softer power characteristics, such as slippery or wet conditions
•D-Mode button is conveniently located on the RHS handle bar switch gear
•Traction control system with 2 modes plus off.
•mode 1 provides mid-level intervention (allows some wheel spin)
•mode 2 provides maximum intervention (no wheel spin)
•works in conjunction with the YCC-T system (utilizing same wheel sensors as ABS system)
•system senses when the rear wheel begins to spin & modifies the YCC-T function, ignition timing & fuel injection volume to reduce power & eliminate wheel spin
•status indicator / warning light in meter assembly
• Electronic Control Unit (ECU) utilizes a powerful 32-bit processor for fast control of the injection, engine management & ignition processes.
•Air box features dual resonator chambers & unequal internal intake funnel lengths for all 3 cylinders.
•benefit is a wide torque curve & exciting intake sound that accentuates the exhaust note
•viscous paper type air filter is used
•Compact 6-speed transmission.
•gear ratios are optimized to accentuate the torque & throttle response of the engine
• Compact, slipper (back limiter) clutch with assist.
•slipper clutch reduces the negative effects of engine braking on handling & suspension
•reduces rear wheel hop/ chatter when decelerating for improved riding performance & smoother corner entries
•assist function reduces clutch lever effort by up to 20%
• Stylish, compact, low mounted, 3 into 1 exhaust system
•stainless steel header pipes with special "Nano-film" coating
•muffler is a triple expansion type with a 3-way honeycomb catalyzer to reduce emissions
•low mounted design centralizes mass for excellent handling & light weight feeling
•Flat design radiator for maximum cooling efficiency.
•protector plate on lower edge of rad prevents small stones from hitting the rad & cooling fan
• Liquid-cooled oil cooler maintains stable lubricant temperatures for extended engine life.
• Convenient spin-on type oil filter & easy access drain plug for fast oil changes.
•Convenient oil level sight glass.
• Maintenance-free transistor controlled ignition (TCI).
•produces a strong spark for fast starts
•provides precise ignition timing / mapping for optimum engine performance at all rpms
•Air Injection System (AIS… not ram air) injects fresh air into exhaust ports to fully burn any unburnt fuel, further reducing exhaust emissions.
///CHASSIS / SUSPENSION
•CF (Controlled Filling) die cast, twin spar, diamond-type, aluminum frame.
•provides an optimized rigidity balance for incredible sports performance & excellent stability
•engine is a stressed member of the chassis, allowing a lighter, more compact main frame
•light, agile handling qualities
•The riding position is one of the most important features of the Tracer 900 chassis.
•upright seating position offers a balance between sports handling & excellent rider comfort
•Key chassis geometry figures include:
•1,440 mm (56.7 in) wheelbase, 25 degrees of rake and 103 mm of trail
•front to rear weight distribution is 51 / 49%
•lean angle is 51 degrees, highlighting the sporty nature of the Tracer 900
•chassis dimensions & shape are designed to enhance the qualities of the 3 cylinder engine, to centralize mass & lower the centre of gravity
•Detachable, round tube steel rear sub frame.
•designed to withstand the extra load & forces applied during casual touring
•sub frame provides mounting points for Genuine Yamaha accessory hard saddlebags
•allows easier access to rear suspension components
•reduces costs in the event of damage
•New externally mounted, C.F. (Controlled Filling) die cast aluminum, truss-type rear swingarm.
•new swingarm is 60 mm longer to deliver improved cornering and traction (drive) characteristics
•external design means the swing arm mounts on the outside of the frame spars… not the inside
•external design keeps unit narrower in the seat – fuel tank junction which influences seat height & makes it easier to touch the ground
•lightweight design reduces unsprung weight for superior suspension performance
•excellent rear wheel traction & control
•Adjustable, 41mm inverted cartridge style fork offers 137mm (5.4″) of wheel travel.
•adjustments include; 6 steps of spring preload (15mm range) & 11-way rebound damping
•inverted design benefits include, reduced "unsprung" weight & reduced fork flex since the larger diameter tubes are gripped in the triple clamps
•adjustable design allows the rider to tailor suspension settings to match rider weight, road conditions & load to maximize handling & suspension performance
•Lightweight, aluminum upper & lower triple clamps.
• Adjustable link Monocross rear suspension with 130 mm (5.1″) of wheel travel.
•rear shock adjustments include: 7-steps of spring preload & 3 turns of rebound damping
• ABS equipped, dual 298mm floating front discs squeezed by radial mount, Advic, mono-block, 4-piston calipers.
•radial mount design helps to reduce caliper distortion for improved braking performance
•master cylinder uses a 16 mm piston
•excellent stopping power & control with good lever feedback
•ABS helps prevent wheel lockup during hard braking or slippery conditions
•ABS equipped, 245mm rear disc is squeezed by a lightweight single piston, slide-type Nissin caliper.
•ABS or Anti-Lock Braking System.
•features a linear controlled 3- position system that helps to prevent wheel lock up
•controlling ECU & hydraulic unit are combined into a single compact unit
•when ABS system senses impending wheel lock-up (via active type wheel sensors) it regulates hydraulic pressure to the point just before the wheel(s) lock-up
•ABS benefits include; excellent control under hard braking or when braking on wet, slippery or loose surfaces
•design reduces weight & centralizes mass
•Lightweight, cast-aluminum 10-spoke wheels.
•lightweight design reduces unsprung weight for excellent suspension & handling characteristics
• front rim size is MT3.50-17
• rear rim size is MT5.50-17
•New,adjustable, tapered aluminum handlebar.
•handlebar can be adjusted 10 mm by turning the eccentric handlebar holders
• lightweight design with excellent strength
•narrower design for 2018 offers a comfortable, upright riding position for all-day riding comfort
•handlebar holders feature special threads for accessory installations (GPS etc.)
•traditional "handlebar" design allows easy replacement to a different "bend" if desired
•Stylish, hand covers / brush guards.
•handlebar guards now more compact while retaining toughness and rigidity
•offer good wind protection
•also offers some unit protection in the event the bike tips over
•18-litre steel fuel tank.
•slim design with great knee grip
•steel allows use of magnetic-style tank bags
•reserve portion of the tank is 2.6 litres (low fuel light illuminates)
• internal electric fuel pump
•New separate rider and passenger seats.
•redesigned to offer even better long-distance riding comfort
•new design offers a higher-quality look
•rider seat offers two height positions — 845 mm (33.3 in) in low, (33.9 in) in high
•Improved, grab rails offer improved comfort and robustness for extra peace of mind.
• Passenger grab rails for extra peace of mind.
•Dual-display, multi-function meter/instrumentation.
•left side features digital tach, speedo, fuel gauge, clock & status indicators for traction control, D-modes & Eco System
•right side utilizes a DOT Matrix LCD display, includes odometer, dual trip meters, outside air temp, coolant temp, instant & average fuel consumption, estimated travel range (based on remaining fuel), time trip, low fuel trip meter (counts kilometers since low fuel light illuminated), gear position indicator & grip heater status (grip heaters are optional genuine Yamaha accessory)
•all functions are controlled by buttons on the L.H.S. switch gear
•full range of warning & indicator lights
•background illumination is adjustable
• Handy 12 volt DC outlet (max output = 24W & 2A) located beside meter assembly.
•Revised front fairing offers a more high-quality appearance with good wind protection.
•No tools required, adjustable windshield features 37 mm (1.5″) of adjustment.
•Eye catching LED headlights & LED position lights.
•offer excellent illumination & visibility
•easy access headlight adjusters for changing load conditions
• Centre stand (note: centre stand will not retro fit to the FZ-09).
• Brilliant LED rear tail light with unique running / brake light display.
///DETAILS
• Unit is pre-wired for Genuine Yamaha accessory hot grips
• Lightweight forged aluminum footrests, shifter & rear brake pedal
• Numerous bungee cord hook points
• Excessive lean angle engine cut-out switch (if unit is on its side the engine will shut down)
• Lockable steering
• Durable "O"-ring drive chain
• Low-maintenance sealed battery (battery should be charged during winter storage)
• Yamaha diagnostic tool connector
NOTE: The Tracer 900 offers a significant level of power and performance. It is not intended for novice or inexperienced riders.
2018 Yamaha Tracer 900 – Totalmotorcycle.com USA Specifications/Technical Details
US MSRP Price: $ See dealer for pricing in USD
See 2019 Yamaha Tracer 900 – New model (USA)
2018 Yamaha Tracer 900 – Totalmotorcycle.com Canadian Specifications/Technical Details
Canada MSRP Price: $11,999 CDN
///Engine
Engine
Liquid-cooled, DOHC, 12-valves (4 valves/cyl.), inline three-cylinder
Displacement
847cc
Bore and Stroke
78 x 59.1 mm
Compression Ratio
11.5:1
Maximum Torque
8.9 kg-m (64.3 ft-lbs.) @ 8,500 rpm
Engine Management
YCC-T, D-Mode (3 settings) & Traction control
Fuel Delivery
Mikuni 41 mm throttle body F.I.
Estimated Fuel Consumption±
18.6 kpl / 52.5 mpg (Imp.)
Lubrication
Wet sump
Ignition / Starting
TCI / Electric
Transmission
6-speed
Final Drive
"O"-ring chain
///Chassis
Suspension (Front)
Adjustable 41 mm inverted fork / 137mm (5.4″) wheel travel
Suspension (Rear)
Adjustable link Monocross / 130mm (5.4″) wheel travel
Brakes (Front)
Dual 298 mm discs / radial mount 4-piston calipers / ABS equipped
Brakes (Rear)
245 mm disc / single piston caliper / ABS equipped
Tires (Front)
120/70ZR17
Tires (Rear)
180/55ZR17
///Critical Data
Length
2,160 mm (85″)
Width
850 mm (33.4″)
Height
1,345 to 1,430 mm (54.1 to 56.3″)
Wheelbase
1,440 mm (56.7″)
Rake / Trail
24° / 100 mm
Ground Clearance
135 mm (5.3″)
Seat Height
850 or 865 mm (33.4 or 35″)
Fuel Capacity
18 litres (4 imp. gallons)
Wet Weight
214 kg (472 lb.)
Colour(s)
Matte Dark Metallic Gray
2018 Yamaha Tracer 900 – Totalmotorcycle.com European Specifications/Technical Details
Europe/UK MSRP Price: £ See Dealer for Pricing in GBP (On The Road inc 20% Vat)
Engine type 3-cylinder, 4-stroke, liquid-cooled, DOHC, 4-valves
Displacement 847 cm³
Bore x stroke 78.0 mm x 59.1 mm
Compression ratio 11.5 : 1
Maximum power 84.6 kW (115PS) @ 10,000 rpm
Limited power version N/A
Maximum torque 87.5 Nm (8.9 kg-m) @ 8,500 rpm
Lubrication system Wet sump
Clutch type Wet, Multiple Disc
Fuel system Fuel Injection
Ignition system TCI
Starter system Electric
Transmission system Constant Mesh, 6-speed
Final transmission Chain
Fuel consumption 5.5 l/100km
CO2 emission 127 g/km
Chassis Tracer 900
Frame Diamond
Front suspension system Telescopic forks
Front travel 137 mm
Caster angle 24º
Trail 100 mm
Rear suspension system Swingarm, (Link type suspension)
Rear travel 142 mm
Front brake Hydraulic dual disc, Ø 298 mm
Rear brake Hydraulic single disc, Ø 245 mm
Front tyre 120/70ZR17M/C (58W)
Rear tyre 180/55ZR17M/C (73W)
Dimensions Tracer 900
Overall length 2,160 mm
Overall width 850 mm
Overall height 1,375 mm max 1,430 mm
Seat height 850 mm max 865 mm
Wheel base 1,500 mm
Minimum ground clearance 135 mm
Wet weight (including full oil
and fuel tank)
214 kg
Fuel tank capacity 18 L
Oil tank capacity 3.4 L
Manufacturer Specifications and appearance are subject to change without prior notice on Total Motorcycle (TMW).