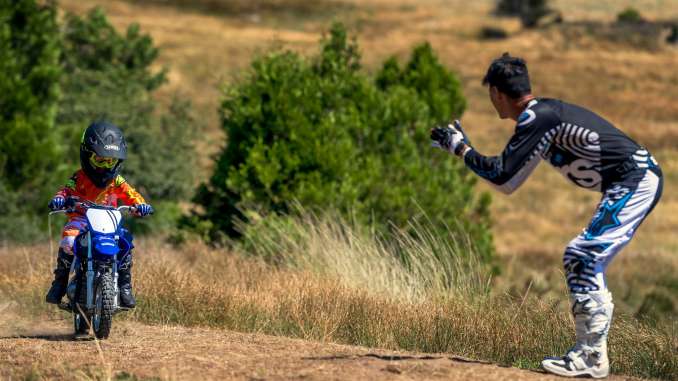 START 'EM YOUNG, START 'EM RIGHT.
Push button electric start and three-speed automatic transmission make this the perfect bike for learning.
Electric start and three‑speed automatic transmission make this the perfect bike for learning.
Our littlest TT-R boasts big YZ styling, four-stroke power, a three-speed automatic-clutch gearbox – even push-button electric starting. Go ahead, play in the dirt.
///Engine
Air-cooled, 50cc, SOHC, 2-valve, 4-stroke powerplant produces smooth, reliable novice friendly power that eases the new rider up the learning curve.
///Electric Start
Convenient, push-button electric starting makes starting a snap and takes one of the hassles out of learning how to ride.
Convenient Electric Start
The TT-R50E gets the same pushbutton electric starting feature as our full line of electric-start TT-Rs.
Accessible Performance
Great for learning and/or playing, complete with 49cc of four-stroke fun feeding power through a three-speed automatic-clutch transmission.
Ultra-Low Seat Height
Big YZ styling meets little people's stature; the seat's only 21.9 inches from the dirt.
Advanced Suspension
Inverted fork and Monocross® rear end provide great handling.
Robust Final Drive
Large chain cover for maximum protection and minimal maintenance.
2018 Yamaha TT-R50E Totalmotorcycle.com Features and Benefits
///Engine
•Air-cooled, 50cc, SOHC, 2-valve, 4-stroke power plant produces smooth, novice friendly power that eases the new rider up the learning curve.
• Convenient, push-button electric starting makes learning to ride much easier.
• Compact engine cases.
•keeps engine width narrow
•makes it easier for smaller riders to get their feet firmly on the ground
• Proven, 2-valve cylinder head design.
•easy to adjust traditional rocker arm valve actuation
•150 hour valve adjustment intervals
•Intake & exhaust valves feature special "carbon cutter" valve stem design.
•automatically removes carbon build up from the valve stems
•maintains maximum engine efficiency & power
•carbon build up on valve stems can lead to sticky valves & poor performance
• Automatic ratchet-type cam chain adjuster.
•reduces maintenance time, tune up costs & reduces mechanical engine noise
• Conventional cast iron cylinder liner.
•allows the cylinder to be over bored? reducing costs
•Lightweight crankshaft design.
• Mikuni VM11 carburetor with electric carb heater (heater does not function above 16C).
•crisp yet easy to use linear throttle response
•excellent fuel economy
•carb heater reduces engine warm-up time & improves cold weather starting
•"Electroless" nickel plating applied to valve seat and nickel silver needle valve to counter act the negative effects of E10 (10% ethanol) fuels.
• Washable foam air filter reduces costs.
• Smooth-shifting, 3-speed transmission with automatic centrifugal clutch.
•auto clutch eases the beginner into the basics of shifting without the complications of a clutch
• optimized transmission ratios match engine output
• CD (capacitor discharge) ignition system.
•maintenance free
•delivers a strong spark for fast starts & solid engine performance
• Centrifugal oil filtering system.
•automatically removes any particles found in the oil
•never requires cleaning or maintenance
•fast easy oil changes
• Lightweight, upswept exhaust system.
•produces a quiet exhaust note to keep the neighbors happy
•numerous heat shields to protect young riders for hot components
•cleanable screen-type spark arrestor
///Chassis/Suspension
• Rugged "mini-size" steel back bone type frame provides rugged durability whether being ridden by a child or an adult. The engine mounts to the frame at three points, making the entire chassis more rigid for superior handling.
• Triangulated steel tube swingarm.
• Inverted 22mm Showa front fork offers a class leading 96 mm (3.8″) of wheel travel.
• confidence-inspiring control over rough terrain
•plastic fork leg protectors help prevent stone chips in fork tubes & extend fork seal life
• Monocross single shock rear suspension with 71mm (2.8″) of wheel travel.
•delivers progressive suspension performance to smooth out rough trails
• Low 556 mm (21.9″) seat height.
•allows most riders to put both feet firmly on the ground for added confidence
•provides a handling-enhancing lower centre of gravity & lightweight feeling
• Long, motocross-style seat is low, comfortable and allows good rider mobility.
• Front and rear 80 mm drum brakes
•strong dependable stopping power
•brake components are the same front & rear
• 2.50×10 front & rear knobby tires
•puncture resistant 4 ply design
•excellent traction in the dirt
• 135mm (5.3″) of ground clearance
•allows the TT-R50E to tackle modest obstacles
• 3 litre plastic resin fuel tank
•plenty of smiles & fun between fill -ups
•on/off/reserve fuel petcock for peace of mind
///Details
• Serrated folding foot pegs provide excellent grip even in wet or muddy conditions
• Convenient handlebar mounted paddle-style choke lever
• Rugged YZ-F inspired plastic body components resist damage in the event of a tip-over
• YZ-F inspired styling & graphics gives the TT-R50E that big YZ look
• YZ style handlebar with protective foam pad features a re-enforcing cross bar for extra strength
• Low maintenance sealed battery prevents leaks during a tip-over (battery should be charged during winter storage)
///Safety Items
• Adjustable throttle stop screw allows adult supervisor to control top speed by restricting how far the throttle can be opened. Adjustment design is fast & easy
• Key operated ignition allows parents to control use
• Exhaust heat shields protect young riders from hot components
• Upper and lower chain guards
IMPORTANT NOTE: Adult supervision and proper protective riding gear, including a helmet & eye protection are a must when a youngster is operating a TT-R50E.
2018 Yamaha TT-R50E – Totalmotorcycle.com USA Specifications/Technical Details
US MSRP Price: $1549 USD
Engine Type 49cc air-cooled SOHC 4-stroke; 2 valves
Bore x Stroke 36.0mm x 48.6mm
Compression Ratio 9.5:1
Fuel Delivery Mikuni® VM11 carburetor
Ignition CDI
Transmission Constant-mesh 3-speed; automatic clutch
Final Drive Chain
Suspension / Front Inverted telescopic fork; 3.8-in travel
Suspension / Rear Single shock; 2.8-in travel
Brakes / Front Drum, 80mm
Brakes / Rear Drum, 80mm
Tires / Front 2.50-10-4PR
Tires / Rear 2.50-10-4PR
L x W x H 51.4 in x 23.4 in x 31.3 in
Seat Height 21.9 in
Wheelbase 36.4 in
Rake (Caster Angle) 25.5°
Trail 1.3 in
Maximum Ground
Clearance
5.3 in
Fuel Capacity 0.8 gal
Fuel Economy** n/a
Wet Weight*** 126 lb
Warranty 90 Day (Limited Factory Warranty)
Color Team Yamaha Blue
2018 Yamaha TT-R50E – Totalmotorcycle.com Canadian Specifications/Technical Details
Canada MSRP Price: $1899 CDN
///Engine
Engine
4-stroke, air-cooled, SOHC, 2-valve, single
Displacement
50cc
Bore and Stroke
36 x 48.6mm
Compression Ratio
9.5:1
Maximum Torque
0.32 kg-m (2.3 ft-lb) @ 5,500 rpm
Fuel Delivery
Mikuni VM11
Ignition / Starting
CDI / Electric
Transmission
3-speed, semi auto (automatic clutch)
Final Drive
Chain
///Chassis
Suspension (Front)
22mm inverted fork / 96mm (3.8″) wheel travel
Suspension (Rear)
Monocross, single shock / 71mm (2.8″) wheel travel
Brakes (Front)
Drum
Brakes (Rear)
Drum
Tires (Front)
2.50-10
Tires (Rear)
2.50-10
///Critical Data
Length
1,305mm (51.4″)
Width
595mm (23.4″)
Height
795mm (31.3″)
Wheelbase
925mm (36.4″)
Ground Clearance
135mm (5.3″)
Seat Height
555mm (21.9″)
Fuel Capacity
3 litres (0.66 imp. gallons)
Wet Weight
57kg (126 lb)
Colour(s)
Yamaha Blue
2018 Yamaha TT-R50E – Totalmotorcycle.com European Specifications/Technical Details
Europe/UK MSRP Price: £ GBP (On The Road inc 20% Vat)
NA
Manufacturer Specifications and appearance are subject to change without prior notice on Total Motorcycle (TMW).