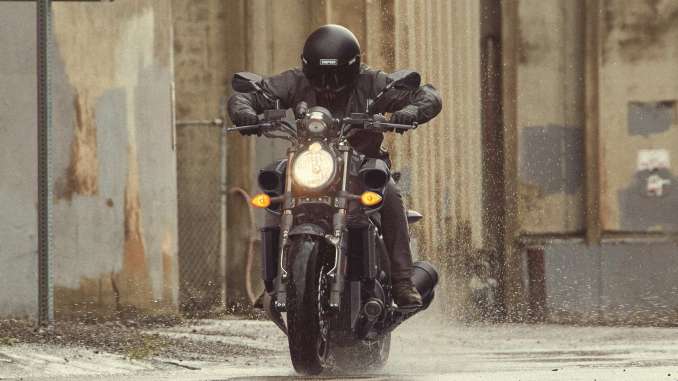 PURE POWER FOR THE SOUL.
2018 Yamaha VMAX (VMX17) Review on Total Motorcycle:
Brawn meets brains. The iconic VMAX® features a 1679cc V4, light aluminum frame, slipper clutch and wave-style brakes and power that pushes the boundaries of performance, today and tomorrow.
Sport Heritage doesn't get any more powerful than this. The iconic VMAX® features a 1679cc V4 for huge performance & style.
Unlike any other motorcycle available today, the VMAX is truly in a class of its own. The awesome acceleration and muscular beauty combines with sporty handling and Yamaha's electronic engine management technologies to offer an incredibly exhilarating riding experience.
///Power
Liquid-cooled, 1,679cc, DOHC, 16-valve, 65°, V-4 engine has no equal in its class. The compact engine design has allowed the engineers to place the engine in the "sweet spot" of the frame to optimize handling.
///Performance
DOHC 4-valve "pent roof" cylinder head design provides optimum breathing efficiency for incredible engine performance. Valve actuation is via under bucket shims. Compression ratio is 11.3:1
Power Unrelenting
The ultimate power cruiser delivers unmatched performance from its 65-degree, four-valves-per-cylinder, 1679cc V-four—producing eye opening amounts of perfectly controllable acceleration, flowing from a compact engine that looks as powerful as it is.
Advanced Ride-by-Wire Throttle
Downdraft four-bore fuel injection with YCC-I® intake technology and YCC-T® fly-by-wire throttle provide awesome acceleration throughout the broad powerband.
High-Tech Aluminum Chassis
Lightweight aluminum chassis puts the engine low and forward for mass centralization, resulting in a machine designed to handle curves as well as straightaways.
Performance Technology
Borrowing liberally from advanced sportbike technology, VMAX® features a slipper clutch, wave-style brake discs, ABS, and complete suspension adjustability front and rear.
Unmatched Fit and Finish
Functionality and forward-thinking style uniquely combine with features like oxidized-titanium-coated 52mm front fork tubes, magnesium engine side covers, fluorinated polyethylene fuel tank and the organic electroluminescence multifunction display.
2018 Yamaha VMAX (VMX17) Totalmotorcycle.com Features and Benefits
///ENGINE
•Liquid-cooled, 1,679cc, DOHC, 16-valves, 65°, V-4 engine has no equal in its class. The compact engine design has allowed the engineers to place the engine in the "sweet spot" of the frame to optimize handling.
•DOHC, 4-valve "pent roof" cylinder head design.
•compact pent roof combustion chambers with 11.3:1 compression ratio
•4-valve design optimizes breathing efficiency & overall engine performance
•34 mm intake & 30 mm steel exhaust valves
•42,000 valve adjustment interval
•"Combination" chain & gear camshaft drive system.
•intake cams are driven by a chain
•exhaust cams are driven by a gear drive off the intake cams
•design allows for more compact cylinder heads since the distance or "pitch" between the camshafts is reduced.
• High-performance camshafts.
•provide incredible engine performance
• Automatic hydraulic cam chain tensioners.
•reduced engine mechanical noise
•reduced maintenance.
• Lightweight, forged, aluminum short skirt pistons.
•design aids in fast engine response
•reduced mechanical vibration
•excellent durability
•Fracture split con rods are carburized and use a "nut less" design.
•lower end "cap" of the rod is made from the same piece of material as the upper portion; the 2 pieces are "split" apart using a special process known as fracture splitting & then machined
•fracture splitting ensures true big end roundness & greater precision in con rod dimensions for excellent durability despite high horsepower loads
•180-degree crankshaft design.
•Direct ceramic composite plated "liner less" cylinders.
•ceramic coating sprayed directly on the cylinder blocks, eliminating the liner & reducing weight
•excellent heat dissipation for consistent power delivery
•coating enhances the thin film of oil between the cylinder & piston, reducing friction & increasing power
•Crankcase incorporates the cylinders into the upper half of the cases to reduce weight.
• Super light magnesium alloy crankcase covers.
•Gear-driven engine counter balancer shaft.
•reduces vibration for excellent rider comfort
•balance ratio is 50% to allow some pulse feel / character
•Twin radiator design.
•curved upper rad… curved rad offer more surface area & improved cooling versus a flat rad
•lower flat rad
•each rad has its own cooling fan
• Oil-to-coolant heat exchanger type oil cooler
•maintains stable lubricant temperatures for extended engine life
•Wet sump oil lubrication system
•design reduces weight & offers excellent lubrication
•easy access drain plug & spin-on type oil filter.
• "Closed loop" 48 mm quad design throttle body fuel injection system.
•four 48mm throttle bodies fitted with T.P.S. (Throttle Position Sensor)& other sensors
•Denso 12-hole injectors for optimum fuel atomization for maximum power & response
• "closed loop FI system" uses an oxygen sensor to "sniff" spent exhaust gases & automatically adjusts the fuel / air ratio for reduced emissions
•fuel injection benefits include instant throttle response, choke-free starting, steady idle during warm up & reduced emissions
•VMAX utilizes a lightweight main Electronic Control Unit (ECU).
•main ECU actually consists of 3 – ECUs in total
•main 32-bit ECU controls the ignition & fuel injection process, 2nd & 3rd integral ECU controls the YCC-T & YCC-I. This "combined" ECU design reduces weight.
•Yamaha Chip Control Throttle (YCC-T) system.
•YCC-T electronically controls throttle valves for outstanding throttle response & controllability
•system features Throttle Position Sensor (TPS) and D.C. motor driven throttle valves
•YCC-T system provides precise control of intake air volume for a smoother torque curve
•ECU that controls YCC-T is capable of responding to changes at a speed of 1000th of a second
•rider can "mechanically close" the throttles by simply closing the throttle twist grip
•Yamaha Chip Controlled Intake (YCC-I) system.
•intake funnels / stacks vary in length between 2 pre-set positions depending on engine rpm
•servo motor varies funnel length from 150mm (low to mid rpms) to the short setting of 54mm for high rpm
•transition rpm is approximately 6,650 rpms
•electronic servo motor varies the funnels. The revolutionary YCC-I provides the best of both worlds… solid low rpm torque & power combined with an amazing high rpm rush. It takes only 0.3 of a second for the funnels to move from the tall to the short position.
• Large capacity air box uses a viscous-type paper air filter.
• Functional, hand finished aluminum intake covers highlight Yamaha's quality & attention to detail.
•4-into-1-into-2 into-4 exhaust system.
•design make a serious styling statement & also provides excellent performance
•3-way honeycomb catalytic converter in the under engine "muffler box" reduces emissions
•design maximizes power, centralizes mass & lowers the centre of gravity for light, agile handling
•Yamaha's EXUP System (Exhaust Ultimate Power Valve).
•part of the mid ship exhaust system
•utilizes a titanium body & butterfly valves that prevent the "blow back" phenomenon caused by "valve overlap"
•design reduces weight & maximizes cornering clearance
•EXUP system eliminates "flat spots" in the power band & reduces emissions
•Hydraulically activated, ramp-type slipper clutch.
•consistent clutch performance with light lever pull & minimal maintenance
•slipper or back limiter clutch assembly reduces rear wheel hop when making hard downshifts or under hard braking
•Nissin 14 mm master cylinder
•clutch lever offers 4 positions of adjustability
•5-speed transmission
•optimized gear ratios for maximum acceleration & performance
•5th gear is an overdrive gear to reduce engine rpm at highway speeds
•Shaft drive system.
•clean, quiet system… no chain lube splatter
•low-maintenance… no adjustments, just some basic maintenance & oil changes
•compact shaft drive rear gear case reduces unsprung weight
•4-into-1-into-2 into-4 exhaust system.
•design make a serious styling statement & also provides excellent performance
•3-way honeycomb catalytic converter in the under engine "muffler box" reduces emissions
•design maximizes power, reduces weight, centralizes mass & lowers the centre of gravity for good handling
•Yamaha's EXUP System (Exhaust Ultimate Power Valve).
•system helps prevent the "blow back" phenomenon caused by "valve overlap"
•EXUP system eliminates "flat spots" in the power band & reduces emissions
•ACM magneto produces 420 watts of power at 5,000 rpms.
• Maintenance-free transistor controlled ignition (TCI).
•produces a strong spark for fast starts
•provides precise ignition timing / mapping for optimum engine performance at all rpms
•Direct ignition coils.
•ignition coils integrated into plug caps, significantly reducing weight & complexity
•high-performance, long-life Iridium spark plugs
•Air Injection System (AIS… not ram air) injects fresh air into exhaust ports to fully burn any unburnt fuel, reducing emissions.
///CHASSIS/SUSPENSION
•Lightweight cast aluminum frame
•provides an optimized rigidity balance to maximize handling performance
•frame is very rigid or stiff at the head pipe, engine mounts & swingarm pivot point. In other areas, material is less rigid to allow for "tuned flex"
•benefits include reduced weight, excellent high-speed stability & good cornering characteristics
•Extra-long, lightweight cast aluminum swingarm
•great torsional rigidity for excellent handling & manoeuvrability
•distance between the swingarm pivot & rear axle has been optimized (662.5mm) for great rear wheel traction & control
•threaded holes for accessory racing type rear stand
•Detachable C.F. die cast aluminum rear sub frame
•easier maintenance access for rear shock
•less costly repair if the unit is "looped out"
•Fully adjustable, conventional 52mm front fork with 120mm (4.7″) of wheel travel.
•adjustments include; 5-way spring preload, 20-way compression & 17-way rebound damping
•inner tubes feature a oxide titanium coating to reduce friction & wear
•adjustable design allows the rider to tailor suspension settings to match rider's weight, load & road conditions
• Lightweight, aluminum triple clamps.
• Fully adjustable link Monocross rear suspension with 110 mm (4.3″) of wheel travel
•remote reservoir rear shock to keep shock oil cool.
•adjustments include; 11-way spring preload (via easy access remote adjuster), 12-way compression damping & 18-way rebound damping
•15-litre fluorinated polyethylene fuel tank.
•mounted below the rider's seat to centralize mass & maintain a low centre of gravity for good maneuverability & handling
•in tank electric fuel pump
•3.9 litre reserve capacity (low fuel light illuminates)
•ABS equipped, dual floating 320mm wave-style front rotors squeezed by radial mount, monoblock 6-piston calipers.
•excellent braking performance with good control & lever feedback
•wave disc design reduces weight & improves cooling (increased surface area)
•radial mount design helps to reduce caliper distortion for improved braking performance
•Brembo radial pump master cylinder with a 16mm piston
•brake lever is adjustable for various hand sizes
•ABS equipped, 298mm wave-style rear disc is squeezed by a single-piston slide-type caliper
•caliper is mounted below the swingarm for a handling enhancing lower centre of gravity
•sintered metal brake pads
•14mm Brembo master cylinder
•Anti-lock braking system features Yamaha's latest ABS system, very similar to that found on the FJR1300. The linear controlled 3-position ABS system features an ECU with an integrated compact hydraulic unit built into the ECU. System also uses active type wheel sensors.
•ABS system helps to prevents wheel lock-up
•main benefit of ABS is excellent control under hard braking or braking on wet or slippery surfaces
•benefits include; reduced weight & mass centralization for lighter handling
•Lightweight cast aluminum 5-spoke mag wheels front & rear.
•both wheels utilize hollow "spokes" to reduce unsprung weight for superior handling & suspension performance
•front rim is 3.50 x 18 , rear is 6.00 x 18… both use radial tires
•Conventional tapered 11⁄8″ diameter low rise handlebar.
•Conventional design makes it easier to change handlebar bend
•Multi-function handlebar mounted meter / instrument
•functions include; analog tachometer & digital speedo
•adjustable shift indicator light
•Multi-function fuel tank mounted meter / instrument
•second dual mode, multi-function display is located on top of the "fuel tank" and uses a highly visible 256 x 64 dot matrix "Organic Electro Luminescence display"
•read outs include; odometer, dual trip meters, fuel gauge, fuel reserve trip meter (counts kms since low fuel light illuminated), clock, coolant temp, gear indicator, throttle valve opening, intake air temp, stop watch, countdown clock & maintenance counters.
•adjustable background illumination
• Bright, H4 60/55-watt, halogen headlight
• Eye-catching LED tail light
•Immobilizer ignition system is designed to reduce the possibility of "ride away" theft.
•system must recognize the "coded ignition key" in order for the unit to start
•if the immobilizer ignition does not recognize the key, the ignition system & starter will not function, even if the ignition is forced into the on position
///DETAILS
• Lightweight forged aluminum shift lever & rear brake pedal
• Stylish key with special key case holder
• Lean angle engine kill switch prevents unit from running if it is on its side to avoid engine damage
Steering lock is integrated into the main ignition switch for extra convenience • Helmet holder
• Bungee cord fastening points
• Oil level sight glass window
• Low-maintenance, sealed battery (battery should be charged during winter storage)
IMPORTANT NOTE: The VMAX offers a significant level of power & performance. It is not intended for novice or inexperienced riders.
2018 Yamaha VMAX (VMX17) – Totalmotorcycle.com USA Specifications/Technical Details
US MSRP Price: $17,999 USD
Engine Type 102-cubic-inch (1679cc) liquid-cooled 65° V-four,
DOHC; 16 valves
Bore x Stroke 90.0mm x 66.0mm
Compression Ratio 11.3:1
Fuel Delivery Fuel Injection with YCC-T and YCC-I
Ignition TCI: Transistor Controlled Ignition
Transmission 5-speed, multiplate slipper clutch
Final Drive Shaft
Suspension / Front 52mm telescopic cartridge fork w/oxidized
titanium coating. Fully adjustable preload,
compression and rebound; 4.7 in travel
Suspension / Rear Single shock w/remote reservoir and remote
adjustable for preload, compression and rebound;
4.3 in travel
Brakes / Front Dual 320mm wave-type discs; radial mount 6-
piston calipers, Brembo® radial pump master
cylinder
Brakes / Rear 298mm wave-type disc, single-piston caliper and
Brembo® master cylinder
Tires / Front 120/70R18
Tires / Rear 200/50R18
L x W x H 94.3 in x 32.3 in x 46.9 in
Seat Height 30.5 in
Wheelbase 66.9 in
Rake (Caster Angle) n/a
Trail n/a
Maximum Ground
Clearance
n/a
Fuel Capacity 4.0 gal
Fuel Economy** 27 mpg
Wet Weight*** 683 lb / CA model 686 lb
Warranty 1 Year (Limited Factory Warranty)
Color Matte Raven Black
2018 Yamaha VMAX (VMX17) – Totalmotorcycle.com Canadian Specifications/Technical Details
Canada MSRP Price: $25,149 CDN
///Engine
Engine
Liquid-cooled, DOHC, 16-valves (4-valves/cyl), 65 degree V-4
Displacement
1679cc
Bore and Stroke
90 x 66mm
Compression Ratio
11.3:1
Maximum Torque
17 kg-m (123 ft-lb) @ 6,500 rpm
Engine Management
YCC-T, YCC-I
Fuel Delivery
Mikuni 48mm fuel injection
Estimated Fuel Consumption±
11.4kpl / 32mpg (Imp.)
Lubrication
Wet sump
Ignition / Starting
TCI / Electric Start
Transmission
5-speed (with slipper clutch)
Final Drive
Shaft
///Chassis
Suspension (Front)
Fully adjustable 52mm cartridge fork / 120mm (4.7″) wheel travel
Suspension (Rear)
Fully adjustable Link Monocross / 110mm (4.3″) wheel travel
Brakes (Front)
Dual 320mm discs with ABS / radial mount 6-piston calipers
Brakes (Rear)
298mm disc with ABS / single piston caliper
Tires (Front)
120/70R18
Tires (Rear)
200/50R18
///Critical Data
Length
2,395mm (94.3″)
Width
820mm (32.3″)
Height
1,190mm (46.9″)
Wheelbase
1,700 mm (66.9″)
Rake / Trail
31° / 148mm (5.8″)
Ground Clearance
140mm (5.5″)
Seat Height
775mm (30.5″)
Fuel Capacity
15 litres
Wet Weight
310 kg (683 lb)
Colour(s)
Matte Dark Metallic Gray
2018 Yamaha VMAX (VMX17) – Totalmotorcycle.com European Specifications/Technical Details
Europe/UK MSRP Price: £ See Dealer for pricing in GBP (On The Road inc 20% Vat)
NA
Manufacturer Specifications and appearance are subject to change without prior notice on Total Motorcycle (TMW).