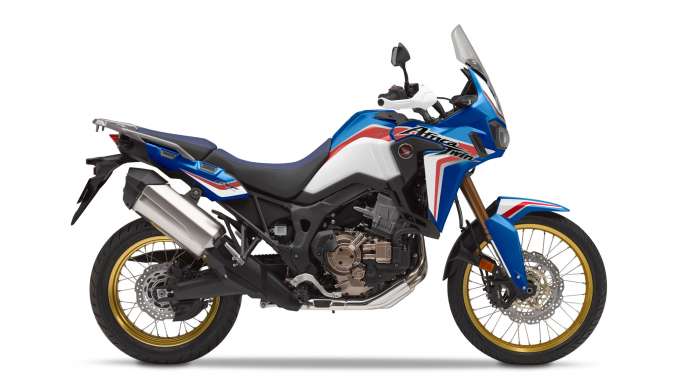 CONFIDENCE INSPIRING ON ALL TERRAIN.
2019 Honda Africa Twin:
Some people just can't take "No" for an answer. Neither can some bikes. Enter the 2019 Honda Africa Twin and Africa Twin Adventure Sports. Designed for endless possibilities, they know no boundaries. Both share the same legendary engine and frame, but the Africa Twin Adventure Sports is optimized for range and comfort—with a bigger fuel tank, more suspension travel, a larger skid plate, wider footpegs, a larger windscreen, and more. This year, the Africa Twin is available in stunning Matte Black Metallic and Blue/White/Red, while the Africa Twin Adventure Sports is now available in Light Silver/Gray Metallic. So, whether you're getting ready for a weekend or a year away, a Honda Africa Twin is ready and able.
When the CRF1000L Africa Twin was introduced in 2016 as an homage to the successful XRV650 and XRV750, the full-scale adventure motorcycle was immediately heralded for being equally capable of crossing rugged continents and highway cruising. For 2018, the "True Adventure" spirit of the award-winning model expanded with the introduction of the CRF1000L2 Africa Twin Adventure Sports, which pushed the platform even further into the long-range off-road-ready territory. Similar in overarching design, both models return for 2019, offering a superb balance of power and light weight, a key component to the platform's success and user-friendly nature.
A minimalistic look compared to the Adventure Sports model. 2Kg lighter, but with the same liquid-cooled, 998cc 8-valve parallel twin engine and revised exhaust. Dual Clutch Transmission, Throttle By Wire, with 3 ride modes, G switch, Honda Selectable Torque Control and Engine Braking, 18.8 litre fuel tank and fully adjustable SHOWA suspension system.
Combine the peak power of 70Kw @ 7,500rpm, with 99Nm torque @ 6,000rpm and you get plenty of strong acceleration when you need it. The CRF1000L's engine provides the perfect balance of feel and rear-wheel traction.
CRF1000L's new engine has a lighter balance shaft and a revised inlet and exhaust system to improve mid-range torque. It's a combination that delivers an eager and energetic response – on demand. Together with the engine management control package, this machine instils great confidence when riding across all kinds of terrain, in the city, the country or the desert.
Light and compact
The engine not only contributes to the increased ground clearance, but also to rider comfort. It's held by 6 hangers, keeping vibration to a minimum. The chassis – a semi-double cradle steel – is strong and with outstanding versatility between high-speed touring and genuine off-road ability.
The Dual Clutch Transmission makes it easier getting to the top. It has a clever way of detecting an incline. The steeper the angle, the more it will adjust to give you the best possible traction and control.
It's your planet, ride it. All roads are accessible with 3 different rider modes.
Everything is at your fingertips; just choose the ride that suits your mood, your ability and the conditions.
Rider modes
There are three set combinations: TOUR employs the maximum Power setting and provides mid-range Engine Braking combined with a high HSTC level. URBAN uses mid-level Power setting with the same settings as TOUR for HSTC and EB.
Personal settings
A fourth mode – USER – allows the rider to set and save a preferred combination of Power, Engine Braking and HSTC levels. For best off-road performance hit the G button; used in any riding mode, it modifies the clutch control giving a more direct drive through the Dual Clutch Transmission.
A range of rides
A standard manual mode allows gear changing using a trigger on the left handlebar. D mode offers the best balance of fuel economy and cruising comfort, while S mode gives three different, sportier shift patterns.
Further weight saving of 2.3Kg is achieved by using a Lithium-Ion battery. The added benefit is a longer life, and it holds the charge much better – even when left for a while.
Redefining Adventure.
DESIGN
The Africa Twin Adventure Sports' styling is less minimalist than that of the Africa Twin; the dual headlights are shared but the Adventure Sports has a larger fairing matched with an 80mm taller screen to offer greater wind protection. It also comes standard with heated grips and a 12V accessory socket, facilitating longer tours in wide-ranging conditions.
The Adventure Sports model comes standard with a larger sump guard and front light bars. Brushed-aluminum cowling panels add tough appeal and class to this adventure-ready machine, while the rear mudguard and steel rack can be easily removed. Aluminum side cases are available, as is an aluminum top box with mounting equipment specific to the CRF1000L2 Africa Twin Adventure Sports. Thanks to a 1.4-gallon larger, 6.37-gallon fuel tank (compared to 4.97 gallons on the standard model), range for the Adventure Sports model is extended.
Ergonomics
For extended off-road use, the Adventure Sports' seat features a flatter profile than the standard model, and seat height is 1.2 inches higher. The seat adjusts .8 inches, for a seat height of either 35.4 inches or 36.2 inches (compared to 33.5 inches and 34.3 inches); there's also a rear storage pocket tucked away on the right side. To match the raised seat height, the handlebar position is 1.3 inches higher and .2 inches further back than that of the standard model, resulting in a more upright riding position.
CHASSIS/SUSPENSION
The 2019 Africa Twin and Africa Twin Adventure Sports share a steel semi-double-cradle frame that provides nimble on-road manners plus stable high-speed characteristics, as well as genuine off-road capability. The Adventure Sports offers 10.6 inches of ground clearance (.8 inches more than the Africa Twin). Each has a wheelbase of 61.2 inches, and rake/trail figures of 27.5°/4.5 inches. Curb weight for the Adventure Sports is 533 pounds (556 pounds DCT), while the standard model weighs in at 507 lbs. (529 pounds DCT).
The Adventure Sports' 45mm Showa cartridge-type inverted fork has 8.9 inches of suspension stroke (up .9 inches from the standard Africa Twin), offering excellent long-travel performance. At the Adventure Sports' rear, a Showa shock delivers 9.4 inches of travel.
On both models, the shock has a low upper mount for mass centralization, and it features a 46mm remote reservoir for stable damping control under more extreme off-road conditions. Spring preload can be adjusted via a dial on the shock body; rebound and compression damping are also fully adjustable.
Compact two-piece, radial-mount, four-piston calipers work dual 310mm "wave" floating rotors through sintered pads and serve up consistent stopping power and feel on-road or off. The rear rotor has a diameter of 256mm and also features a "wave" design. The lightweight two-channel ABS can be turned off at the rear.
True to their off-road heritage, the Africa Twin models feature spoke front and rear wheels in size 21 and 18 inches, respectively, wearing 90/90-21 and 150/70-18 tires. The spokes are manufactured in stainless steel for improved durability and ease of care.
ENGINE
The 998cc SOHC eight-valve parallel-twin engine used in both Africa Twin models is paired with  a two-into-one downpipe that feeds exhaust through two catalyzers into a simple two-chamber muffler. Bore and stroke are set at 92 x 75.1mm, with a compression ratio of 10.0:1; the 270° phased crankshaft and uneven firing interval create the engine's distinctive throb and feel for rear-wheel traction.
The crankcases are split vertically; the water pump is housed within the clutch casing, with a thermostat integrated into the cylinder head. The water and oil pumps are driven by the engine's balancer shafts. These features contribute to the engine being compact and short, and to optimum ground clearance, a crucial element to off-road performance.
Four-valve cylinder heads, fed by PGM-FI fuel injection, each employ twin spark plugs and dual and sequential ignition control for even combustion. Honda's SOHC Unicam® valve train is a feature of the CRF450R and the low-set position of the cast camshaft contributes to the compact nature of the cylinder head. The inlet valves are 36.5mm in diameter, whereas the exhaust valves are 31mm.
The engine uses a semi-dry sump and in-tank lower-crankcase oil storage, allowing a shallow pan depth and reducing overall engine height. As the pressure-fed pump is located within the oil tank, there is no need for a pressure-feed passage, again saving weight and space.
Secondary vibrations are neutralized by the mutually reciprocating motion of the pistons, while primary inertial and coupling vibrations are cancelled by the use of biaxial balance shafts. The front balancer shaft uses two weights, the rear only a single weight.
On the manual-transmission versions, the aluminum clutch center and pressure plate use "assist" cams to ease shifting (with light lever feel) and "slipper" cams for deceleration and downshifting. Oil-gathering ribs on the main journal side of the primary gear ensure consistent lubrication for the gear, damper spring, and primary sub-gear. The lightweight six-speed manual gearbox uses the same shift-cam design as found on the CRF450R to ensure positive changes.
A lightweight (5.1 lbs.) lithium-ion battery offers great longevity, both in terms of life and the ability to retain a charge.
An optional quick-shifter is available.
TECHNOLOGY
The entire Africa Twin platform utilizes a Throttle By Wire (TBW) system that features four individual riding modes and a Honda Selectable Torque Control (HSTC) system. The use of TBW allows an array of choices for managing engine output, feel, and rear-wheel traction. The system features seven levels—from Level 1, for aggressive riding off-road on block-pattern tires, to Level 7, for maximum sense of security on slippery, wet tarmac. It is possible to turn HSTC completely off, and there are also three levels of power and engine braking available.
In a setup first used on the RC213V-S—the street-legal version of Honda's MotoGP racer—three riding modes offer preset combinations of each parameter, suitable to different riding environments and scenarios:
TOUR mode employs the highest Power (1), Engine Braking (2), and high HSTC (6).
URBAN mode uses mid-level Power (2), Engine Braking (2), and high HSTC (6).
GRAVEL mode allows lowest Power (3), Engine Braking (3), and high HSTC (6).
A fourth mode—USER—allows the rider to set and save his or her preferred combination of Power, engine braking, and HSTC levels. Riding mode and HSTC level can be changed at any time using the controls on the left switchgear.
HONDA ACCESSORIES
A full range of genuine Honda accessories is available for the CRF1000L2 Africa Twin Adventure Sports and CRF1000L Africa Twin, including:
Quick shifter
Heated grip attachment
Heated grip set
12v accessory socket
Light bar/skid plate
Low seat (CRF1000L2)
Centerstand (CRF1000L)
Centerstand (CRF1000L2)
Rear carrier
Tall windscreen
Low seat (Rally color)
Low seat (Black)
DCT foot shifter
Comfort passenger footpegs
Top case
Top case lock
1 key inner cylinder set
1 key body part
Backrest pad
Pannier set
2019 Honda Africa Twin Totalmotorcycle.com Features and Benefits
Performance
Parallel-Twin Engine Layout
The Africa Twin's parallel-twin engine layout makes the bike shorter front-to-back. That means the front wheel can tuck in closer to the engine, reducing the wheelbase and making the bike more nimble off road and on pavement.
Africa Twin Adventure Sports
Designed for the most ambitious explorers, and loaded with features like a bigger fuel tank, more suspension travel, a larger skid plate, a flatter, more comfortable seat, wider footpegs and a taller windscreen. There's even a standard-equipment rear rack. Available with either a six-speed manual or Honda's revolutionary Automatic DCT transmission.
Tapered Aluminum Handlebar
Another example of fitting premium equipment to the Africa Twin wherever we can, the aluminum handlebar is much lighter than a steel unit. The design tapers from a thinner diameter under your grips to a fatter section at the top clamp, and is fine-tuned for optimal flex and rigidity.
Tires and Wheels
Real adventure bikes use spoked wheels because they better survive the dings and hits of off-road riding. The Africa Twin features a 21-inch front and an 18-inch rear for superior performance, especially when it comes to off-road riding.
Brakes
With a pair of 310mm front disc brakes and a single 256mm disc in the rear, the Africa Twin offers up ample stopping power in all conditions.
Four-Piston Calipers
Up front, the Africa Twin features twin four-piston brake calipers for powerful braking performance. The radial-mount design also helps make them stiffer, increasing brake feel and control.
Unicam Engine Design
Honda's exclusive Unicam® engine design helps us give the Africa Twin a compact cylinder head for optimal engine placement. But the engine also benefits from superior performance, thanks to the entire cylinder-head layout. It's the best of both worlds!
Twin Intakes
The Africa Twin uses a unique twin air-intake design with two vertical filtration elements. All that clean air helps the engine deliver excellent performance, even under prolonged operation in dusty conditions.
Comfort
Rally Windscreen
Developed from our racing experience in the Dakar Rally, the Africa Twin's windscreen helps shield you from the wind and the elements, especially during long miles of high-speed touring. At lower speeds, the clear construction gives you better visibility off road. The Adventure Sports' windscreen is 3.1 inches taller for even more long-distance coverage.
Narrow Riding Position
Adventure riding is an active sport, and that means you need to be able to move around on your bike naturally and athletically. The Africa Twin is extremely narrow where you sit, and the peg-bar-seat triangle lets you move up and forward and far back as well, to enhance handling, especially under demanding trail conditions.
Adjustable Seat
The Africa Twin offers an adjustable rider's seat. This makes reaching the ground easier, and also lets you fine-tune your riding position in respect to the footpeg and handlebar placement.
Biaxial Counterbalance
By using counterbalancing elements on two axes, Honda's engineers can cancel out both primary and coupling vibrations from the engine. The result is that we can mount the engine solidly for superior strength and handling, yet you still get an extraordinarily smooth, vibration-free ride.
Handling
43-Degree Steering Lock
With 43 degrees of steering lock both left and right, the Africa Twin provides excellent maneuverability on tight trails. This is one of the reasons the Africa Twin feels so much more nimble than many of the other bigger adventure bikes out there.
Semi-Double-Cradle Frame
The Africa Twin's semi-double-cradle frame layout has been proven in countless Honda dirtbikes. In principle it's similar to the design we use on our CRF450R Rally bike—a machine that's designed to perform in the challenging Dakar rally and similar events.
Front Suspension
The Africa Twin uses a specially built inverted Showa fork with huge 45mm fork tubes and 9.1 inches of travel. It's fully adjustable for both compression and rebound damping. The Adventure Sports model offers 9.9 inches of travel.
Rear Suspension
Not only is the Africa Twin's rear suspension fully adjustable, it offers a 220mm stroke for 8.7 inches of rear-wheel travel. Even better, there's a special remote preload adjuster—you just turn a convenient knob, and you can compensate for varying loads like a passenger or full panniers. The Adventure Sports model offers 9.4 inches of travel.
Pro-Link Rear Suspension
We worked hard to tuck the Africa Twin's Pro-Link® rear suspension linkage up away from harm. The rising-rate design resists bottoming, yet gives you a plush ride over small bumps.
Long-Travel Suspension
The Africa Twin doesn't just look like an adventure bike—it's the real deal. Exhibit A: Check out its long-travel suspension. The fork features huge 45mm tubes and 9.1 inches of travel, while the single-shock Pro-Link® rear suspension is also fully adjustable, with 8.7 inches of travel and a convenient remote preload adjustment. Our Adventure Sports version offers 9.9 inches of travel up front and 9.4 inches of travel in the rear.
Hollow Axle Shafts
The Africa Twin uses large-diameter hollow steel axles front and rear. They're super strong, durable, but also light: a combination which describes just about everything associated with this bike.
Honda Selectable Torque Control
The Africa Twin's throttle-by-wire system lets us offer Honda Selectable Torque Control (HSTC). You can dial in exactly the kind of power delivery you want for the conditions at hand. Honda Selectable Torque Control features seven settings for a wide range of conditions, from pavement to fast, loose fire roads to challenging singletrack. You can also turn it off.
Engineering
Low Center of Gravity, Compact Mass
By locating heavy components like the battery as close to the bike's center of gravity as possible, and using a compact engine, the Africa Twin provides a superior platform for excellent handling.
Anti-Lock Brakes
The Africa Twin's Anti-lock Brake System (ABS) comes standard. Off-road riders will appreciate the fact that they can turn the ABS function off for the rear wheel in the dirt.
Transmission Choice
You pick: The Africa Twin and Africa Twin Adventure Sports are available with either our standard six-speed manual gearbox or Honda's exclusive automatic six-speed Dual-Clutch Transmission (DCT). Both transmissions are excellent choices, and both feature stout, strong steel gears inside—the only difference is who does the shifting.
Dry-Sump Engine
The Africa Twin's dry-sump engine design is the only way to go. The more compact sump increases ground clearance and eliminates the vulnerability of a conventional wet sump.
Water Pump
Can you see the Africa Twin's water pump? Trick question! It's tucked behind the right side cover, out of harm's way. There are no vulnerable hoses leading to it either, a weakness on some bikes. Driven by the balancer shaft, in case of a tip-over or in rocky sections, it's one less thing to worry about.
270-Degree-Phase Crank
Most twins use a 180-degree crank. By phasing the Africa Twin's at 270 degrees, you get a unique power delivery that's easy to modulate, especially in terrain where traction is challenging.
Throttle-By-Wire
Our throttle-by-wire system greatly expands the Africa Twin's versatility. First, you get seven levels of Honda Selectable Torque Control. Second, you can choose from four power delivery modes: Tour, Urban, Gravel, and a fourth that's user-programmable. First used on our RC213V-S, throttle-by-wire is an excellent example of how Honda's technology works for you.
2019 Honda Africa Twin – Totalmotorcycle.com USA Specifications/Technical Details
US MSRP Price: starting from $13599 USD
Canada MSRP Price: $ 15199 CDN
Europe/UK MSRP Price: £ GBP (On The Road inc 20% Vat)
Australia MSRP Price: See Dealer for Pricing in AUS
Model
CRF1000L2 Africa Twin Adventure Sports DCT
CRF1000L2 Africa Twin Adventure Sports
CRF1000L Africa Twin DCT
CRF1000L Africa Twin
ENGINE
Type
998cc liquid-cooled Unicam® four-stroke 22.5º parallel-twin
Valve Train
SOHC; four valves per cylinder
Bore x Stroke
92.0mm x 75.0mm
Compression Ratio
10.0:1
Induction
PGM-FI electronic fuel injection (Throttle By Wire); (2) 44mm throttle bodies
Ignition
Full transistorized ignition
Starter
Electric
Transmission
6 speed automatic DCT
6 speed manual
6 speed automatic DCT
6 speed manual
Clutch
2 multiplate wet
Multiplate wet
2 multiplate wet
Multiplate wet
Final Drive
Chain; 16Tx42T
SUSPENSION
Front
45mm inverted telescopic fork; 9.9 in. travel
45mm inverted telescopic fork; 9.1 in. travel
Rear
Pro-Link® system w/ single shock; 9.4 in. travel
Pro-Link system w/ single shock; 8.7 in. travel
BRAKES
Front
Two four-piston hydraulic calipers w/ 310mm disks; ABS
Rear
Single one-piston hydraulic caliper w/ 256mm disk; ABS
TIRES
Front
90/90-21
Rear
150/70R-18
MEASUREMENTS
Rake (Caster Angle)
27.5º
Trail 
111mm (4.37 in.)
113mm (4.44 in.)
Length
92.3 in.
91.9 in.
Width
36.7 in.
Height
61.8 in.
58.2 in.
Seat Height
36.2 in. / 35.4 in.
34.3 in. / 33.5 in.
Ground Clearance 
10.7 in.
9.9 in.
Wheelbase
62.2 in.
62.0 in.
Fuel Capacity
6.4 gal. (1.0 gal. reserve)
4.97 gal. (1.0 gal. reserve)
Color
Light Silver/Gray Metallic
Matte Black Metallic; Blue/White/Red
Curb Weight*
555.8 lbs.
533.0 lbs.
530.0 lbs.
506.8 lbs.
*Includes all standard equipment, required fluids and full tank of fuel—ready to ride
Meets current EPA standards
Models sold in California meet current CARB standards and may differ slightly due to emissions equipment
Specifications subject to change
2019 Honda Africa Twin – Totalmotorcycle.com Canada Specifications/Technical Details
Engine & Drivetrain
Engine Type
Liquid-cooled 4-stroke 8-valve Parallel Twin with 270-degree crank and unicam
Displacement
998 cc
Bore & Stroke
92 mm x 75.1 mm
Compression Ratio
10:1
Valve Train
Unicam, 4 valves per cylinder
Fuel Delivery
PGM-FI electronic fuel injection
Transmission
Standard model: Six-speed constant mesh | DCT model: Six-speed Dual Clutch Transmission with manual shift mode and four automatic shift modes; on & off-road settings
Final Drive
O-ring-sealed chain
Chasis & Suspension
Front Suspension
Inverted telescopic fork with full adjustability; 204 mm (8 in.) travel
Rear Suspension
Pro-Link® single shock with full adjustability; 220 mm (8.7 in.) travel
Dimensions & Additional Information
Tires
Front: 90/90-R21 tube type Rear: 150/70-R18 tube type
Brakes
Front: 310 mm dual wave floating hydraulic discs with aluminium hub and radial mounted 4-piston calipers | Rear: 256mm wave hydraulic disc with 2-piston caliper with ABS. Rear ABS on/off switch.
Ground Clearance
250 mm (9.8 in.)
Seat Height
850 mm / 870 mm (33.5 in. / 34.3 in.)
Wheelbase
1,575 mm (62 in.)
Curb Weight
Standard model: 229 kg (507 lbs.) | DCT model: 239 kg (527 lbs) including required fluids and full tank of gas—ready to ride
Fuel Capacity
18.8 Litres
Colour
Standard model: Mat Ballistic Black Metallic, Victory Red, White and Black – Rally Tricolour | DCT model: Candy Chromosphere Red, Mat Ballistic Black Metallic.
Warranty
12 months, unlimited mileage, freely transferable warranty; extended coverage available with Honda Plus
2019 Honda Africa Twin – Totalmotorcycle.com European Specifications/Technical Details
Engine
Bore × Stroke (mm) 92.0mm x 75.1mm
C02 Emissions 109
Engine Displacement (cc) 998cc
Engine Type (cm³) Liquid-cooled 4-stroke 8-valve parallel twin with 270° crank and uni-cam
Max. Power Output 70kW/7,500rpm (95/1/EC)
Max. Torque 99Nm/6,000rpm (95/1/EC)
Starter Electric
Wheels
ABS System 2-Channel with rear ABS off switch
Brakes Front 310mm dual wave floating hydraulic disc with aluminium hub and radial fit 4-piston calipers and sintered metal pads
Brakes Rear 256mm wave hydraulic disc with 1-piston caliper and sintered metal pads. Also Lever-Lock Type Parking Brake System on DCT model with additional slide type 1-piston caliper
Suspension Front Showa 45mm cartridge-type inverted telescopic fork with hydraulic dial-style preload and damping (compression & rebound) adjuster, 252mm stroke, 224mm axle travel
Suspension Rear Monoblock cast aluminium swing arm with Pro-Link with gas-charged damper, hydraulic dial-style preload adjuster and rebound damping adjustment, 240 mm rear wheel travel, 101 mm stroke
Tyre Size Front 90/90-R21 tube type
Tyre Size Rear 150/70-R18 tube type
Wheels Front 21M/C x MT2.15 Wire spoke with aluminium rim
Wheels Rear 18M/C x MT4.00 Wire spoke with aluminium rim
Dimensions and Weights
Battery Capacity (VAh) Standard
Dimensions (L×W×H) (mm) 2340mm x 930mm x 1570mm
Frame type Steel semi-double cradle type with high-tensile strength steel rear subframe
Fuel Tank Capacity (Litres) 24.2 litres
Fuel Consumption 61.6 mpg (WMTC)
Ground Clearance (mm) 270mm
Kerb Weight (kg) 253kg
Seat Height (mm) Standard height 920mm / Low position 900mm
Wheelbase (mm) 1580mm
Transmission
Clutch 2 Wet multiple clutches
Final Drive O-ring sealed chain
Gearbox 6-speed DCT with on and off-road riding modes
Instruments and Electrics
Headlights Dual LED (1 High/1 Low)
Instruments Rally style negative LCD instrument display including: Riding Modes, Speedometer, Tachometer, Fuel, Gear position, ABS, HSTC, Odometer, Trip and Clock
Tail Light LED
2019 Honda Africa Twin – Totalmotorcycle.com Australian Specifications/Technical Details
Manufacturer Specifications and appearance are subject to change without prior notice on Total Motorcycle (TMW).