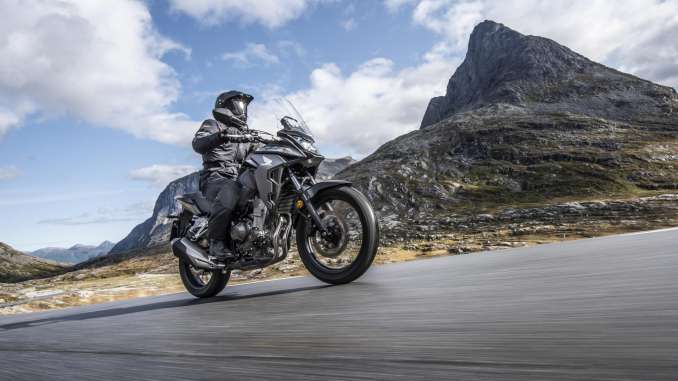 TAKE IT ALL IN.
2019 Honda CB500X ABS:
Nothing delivers the feeling of freedom like an adventure bike, and the new CB500X has significant performance upgrades that make it ready for adventure without losing any of its city manners. A completely revamped intake tract, new fuel-injection nozzles that concentrate their spray, improved cam timing and a new, more precise crank sensor add up to a 3 to 4% torque gain in the 3,000 to 7,000 rpm range of the 471cc DOHC, four-valve, parallel-twin engine. Power is tuned for strong low-end and precise throttle control, ideal for the unique needs of the rider who ventures where others turn back. The new slipper clutch makes downshifts smother, and lever pull is 45% lighter. The front wheel is now 19 inches, improving bump absorption. A new rear shock, increased suspension travel front and rear, higher ground clearance and a new tapered handlebar combine to prepare this midsized machine for full-sized adventures, and a revised steering angle improves high speed cruising yet also allows a tighter turning radius. The rear brake has been redesigned for improved control, and ABS settings have been optimized. Rugged styling, a new multifunction display, a sportier exhaust note and the upright ADV riding position accentuate this machine's intentions.
Here's one of the best-kept secrets in motorcycling: Adventure bikes not only let you explore some interesting places, they're also some of the best all-around motorcycles ever. And for 2019, we've taken one of our best—the Honda CB500X—and made it even better. It gets more midrange power, making it even more fun to ride. A new rear shock with larger-diameter internals for an even better ride. A new, slimmer seat. More suspension travel. A new slipper/assist clutch. And the list goes on.
What hasn't changed, though, is what a delightful all-around machine this is. Its combination of light weight, narrow profile and its powerful engine let it shine on winding back roads, but also make it enjoyable to ride on urban commutes. The upright seating position just feels right to so many riders, and lets you sit up straighter and see what's going on around you. The twin-cylinder powerband is just about perfect for the riding most of us do, with plenty of torque and easy-to-access power. Passenger-ready, it's big enough to share the fun, too.
The new CB500X. The right size for real-world adventures, and just plain fun.
Powerful, Torque Rich Twin-Cylinder Engine
Revised this year to feature more power and torque in the midrange, the CB500X's 471cc, liquid-cooled engine features parallel cylinders with dual overhead cams. Light, narrow, and powerful, it just strikes the perfect balance of what a motorcycle engine should be.
The CB500X utilizes an upright riding position. Plus, this year we've given it a new, stiffer, premium tapered handlebar that increases steering feedback, along with a narrower seat that makes it easier to put your feet down in parking lots or at stoplights.
2019 Updates
Engine refinements for an increase in overall power, including 3 to 4% more torque from 3,000 to 7,000 rpm.
Fuel-injector spray narrowed, fuel-droplet size optimized for improved spray penetration in intake. Improves combustion and therefore creates more linear power from first crack of the throttle through to rpm redline.
Smaller battery, repositioning of components enable increased air-intake volume and addition of filter element in tract below headlights. Straighter velocity stacks and reshaped separators between the cylinders make for decreased turbulence, resulting in improved power at every rpm.
New valve timing increases torque and improves roll-on response.
New crank-sensor system with over 2.5 times more-frequent crank-position readings and model-specific fuel-injection settings allow more linear power delivery, with emphasis on low- and midrange power and more precise throttle response.
New muffler with increased volume before and after catalytic converter. Backpressure optimized for improved low-end and midrange power. New dual-outlet muffler tip makes exhaust note racier-sounding to match new power.
New transmission gear-dog design is more precise for more accurate, sure shifting action.
New slipper clutch design adapts to load stresses for increased hook-up under heavy acceleration and reduced engine braking under downshifting.
New clutch design, with the same engineering found in the CBR1000RR, decreases lever pull by 45%, especially helpful in stop-and-go traffic. Lever shape improved as well.
Larger, 19″ front wheel for better bump absorption, improved high-speed handling.
Steering caster angle slackened by 1 degree (now 27.5 degrees) for improved handling.
New front and rear tire design with deep-grooved tread.
New shock with advanced pressure-separation design from Honda's large sport models is more stable and predictable for improved rear-wheel tracking and traction.
Increased suspension travel (up .4 in. in front, 1.2 in. rear) for improved performance through stroke, reduced bottoming and increased ground clearance.
On ABS version, upgraded modulators improve precision during ABS engagement.
Revised hydraulic ratio in rear brake, combined with ABS, achieve improved brake modulation in low-traction situations.
Lighter seat rails for improved mass centralization and better handling.
New, full-featured display has larger screen and thinner bezel, includes new upshift indicator that can be set to different rpm settings.
Turning radius reduced by nearly 8 inches for easier maneuvering.
Windscreen is 20mm taller for great wind protection during high-speed cruising.
Seat narrowed above pegs to aid touching feet to ground at stops.
New tapered handlebar improves feedback, control and style, while new rubber-mounted handlebar clamp minimizes vibration to rider's hands.
More aggressive adventure styling with new fuel tank, radiator shroud, headlight, clear taillight lens and new LED turn signals. New shroud design helps direct radiator heat away from rider's legs.
One-year, transferable, unlimited-mileage limited warranty; extended coverage available with a Honda Protection Plan.
Meets current EPA and CARB standards
California version differs slightly due to emissions equipment
2019 Honda CB500X ABS Totalmotorcycle.com Features and Benefits
Even more power
The DOHC liquid-cooled parallel-twin engine uses a square bore & stroke of 67 mm x 66.8 mm for an optimum combination of strong low-end torque and excellent top-end power. A 4% boost in horsepower and torque for 2019 results in even sportier performance.
Compact engine, minimal vibration
Engine vibration is kept to a minimum by using crank pins phased at 180 degrees and a balancer shaft behind the cylinders, which also contributes to the engine's compact size.
New slipper clutch
Not only does the new slipper clutch help to prevent rear-wheel lockup on downshifts, it also reduces effort at the lever by almost half, helping to reduce rider fatigue particularly in city traffic or on long rides.
Crisp throttle response
PGM-FI electronic fuel injection keeps the engine running efficiently in all conditions and ensures crisp throttle response.
Runs smoothly at high output levels
Careful flow analysis of the cooling system resulted in a water pump that's small and lightweight, yet still more than capable of keeping the engine running its best at high output levels.
Maximized air-intake
In order to maximize air-intake and exhaust efficiency, the profile from the air cleaner through the intake ports to the exhaust pipe was made as straight as possible, helped in part by repositioning the battery away from the rear of the airbox intake duct.
Upgraded exhaust
Improved airflow in the exhaust system—now featuring dual exit pipes—results in extra power and a sportier-sounding edge to the exhaust note.
Four-valve cylinder heads
The four valves in each of the DOHC cylinder heads have narrow stems, thereby reducing weight and friction and increasing efficiency.
Reduced friction
A light and compact roller-rocker-arm assembly and shim-type valve adjustment allows a lower valve-spring load for reduced friction and a compact cylinder head.
Improved durability
The pins in the silent cam chain have been treated with vanadium, which both reduces friction and improves durability. The lightweight pistons use the same advanced manufacturing process as those found in the CBR1000RR. To ensure precise cylinder shape, the engine uses the same centrifugal-cast thin-wall sleeves as found in the CBR1000RR.
Less friction, improved performance
The oil pump's internal relief structure uses the same design as found in the CBR1000RR, which reduces friction, improves aeration performance and simplifies the shape of the oil pan.
Easy shifting
The new gear indicator and adjustable shift-up indicator make it even easier to use the smooth-shifting six-speed gearbox.
Responsive with desired feedback
The lightweight diamond-shaped steel frame was designed to allow a certain degree of yield, which enables it to better respond to changes in the road surface and to transmit just the right amount of feedback to the rider.
Increased suspension travel
For even better off-road performance and overall comfort, the Pro-Link® rear suspension with five-stage preload-adjustable shock gains 17 mm of travel, while the conventional 41 mm telescopic fork with preload adjustability gains an extra 10 mm of travel. A new single-tube rear shock replaces the double-tube design of the previous model—its large-diameter piston ensures excellent suspension response and better heat dissipation.
New wheels & and tires
Larger 19-inch front wheel (up from 17 in.) and more-aggressive front and rear tires help to make the CB500X even better at handling rough surfaces.
Light & nimble
Lightweight cast aluminum wheels not only look trick, they also contribute to the bike's excellent manoeuvrability.
Easy to manage
The rear section of the frame was designed to facilitate a seat height of 830 mm, which allows most riders to easily plant their feet on the ground when stopped. The seat profile, too, has been slimmed by shaving the shoulders at the front, making it even easier to move on the bike and reach the ground at stops.
Reduced unsprung weight
Wave brake rotors with superlative heat-dissipating qualities are lighter than conventional discs of the same diameter, which helps to further reduce the bike's unsprung weight.
ABS braking control
A dual-piston brake caliper up front and a single-piston caliper at the back provide strong but easily controlled stopping power. Plus, two-channel ABS gives you extra peace of mind on reduced-traction road surfaces.
A perfect fit
Adjustable brake lever allows you to get the perfect fit for optimal comfort and control.
Comfort assured
Updated seat provides long-range comfort while offsetting the increase in suspension travel, thereby maintaining an ideal seat height for on/off-road riding. Plus, a 20 mm higher windscreen provides improved weather protection.
Aggressive look
Sleek bodywork includes a new front cowl that leaves much of the engine exposed for an aggressive, streetfighter look. Bright LED lights and turn signals keep weight and power consumption low.
Comfortable riding position
Ergonomics were carefully configured to ensure an unrestricted riding position that allows easy manoeuvring in town, an easy reach to the ground, as well as excellent comfort during long-distance highway trips.
Large fuel tank
The CB500X boasts a large 17.5-litre fuel tank, which combined with the fuel-efficient engine means a range of approximately 500 km for plenty of riding fun between fill-ups.
Under-the-seat storage
A utility space under the seat accommodates a U-lock, wet weather gear or other items.
Protection from above & below
The CB500X's bodywork includes a lower section that helps to protect the exhaust pipes and engine from stones and other debris when riding on rough surfaces.
2019 Honda CB500X ABS – Totalmotorcycle.com USA Specifications/Technical Details
US MSRP Price: starting from $ USD
Canada MSRP Price: $ CDN
Europe/UK MSRP Price: £ GBP (On The Road inc 20% Vat)
Australia MSRP Price: See Dealer for Pricing in AUS
ENGINE
ENGINE
Engine Type
471cc liquid-cooled parallel-twin
Bore And Stroke
67mm x 66.8mm
Compression Ratio
10.7:1
Induction
PGM-FI with 34mm throttle bodies
Ignition
Computer-controlled digital transistorized with electronic advance
Valve Train
DOHC; four valves per cylinder
DRIVE TRAIN
DRIVE TRAIN
Transmission
Six-speed
Final Drive
O-ring-sealed chain
CHASSIS / SUSPENSION / BRAKES
CHASSIS / SUSPENSION / BRAKES
Front Suspension
41mm fork; 5.3 inches travel
Rear Suspension
Pro-Link® single shock with nine-position spring preload adjustability; 5.9 inches travel
Front Brake
320mm disc
Rear Brake
240mm disc
Front Tire
110/80-19
Rear Tire
160/60-17
DIMENSIONS
DIMENSIONS
Rake
27.5 degrees
Trail
108mm (4.3 inches)
Wheelbase
56.9 inches
Seat Height
32.7 inches
Curb Weight
430 pounds. Includes all standard equipment, required fluids and full tank of fuel-ready to ride
Fuel Capacity
4.6 gallons
OTHER
OTHER
Model ID
CB500X
Emissions
Meets current EPA standards. Models sold in California meet current CARB standards and may differ slightly due to emissions equipment.
Available Colors
Grand Prix Red
FACTORY WARRANTY INFORMATION
FACTORY WARRANTY INFORMATION
One Year Included
Transferable, unlimited-mileage limited warranty
Optional Extended
Extended coverage available with a HondaCare Protection Plan®
2019 Honda CB500X ABS – Totalmotorcycle.com Canada Specifications/Technical Details
Engine & Drivetrain
Engine Type
Liquid-cooled parallel-twin
Displacement
471 cc
Bore & Stroke
67 mm x 66.8 mm
Compression Ratio
10.7:1
Valve Train
Chain-driven DOHC, 4 valves per cylinder
Fuel Delivery
PGM-FI electronic fuel injection
Transmission
Six-speed
Final Drive
#520 O-ring sealed chain
Chassis & Suspension
Front Suspension
41 mm telescopic fork with spring preload adjustment, 150 mm (5.9 in) travel
Rear Suspension
Pro-Link® single shock with 5-stage spring preload adjustment; 135 mm (5.3 in.) travel
Additional Information
Tires
Front: 110/80R-19
Rear: 160/60ZR-17
Brakes
Front: 310 mm single wave hydraulic disc with 2-piston caliper
Rear: 240 mm single wave hydraulic disc with single-piston caliper with 2-channel ABS
Seat Height
830 mm (32.6 in)
Wheelbase
1445 mm (56.9 in)
Curb Weight
197 kg (434 lb) including required fluids and full tank of gas—ready to ride
Fuel Capacity
17.5 litres
Colour
Grand Prix Red, Matte Gunpowder Black Metallic
Warranty
12 months, unlimited mileage, freely transferable warranty; extended coverage available with Honda Plus
2019 Honda CB500X ABS – Totalmotorcycle.com European Specifications/Technical Details
TBA
2019 Honda CB500X ABS – Totalmotorcycle.com Australian Specifications/Technical Details
Manufacturer Specifications and appearance are subject to change without prior notice on Total Motorcycle (TMW).