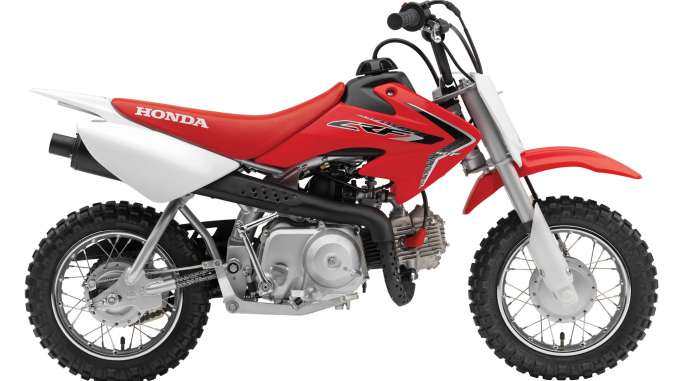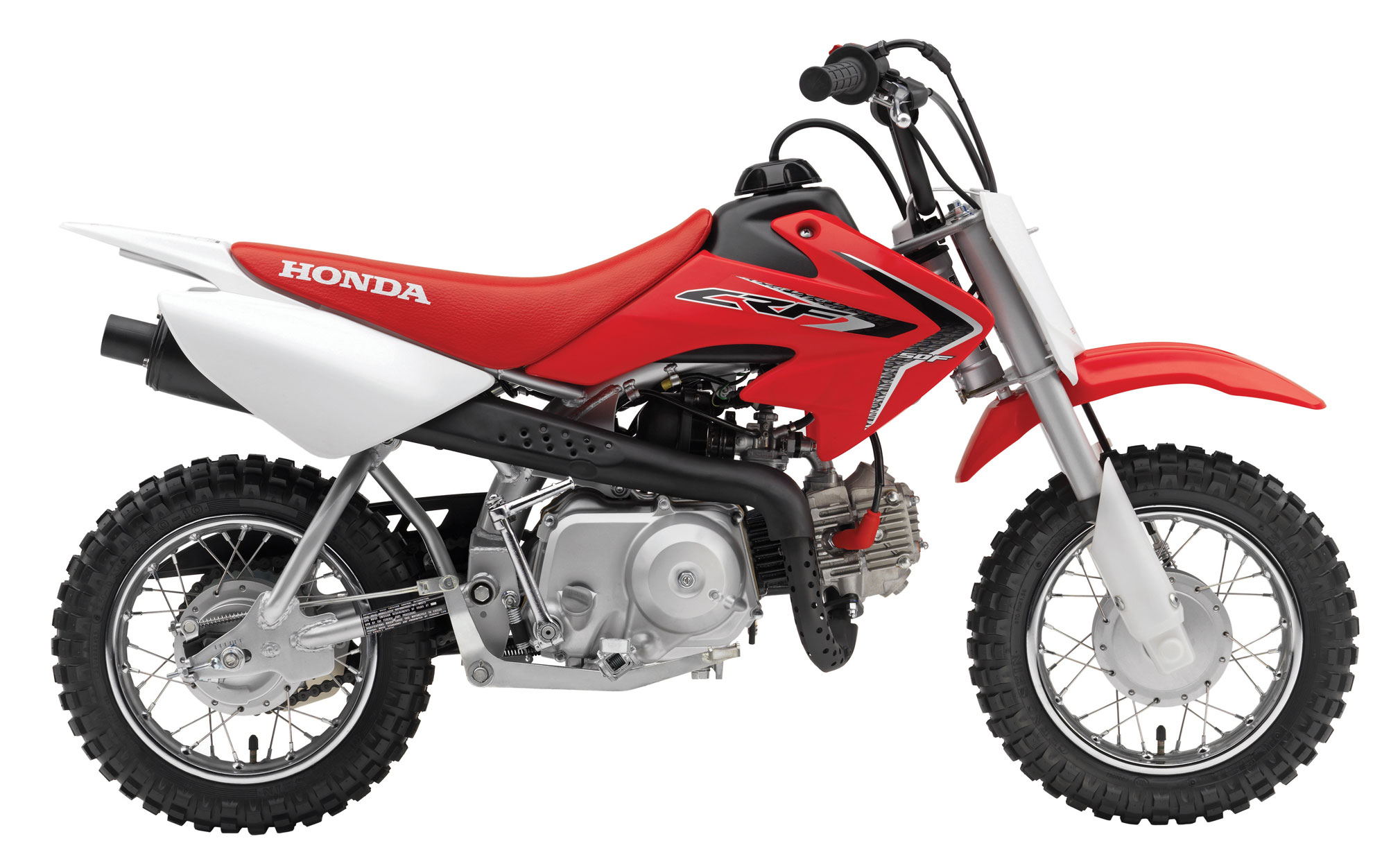 START THEM OFF ON THE RIGHT BIKE.
2019 Honda CRF50F: 
Back by popular demand for 2019, Honda's CRF50F enjoys a legendary heritage dating back to the days of the ultra-fun, twin-shocked Honda Z50. Still one of the most beloved small-bore four-strokes in existence, the CRF50F features modern styling, incredible durability, and an outstanding blend of usable power and effortless handling. It weighs in at just 111 pounds, and although it was designed with the youth rider in mind, many a grown-up has been caught red-handed taking a "quick spin" on this little Honda. Simplicity is the name of the game with this model, as the air-cooled thumper features an automatic clutch and 10-inch wheels front and rear. There's a reason that so many riders recall starting their careers aboard a Honda; the CRF50F is the ultimate first motorcycle for the littlest rider in the crew.
The Right Bike For A Great Start
So much in life depends on getting a great start. A good education. A caring family environment. Establishing solid values early on. We're all going to learn our lessons, but it's critical what lessons we learn. So if you're looking for the right dirtbike to get a young rider started right, go with the proven choice: a Honda CRF50F.
Lesson one: You need to put your young rider on a bike that fits. The CRF50F is our smallest model, and we have plenty of other models in our lineup so he or she can have the right bike as they grow.
Lesson number two: Go with quality. The CRF50F offers up an ideal combination of features: Its tough, reliable four-stroke engine develops smooth, easy-to-use power. Its three-speed transmission uses an automatic clutch, so a rider learns to shift, but never has to worry about stalling. Its tough suspension stands up to youthful enthusiasm.
Lesson number three: Responsibility. The CRF50F offers an adjustable throttle limiter and a keyed ignition. That means you control who rides, when, and how much power they have on tap.
And here's a final thought. At the end of the day, your kids will remember their first motorcycle forever. Make sure it's a good memory. And there's no better way to make those good memories than by putting them on a Honda CRF50F.
Be A Responsible Rider: All parents need to consider their youngsters' age, size, ability and maturity before allowing them to ride. Obtain a copy of "Off-Road Safety Tips" from your local Honda Dealer.
Honda's Famous Reliability.
If there's ever a bike that needs a durable, reliable, low-maintenance engine, it's a bike like this. And nobody can match Honda's reputation for trouble-free operation.
Take Control.
Parents understand the needs of younger riders like nobody else. That's why the CRF50F has a parent-friendly adjustable throttle limiter, so you can decide how much power your rider can use. It's simple for you to adjust too.
Making Your Life Easier.
The CRF50F's automatic clutch makes learning easier, because young riders never have to worry about stalling or a handlebar-mounted clutch lever. They just shift gears with their foot when they're ready.
Keyed Ignition
A removable key helps ensure younger riders can't ride without an adult's supervision. Got their homework done early? Let's go riding!
Durable, Low-Maintenance Engine
If there's one thing you can count on with a Honda, it's the engine. The CRF50F's Honda four-stroke is famously reliable. That cuts down on frustration and hassles.
Automatic Clutch
Because there's no clutch lever to master, new riders don't have to worry about stalling. That makes the CRF50F the perfect tool for learning to shift. In addition, the smooth transmission offers three gear ratios.
Adjustable Throttle Limiter
Set the top speed by turning a screw. That helps keep new riders from going too fast, too soon, and lets you match the CRF50F's power output to the rider's skill level.
Rugged Steel Frame
New riders are hard on equipment, especially when they're just starting out. That's why the CRF50F uses a strong steel frame that's built to handle the bumps and dings of off-road riding.
Honda Broadens CRF Lineup with Expansive New-Model Launch
Largest performance off-road release yet includes new models for diverse applications
During a recent "CRF Collective" unveiling ceremony at Fox Racing headquarters, Honda announced its most far-reaching range of performance off-road models ever, expanding the group by three and significantly improving the four returning models. Leveraging the brand's unparalleled experience in the manufacture of dirt bikes, Honda's performance off-road lineup now includes CRF machines for riding applications including motocross, closed-course off-road, pure off-road, and even dual sport.
All seven models are based on the platforms of Honda's revolutionary motocrossers, the CRF450R and CRF250R. Those two machines return for 2019 but with important updates, as does the closed-course off-road CRF450RX. In addition, Honda is offering a factory-replica version of its full-size motocrosser called the CRF450RWE ("Works Edition"). The trail-ready CRF450X is entirely new for 2019, and it's joined by a road-legal CRF450L that enables customers to connect trails via asphalt. Finally, Honda is also introducing an all-new CRF250RX closed-course off-road machine.
"Honda's history in off-road is something we're very proud of, from the '70s-era Elsinores, through the XRs of the '80s and '90s, to the post-millennial CRF models," said Lee Edmunds, American Honda's Manager of Motorcycle Marketing Communications. "For 2019, it's exciting to build on that reputation with the most expansive lineup of CRF performance off-road models ever offered, and to reach a wide range of enthusiasts through motorcycles that are tailored to an equally diverse spectrum of riding environments. With this new lineup, there really is a CRF off-road performance machine for everyone."
CRF450L
The trails are calling, and the all-new road-legal CRF450L answers, expanding customers' off-road possibilities by enabling access to the best riding trails, even when that means connecting them via asphalt roads. Street legality is achieved via features like LED lighting, mirrors, and a dedicated exhaust system. Equally at home in the woods or desert, the CRF450L has a wide-ratio six-speed transmission for maximum adaptability, while a lightweight, 2.0-gallon tank offers great range. Compared to the CRF450R motocrosser, crank mass is up for tractability in technical conditions, where a large-capacity radiator keeps things cool.
•Color: Red
•Availability: September
CRF450RWE
For the 2019 model year, you don't have to be Ken Roczen to enjoy a CRF450R with factory enhancements, as the new CRF450RWE features a number of upgrades based on the bikes in the Team Honda HRC race shop. Rocketing to the top step of the podium through the use of a specially designed cylinder head with hand-polished ports, Yoshimura titanium slip-on muffler, and special ECU settings, this new model offers increased low- and mid-range torque. It also features the same graphics as Roczen's No. 94 race bike, including a Throttle Jockey factory seat cover. Upgraded black D.I.D LT-X rims are included, along with black triple clamps and a gold RK chain. Titanium nitride-coated fork legs and an updated, titanium nitride-coated shock shaft increase traction and bump absorption.
•Color: Red
•Availability: August
CRF450R
Already the industry's top-selling motocrosser and the winner of the 2018 Daytona Supercross at the hands of MotoConcept's Justin Brayton, the CRF450R receives a number of important updates for 2019. Better engine performance is achieved through a new combustion-chamber shape, as well as improved over-rev characteristics through a refined oil-management system. The frame and swingarm have been revised for optimized rigidity and weight reduction, while the braking system has been updated with a lightweight front brake caliper featuring a large-piston design. As a result of the weight-saving measures, the CRF450R is 1.76 lbs. lighter than its predecessor. For added performance and increased comfort, the 2019 model features new ECU settings, HRC launch control, a Renthal Fatbar® handlebar and adjustable handlebar position. Black rims and redesigned fork protectors are also new. This is how you convert the "Absolute Holeshot" into moto wins.
•Color: Red
•Availability: August
CRF450X
Having featured heavily in Honda-mounted teams winning 20 of the last 21 Baja 1000s, the CRF450X gets a complete overhaul for 2019, based on the modern CRF platform but with off-road-appropriate features. A true off-road machine that's ready for racing or trail riding, this model features a headlight, taillight, and side stand, as well as an 18″ rear wheel and lightweight 2.0-gallon fuel tank. For maximum versatility in challenging terrain, the CRF450X also features a 49mm Showa fork with dedicated settings, wide-ratio six-speed transmission, and higher crank mass than the CRF450R.
•Color: Red
•Availability: October
CRF450RX
Currently campaigned by JCR Honda's Trevor Bollinger and Trevor Stewart in GNCC and WORCS competition, respectively, the CRF450RX inherits the same performance-enhancing features of the 2019 CRF450R, including an updated cylinder head and refined oil-management system, while still featuring off-road-specific features like a 2.2-gallon resin fuel tank, 18-inch rear wheel, and aluminum side stand. Suspension is specially tailored to the CRF450RX and uses low-friction fork oil. For added performance and increased comfort, the 2019 model features new ECU settings, HRC launch control, a Renthal Fatbar handlebar, and adjustable handlebar position. Black rims and redesigned fork protectors are also new.
•Color: Red
•Availability: September
CRF250RX
Based on Honda's successful 250cc motocrosser, the all-new CRF250RX joins the CRF450RX as a weapon for closed-course off-road competitions throughout America. Equipped with a larger-capacity, 2.2-gallon resin fuel tank, 18-inch rear wheel, and aluminum side stand, the RX makes quick work of challenging situations, its dedicated suspension and ECU settings helping the rider work through even the toughest trail sections. As with the CRF250R, HRC launch control, a Renthal Fatbar handlebar, and black rims are standard.
•Color: Red
•Availability: September
CRF250R
Newly introduced in 2018, the CRF250R has seen the GEICO Honda and TiLube Honda teams earn multiple wins in AMA Supercross and Arenacross competition, respectively, while also achieving success in amateur national races. For 2019, the model is revised with increased low-to-midrange engine performance for improved corner exiting. Inspired by the factory version, the Double Overhead Cam engine features updated cam profiles and intake- and exhaust-port profiles, a 50mm shorter right exhaust pipe, and a 2mm smaller throttle body. Riders can select from three engine modes for ideal performance depending on conditions, while HRC launch control has been adopted for improved race-start performance. A Renthal Fatbar handlebar sits in a four-position-adjustable top clamp, while the braking system has been updated with a lighter, CRF450R-inspired caliper with larger piston for optimum braking performance. Black rims are standard.
•Color: Red
•Availability: September
CRF150R / CRF150RB
Raced by Amsoil Honda hotshot Hunter Yoder on the amateur national circuit, Honda's smallest motocross machine returns for 2019, featuring a Unicam four-stroke engine that offers a spread of ample, useable power and torque across the rev range. Suspension duties are handled by Showa, with a 37mm inverted fork and Pro-Link rear link system. In addition to the standard version, Honda offers the CRF150RB, which features larger wheels, a taller seat, a longer swingarm, and more rear-suspension travel.
•Color: Red
•Availability: August
2019 Honda CRF50F Totalmotorcycle.com Features and Benefits
Engine / Drivetrain
•Dependable 49cc SOHC four-stroke engine develops smooth, easy-to-use power.
•10.0:1 compression ratio for good performance and easy kick starting.
•Maintenance-free CD ignition and automatic cam-chain tensioner.
•11mm piston-valve carburetor offers excellent fuel mileage and throttle response throughout the rpm range.
•Smooth-shifting three-speed transmission and automatic clutch offer simple operation and easy takeoffs.
•Durable #420 drive chain offers dependable operation and low maintenance.
•USDA-qualified muffler/spark arrester is efficient and quiet.
•Closed-crankcase ventilation system safeguards against engine oil contamination.
•Adjustable throttle limiter.
•Keyed ignition switch prevents unauthorized use.
•Easy-access washable foam air filter simplifies maintenance.
Chassis / Suspension
•High-tensile steel frame and swingarm offer excellent balance of strength and compliance.
•Inverted telescopic fork offers a plush 3.7 inches of suspension travel.
•Single-shock rear suspension provides 2.7 inches of well-damped travel and is mounted to a reinforced swingarm.
•28-spoke, 10-inch-diameter wheels with die-cast-aluminum hubs look great, provide excellent maneuverability and offer smooth ride quality.
•Powerful, lightweight front and rear drum brakes.
•Wide, long-wearing off-road tires offer excellent traction.
•Front and rear suspension spring and damping rates for optimum rider comfort and bump absorption.
•CRF-R-inspired bodywork, Honda Racing-inspired colors and graphics.
•Narrow 4.3-inch-wide CRF-type seat, slim fuel tank and extra-low 21.6-inch seat height provide excellent comfort and mobility for a broad range of young riders.
•Motocross-style handlebar with padded protector.
•High-quality, comfortable grips.
•Folding, cleated foot pegs offer secure footing even in muddy conditions.
•Durable plastic fenders are nearly indestructible.
2019 Honda CRF50F – Totalmotorcycle.com USA Specifications/Technical Details
US MSRP Price: $1499 USD
Canada MSRP Price: $ CDN
Europe/UK MSRP Price: £ GBP (On The Road inc 20% Vat)
Australia MSRP Price: See Dealer for Pricing in AUS
| | |
| --- | --- |
| Model | CRF50F |
| ENGINE | |
| Type | 49cc air-cooled single-cylinder four-stroke |
| Valve Train | SOHC; two-valve |
| Bore x Stroke | 39.0mm x 41.4mm |
| Compression Ratio | 10.0:1 |
| Induction | 11mm piston-valve carburetor |
| Ignition | CD |
| Starter | Kick |
| Driveline | #420 chain; 14T/37T |
| Transmission | Manual 3-speed |
| Clutch | Automatic |
| SUSPENSION | |
| Front | Inverted telescopic fork; 3.7 in. travel |
| Rear | Single shock; 2.7 in. travel |
| BRAKES | |
| Front | Drum |
| Rear | Drum |
| TIRES | |
| Front | 2.50-10 |
| Rear | 2.50-10 |
| MEASUREMENTS | |
| Rake (castor angle) | 25° |
| Trail | 32mm (1.3 in.) |
| Length | 51.3 in. |
| Width | 22.9 in. |
| Height | 30.5 in. |
| Seat Height | 21.6 in. |
| Ground Clearance  | 6.0 in. |
| Wheelbase | 35.9 |
| Fuel Capacity | 0.7 gal. incl. 0.2-gal. reserve |
| Curb Weight* | 111 lbs. |
| OTHER | |
| Colors | Red |
*Includes all standard equipment, required fluids and full tank of fuel—ready to ride
Meets current CARB and EPA off-road emissions standards
2019 Honda CRF50F – Totalmotorcycle.com Canada Specifications/Technical Details
TBA
2019 Honda CRF50F – Totalmotorcycle.com European Specifications/Technical Details
TBA
2019 Honda CRF50F – Totalmotorcycle.com Australian Specifications/Technical Details
TBA
Manufacturer Specifications and appearance are subject to change without prior notice on Total Motorcycle (TMW).