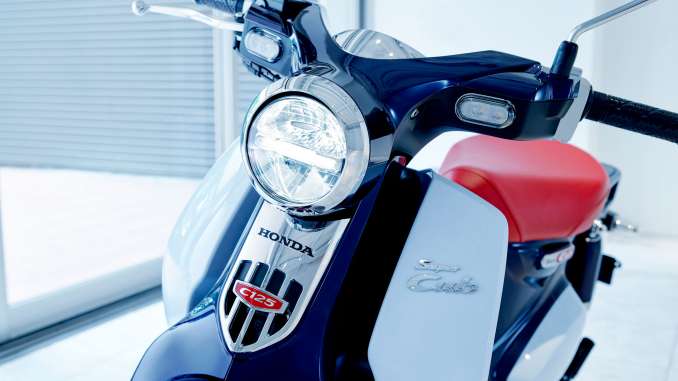 YOU MEET THE NICEST PEOPLE ON A HONDA.
2019 Honda Super Cub C125 ABS: 
Fact: Honda's original Cub is the most popular, most produced motor vehicle in the history of the planet. And now, the latest version is coming to the U.S. in limited quantities: the all-new 2019 Super Cub. Same timeless, classic look as the original. Same off-the-chart fun factor. But totally modern when it comes to technology. The new Super Cub C125 ABS is a great choice for day-to-day transportation, or just for riding for enjoyment. We dare you spend an afternoon on one and not come back wearing a gigantic smile. That's what a couple generations of riders before learned, and that's what a new generation is going to learn again. The original Cub changed the world. Let the new 2019 Honda Super Cub change yours.
THE WORLD'S FAVORITE MOTORCYCLE, AGAIN.
The year is 1956. Honda president Soichiro Honda and managing director Takeo Fujisawa have just returned from Europe, where they had traveled in search of inspiration for the next major Honda product. They realize that it should be a commuter bike—a stylish, fun, inexpensive motorcycle that can be ridden by anyone, and designed around just four key features:
1.A high-powered four-stroke engine that is quiet and fuel efficient but has strong, reliable performance
2.Chassis and bodywork with a size and shape that enables even women to easily get on and off, and ride
3.A gear-shift system that doesn't require operation of a clutch lever
4.An advanced design that is also friendly, fresh, and timeless
Two years later, the first Super Cub C100 is wheeled out of Honda's production plant. A star is born, and Americans will only have to wait one year to get their hands on it, with the first Super Cub C100 crossing the Pacific following the June 1959 launch of Honda's first overseas subsidiary, American Honda Motor Company. California students and trendsetters, hitherto experienced with small, inexpensive motorcycles, are early adopters. Instead of the loud, oversized models that had dominated public eye up until this point, the Honda 50 looks friendly and stylish. It's wildly convenient and fun too, offering not only excellent mobility to and around college campuses, but also enjoyable transportation to work and the local hangout. The door to an all-new world has been opened, and the Honda 50 is the key to it all.
Following the launch of the 1962 CA100, specifically designed for the U.S. market with tandem seat and no turn signals, Honda launches an award-winning advertising campaign featuring the "You Meet the Nicest People on a Honda" tagline. Combine the CA100's friendly, stylish nature with a feature in the Beach Boys' international hit, "Little Honda" and a Life magazine story examining the ways Americans have fallen in love with the brand, and it's not long before the Cub becomes a social phenomenon, with U.S. model sales peaking in 1965. There are even seasonal booms, with teenagers often waking up Christmas morning to find a Cub parked beside the tree.
Stylish, fun, and inexpensive, the Super Cub changes people's understanding of not only motorcycles, but also mobility and the enjoyment available through riding. Discontinued in the U.S. in 1974, 15 years after the Honda 50 was first introduced, the Super Cub continues to be offered worldwide, with the little motorcycle surpassing a production milestone of 100 million units in 2017, making it the highest-selling motor vehicle in the world.
Now, for the 2019 model year, American Honda celebrates the 60th anniversary of the Super Cub's debut by bringing the iconic model back to the U.S. market.
Model Overview
Honda's classic Super Cub styling provides the cues for the new model, the 2019 Super Cub C125, featuring an S-letter silhouette that reaches from the steal rear fender to the step-through space. There is significant wind protection, with the rider positioned upright and close to the lower fairing, yet the Super Cub C125 is still easy to mount and dismount. An open cockpit provides the rider with optimum visibility on crowded city streets, while a side cover pocket on the right side offers storage for essential items.
As with the very first Super Cub, the Super Cub C125 features an air-cooled single-cylinder four-stroke engine that is designed to offer great power for around-town riding but also be fuel efficient and quiet. Bore and stroke for the 125cc, SOHC two-valve engine is 52.4 x 57.9mm, while the compression ratio measures 9.3:1. Fed by PGM-FI, it produces strong, enjoyable power all the way through the rev range.
For noise reduction, the newest version of this engine features a helical primary gear and high-quality crank-journal bearing. Meanwhile, for optimum shift feel and reduced shift noise, the engine has a high-quality shift-drum bearing, shift-arm rubber, and optimized clutch-damper rubber material. A semiautomatic automatic centrifugal clutch makes it easy for new riders to adapt to riding, while still enabling experienced motorcyclists to have fun.
A steel frame with dedicated stiffness characteristics for the engine hanger and head pipe offers a nice balance of comfort and on-road performance, while a rubber handlebar mount, seat mount, and step surface reduce vibration. The high-density urethane seat with thick seat foam is narrow at the front.
Front suspension stroke is up when compared to previous C100 models, measuring 3.9 inches, and the twin shocks have 3.3 inches of travel. Stopping power comes courtesy of a 220mm front disc and 110mm rear drum, while the cast aluminum wheels are produced using a special cutting process to enable the use of a tubeless tire; front and rear wheels are 70/90-17 and 80/90-17, respectively.
Wheelbase is 48.9 inches, while rake and trail are 26.5° and 2.8 inches for predictable handling. Wet weight is 240 pounds, and the seat height is 30.7 inches, making the Super Cub both easy to get on and confidence-inspiring in around-town riding.
Through the incorporation of LED lights, which require minimum space, the Super Cub C125's headlight shape matches that of the first-generation Super Cub. The meter includes a digital center screen showing two trip meters and six-segment fuel-level indicator, with an outer analog display showing speed. A smart key allows users to lock the seat electronically.
The 2018 Super Cub C125 is available in a Pearl Niltava Blue color scheme.
2019 Honda Super Cub C125 ABS Totalmotorcycle.com Key Features
•Classic Super Cub styling celebrates the model's legendary heritage
•High-density urethane seat with thick foam is narrow at the front for rider confidence
•Engine features a helical primary gear and high-quality crank journal bearing for reduced running noise
•Smooth shifts through use of high-quality shift drum bearing, shift arm rubber, and optimized clutch damper rubber material
•Front and rear suspension with 3.9 inches and 3.3 inches of travel, respectively, provide a combination of stability and on-road comfort
•LED lighting adds modern touch, durability, and energy saving while helping match the headlight shape of first-generation Super Cub
•One-channel ABS standard (front only)
•Unit has two smart keys
2019 Honda Super Cub C125 ABS Totalmotorcycle.com Features and Benefits
Performance
125cc Fuel-Injected Engine
Nobody can match Honda's reputation for engines, and even though the Super Cub is relatively compact, it's a giant in terms of performance and reliability.
Hydraulic Disc Brakes
The Super Cub features 220mm front and rear single disc brakes for excellent stopping power. There's even standard front-wheel ABS.
Easy to Park
Because the Super Cub is compact, it's easy to park in the city, and to store when you're not riding. There's always room for a Super Cub!
Technology
Four-Speed Semi-Automatic Transmission
The Super Cub features a four-speed semi-automatic transmission that you shift with your left foot, like a traditional motorcycle. But here's the unique feature: there's no clutch to worry about—you just toe and go.
Smart Key
Just like our top-of-the-line Gold Wing, the new Super Cub uses a convenient smart-key ignition.
Electric Seat Opener
Need to release the seat latch for a fill-up? Just press a button—the lock is all electronically controlled on the Super Cub.
LED Lighting
Old-school light bulbs may have been great in 1959, but 60 years later the Super Cub comes with a modern LED lighting package.
Style
Step-Through Chassis
This is one of the key design elements which made the original Cub so popular. The new Super Cub's step-through design incorporates frontal bodywork to help shield you from the wind and road splash. It's not only super convenient, but makes it easy to get on and off the bike.
Round Headlight
The Super Cub's round headlight looks retro, but its LED performance is totally up to date and provides superior illumination and visibility.
Multi-Function Digital Instruments
Retro meets modern in the Super Cub's instruments. The faired-in handlebar-mounted features speedometer, odometer, tachometer, A&B trip meters, fuel gauge, clock, and indicator for low/high beam.
Underseat Fuel Tank
With its 1.0-gallon fuel tank and awesome fuel efficiency, the Super Cub is super practical. The tank filler is under the seat so it's easy to access.
Low Seat Height
At just 30.7 inches, the Super Cub's super-low seat makes it easy to flat-foot it in parking lots or at stop lights.
Handling
Standard ABS
Our front-wheel Anti-Lock Braking System (comes standard on the Super Cub) can be a big help in making controlled stops in less-than-ideal conditions, like on wet pavement or other compromised surfaces. It's a great feature whether you're using your new bike as a commuter or just riding it for fun, since it helps you stop with added confidence.
Twin Rear Shocks
The original Cub had twin shocks, and so does the new Super Cub. They not only look proper, but they also do a great job of smoothing out the road.
17-inch Cast Wheels
Big enough to roll along smoothly, the machine-finished cast construction on these wheels means they're easier to keep clean than the traditional spoke construction.
Front Suspension
The Super Cub's telescopic front suspension is partially faired in, blending with the upper bodywork. It looks awesome, and works a lot better than the original leading-link design.
Tubeless Tires
Here's another thoroughly modern touch: The new Super Cub uses tubeless tires.
2019 Honda Super Cub C125 ABS – Totalmotorcycle.com USA Specifications/Technical Details
US MSRP Price: $3,599 USD
Canada MSRP Price: $ CDN
Europe/UK MSRP Price: £ GBP (On The Road inc 20% Vat)
Australia MSRP Price: See Dealer for Pricing in AUS
| | |
| --- | --- |
| Model | C125 SUPER CUB ABS |
| ENGINE | |
| Type | 124.9cc air-cooled single-cylinder four-stroke |
| Valve Train | SOHC; two-valve |
| Bore x Stroke | 52.4mm x 57.9mm |
| Compression Ratio | 9.3:1 |
| Induction | PGM-FI w/ 24mm bore, automatic enrichment |
| Ignition | Full transistorized |
| Starter | Electric |
| Transmission | Manual; four speeds |
| Clutch | Semiautomatic centrifugal |
| Final Drive | Chain final drive; 14T/36T |
| SUSPENSION | |
| Front | 26mm hydraulic telescopic inverted fork; 3.9 in. travel |
| Rear | Twin shocks; 3.3 in. travel |
| BRAKES | |
| Front | Hydraulic; single 220mm disc w/ two-piston caliper; ABS |
| Rear | Mechanical leading trailing; single 110mm drum |
| TIRES | |
| Front | 70/90-17 |
| Rear | 80/90-17 |
| MEASUREMENTS | |
| Rake (Caster Angle) | 26.5º |
| Trail | 71mm (2.8 in.) |
| Length | 75.2 in. |
| Width | 28.3 in. |
| Height | 39.4 in. |
| Ground Clearance | 5.4 in. |
| Seat Height | 30.7 in. |
| Wheelbase | 48.9 in. |
| Fuel Capacity | 1 gal. |
| Colors | Pearl Niltava Blue |
| Curb Weight* | 240 lbs. |
*Includes all standard equipment, required fluids and full tank of fuel—ready to ride Meets current CARB and EPA emissions standards
2019 Honda Super Cub C125 ABS – Totalmotorcycle.com Canada Specifications/Technical Details
TBA
2019 Honda Super Cub C125 ABS – Totalmotorcycle.com European Specifications/Technical Details
TBA
2019 Honda Super Cub C125 ABS – Totalmotorcycle.com Australian Specifications/Technical Details
TBA
Manufacturer Specifications and appearance are subject to change without prior notice on Total Motorcycle (TMW).