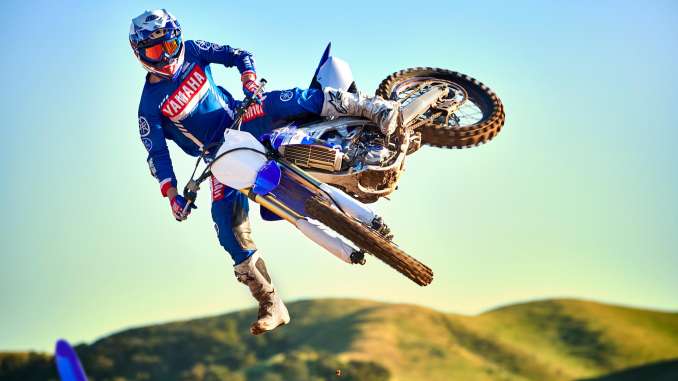 MORE TECHNOLOGY THAN AN IPHONE XS MAX.
2019 Yamaha YZ450F: 
Push-button electric start. And the smartphone power tuner app for ride customization. The YZ450F is where innovation meets acceleration.
CONNECTED AS ONE
Innovation meets acceleration. The 449cc liquid‑cooled DOHC 4‑stroke YZ450F sports industry‑leading suspension, electric start and the smartphone power tuner app ‑ so you can dial in your ride.
After a laundry list of significant upgrades in 2018, the YZ450F gets refined for 2019 with optimized suspension settings to further enhance its on-track capability. With highlights including the wireless Power Tuner app, electric start, launch control, a potent fuel-injected four-stroke engine and a race-ready chassis, the ultimate motocrosser is ready to take you straight from the showroom floor to the podium.
POWER
The 449 cc reversed, rear slanting engine receives new cams, valve springs and intake port. New piston with optimized underside ribs makes it lighter and stronger. The result is a higher compression ratio at 12.8:1 delivering a more power, than ever before.
CHASSIS
The YZ450F's lightweight, bilateral beam aluminum frame is mated to industry-leading KYB suspension with speed-sensitive damping out front and a specially-tuned linkage-type rear suspension for optimal handling, bump-absorption and straight-line acceleration on any terrain.
POWER TUNER APP
The groundbreaking Power Tuner app makes it easy to modify fuel mapping directly from your Smartphone based on track conditions, track maintenance intervals and share settings with teammates or friends. Easy to operate and free to download, the Power Tuner app uses onboard Wi-Fi to communicate with the bike's CCU and allows you to tune like never before.
Yamaha Power Tuner App
Yamaha's exclusive Power Tuner app puts the flexibility and precision tunability of the GYTR® Power Tuner into your smartphone. Make fueling and ignition timing changes instantly and upload them to the bike via the onboard WiFi system for the ultimate in track-side tuning.
Electric Starter System
Utilizing a compact starter motor and ultra-lightweight lithium battery, the YZ450F brings the convenience of push-button starting to the racetrack, for effortless restarts under pressure, and relaxed riding when the clock isn't ticking.
Potent Fuel-Injected Engine
A high-compression cylinder head, forged piston, aggressive cam profiles, cylinder geometry and much more work together to give YZ450F riders the best balance of open-class power with controllability.
Advanced Alloy Frame
Yamaha's bilateral beam aluminum frame features main spars, engine mounts and engine mounting position that centralize mass and provide an ideal balance between cornering feel and straight-line rigidity.
Class-Leading Suspension
Yamaha continues to use spring-type forks with refined, speed-sensitive damping to give industry-leading suspension performance straight out of the box.
2019 Yamaha YZ450F Totalmotorcycle.com Features and Benefits
NEW FOR 2019
Optimized suspension settings
KEY FEATURES
Wireless smartphone-based Power Tuner app
Revolutionary reversed engine design with front-mounted FI system and rear-exiting exhaust
Mass centralizing rearward-slanted cylinder helps keeps weight centred in the chassis
Electric starting and lithium ion battery
Launch Control System
Compact aluminum Bilateral Beam frame and aluminum swingarm
Industry-leading, race-ready, fully adjustable suspension
ENGINE
Reversed, liquid-cooled, 449 cc, DOHC, 4-valve (titanium), fuel injected, single-cylinder engine.
Electric starting.

super convenient electric starting means faster re-starts and significantly reduced rider fatigue
compact electric starter powered by a lightweight lithium ion battery

"Reversed" engine design (FI system is front mounted, exhaust exits from rear of cylinder).

FI throttle body and air box are front mounted, providing a straight intake path
straight shot intake path provides optimum fuel / air / exhaust flow for excellent power
front mounted intake keeps fuel cooler since engine heat has less effect on incoming fuel (cooler fuel is more dense and increases power)

Rearward slanted, reversed cylinder design centralizes mass.

rearward slant has been revised
rearward slant moves a significant amount of rotating weight toward the centre of the chassis, centralizing mass for light, agile handling

Revised, 4-valve cylinder head features a new 12.8:1 compression ratio.

compact combustion chamber provides optimum combustion speed while also reducing heat and power losses
37 mm titanium intake valves and 30.5 mm titanium exhaust valves
4-valve design offers optimum flow for excellent power and torque

New long design electrode spark plug.

moves the spark plug tip deeper into the combustion chamber
new spark plug cap holder(helps prevent plug cap from being dislodged)

High-lift intake and exhaust cams and valve springs.

intake and exhaust cam profiles and cam timing optimized for increased power output
valve spring size and rates have been revised to match the revised cams
valve spring rates are optimized to reduce friction related power losses

Lightweight titanium valves.

titanium valves reduce weight and improve performance… titanium valves are 40-45 % lighter than steel valves
reduced valve weight improves valve train reliability and longevity
reduced reciprocating weight allows for a higher rpm limit and better control of the valves

Automatic cam chain tensioner.

reduces maintenance and mechanical engine noise
special cam chain "sliders" reduce internal frictional losses

Lightweight, ceramic composite-plated "liner-less" aluminum cylinder.

reduced weight (no sleeve or heavy liner) plating is sprayed directly on the aluminum block
ceramic coating ensures faster, more uniform heat dissipation
ceramic coating enhances the thin film of oil between the cylinder and piston, reducing friction and increasing power

Cylinder is "offset" relative to the crankshaft (to exhaust side).

reduces frictional losses between piston and cylinder wall during the power stroke

Cylinder "cutaways" allow air "trapped" under the piston to enter a side chamber (or cutaway).

reduces horsepower-robbing "pumping losses"

Crankcase also utilizes special "cutaways".

reduces horsepower-robbing "pumping losses"
crankcase cutaways match cylinder cutaways for maximum efficiency

Lightweight, short-skirt, forged aluminum piston and piston pin.

new piston design increases the compression ratio from 12.5:1 to 12.8:1
piston weight is reduced by 6 grams and features new under side ribs for additional strength
lightweight design means faster throttle response and reduced mechanical vibration for excellent durability
DLC (diamond-like coating) coating on piston pin and special coating on piston skirt reduces frictional losses

Piston oil cooler jet nozzle directs oil to the cylinder, rod and underside of piston.

reduces piston, cylinder and rod temperatures for excellent durability

Carburized connecting rod for excellent durability.

carburization is a type of heat treating that adds strength and hardness

Lightweight gear-driven balancer shaft.

reduces vibration for improved rider comfort and reduced rider fatigue

Heavy-duty clutch with quick-access magnesium outer cover and on-the-fly barrel adjuster.

quick-access outer cover provides fast and easy clutch access
light lever pull for reduced hand fatigue during a long moto
works-style, race-spec barrel adjuster for on-the-fly clutch lever free play adjustments.

Revised, heavy duty clutch with quick access magnesium outer cover and on the fly "barrel adjuster."

revised pressure plate features new reinforcing ribs for improved clutch feeling
revised clutch springs and specially machined steel plates
quick access outer cover provides fast and easy clutch access
light lever pull for reduced hand fatigue during a long moto
works-style race-spec "barrel adjuster" for on-the-fly clutch lever free play adjustments.

5-speed transmission with 2-bar, floating shift guide system and a 14 mm shift shaft.

2nd, 3rd and 4th gears are wider to engine power
floating shift guide system provides smooth, positive shifts
14 mm shift shaft provides good durability in the event of a crash

Lightweight, 44 mm Mikuni throttle body fuel injection system.

12-hole injector maximizes fuel atomization for more complete combustion and excellent power delivery
FI benefits include automatic adjustments to insure the optimum fuel andmdash; air ratio regardless of outside air temperature and altitude
other benefits include excellent throttle response and starting
cold start knob (FID) also doubles as an idle adjuster

Smartphone-based, wire-less, "Power Tuner" app.

super convenient, smartphone based Power Tuner
no "hard" link required between the unit and smartphone… wireless signal via Wi-Fi
app is free and will work with either iOS or Android platforms
receiving communication control unit (CCU) is located under left side cover of bike
adjustment range includes 16 settings for both fuel injection duration and ignition timing
real-time machine monitoring function (engine rpm, throttle angle, battery voltage, coolant temp, intake air temp, outside air pressure, etc.)
new maintenance function allows user to track hours of use for scheduled maintenance
race log function is available to record and save settings from various tracks
tuning maps and race logs can be shared

Forward-mounted air box with revised washable, dual-stage foam air filter.

no tools required to access air filter
new air box cover with single quick-release fastener
revised, washable dual-stage air filter

Wet sump lubrication system.

reduces weight (no remote oil tank or oil lines)
eases maintenance (easier and faster oil changes)
oil volume is optimized to reduce oil related drag and weight

Easy-access "cartridge-type" oil filter for fast, easy oil changes.

single-core, dual radiators provide outstanding cooling efficiency

Maintenance-free transistor controlled ignition (TCI).

produces a strong spark for fast starts
provides precise ignition timing / mapping for optimum engine performance at any rpms

Lightweight, wrap-around exhaust system.

exhaust exits from the rear of the cylinder and circles cylinder body
header length optimized for "pulse effect" for excellent power delivery
centralizes mass by moving weight closer to the centre of the chassis

Lightweight, aluminum, re-packable muffler (aka silencer).

sound output is 94 dB meeting CMRC and AMA regulations
new rubber muffler-mounting system reduces vibration and improves durability

Launch Control System (LCS).

provides smoother, quicker starts with less wheel spin and front wheel lift
allows rider to concentrate on clutch control, body position and machine
system functions in 1st and 2nd gears only and is disabled when the bike is shifted into 3rd
ECU controls the system and adjusts engine rpm to limit wheel spin and wheelies
activation button is on the LHS handlebar and features a LED indicator light.

Special "G" sensor system.

shuts down fuel injection system if bike lies on its side for more than 10 seconds
helps prevent costly engine damage
no special procedure to re-start the bike… just hit the electric start button and go!
CHASSIS/SUSPENSION
Compact, lightweight bilateral-beam aluminum frame.

new frame offers an optimum rigidity balance between strength, rigidity and tuned flex, while also providing excellent shock absorbing qualities
large upper frame bracing provides rigidity and durability
rear frame spars and tuned engine mounts centralize mass for balance of bump absorption, stiffness and rider feeling

Lightweight, tapered aluminum swingarm.

lightweight design reduces unsprung weight for optimum suspension performance
excellent rear wheel traction and control
25 mm rear axle

Lightweight, detachable rear sub frame.

constructed of square-section, lightweight aluminum pipe with no bends
allows easier access when servicing rear suspension components
detachable design reduces costs in the event of a loop out
Lightweight, high-strength, tapered aluminum handlebar.
adjustable handlebar holders offer a total of 4 different handlebar positions with an adjustment range of 30 mm (1.2 in) suits a wide variety of rider sizes

handle bar holders are rubber-mounted for reduced vibration and improved rider comfort

48 mm, adjustable, inverted, KYB "SSS" coil spring-type fork with 310 mm (12.2 in) of wheel travel.

speed-sensitive damping provides exceptional balance between handling and bump absorption
friction-reducing coating on inner tubes
compression and rebound damping adjustability
optional fork springs are available through GYPA
helps prevent aerated fork oil from entering the inner damper assembly and degrading its damping abilities
the inner damper is pressurized, eliminating bubbles forming in the oil
22 mm front axle
Transfer Control Valve (TCV) offers more precise control throughout the full suspension stroke
TCV is located on the upside of the spring and its function is controlled by piston speed, not piston position, hence the term "Speed Sensitive System fork."

Large wrap-around plastic fork protectors provide excellent lower fork tube protection.

self-supporting design reduces friction for smoother fork operation

KYB linkage-type rear suspension with 317 mm (12.5 in) of wheel travel.

damping characteristics specially tuned for YZ450F chassis
separate adjusters for high- and low-speed compression damping
shock is in-line with the centre axis of the frame for excellent control
adjustability includes spring preload, low and high speed compression damping, and rebound damping

270 mm floating front "wave-style" disc and compact Nissin twin piston caliper.

wave disc design reduces weight and improves cooling (wave design offer more surface area for better cooling)
aggressive brake pad material offers excellent braking performance
"shorty-style" adjustable front brake lever can be adjusted to fit various hand sizes

245 mm rear disc brake features a "wave-style" disc and single piston Nissin caliper.

heat-resistant rear rotor enhances brake durability
rear caliper and lower portion of the disc are protected by heavy duty plastic protectors.

6.2-litre lightweight plastic resin fuel tank

tank specifically designed for motocross demands
tank is positioned under the seat to reduce centre of gravity and centralize mass for exceptional handling and a lightweight feeling

compact in-tank electric fuel pump

Compact body work with embedded graphics

Narrow bodywork design optimizes rider mobility and enhances the lightweight feel and look of the YZ450F
flat design, "minimal" bodywork allows for fast, easy rider movements and a natural riding position
minimal design aids in keeping the body work looking good longer (less plastic to scratch or damage)
graphics are impregnated directly into the plastic rad shrouds and will not peel off or get damaged by pressure washing

Flat design seat.

seat is narrow in the fuel tank for ideal knee grip and easy rider movements

front of seat features a quick remove "cap cover" to access the fuel cap

Lightweight D.I.D. front and rear rims.

stylish blue colour emanates light design reduces unsprung weight for optimal suspension performance and handling
excellent strength and durability due to new cross sectional rim design
rear hub features second bearing on sprocket side for increased rigidity and durability

Lithium ion battery.

lightweight, compact battery and under-seat, lightweight composite battery box
special battery management system (BMS) with "self-protection" mode both monitors and maintains battery condition

YDT (Yamaha Diagnostic Tool) easy access, under seat coupler.

easy access for Yamaha's exclusive money- and time-saving diagnostic tool
DETAILS
Lightweight 520 drive chain
Quick-adjust clutch perch
Extra wide 55 mm foot pegs provide excellent grip
Convenient oil level sight glass
Folding shift lever tip helps prevent damage
Lightweight Sun Star rear sprocket
Heavy duty rubber swingarm protector
Lightweight chain guide / support helps reduce chance of chain derailment and helps protect rear sprocket
Clutch cable features integrated silicone grease and Teflon liner for smooth cable operation
2019 Yamaha YZ450F – Totalmotorcycle.com USA Specifications/Technical Details
US MSRP Price: $9299 USD
Canada MSRP Price: $10599 CDN
Europe/UK MSRP Price: £ GBP (On The Road inc 20% Vat)
Australia MSRP Price: See Dealer for Pricing in AU
Engine Type 449cc liquid-cooled DOHC 4-stroke; 4 titanium valves
Bore x Stroke 97.0mm × 60.8mm
Compression Ratio 12.8:1
Fuel Delivery Mikuni® fuel injection, 44mm
Transmission Constant-mesh 5-speed; multiplate wet clutch
Final Drive Chain
Suspension / Front KYB® Speed-Sensitive System inverted fork;
fully adjustable, 12.2-in travel
Suspension / Rear KYB® single shock; fully adjustable, 12.5-in travel
Brakes / Front Hydraulic disc, 270mm
Brakes / Rear Hydraulic disc, 245mm
Tires / Front 80/100-21 Dunlop® MX3S
Tires / Rear 120/80-19 Dunlop® MX3S
L x W x H 86.0 in x 32.5 in x 50.6 in
Seat Height 38.6 in
Wheelbase 58.5 in
Rake (Caster Angle) 27.33°
Trail 4.7 in
Maximum Ground Clearance
13.0 in
Fuel Capacity 1.6 gal
Wet Weight 245 lb
Warranty 30 Day (Limited Factory Warranty)
Color Team Yamaha Blue; White
2019 Yamaha YZ450F – Totalmotorcycle.com Canada Specifications/Technical Details
ENGINE
Engine
Liquid-cooled, DOHC, 4-valve (titanium), single
Displacement
449 cc
Bore and Stroke
97 x 60.8 mm
Compression Ratio
12.8:1
Fuel Delivery
Mikuni 44mm throttle body F.I.
Lubrication
Wet sump
Ignition / Starting
TCI / Electric
Transmission
5-speed transmission
primary ratio 2.609 (60/23)
secondary ratio 3.692 (48/13)
1st gear 1.929 (27/14)
2nd gear 1.533 (23/15)
3rd gear 1.300 (26/20)
4th gear 1.091 (24/22)
5th gear 0.952 (20/21)
Final Drive
Chain
CHASSIS
Suspension (Front)
Fully adjustable 48mm inverted fork / 310 mm (12.2 in.) wheel travel
Suspension (Rear)
Fully adjustable linkage-type / 317 mm (12.5 in.) wheel travel
Brakes (Front)
270 mm, floating disc / twin piston caliper
Brakes (Rear)
245 mm, disc / single piston caliper
Tires (Front)
80/100-21
Tires (Rear)
120/80-19
CRITICAL DATA
Length
2,185 mm (86 in.)
Width
825 mm (32.5 in.)
Height
1,285 mm (50.6 in.)
Wheelbase
1,485 mm (58.5 in.)
Ground Clearance
335 mm (13.2 in.)
Seat Height
980 mm (38.6 in.)
Fuel Capacity
6.2 litres (1.4 Imp. gal.)
Wet Weight
111 kg (245 lb)
Colour(s)
Purplish White
Yamaha Racing Blue
2019 Yamaha YZ450F – Totalmotorcycle.com European Specifications/Technical Details
TBA
2019 Yamaha YZ450F – Totalmotorcycle.com Australian Specifications/Technical Details
TBA
Manufacturer Specifications and appearance are subject to change without prior notice on Total Motorcycle (TMW).