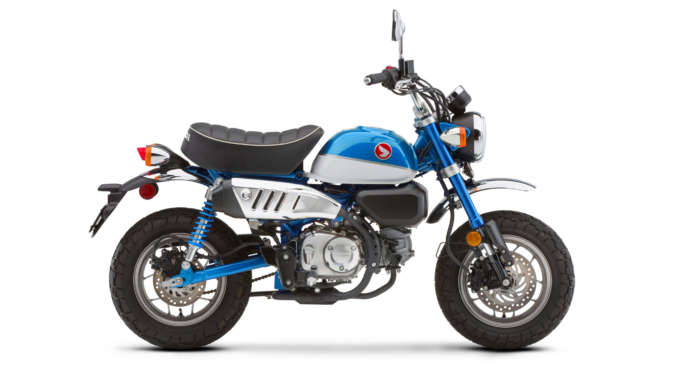 IMMATURITY AT ITS BEST.
2020 Honda Monkey:
Back to the Basics with no ABS.
Everyone loves the Honda Monkey. The original Monkey was a 1960's hit; add a few decades of evolution, throw in a couple of bananas, and you get the 2020 Honda Monkey. As much fun as the original, but way, way better. It's a 125cc bundle of smiles, but it's also a practical way to get around town, or to scoot around once you've parked a bigger rig. This year we've added a new, classic Monkey color (blue). Want to move up even further on the evolutionary ladder? Then check out our ABS version. Who says a Monkey can't learn new tricks?
Honda's Monkey has a history nearly six decades old, a fact that no doubt contributed to the enthusiastic reception that this current iteration—unveiled to U.S. customers less than a year ago—has enjoyed. Already fostering its own motorcycling subculture, the Monkey is offered in two new colors for 2020, and its faithfulness to the 1961 Z100 prompts many a trip down memory lane.
It all started in 1961, at Tama Tech, a Honda-owned amusement park founded on the same philosophy that drives Honda today: mobility through fun, two-wheel vehicles. There, Honda's 49cc-powered Z100 was featured as part of an attraction designed to help park goers experience the joys of riding. So popular amongst guests of all ages and sizes that the bikes quickly earned the nickname of "Monkey," a term originating from how the larger riders looked while riding around. So popular was the attraction that, in 1964, Honda began producing a street-legal version called the CZ100, for European and Asian countries. The craze had started, and it wasn't long until America would get its first taste of Honda miniMOTO fun.
Waiting is the hardest part, but America's delay for a true Honda miniMOTO machine ended in 1968, when the first Z50A was made available in the U.S., complete with 8-inch wheels, knobby tires, adjustable seat, and loveable styling. The best part? A folding handlebar meant parents could stow the bike in the trunk of a car and drive their children to the local riding spot—and probably even go for a ride themselves. Memories were being made, one ride at a time.
Outfitted with a headlight and taillight, the 1969-1970 Z50A served as Honda's quick adjustment to the widespread popularity of the model and opened the door to a wider range of riding. The trend continued, each Z50A being tweaked to fit the needs of its growing fanbase, and in the process, capturing the hearts of Americans. Fun, accessible mobility, through a likable design, tiny dimensions, and low weight, had caught on.
The Z50A's design continued to evolve with features such as dual rear shocks, introduced in 1972.
From there, Honda's North America-bound Z50A models evolved into machines bred for off-road riding, while Europe's Z50J carried the torch as a fun machine for getting around town. But already, the Z50 and its Monkey namesake, had been cemented in millions of hearts by giving countless riders their first experience of twisting the throttle on a powered two-wheeler.
Today, the desire for an easy-to-handle motorcycle that puts a smile on not only the person riding it, but even those who aren't, is alive and well, as evidenced by the success of Honda's Grom. A master of fun, the current Honda Monkey builds on that passion, while celebrating the Z50A models that paved the way for so many riders through the 1960s and '70s, and opening the door to the next generation of enthusiasts.
Funky style
The original Monkey became a '70s icon. It was the two-wheeled machine to be seen on, and nothing's changed. Our new Monkey's style, with its chromed steel high-level front and rear mudguards–plus the evocatively-stamped exhaust shield and high-rise handlebars–pays homage to the original. And somehow looks even funkier.Robust simplicity
That's the Monkey in a nutshell. And its reliable engine's the same; the air-cooled, fuel-injected horizontal 125cc SOHC power unit is tuned to deliver enjoyable around-town performance and makes 6.9kW @ 7,000rpm and 11Nm @ 5,250rpm. The four-speed gearbox is managed by clutch, just like a big bike.Full LED lighting
Just to make sure the Monkey stands out from the crowd even more we've given it full LED lighting–even the indicators. And the key features an 'answer back' system that makes the lights flash at the push of a button, so you'll never lose your Monkey in a car park.

Sturdy chassis
Who knows where the Monkey will take you. So we've built it tough just in case. Its steel backbone frame provides strength and stability, along with the oval-section swingarm. Up Side Down (USD) front forks wear a premium Alumite finish and are matched by dual rear shocks with 104mm of axle travel. Maximum ground clearance is 160mm, fat 12-inch block pattern tyres make for a smooth ride and the seat is made of plush, high-density urethane.

Modern instruments
The looks are retro but the circular instrument cluster is full LCD and features a speedometer (which winks cheekily as the ignition is turned on), odometer with twin trip meters and six-segment fuel level indicator.

 

Honda Announces Enjoyable, Friendly 2020 On-Road Models – Monkey, Grom, CB300R return
In its first on-road announcement for the 2020 model year, Honda today rolled out three returning machines that all exude fun and accessibility. Lightweight and stylish, the Monkey, Grom and CB300R distill the joy of riding like only small-displacement machines can, enticing new riders to explore the world of motorcycling and veterans to revisit the reasons they started. The most lighthearted of the trio, the Monkey has a new-old style that appeals to everyone from millennials to history buffs, while the Grom—the industry's best-selling sport bike—continues to be a miniMOTO phenomenon. More performance-oriented but still big on style, the CB300R is a small-bore iteration of the naked-bike movement.
"For Americans, motorcycles are all about fun, and it would be hard to find three bikes that better represent that particular emotion," said Chris Cox, American Honda's Manager of Experiential Marketing/Press. "The Monkey, Grom and CB300R appeals to riders from multiple generations and with varying experience levels, and all three squeeze modern features into diminutive, entertaining packages. It's no wonder they continue to be very popular with customers."
2020 Honda Monkey Totalmotorcycle.com Features and Benefits
PERFORMANCE
125cc FUEL-INJECTED ENGINE
Nobody can match Honda's reputation for engines, and even though the Monkey may be compact, this single-overhead-cam design is a giant in terms of performance and reliability.
EASY TO PARK
Because of the Monkey's miniature stature, it's easy to park in the city, and to store when you're not riding. There's always room for a Monkey!
FUEL CAPACITY
Who says being on a budget can't be fun? With its 1.5-gallon fuel tank and awesome fuel efficiency, the Monkey may be small, but it lets you ride far on every fill-up.
HYDRAULIC DISC BRAKES
The Monkey features 220mm front and 190mm rear single disc brakes for excellent stopping power.
TECHNOLOGY
FOUR-SPEED TRANSMISSION
Sure, the Monkey is cute, but its four-speed transmission gives you all the durability, control and efficiency of a conventional motorcycle.
LED TAILLIGHT
Forget about big, bulky taillights—the Monkey's LED lamp is bright and clear.
HANDLING
INVERTED FORK SUSPENSION
Here's a huge improvement over the original Monkey bike: Like a top-of-the-line sportbike, the 2020 Monkey features an inverted hydraulic fork front suspension for control and road feel.
TWIN REAR SHOCKS
The Monkey 125 has twin rear shocks. Combined with the fat tires and cushy seat, they smooth out the roughest pavement in the urban jungle.
DURABILITY
12-INCH WHEELS
Tough and strong, these cast wheels and wide tires are just what the urban rider needs.
STYLE
CHUNKY TIRES
The Monkey's high-aspect-ratio tires do more than just look cool. They're extraordinarily practical too, giving you tons of grip and absorbing bumps or rough road surfaces.
HIGH-RISE HANDLEBAR
Sure, the Monkey may be small, but we sized it to fit adult riders. Case in point—check out the high-rise handlebar, so you can sit up and check out the world as you ride.
LOW SEAT HEIGHT
At just 30.6 inches, the Monkey's super-low seat makes it easy to flat-foot it in parking lots or at stop lights.
MULTI-FUNCTION DIGITAL INSTRUMENTS
Retro meets modern in the Monkey's instrument cluster. The round housing is totally 1960s, while the display features speedometer, odometer, tachometer, A&B trip meters, fuel gauge, and indicator for low/high beam. It even greets you when you first start the bike!
ROUND CHROMED LED HEADLIGHT
The Monkey's round headlight looks retro, but its performance is totally up to date and provides superior illumination and visibility.
2020 Honda Monkey – Totalmotorcycle.com USA Specifications/Technical Details
US MSRP Price: starting from $3999 USD
Canada MSRP Price: $ CDN
Europe/UK MSRP Price:  GBP (On The Road inc 20% Vat)
ENGINE
Engine Type 124.9cc air-cooled single-cylinder four-stroke
Bore And Stroke 52.4mm x 57.9mm
Compression Ratio 9.3:1
Induction PGM-FI with automatic enrichment
Ignition Fully transistorized
Valve Train SOHC; two valves per cylinder
DRIVE TRAIN
Transmission Four-speed
Final Drive Chain
Clutch Multiplate wet
CHASSIS SUSPENSION BRAKES
Front Suspension 31mm inverted fork; 3.9 inches of travel
Rear Suspension Twin shock; 4.1 inches of travel
Front Brake Single 220mm hydraulic disc
Rear Brake Single 190mm hydraulic disc
Front Tire 120/80-12
Rear Tire 130/80-12
DIMENSIONS
Rake 25°
Trail 3.2 inches
Wheelbase 45.5 inches
Seat Height 30.6 inches
Fuel Capacity 1.5 gallons (including 0.5-gallon reserve)
Curb Weight
231.5 pounds (Includes all standard equipment, required fluids and full tank of
fuel—ready to ride)
Miles Per Gallon
TBD MPG – Honda's fuel economy estimates are based on EPA exhaust emission
measurement test procedures and are intended for comparison purposes only. Your
actual mileage will vary depending on how you ride, how you maintain your vehicle,
weather, road conditions, tire pressure, installation of accessories, cargo, rider
weight, and other factors.
OTHER
Model ID MONKEY125
Emissions Meets current EPA standards. Models sold in California meet current CARB
standards and may differ slightly due to emissions equipment.
Available Colors Pearl Glittering Blue
FACTORY WARRANTY INFORMATION
One Year
Unlimited-mileage limited warranty; extended coverage available with a Honda
Protection Plan.
2020 Honda Monkey – Totalmotorcycle.com Canada Specifications/Technical Details
2020 Honda Monkey – Totalmotorcycle.com European Specifications/Technical Details
Manufacturer Specifications and appearance are subject to change without prior notice on Total Motorcycle (TMW).