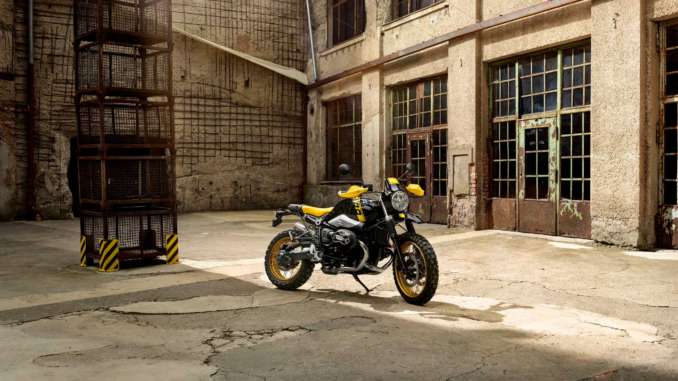 2021 BMW R nineT Urban G/S Edition 40 : LEGENDARY DESIGN.
Introducing the 2021 BMW R nineT Urban G/S Edition 40…
The black and yellow design of the "40 Years GS Edition" is a homage to the legendary first touring enduros from BMW Motorrad. And the R 100 GS led the way. The striking accents are clearly reminiscent of the machine that was quickly given the nickname "Bumblebee" back then. In today's R nineT Urban G/S "40 Years GS Edition", the milled Option 719 cylinder head covers and the yellow hand protector prove the attention to detail. The off-road tyres and the raised Scrambler exhaust complete the look and are a visual reminder of 40 years of eventful GS history.
BMW R NINET URBAN G/S IN THE "40 YEARS GS EDITION"
The R nineT Urban G/S is a delight. Its unmistakable appearance, the modern boxer engine, the geometry and the well-balanced drivability promise pure fun out on the road. And thanks to the numerous individualisation options, you can make it your very own machine. So you can ride just as confidently on smooth city streets as you can out on gravel and dirt roads in the middle of nowhere. The name says it all: R nineT Urban G/S.
40 YEAR DRIVE FOR ADVENTURE
The R nineT Urban G/S is a visual role model: The GS has been almost everywhere in the world in 40 years. From Africa to Central Asia: A motorcycle that has mastered every terrain and every road – powerful and bold despite the elements. The GS is the pioneer of the dual-sport motorcycle.
Extended range of standard features, fine-tuning of the design and even more pulling power. The new BMW R nineT models – R nineT, R nineT Pure, R nineT Scrambler and R nineT Urban G/S.
When BMW Motorrad presented the R nineT in 2013, it was more than just a roadster modelled on a classic archetype: from the very outset it combined classic motorcycle design and modern technology with excellent craftsmanship and a wide range of customisation options. Just a short time later, the R nineT found attractive derivatives in the BMW Motorrad Heritage world of experience: the R nineT Urban G/S as an enduro with the genes of the legendary R 80 G/S of 1980, the R nineT Scrambler as a homage to this distinctive motorcycle genre for those who love a purist, reduced and non-conformist style, and the R nineT Pure as a roadster reduced to the bare essentials. For the upcoming 2021 season, BMW Motorrad has now sustainably honed the R nineT family with some technical modifications, as well as significantly extending the range of standard and optional equipment.
2021 BMW R nineT Urban G/S Edition 40 Totalmotorcycle.com Key Features
HIGHLIGHTS OF THE "40 YEARS GS EDITION"
The distinctive design of the R nineT Urban G/S and the legendary look of the "Bumblebee": a unique look full of stories and successes.
40 Years GS sticker on the tank
Black and yellow seat bench with GS embroidery
Option 719 cylinder head cover
1200 cc lettering on the tank
Windscreen with GS logo
Exhaust
Golden rim
Yellow hand protector
The R nineT Urban G/S – a fascinating basis
Highlights of the new BMW R nineT models:
Iconic air/oil-cooled boxer engine with new cylinder heads for further increased torque in the mid-range as well as compliance with the EU-5 pollutant class.
80 kW (109 hp) 7 250 rpm (previously 81 kW (110 hp) at 7 750 rpm) and 116 Nm at 6 000 rpm.
Cylinder head, cylinder head cover and throttle valve parts all in a new design.
ABS Pro with DBC (Dynamic Brake Control) for even greater safety when braking in banking position.
New suspension strut with travel-dependent damping (WAD) for even more balanced and comfortable handling as standard
Hand wheel for adjusting the spring preload on the shock absorber as standard.
Riding modes "Rain" and "Road" as standard.
Classically designed circular instrument with new dial.
White LED indicators as standard.
LED headlights incl. daytime running light/parking light as standard.
USB charging socket as standard.
Enhanced overall design with a wider range of exclusive paint finishes.
New ex works options and new optional accessories.
2021 BMW R nineT Urban G/S Edition 40 Totalmotorcycle.com Features and Benefits
For 40 years, the GS has stood for spontaneity, an escape from everyday life – and a unique community that lives out the #SpiritOfGS with every kilometre. Its success story begins in 1980 with the R 80 G/S: It quickly became a popular bike for all challenges, both on-road and off-road.
From off-road sport to the road – 1978 to 1980:
In 1978, BMW Motorrad attracted attention with a predecessor to the first GS: The GS 80 takes in two gold medals at the International Six Days Enduro. The bike had been developed by an in-house team of developers without an official order. But its success proved the engineers and mechanics right: Their bike made it truly enjoyable to ride both off-road and on-road. It was released to the market in 1980 under a slightly different name, the BMW R 80 G/S.
Its rise begins – 1980 to 1987:
With the GS, BMW Motorrad created the perfect synthesis of off-road and on-road driving: Regardless of surface type, riders have control over their bikes in every situation while also enjoying maximum comfort on long routes. The highlight is the monolever single-sided swinging arm, which is the first to be installed on a motorcycle worldwide. This reduces the weight and enables the rear wheel to be changed quickly. With the R 80 G/S, BMW Motorrad created the segment for large, comfortable dual-sport motorcycles – a segment that it still dominates today.
The GS gains momentum: more displacement, more power – 1987 to 1996:
The new top model, the R 100 GS, focuses on a lot of displacement: it is the most powerful and fastest enduro on the market. The paralever dual-pivot swinging arm on the rear wheel ensures effortless handling off-road and on-road. With its striking black-yellow paint, it is known as "Bumblebee". The colour is still hugely popular among fans today and decorates this year's special edition "40 Years GS" model.
A new chapter in dual-sport motorcycles – 1994 to 2003:
The GS is on its way to being an icon while continuously changing: In 1994, the first enduro with a four-valve boxer engine appears with the R 1100 GS. The bike is popular because it handles well off road and performs perfectly on long tours. In 1999, the R 1150 GS follows in its footsteps. The concept is purposefully further developed with touring in mind and, in 2002, adapted even more to the needs of long-distance travellers with the R 1150 GS Adventure – the Adventure series is born.
From one-cylinder to two-cylinder – 2000 to 2008:
The very popular and novice-friendly "Funduro" models, the F 650 and F 650 ST, have their engines reworked at the beginning of the new millennium. Thanks to the water-cooled single-cylinder unit, F 650 GS and F 650 GS Dakar riders have enough drive for everyday riding as well as that typical enduro feeling. In 2008, the F 650 GS and F 800 GS, both completely redesigned enduro models, are equipped with a liquid-cooled two-cylinder in-line engine. The means pure adventure, even in the mid-range segment.
From air-cooled to water-cooled boxer engine – 2004 to 2017:
In 2004 BMW Motorrad re-released the R 1200 GS. The bike is given more displacement, power, and torque, making it even more dynamic on any terrain while weighing 30 kilograms less at the same time. A new era begins almost ten years later, when BMW Motorrad engineers equip the R 1200 GS with a water-cooled boxer engine – something that had never been done before. The bike also has a semi-active suspension with Dynamic ESA (electronic suspension adjustment), which takes handling and riding comfort to a new level.
The GS becomes even stronger
In the following years, BMW Motorrad continued to build on the GS legend. The popular R 1250 GS appears with a redeveloped two-cylinder boxer engine: Thanks to its variable BMW ShiftCam camshaft control, it provides more power in all speed ranges and makes the GS even more effortless. In addition, the mid-range F 750 GS and F 850 GS models undergo constant development and make riding more enjoyable with their larger displacement and modified chassis.
Boxer engine according to EU-5 requirements with new cylinder heads, even greater torque and optimised design.
For use in the new R nineT models, the boxer engine has undergone both technical and visual fine-tuning and is now designed to meet the requirements of the EU-5 pollutant class. Its peak power output is now 80 kW (109 hp) at 7250 rpm (previously 81 kW (110 hp) at 7750 rpm), while the maximum torque is still 116 Nm at 6000 rpm. Newly designed cylinder heads provide a more harmonious transition from the outer to the inner cooling fins, and newly designed throttle valve parts and cylinder head covers now give the bike even greater aesthetic appeal.
Inside the cylinder heads there is a new turbulence system which swirls the mixture to ensure even better and cleaner combustion and increased torque. Thanks to an even more full-bodied power and torque curve – especially in the range between 4000 and 6000 rpm – pulling power levels are now tangibly better than those of the predecessor.
ABS Pro including DBC (Dynamic Brake Control) and a new suspension strut with travel-dependent damping (WAD) now come as standard, as do the "Rain" and "Road" riding modes.
Even in the standard version, the new R nineT models now feature ABS Pro in combination with DBC (Dynamic Brake Control) for increased safety when braking – at banking angles as well as in difficult situations. Standard features also include a new shock absorber with travel-dependent damping (WAD), providing enhanced suspension comfort and convenient adjustment of the spring preload via a hand wheel. "Rain" and "Road" riding modes are now included as standard, too.
Classic circular instrument with new dial, LED lighting units and USB charging socket as standard.
The standard trim in the R nineT models includes a circular instrument with a newly designed dial featuring the BMW logo as well as indicator lights that are "invisible" when not illuminated. Likewise as standard, the new R nineT models now have a headlamp and white indicator lights in LED technology. The extended range of standard equipment in the new R nineT models is supplemented with a USB charging socket.
A wealth of new options – from innovative technology to individual design and new colour schemes.
BMW Motorrad has significantly advanced the new R nineT models – both technically and visually. Riding Modes Pro with the additional modes "Dyna" for the R nineT and R nineT Pure and "Dirt" for the R nineT Scrambler and R nineT Urban G/S are now available as new individual options, as are DTC (Dynamic Traction Control) and engine drag torque control (MSR). Another new option is the Comfort Package, comprising Riding Modes Pro, cruise control and heated handlebar grips. The turning light and the rear silencer design option are likewise new to the range of individual optional extras.
Meanwhile the traditional "Option 719" offers particularly exclusive and high-quality options for customisation of the R nineT to suit the owner's personal taste. This exclusive range of parts now includes such items as various wheels, milled parts packages and – from the Original BMW Motorrad Accessories range – a rear conversion with short rear end and number plate holder behind the rear wheel, as well as a rear end in tracker style (Tracker rear end). The enhancements for the R nineT model family are rounded off with new standard and optional paint finishes. The "Edition 40 Years GS" of the R nineT Urban G/S is especially significant here. Available as a limited edition only, this unique model comes in a colour scheme reminiscent of the legendary R 100 GS to mark the 40th anniversary of the BMW Motorrad GS family.
2021 BMW R nineT Urban G/S Edition 40 – Totalmotorcycle.com USA Specifications/Technical Details
US MSRP Price: $  USD
Canada MSRP Price: starting at $ CDN
Europe/UK MSRP Price: from £ 13865 GBP (On The Road inc 20% Vat)
TBA
2021 BMW R nineT Urban G/S Edition 40 – Totalmotorcycle.com Canada Specifications/Technical Details
TBA
2021 BMW R nineT Urban G/S Edition 40 – Totalmotorcycle.com European Specifications/Technical Details
Type Air/oil-cooled two-cylinder, four-stroke boxer engine with two camshafts and four radially arranged valves per cylinder as well as central counterbalance shaft
Bore x stroke 101 mm x 73 mm
Capacity 1,170 cc
Ratet output 80 kW (109 hp) at 7,250 rpm
Max. torque 116 Nm at 6,000 rpm
Compression ratio 12.0 : 1
Mixture control Electronic intake pipe injection / digital engine management with overrun cutoff, twin-spark ignition
Emission Control Closed-loop 3-way catalytic converter, emission standard EU-5
Performance / fuel consumption
Maximum speed over 200 km/h
Fuel consumption per 100 km based on WMTC 5.1 l
CO2 emission based on WMTC 119 g/km
Fuel type Unleaded super(premium), octane number 95-98 (RON) (rated output at 98 RON)
Electrical system
Alternator Three-phase alternator with 720 Watt nominal power
Battery 12 V / 12 Ah, maintenance-free
We see the R nineT Urban G/S in detail.
Power transmission
Clutch Single dry plate clutch, hydraulically operated
Gearbox Claw-shifted six-speed transmission with helical-cut splines
Drive Shaft drive
Chassis / brakes
Frame Three-section frame consisting of one front and two rear sections, load-bearing engine-gearbox unit, removeable pillion frame for single ride use
Front wheel location / suspension Telescopic forks with 43 mm fixed-tube diameter
Rear wheel location / suspension Cast aluminium single swinging arm with BMW Motorrad Paralever; central spring strut, spring preload steplessly adjustable by hook wrench, rebound-stage damping adjustable
Suspension travel, front / rear 125 mm / 140 mm
Wheelbase 1,527 mm
Castor 110.6 mm
Steering head angle 61.5°
Wheels Cast wheels
Rim, front 3.00 x 19″
Rim, rear 4.50 x 17″
Tyre, front 120/70 R 19
Tyre, rear 170/60 R 17
Brake, front Twin-disc brakes, diameter 320 mm, 4-piston callipers
Brake, rear Single disc brake, diameter 265 mm, double-piston floating calliper
ABS BMW Motorrad ABS Pro
Dimensions / weights
Seat height 850 mm
Inner leg curve 1,890 mm
Usable tank volume 17 l
Reserve app. 3.5 l
Length 2,175 mm
Height (incl. mirrors) 1,330 mm
Width (incl. hand levers) 865 mm
Unladen weight, road ready, fully fuelled 223 kg 1)
Permitted total weight 430 kg
Payload (with standard equipment) 207 kg
1) According to guideline VO (EU) 168/2013 with all fluids, with standard equipment and fuelled with at least 90% of usable tank volume.
Manufacturer Specifications and appearance are subject to change without prior notice on Total Motorcycle (TMW).