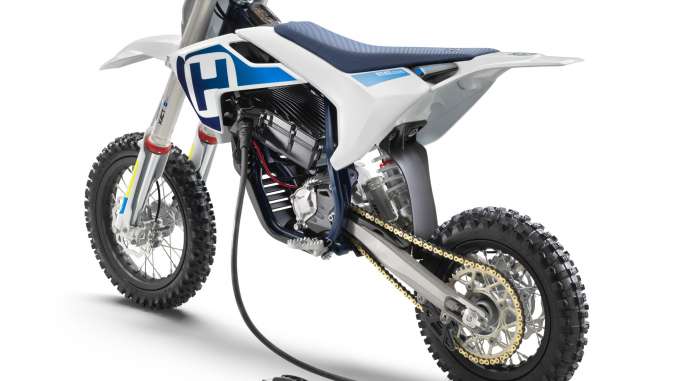 2021 Husqvarna EE5 : REDEFINING MOTOCROSS.
Introducing the 2021 Husqvarna EE5…
The EE 5 is Husqvarna Motorcycles' first step into electric mobility, drawing on the brand's rich motocross history combined with modern, pioneering technology. Powered by an adjustable electric motor capable of rivalling its 50cc fuel-powered counterparts, it is perfect for young racers and grassroots beginners. The EE 5 is also fully adaptable and adjustable for height, making it accessible to younger riders. Additionally, low noise and zero carbon emissions make the EE 5 more accessible to younger riders and more accepted in areas where noise emissions are restricted.
The first ever electric model from Husqvarna Motorcycles, the EE 5 offers youngsters an environmentally friendly way to learn, compete and have fun. Easily adaptable, the ride height can be simply adjusted to keep pace with an improving or growing rider. Delivering two hours of riding enjoyment for beginners and 25 minutes for serious racers, the supplied charger takes just 70 minutes to fully charge the lithium-ion battery.
Featuring the latest suspension technology, the EE 5 is fitted with 35 mm WP XACT forks that offer 205 mm of travel and combined with a fully-adjustable WP rear shock ensure exceptional damping characteristics. A high-strength chromoly frame, hydraulically operated brakes, lightweight wheels, tapered NEKEN handlebars and striking graphics complete Husqvarna Motorcycles pioneering, all-new EE 5 machine.
A pioneering mindset means you don't wait for the future to be invented and then merely adapt, adopt and refine. A pioneer relishes the opportunity to shape the future and to be a part of defining a new path. Husqvarna Motorcycles exist to provide the most progressive and effortless riding experiences to those who see value in riding. Finding new ways to translate, deliver and execute the riding experience is of high importance to the brand. Everyday, Husqvarna Motorcycles welcome the chance to create more, move in new directions and challenge our engineers to pioneer a future that embraces the simple thrill of riding a motorcycle.
2021 Husqvarna EE5:
The EE 5 is Husqvarna Motorcycles' first step in electric mobility and draws on the brand's rich motocross history combined with modern, pioneering technology. 5 represents the kilowatt output and while CC refers to cubic centimeters on fuel-driven bikes, EE stands for 'Electric Engine' on this model. It is a fully-fledged competition machine that capably rivals its 50 cc fuel-powered counterparts, offering more for young riders starting out in the world of dirt biking. Fully adaptable and adjustable, it is an easy to use motorcycle with the ability to evolve with a rider as he grows in size and ability. It features the latest high-quality componentry and a design that clearly identifies with Husqvarna Motorcycles' values. Apart from being environmentally friendly, the low noise emission makes the motorcycle less intimidating to younger riders and offers the possibility to learn in the comfort of a familiar environment, like home.
• State-of-the-art electric motor with 5 kW peak performance
• 6 different ride modes, easy to select
• 907 Wh lithium-ion battery
• Quick charging
• High-end chassis with race proven technology
• Modern, Swedish-inspired design
• Ergonomic bodywork and adjustable seat height
• WP suspension – XACT air fork and rear shock – for advanced performance and control
2021 Husqvarna EE5 Totalmotorcycle.com Features and Benefits
POWER UNIT
Drivetrain
The permanent magnet electric motor features an advanced design and excellent reliability. Producing a peak power of 5 kW, the motor is powered by 84 Li-Ion cells, which provide a capacity of 907 Wh in a low 48 V configuration. An intelligent, state-of-the-art control unit is integrated within the package and guarantees a spontaneous, but controllable power delivery. The use of an electric motor means there is one permanent drive, eliminating the need for a clutch or gearbox. This results in a simple and uncomplicated riding experience for young riders.
Electric motor
Producing a peak power of 5 kW, the permanent magnet motor features an extremely compact and slim design that is well suited to the smaller chassis. Due to its dust and waterproof layout the air-cooled motor is wear and maintenance-free. The integrated control unit (ECU) guarantees a direct, but very controllable power delivery.
Multifunctional instrument panel
A multi-functional instrument panel located between the steering head and seat allows the user to select six different ride modes, with different power characteristics available to suit pure beginners and experienced racers alike. In addition, the instrument panel displays the remaining charge of the battery.
Battery
The 2021 Husqvarna EE5 is fitted with 84 modern lithium-ion cells, in a robust die-cast aluminium casing mounted just above the motor. The stored energy is 907 Wh, enough for more than two hours of riding for a beginner and 25 minutes for the fastest riders, depending on the terrain and conditions. The integrated battery management system (BMS) ensures the safety and longevity of the battery pack.
Charger
The external worldwide charger supplying up to 900 W can be connected to any 110 or 230 Volt socket and plugs directly into the battery pack for easy charging. Charging time for 80% charge: 45 minutes Charging time for 100% charge: 70 minutes
Safety
The EE 5 is fitted with a roll-over sensor kill-switch that cuts off the power when needed. A lanyard attached between the rider's wrist and the kill switch stops the motor when removed, or in the event of an unexpected fall by the rider. The ride modes can be saved with a dongle located below the seat, which prevents younger riders from changing to more powerful ride modes on their own.
FEATURES AND BENEFITS – CHASSIS
Bodywork
The bodywork of the EE 5 is modelled on the successful full-size motocross range. This allows smaller riders to experience the same ergonomic feelings, instilling confidence and comfort in all riding conditions. Additionally, the ergonomics and comfort allow riders to perform at their peak for extended periods of time.
Frame
The high strength chromoly steel frame is slightly adapted to house the electric drivetrain and integrates carefully calculated parameters of longitudinal flex and torsional rigidity to benefit handling and suspension functionality. It guarantees easy handling and precise cornering, along with outstanding stability.
Front Suspension
Featuring the latest in suspension technology, the EE 5 is fitted with the revolutionary WP XACT forks. Besides being very light weight, the 35 mm USD air forks feature exceptional damping and comfort characteristics, allowing riders to push their limits with complete confidence.
With 205 mm of wheel travel, the air unit in the left fork leg can also be adjusted easily with the use of an air pump. This allows for quick adjustment due to rider preferences, weight or track conditions.
Rear Suspension
Linked directly to the swingarm, the WP monoshock is matched perfectly to the front forks for the very best balance and damping characteristics. Additionally, the rear shock offers 185 mm of suspension travel, is fully adjustable and can be tailored to rider preferences or track conditions.
Brakes
Featuring the same level of technology offered on the full-size motocross range, the EE 5 is fitted with hydraulically operated brake callipers and waved front and rear brake discs. The system ensures advanced brake feeling and stopping performance in all conditions.
Wheels
Mirroring the full-size motocross range, the EE 5 uses lightweight, black anodised, aluminium rims that provide the highest levels of strength and reliability. The standard MAXXIS tyres ensure progressive grip on a variety of different terrain.
Seat height
The EE 5 allows the seat height to be adjusted at multiple levels. The standard model comes with a seat height of 698 mm, which can be easily reduced in two steps to 653 mm. This is done by lowering the bodywork/seat and then mounting the rear shock in an alternative position, together with lowering the front forks in the triple clamps.
In addition, with a Suspension Lowering Kit from the Husqvarna Motorcycles Accessories catalogue, the suspension units can be further lowered for a minimum seat height of just 556 mm, which accommodates four-year-old riders, or even younger.
Handlebars
The tapered NEKEN handlebars are made of high-quality aluminium alloy for strength and safety. From a central diameter of 28 mm to 18 mm at the ends, the bars are fitted with a lock-on ODI left side grip, while a newly developed throttle assembly for the electronic drive, with a volcanized ODI grip, is mounted on the right side. The thinner diameter of both grips increases control and reduces fatigue for younger riders with smaller hands. A new handlebar pad offers chest protection.
Graphics
Modelled on the full-size motocross bikes, the EE 5 features striking and modern graphics in white and yellow, with light blue to differentiate its electric drive. Additionally, the graphics are applied using an in-mould process to ensure the best durability and quality.
HUSQVARNA MOTORCYCLES KIDS CLOTHING
Husqvarna Motorcycles' KIDS RAILED GEAR is a comprehensive line-up of the FUNCTIONAL CLOTHING OFFROAD COLLECTION, specifically designed for the new generation of racers. Developed to deliver the best protection and enhance the riding experience, the new KIDS CLOTHING comes with the highest standards of functional garments and equipment. Combining prominent Swedish colours with premium material, Husqvarna Motorcycles ensure a completely safe and comfortable offroad experience for the youngest riders.
KIDS RAILED HELMET
Featuring an optimised shell size with dual-density EPS liner, the fiberglass KIDS RAILED HELMET by market specialist 100% provides ultimate protection for all riding conditions. Husqvarna Motorcycles developed a washable interior lining and cheek pads together with effective ventilation zones for maximum moisture transport and comfort. By weighing only 1,250g (±50 g) this new light-weight helmet is perfectly designed for kids, giving the possibility to enjoy longer rides.
KIDS STRATA GOGGLES
Manufactured by market specialist 100% exclusively for Husqvarna Motorcycles, the KIDS STRATA GOGGLES offer fog-free lenses and protection against UVA, UVB and UVC thanks to the anti-fog technology and its polycarbonate lenses. The three-layer fleece-foam ensures maximum moisture transport away from the rider's face, as well as increased comfort during the kids' daily journeys.
KIDS RAILED SHIRT
Featuring a Lycra collar for comfort and functionality, and mesh inserts for high levels of ventilation, the lightweight KIDS RAILED SHIRT is the perfect jersey for the youngest Husqvarna riders. Ensuring highest enjoyment and breathability this high-quality racing shirt is made from an intelligent mix of materials and benefits from narrow cuffs to reduce arm pump.
KIDS RAILED PANTS
With its uniquely Swedish design, these high-performance KIDS RAILED PANTS are perfectly matching with the KIDS RAILED SHIRT. Developed to deliver maximum protection and an outstanding ergonomic performance the pants come with heat resistant Kevlar® inner-knee protection and mesh lining throughout with optimum ventilation and premium elastic fabrics.
KIDS ITRACK RAILED GLOVES
Tailor-made for Husqvarna Motorcycles by 100%, the high-performance KIDS ITRACK RAILED GLOVES feature an optimised fit thanks to Lycra® cuffs and mesh finger sidewalls. With its silicone grip coating on the fingertips, the gloves ensure enhanced lever operation and offer the latest in high-performance riding gloves technology.
KIDS FLAME BOOTS
Made exclusively for Husqvarna Motorcycles by industry specialist Sidi and specifically developed for youngsters, the KIDS FLAME BOOTS feature a flex system together with additional internal polyurethane protection and nylon inner soles with arch support pads for increased comfort.
KIDS 4.5 CHEST PROTECTOR
A comfortable chest protector designed specifically for kids. Made exclusively for Husqvarna Motorcycles by Leatt, the KIDS 4.5 CHEST PROTECTOR offers high levels of protection, breathability and comfort thanks to its three-dimensional design and ventilated mesh panels.
HUSQVARNA MOTORCYCLES ACCESSORIES
Specifically manufactured for Husqvarna Motorcycles, the comprehensive accessories line-up for Minicycles is designed to further enhance the performance and the look of the bike while protecting its most sensitive parts. Featuring innovative development these premium quality accessories ensure a whole new riding experience to the youngest Husqvarna fans.
COMPRESSION ADJUSTER
With easily identifiable markings, the COMPRESSION ADJUSTER is a robust, CNC machined, anodised part that ensures quick and accurate front fork compression adjustment without the need for specialist tools.
FRAME PROTECTION STICKER SET
Designed to fit perfectly on a Husqvarna Motorcycles chassis, the FRAME PROTECTION STICKER SET offers increased grip and prevents possible damage from dirt and rider's boots.
SEAT
Ensuring maximum support and comfort with cross-stitched fins, the standard height unit is specially designed to strengthen full rider movement.
FACTORY GRAPHICS KIT
To get the factory look on your machine, Husqvarna Motorcycles developed the FACTORY GRAPHICS KIT ensuring all major bodywork panels are fully protected and uniquely decorated.
VALVE CAP SET
Husqvarna Motorcycles' VALVE SET KIT is a simple, straightforward and effective part, which delivers season-long peace of mind and ensures that no dirt or water will enter either tyre valve, no matter what the track conditions are.
SPROCKET
Manufactured from high-strength 7075 T6 aluminium and blue anodised, Husqvarna Motorcycles´ SPROCKETS are available as 46, 48 or 50 tooth options ensuring all riders can perfectly set-up their bike for any conditions.
2021 Husqvarna EE5 – Totalmotorcycle.com Specifications/Technical Details
US MSRP Price: $ USD
Canada MSRP Price: $ See Dealer for Pricing in CDN
Europe/UK MSRP Price: £ See Dealer for Pricing in GBP (On The Road inc 20% Vat)
Engine
Rated output 2 kW / 3,200 rpm
Torque 13.8 Nm
Battery capacity 21 Ah
Charger line voltage 80-240 V/50-60 Hz
Charging input Quick charging 5 A @ 230 V (AC)
Charging power 900 W
Charging time 100 % 70 min.
Charging time 80 % 45 min.
Cooling Air cooled
Electric motor 48 V – BLDC motor with outer rotor
6000 rpm
Max. power 5 kW / 3,900 rpm
Chassis
Front brake disc diameter 160 mm
Rear brake disc diameter 160 mm
Front brake Disc brake
Rear brake Disc brake
Chain 1/2 x 3/16″
Frame design Chrome-molybdenum steel central-tube frame
Front suspension XACT 35 WP Upside-Down fork, Ø 35 mm
Ground clearance 252 mm
Rear suspension XACT WP PDS mono shock
Seat height 665 mm
Steering head angle 66 °
Suspension travel (front) 205 mm
Suspension travel (rear) 185 mm
Manufacturer Specifications and appearance are subject to change without prior notice on Total Motorcycle (TMW).