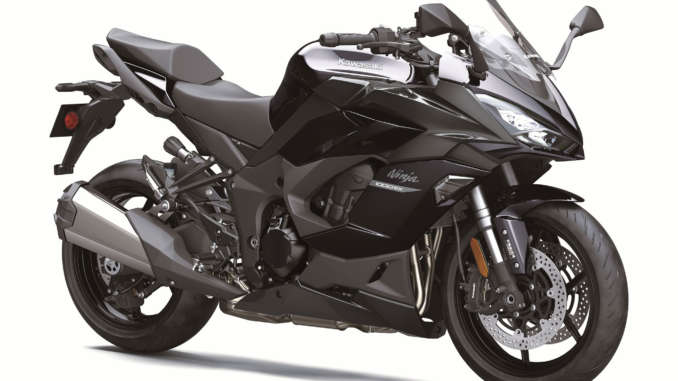 2021 Kawasaki Ninja 1000SX : REDEFINE YOUR RIDE.
Introducing the new 2021 Kawasaki Ninja 1000SX…
The Ninja® 1000SX combines sport riding with touring capability with its relaxed riding position, smooth power delivery, and surefooted handling offering versatility for daily riding, while exceptional seat comfort, electronic cruise control, and a host of touring-related accessories make it ready to escape for weekend trips.
2021 Kawasaki Ninja 1000SX Totalmotorcycle.com Key Features
• ELECTRONIC THROTTLE VALVES WITH CRUISE CONTROL
• DUAL-DIRECTION KAWASAKI QUICK SHIFTER (KQS)
• INTEGRATED RIDING MODES
• TFT COLOR INSTRUMENTATION WITH SMARTPHONE CONNECTIVITY
• NINJA STYLING
2021 Kawasaki Ninja 1000SX Totalmotorcycle.com Features and Benefits
The Ninja 1000SX is loaded with the latest technological systems that Kawasaki has to offer. Its traction control and ABS system incorporate input from the IMU for a high level of electronic riding aid assistance.
Kawasaki Traction Control System (KTRC)(KP)
3-mode system covers a wide range of riding conditions, offering either enhanced sport riding or rider assurance by facilitating smooth riding on slippery surfaces.
Modes 1 and 2 control ignition timing like S-KTRC, which uses complex analysis to predict when traction conditions are about to become unfavorable and act before wheel slippage exceeds the range for optimal traction. Mode 3 has higher sensitivity and controls ignition timing, fuel and air for ultra-smooth operation.
The system distinguishes between smooth, power front wheel lifts and sudden lift, allowing smooth lift if acceptable acceleration is maintained.
A switch on the left handlebar switch housing gives the rider the option to turn the system off.
Integrated Riding Modes:
Sport, Road, Rain, Rider (manual)
All-inclusive modes that link KTRC and Power Mode allow riders to efficiently set traction control, power delivery and suspension character to suit a given riding situation.
Riders can choose from Sport, Road, Rain or a manual setting (Rider). In the manual Rider mode, each of the systems can be set independently.
– Sport: enables riders to enjoy sporty riding on winding roads.
– Road: offers comfortable riding over a wide range of situations, from city riding to highway cruising and rural roads.
– Rain: offers rider reassurance when riding on a wet road surface.
| | | |
| --- | --- | --- |
| RIDING MODE | KTRC | POWER MODE |
| Sport | 1 | F |
| Road | 2 | F |
| Rain | 3 | L |
| Rider (manual) | 1,2,3 or Off | F or L |
Electronic Cruise Control:
Allows a desired speed to be maintained with the simple press of a button so that the rider does not have to constantly modulate the throttle. This reduces stress on the right hand when traveling long distances, enabling relaxed cruising and contributing to a high level of riding comfort.
Once the desired speed has been selected, engine output is adjusted automatically via the Electronic Throttle Valves to maintain speed when ascending or descending grades are encountered. The set speed can be adjusted using the "+" and "-" buttons.
Operating the brake lever, clutch lever or rear brake pedal, or shifting gears, causes the Electronic Cruise Control to disengage. Closing the throttle beyond the "zero-throttle" position is another instinctive way to disengage the system. The system also disengages automatically in the event of a significant traction control intervention.
Power Mode
Allows riders to set power characteristics to suit riding conditions and style. Riders can choose between full power operation or low power, which is approximately 70 percent of full with a milder throttle response.
Inertial Measurement Unit (IMU)(KP)
The IMU measures inertia along 5 axes: acceleration along longitudinal, transverse and vertical axes; roll rate, and pitch rate. The yaw rate is calculated by the ECU using Kawasaki's patented software to provide six-axis chassis attitude input of lean angle and acceleration/deceleration force for more precise management of the electronic riding aids.
With the IMU, KTRC incorporates precise feedback to help provide smooth acceleration over a wide range of conditions and maximize acceleration when exiting corners.
Kawasaki Intelligent anti-lock Brake System (KIBS)(KP)
The same base system used on the Ninja H2™ and Ninja ZX-10R with specific programming settings to suit the performance parameters of the Ninja 1000SX.
Supersport-style high-precision system with smooth feedback for added braking confidence.
The engine ECU communicates with the ABS ECU (which monitors wheel speed and front caliper hydraulic pressure) to regulate brake pressure. The high-precision control provides a more consistent lever feel than conventional ABS systems.
Back torque limiting clutch system suppresses ABS function during downshifts for optimum performance.
Kawasaki Cornering Management Function (KCMF)
Cornering Management Function monitors both KIBS and KTRC to assist riders trace their intended line through a corner by helping to smooth braking and acceleration forces. The IMU helps the system maintain optimum hydraulic pressure based on the bike's lean and pitch angles.
1043cc 4-Cylinder, DOHC Engine
Cylinder block connecting passages between cylinders relieve pressure to reduce pumping loss and increase high-rpm performance.
Tuned to deliver abundant low- and mid-range torque, with a distinctive power kick around 7,000 rpm.
Low crankshaft and five-degree downward engine tilt help the engine to maintain its compact size.
Secondary engine balancer is gear-driven off the crankshaft and helps eliminate engine vibration.
To decrease engine weight and improve heat transfer, the cylinders have linerless, chrome composite plated(KP) aluminum bores.
4-Valve Cylinder Head
Camshaft profiles enhance low-to-mid-range performance.
Digital Fuel Injection(KP)
38mm Keihin throttle bodies with DFI settings designed to help provide superb low to mid-range response.
Electronic Throttle Valve
Electronic Throttle Valves (ETV) enable the ECU to optimize the volume of both the fuel, via the injectors, and the air, via the throttle valves, delivered to the engine. Optimized fuel injection and throttle position results in smooth, natural engine response and ideal engine output.
The ETV has the accelerator position sensor located at the handlebar instead of the throttle body, eliminating throttle cable maintenance. Friction is built in to the twist grip to simulate the feel of a traditional throttle cable.
FI and ETV settings combine for quick and smooth throttle response that helps with low-speed maneuverability, roll-on power and contributes to sport riding potential.
Cool Air Intake System
Secondary air passages and resonator enhance intake howl for auditory pleasure.
High-flow air cleaner element design is similar to Ninja® ZX™-10R.
Air intakes are located high on the motorcycle so that engine heat has minimal effect on performance.
6-Speed Transmission
High sixth gear results in a smoother cruising rpm for more relaxed touring potential.
Kawasaki Quick Shifter (KQS)
A contactless-type quick shifter enables clutchless upshifts and downshifts for seamless acceleration and quick and easy deceleration.
During acceleration, the system detects that the shift lever has been actuated, and sends a signal to the ECU to cut ignition so that the next gear can be engaged without having to use the clutch or backing off the throttle.
During deceleration, the KQS system automatically controls engine speed, allowing downshifts without operating the clutch as long as the throttle is closed.
KQS does not function below 2,500 rpm.
Assist & Slipper Clutch(KP)
Using the rotational forces of the clutch hub and pressure plate, the clutch is forced together during acceleration (Assist function) so that fewer and lighter clutch springs can be used for a lighter feel at the lever. During high back-torque, such as when too low of a gear is selected during downshifting, the Slipper function allows some clutch slippage to help prevent engine lock-up, stalling and rear wheel hop.
Overall suspension settings enhance the Ninja 1000SX's sport touring potential by accommodating both sport riding and comfortable touring.
41mm Inverted Cartridge Front Fork(KP)
Low-speed slit in the damping pistons relieve negative pressure build-up during compression for smooth fork action.
Fully adjustable inverted fork resists flex for superb handling.
Settings match frame stiffness to enhance handling.
Horizontal Back-link Rear Suspension(KP)
Remote preload adjuster knob allows preload to be easily changed to suit tandem riding or the addition of Kawasaki's optional luggage system.
The linkage is placed atop the swingarm for better mass centralization and to make room for the exhaust pre-chamber.
Fully adjustable, lay-down shock absorber is further away from the exhaust so that its operation will not be affected by exhaust heat.
Pressed aluminum swingarm is lightweight and rigid. Eccentric chain adjusters add visual appeal.
Linkage ratios offer smooth and linear suspension response.
Brakes
ABS(KP)
Anti-Lock Braking System (ABS) assists braking under certain conditions.
Fluid pressure sensor added to ABS hydraulic unit to help suppress rear end lift during heavy braking for more precise control.
Radial Mounted Monobloc Brake Calipers
Radial-mounted monobloc front brake calipers utilize integrated mounting points at both the top and bottom of each caliper, which make the caliper more rigid for improved brake feel and performance.
Monobloc caliper is machined from a single aluminum block that contributes to superb feel, increased heat dissipation and lighter weight.
Radial pump front brake master cylinder improves brake performance and feel at the lever.
Large Brake Discs
Dual 300mm front discs with 4-piston calipers provide exceptional stopping power.
Single 250mm rear disc with single piston caliper is lightweight.
ERGONOMICS
Seat is shaped for rider comfort and support.
The passenger seat is thicker at the front to help prevent the passenger from sliding forward.
Both seats have cold-resistant, high-elasticity covers that are comfortable and resist wear caused by temperature fluctuations.
AERODYNAMICS
Full Fairing
Aggressive appearance closely resembles the overall Ninja motorcycle image and provides sufficient wind protection suitable for sport touring.
Leading edge of fairing designed to direct air outward so that the bodywork can be slimmer in the mid section and rear flairs help direct hot air away from the rider's legs.
Three-piece fairings help prevent wind blast and hot air from reaching the rider's legs. The fairings also cover a portion of the frame for a smooth rider interface.
In addition to adding to the aggressive look, the dual LED headlights provide a bright beam while drawing approximately 50 percent less power than a conventional headlight bulb.
Adjustable Windscreen
Windscreen easily adjusts to one of four positions, ranging from sporty to maximum wind protection, using a release button below the instrument panel so that windshield adjustment is simple without the need for tools.
OPTIONAL INTEGRATED KQR (KAWASAKI QUICK RELEASE) COLOR-MATCHED HARD CASE
SADDLEBAGS
Saddlebag design integrates with the tail section and each saddlebag is large enough to hold a typical full-faced helmet.
Similar in design to the Concours® 14 mounts, the saddlebags can be easily removed and there's no supporting framework to detract from the motorcycle's design.
One-key lock system is convenient. Customized saddlebag locks are matched to the vehicle ignition key so that one key operates all locks on the bike.
Each bag is close to the motorcycle's centerline for a narrow profile.
47-liter top case also available for increased carrying capability.
TFT COLOR INSTRUMENTATION
The high-grade full-color multi-meter display features TFT (thin-film transistor) technology to provide a sharp, clear display. The screen's background color is selectable (black or white), and screen brightness adjusts automatically to suit available light. In addition to scrollable multi-function windows, two display modes offer riders a choice of how they want their information presented.
Type 1: easy-to-read, calm layout offers a substantial amount of information at-a-glance designed with touring in mind.
Type 2: designed for sport application, important information is prioritized and presented graphically for easy digestion. G-force (based on feedback from the IMU), and front brake application are illustrated visually.
* Bluetooth chip allows connection to smartphone and RIDEOLOGY THE APP.
* Handlebar switches allow the rider to easily scroll through all mode selection and display options at the touch of a finger.
2021 Kawasaki Ninja 1000SX – Totalmotorcycle.com USA Specifications/Technical Details
US MSRP Price: $12599 USD
Canada MSRP Price: $14999 to $15199 CDN
Europe/UK MSRP Price: £ See Dealer GBP (On The Road inc 20% Vat)
Engine Type 4-Stroke, Liquid-Cooled, DOHC,4 Valve Cylinder Head, Transverse In-Line 4-Cylinder
Displacement 1,043 cc
Bore & Stroke 77.0 x 56.0 mm
Maximum Torque 81.7 lb-ft @ 7,800 rpm
Compression Ratio 11.8:1
Fuel Injection DFI® with 38mm ETV Throttle Bodies (4)
Ignition TCBI with Digital Advance
Transmission 6-Speed
Final Drive Sealed Chain
Rake/Trail 24.0°/3.9 in.
Front Wheel Travel 4.7 in.
Rear Wheel Travel 5.4 in.
Front Tire Size 120/70 ZR17
Rear Tire Size 190/50 ZR17
Wheelbase 56.7 in.
Front Suspension 41mm Inverted Cartridge Fork with Spring Preload Adjuster, Stepless Adjustable Compression and Rebound Damping
Rear Suspension Horizontal Back-Link with Stepless Remote Preload Adjuster,
Stepless Adjustable Rebound Damping
Front Brake Type Dual 300mm Semi Floating Petal Discs
with Radial Mounted, Monobloc Opposed 4-Piston Calipers, ABS
Rear Brake Type Single 250mm Petal Disc, ABS
Fuel Tank Capacity 5.0 gal.
Seat Height 32.3 in.
Curb Weight= 516.0 lb.
Warranty 12 months
Kawasaki Protection Plus™ 12, 24, 36 or 48 months
(Specifications subject to change without notice.)
= Includes all necessary materials and fluids to operate correctly, full tank of fuel (more than 90% of capacity) and tool kit (if supplied).
Ask about the Riders of Kawasaki (ROK) Club and the Good Times™ Credit Plan.
(KP) = See Kaw-Pedia section for more details.* = Changes from previous model year.
2021 Kawasaki Ninja 1000SX – Totalmotorcycle.com  Canadian Specifications/Technical Details
| | |
| --- | --- |
| Engine | 1,043cc, liquid-cooled, 4-stroke, DOHC 16-valve in-line four |
| Bore x Stroke | 77.0 x 56.0 mm |
| Compression Ratio | 11.8:1 |
| Fuel System | Fuel injection: ø38 mm x 4 |
| Ignition | Digital |
| Starting | Electric |
| Lubrication | Forced lubrication, wet sump |
| Transmission | 6-speed, return |
| Clutch | Wet multi-disc, manual |
| Final Drive | Chain |
| Frame | Twin-tube, aluminum |
| Front Suspension / Wheel Travel | ø41 mm inverted fork with compression and rebound damping and spring preload adjustability / 120 mm (4.7 in) |
| Rear Suspension / Wheel Travel | Horizontal Back-link, gas-charged shock with rebound damping and remote spring preload adjustability / 144 mm (5.7 in) |
| Rake / Trail | 24.0° / 98 mm |
| Steering Angle (L/R) | 31° / 31° |
| Front Tire | 120/70ZR17M/C (58W) |
| Rear Tire | 190/50ZR17M/C (73W) |
| Front Brakes | Dual semi-floating ø300 mm discs with radial-mount, monobloc, opposed 4-piston calipers |
| Rear Brake | ø250 mm disc with single-piston caliper |
| Dimensions (L x W x H) | 2,100 x 825 x 1,225/1,190 mm (high/low) (82.7 x 32.5 x 48.2/46.9 in (high/low)) |
| Wheelbase | 1,440 mm (56.7 in) |
| Road Clearance | 135 mm (5.3 in) |
| Seat Height | 820 mm (32.3 in) |
| Curb Mass** | 233 kg (514 lb) |
| Fuel Capacity | 19 litres |
| Instrumentation | Full-colour TFT screen with digital speedometer, digital bar-style tachometer, gear position indicator, shift lamp, fuel gauge, odometer, dual trip meters, current and average fuel consumption, remaining range, average speed, total time, coolant temperature, clock, battery voltage, Kawasaki service reminder, oil change reminder, and Economical Riding Indicator |
| Warranty | 12 months |
| Kawasaki Protection Plus | 12 / 24 / 36 / 48 months |
2021 Kawasaki Ninja 1000SX – Totalmotorcycle.com European Specifications/Technical Details
TBA
Manufacturer Specifications and appearance are subject to change without prior notice on Total Motorcycle (TMW).