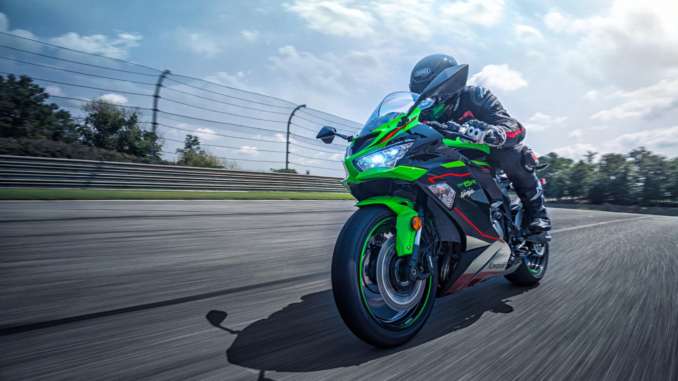 2021 Kawasaki Ninja ZX-6R ABS KRT : FOR THE FEARLESS.
Introducing the new 2021 Kawasaki Ninja ZX-6R ABS KRT…
Loaded with high technology features like 3-Mode KTRC Traction Control, Power Mode selection and available KIBS ABS, the Ninja® ZX™-6R helps a wider range of riders to enjoy this machine's serious sport riding performance on the circuit or the street. Plus the MSRP makes it the highest value in the mid-size sportbike class.
The latest Ninja® ZX™-6R motorcycle boasts a potent 636cc engine, advanced electronics and a lightweight chassis. The 636 has been optimized for the street and the track, offering an exhilarating experience in a wide range of riding situations, allowing you to rule the track and run the streets. The 2021 Ninja ZX-6R features a 636cc in-line four-cylinder DOHC engine, Kawasaki Quick Shifter, high-grade instrumentation, styling with twin LED headlights and taillight, Kawasaki Intelligent anti-lock Brake System (KIBS), Selectable power modes combined with Kawasaki Traction Control (KTRC), Class-leading SHOWA suspension, SHOWA SFF-BP fork, Assist & Slipper Clutch, updated ergonomics with adjustable clutch lever, Multi-function LCD screen, and a pressed-aluminum perimeter frame. Non-ABS models are available in Pearl Nightshade Teal / Metallic Spark Black and Pearl Crystal White / Pearl Storm Gray / Ebony and have an MSRP of $10,199. The Ninja ZX-6R ABS KRT Edition is available in a Lime Green / Ebony / Pearl Blizzard White color scheme with an MSRP of 11,499.
2021 Kawasaki Ninja ZX-6R ABS KRT Totalmotorcycle.com Key Features
• LARGE-DISPLACEMENT 636CC ENGINE PROVIDES MORE USEABLE POWER AND TORQUE
• ADVANCED KAWASAKI TRACTION CONTROL (KTRC) FOR ENHANCED PERFORMANCE
• POWER MODE ALLOWS QUICK ADJUSTMENT FOR RIDER PREFERENCE AND CONDITIONS
• KAWASAKI INTELLIGENT ANTI-LOCK BRAKE SYSTEM (KIBS) AVAILABLE
• SHOWA BIG PISTON SEPARATE FUNCTION FORK FOR SUPERB RIDE ON ROAD AND TRACK
2021 Kawasaki Ninja ZX-6R ABS KRT Totalmotorcycle.com Features and Benefits
ENGINE
636cc Ultra-Compact, Low-Friction Engine
Long stroke engine offers increased performance over many other 600 class engines at all rpm, and especially in the low- to mid-range for better rideability on city streets.
All internal parts are designed to be strong yet small with ideal dimensional accuracy to reduce power-robbing friction.
Close cylinder pitch and compact crankcases result in a small, rigid engine. This compact engine also contributes significantly to the overall slim and compact chassis.
Short-skirt forged pistons, light piston pins and a compact connecting rod small end help reduce reciprocating weight for quick revs.
Mass Centralization
Tri-axis crankshaft and transmission shaft layout concentrates engine mass to idealize the engine's center of gravity. This helps reduce pitching movement during braking to give the rider better chassis feedback. By reducing the amount of front/rear weight transfer, the loads on the suspension and tires are reduced, providing more freedom when adjusting suspension settings.
Exhaust pre-chamber located beneath the engine helps centralize mass and allows the use of a smaller, lighter muffler.
Ram Air Induction(KP)
High-Volume airbox contributes to increased peak power and smooth power delivery.
Long intake funnels help boost low- to mid-range performance and power feeling.
Ram air duct is rigid and supports the instrument panel and mirror stays to eliminate brackets and reduce weight.
Central ram air duct produces a straight path to the airbox which reduces turbulence and increases pressure for maximum intake efficiency.
Digital Fuel Injection(KP)
Long throttle bodies increase the distance between the main and sub throttle valves for better throttle response.
38mm Keihin throttle bodies with dual-throttle valves(KP) provide optimum performance and rideability. The sub-throttles, located before the main throttle valves in the throttle bore, are controlled by the ECU so that the DFI system has more precise throttle response, similar to a constant velocity carburetor.
Fine atomizing fuel injectors have increased volume and a revised spray pattern to optimize mixing with air for the increased displacement.
Short fuel pump with flat-bottom design prevents fuel warming in the bottom of the pump. Cooler fuel provides better combustion efficiency.
Stainless Steel Exhaust
All four stainless steel header pipes are connected by joint pipes for increased low- to mid-range torque.
Exhaust system helps boost low-end and mid-range power without sacrificing top-end. A pre-chamber under the engine centralizes weight, reduces exhaust noise and helps minimize muffler volume.
Single right-side muffler lowers the overall center of gravity and helps centralize mass. Triangular design provides correct volume to meet noise standards while allowing good lean angle and compact appearance.
A butterfly valve located at the entrance to the muffler is controlled by the ECU using rpm, throttle position and gear position to improve low-end response and help smooth overall power. Optimum exhaust tuning is attained at all engine speeds to prevent blowback that can occur with high overlapping valve timing. The valve also quiets the exhaust so a smaller, lighter muffler can be used.
Cassette Transmission
Final drive ratio emphasizes the engine's strong low-end power.
Short first gear ratio makes it easy to move away from a stop.
6-speed close-ratio transmission is removable as a cassette, providing quick access for making gearing changes.
Gear position sensor is also linked to the dash to provide instant information to the rider. The system is also compatible with semi-automatic, electronic shifters used by racers to facilitate clutchless shifting and help lower lap times.
Kawasaki Quick Shifter (KQS)
Contact-less potentiometer-type quick shifter that enables quick upshifts for seamless acceleration.
The system detects that the shift lever has been actuated and sends a signal to the ECU to cut ignition so that the next gear can be engaged without using the clutch. (Clutch use recommended for downshifts.)
FCC Assist & Slipper Clutch(KP)
Using the rotational forces of the clutch hub and pressure plate, the clutch is forced together during acceleration (Assist function) so that fewer and lighter clutch springs can be used for a lighter feel at the lever. During high back-torque, such as when too low of gear is selected, the slipper function allows some clutch slippage to help prevent engine lock-up and stalling, and rear-wheel hop.
Use of a spring plate assembly in the clutch contributes to smoother clutch engagement and helps minimize clutch vibration (judder) noise.
Advanced Electronic Riding Aids
The Ninja ZX-6R features several of Kawasaki's latest technological systems. Its traction control system is the same as found on the flagship Ninja ZX-14R. Combined with two selectable Power Modes, this offers riders eight combinations covering a wide range of riding situations. And, like the Ninja ZX-10R, available ABS models are equipped with KIBS, a highly advanced system design specifically for supersport models.
Kawasaki Traction Control System (KTRC)(KP)
3-mode system combines the best features of Sport-KTRC from the Ninja ZX-10R and KTRC from the Concours® 14 to help provide maximum traction with some degree of slippage for sport riding and rider assurance by facilitating smooth riding on slippery surfaces.
Modes 1 and 2 control ignition timing like S-KTRC, which uses complex analysis to predict when traction conditions are about to become unfavorable and act before wheel slippage exceeds the range for optimal traction. Mode 3 has higher sensitivity and controls ignition timing, fuel and air for ultra-smooth operation.
The system distinguishes between smooth, power front wheel lifts and sudden lift, allowing smooth lift if acceptable acceleration is maintained.
A switch on the left handlebar switch housing gives the rider the option to turn the system off.
Power Mode
Allows riders to set power characteristics to suit riding conditions and style. Riders can choose between full power operation or low power, which is approximately 80 percent of full with a milder throttle response.
Rider-Responsive Chassis
Designed in conjuction with the suspension to provide a controlled, comfortable ride on streets and highways while allowing high cornering prowess for quick lap times on the track.
The frame and swingarm were developed with an ideal stiffness balance, so the Ninja ZX-6R responds instantly and precisely to the rider's commands and provides excellent rider feedback.
Aluminum Perimeter Frame(KP)
Stiffness balance designed for superb handling. Frame rigidity is optimized to help prevent road or track irregularities from upsetting the chassis. Working with the suspension, the frame helps provide a more planted ride and helps absorb impacts without upsetting handling.
Steep 23.5˚ degree rake angle for sharp handling and more feedback from the front tire.
Engine mount angle designed for precise turning and less effort leaning into a turn.
Engine mounting position at the rear of the cylinder head also compliments the frame's stiffness balance.
Combination of pressed and cast aluminum components are welded to form the perimeter type frame. By combining cast and pressed pieces frame weight is kept to a minimum while still providing high strength and stability with responsive handling.
Two-piece die-cast aluminum sub-frame is light and narrow.
SUSPENSION
Showa – Big Piston Separate Function Inverted Fork(KP)
With springs in both legs, preload and damping functions are separated into the right and left fork tubes. Preload adjustment is made on the left side, compression and rebound damping on the right. All adjustment screws are at the top of the forks for easy access.
37mm pistons produce high damping force for improved performance during heavy braking.
Suspension settings idealized for winding roads and city riding while maintaining high performance on the track as well.
Uni-Trak® Rear Suspension(KP)
Uni-Trak lever ratios and shock damping settings offer a plush ride on the street and highway.
Cast aluminum swingarm has a perfect balance of stiffness and flex and works with the frame's stiffness balance to provide exceptional handling.
Showa rear shock features preload, compression and rebound damping adjustments as well as adjustable ride height.(KP)
High Performance Brake System
Radial mounted Nissin monobloc front brake calipers utilize integrated mounting points at both the top and bottom of each caliper, which makes the caliper more rigid for excellent brake feel and performance.
Monobloc caliper is machined from a single aluminum block that contributes to superb feel, increased heat dissipation and lighter weight.
310mm front discs provide strong braking performance.
Radial pump front master cylinder provides excellent front brake feel and performance.
Nissin rear brake caliper with 30mm piston from the Ninja ZX-10R is light, resists fade and offers good control.
Available Kawasaki Intelligent anti-lock Brake System (KIBS)(KP)
High-precision system with smooth feedback for added braking confidence during hard sport riding or emergencies.
The engine ECU communicates with the ABS ECU (which monitors wheel speed and front caliper hydraulic pressure) to provide highly precise brake pressure control. The high-precision control means brake performance is not reduced due to excessive pressure drops and there is a more consistent lever feel instead of sharp lever pulses with conventional ABS systems.
Ninja Styling
The Ninja ZX-6R combines elements of the Ninja ZX-10R with sharp and edgy lines to give the Ninja ZX-6R a distinct look.
Front cowl has a distinct look that makes the Ninja ZX-6R stand out from its competitors. It not only looks unique, but its low dimensions allow the rider a good view of the road ahead.
A pair of LED headlights enhance the appearance and each light features high and low beam plus a position lamp. The LEDs also provide increased brightness standard lights for better illumination at night.
Tail cowl has upswept lines and overlapping and interwoven sections to give it a sharp, unique appearance.
An LED taillight inspired by the Ninja ZX-10R adds a sophisticated look when the bike is seen from the rear.
Muffler finishing treatment and end cap add to new sporty appearance.
Heel guards contribute to the bike's dynamic lines.
Instrumentation
The shift indicator can be set between 5,000 and 16,000 rpm in 250 rpm increments.
Tachometer needle changes colors from white to pink to red to indicate upshift timing. When the engine speed is within 500 rpm of the selected shift point, the shift indicator flashes and the tach needle turns pink. When the shift point is reached, the shift indicator flashes rapidly and the needle turns red.
Ergonomics
The seat complements the tail section and allows the rider to make easy contact with the rear seat step, which contributes feedback from the chassis.
The seat narrows at the front, contributing to the slim riding position and making it easier for the rider's feet to reach the pavement.
Five-position adjustable clutch lever allows riders to tailor the lever position to suit their hand size.
2021 Kawasaki Ninja ZX-6R ABS KRT – Totalmotorcycle.com USA Specifications/Technical Details
US MSRP Price: $11499 USD
Canada MSRP Price: $13499 CDN
Europe/UK MSRP Price: £ See Dealer GBP (On The Road inc 20% Vat)
Engine Type 4-Stroke, Liquid-Cooled, DOHC, 4 Valve Cylinder Head, Transverse In-Line 4-Cylinder
Displacement 636 cc
Bore & Stroke 67.0 x 45.1mm
Maximum Torque 52.1 lb-ft @ 11,500 rpm
Compression Ratio 12.9:1
Fuel Injection DFI® with Keihin 38mm Throttle Bodies (4)
Ignition TCBI with Digital Advance
Transmission 6-Speed with Positive Neutral Finder, Kawasaki quick shifter (up shift only)
Final Drive Sealed Chain
Rake/Trail 24.5.°/4.1 in.
Front Wheel Travel 4.7 in.
Rear Wheel Travel 5.9 in.
Front Tire Size 120/70-ZR17
Rear Tire Size 180/55-ZR17
Wheelbase 55.1 in.
Front Suspension Big Piston SFF-Style 41mm Inverted Cartridge-Type Fork w/ Adjustable
Preload, Stepless Compression and Rebound Damping
Rear Suspension Uni-Trak with Adjustable Preload,
25-Way Rebound Stepless High and Low Speed
Compression Damping Adjustment and Adjustable Ride Height
Front Brake Type Dual 310mm Petal Discs with
Radial Mount, Opposed 4-Piston Calipers, Available KIBS
Rear Brake Type Single 210mm Petal Disc, Available KIBS
Fuel Tank Capacity 4.5 gal.
Seat Height 32.7 in.
Curb Weight= 425.6, 430 (ABS) lb.
Warranty 12 months
Kawasaki Protection Plus™ 12, 24, 36 or 48 months
(Specifications subject to change without notice.)
= Includes all necessary materials and fluids to operate correctly, full tank of fuel (more than 90% of capacity) and tool kit (if supplied).
When equipped, 50-state models with evaporative emissions equipment adds approximately 2.2 pounds.
(KP) = See Kaw-Pedia section for more details.* = Changes from previous model year.
2021 Kawasaki Ninja ZX-6R ABS KRT – Totalmotorcycle.com  Canadian Specifications/Technical Details
| | |
| --- | --- |
| Engine | 636cc, liquid-cooled, 4-stroke, DOHC 16-valve in-line four |
| Bore x Stroke | 67.0 x 45.1 mm |
| Compression Ratio | 12.9:1 |
| Fuel System | Fuel injection: ø38 mm x 4 with oval sub-throttles |
| Ignition | Digital |
| Starting | Electric |
| Lubrication | Forced lubrication, wet sump |
| Transmission | 6-speed, return |
| Clutch | Wet multi-disc, manual |
| Final Drive | Chain |
| Frame | Perimeter, pressed-aluminum |
| Front Suspension / Wheel Travel | ø41 mm inverted fork (SFF-BP) with rebound and compression damping and spring preload adjustability / 120 mm (4.7 in) |
| Rear Suspension / Wheel Travel | Bottom-Link Uni Trak, gas-charged shock with piggyback reservoir, compression and rebound damping and spring preload adjustability / 151 mm (5.9 in) |
| Rake / Trail | 23.5° / 101 mm |
| Steering Angle (L/R) | 27° / 27° |
| Front Tire | 120/70ZR17M/C (58W) |
| Rear Tire | 180/55ZR17M/C (73W) |
| Front Brakes | Dual semi-floating ø310 mm petal discs with radial-mount, monobloc, opposed 4-piston calipers |
| Rear Brake | Single ø220 mm petal disc with single-bore pin-slide aluminum-piston caliper |
| Dimensions (L x W x H) | 2,025 x 710 x 1,100 mm (79.7 x 28.0 x 43.3 in) |
| Wheelbase | 1,400 mm (55.1 in) |
| Road Clearance | 130 mm (5.1 in) |
| Seat Height | 830 mm (32.7 in) |
| Curb Mass** | 195 kg (430 lb) ABS / 196 kg (432 lb) Non-ABS |
| Fuel Capacity | 17 litres |
| Instrumentation | Analogue-style tachometer + warning lights and multi-function LCD screen with gear position indicator, shift indicator, digital speedometer, odometer, dual trip meters, fuel gauge, remaining range, current and average fuel consumption, intake air temperature, coolant temperature (displayed as a bar graph, and also available numerically), clock (12h or 24h display), Power Mode and KTRC indicators, KQS indicator, KIBS indicator*, and the Economical Riding Indicator (*on ABS model) |
| Warranty | 12 months |
| Kawasaki Protection Plus | 12 / 24 / 36 / 48 months |
2021 Kawasaki Ninja ZX-6R ABS KRT – Totalmotorcycle.com European Specifications/Technical Details
TBA
Manufacturer Specifications and appearance are subject to change without prior notice on Total Motorcycle (TMW).