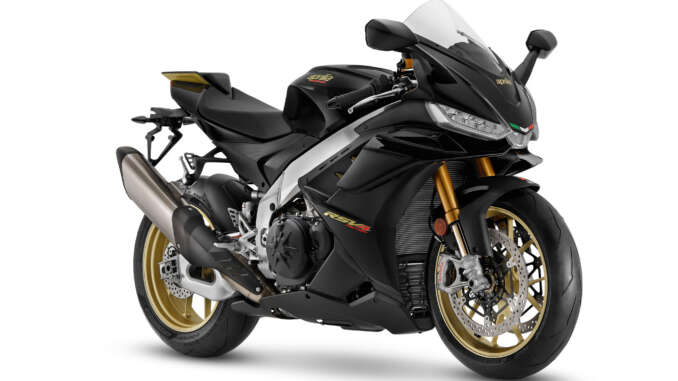 2022 Aprilia RSV4 Factory: TOP OF ITS CATEGORY.
Introducing the new 2022 Aprilia RSV4 Factory…
It's hard to describe the thrills of the track. But we can at least try.
Imagine the thrills of riding a motorcycle on a racing track. The shivers that run down your spine as you hit top speed, the flow of adrenalin as you accelerate on the bends, the sharp intake of breath as you power towards the finishing line.
Welcome to the RSV4 Factory experience. A premium superbike at the top of its category, it is designed for riders who crave high performance without compromising the quality and safety levels that are synonymous with Aprilia.
The ultimate superbike
The RSV4 is so much more than a bike with a powerful engine, it's the result of an ambitious project undertaken by the Aprilia Racing Division. They adopted the most cutting edge technology and developed a bike with integrated aerodynamic winglets, improved aerodynamic efficiency, 217 HP and more torque than ever before, which was all presented in the signature Aprilia chassis. This is a true masterpiece that is destined to send your pulses racing from the moment you set your eyes on it.
2022 Aprilia RSV4 Factory Totalmotorcycle.com Key Features
Once again, the Aprilia RSV4 has done the seemingly impossible, taking aerodynamic efficiency up another notch with its integrated aerodynamic winglets and a double-layered fairing. There is also the racing world-derived inverted swingarm and new electronics package with advanced APRC, a mighty 217 HP, increased torque and of course the unmistakable Aprilia chassis. Cruising through rounds of rigorous comparative testing the world over, the RSV4 has proved its mettle, rising to the occasion like a true champion.
Aprilia RSV4 and RSV4 Factory
The RSV4 is also available in a Factory option. Common to both is the revamped V4 1099cc engine, but the Factory version sports standard elements such as forged aluminium wheel rims, an Öhlins Smart EC 2.0 semi-active suspension system and Brembo Stylema brake callipers.
2022 Aprilia RSV4 Factory Totalmotorcycle.com Features and Benefits
Continuous evolution
Horsepower remains at an impressive 217 at 13000 rpm, already hard to beat, but it now meets the rigid Euro 5 criteria and breaks the 305 km/h barrier at top speed. The new Magneti Marelli ECU 11MP control system and a lighter exhaust with reduced thermal inertia further contribute to lowering emissions.
Team work at its best
The RSV4 Factory sports the outstanding Öhlins Smart EC2.0 semi-active suspension system, which has been fine-tuned through a team effort involving both their engineers and the elite-squad from Noale. Tested on the toughest tracks including Imola and Mugello until both teams were completely satisfied with the results, the new and improved system delivers a significant improvement in both performance and that elusive, but hard to describe, riding "feeling".
Suited to any riding style
The Smart EC 2.0 semi-active suspension system makes it a breeze to customise and calibrate the shock absorbers and fork, with a choice of semi-active and manual mode, both easy to activate via buttons on the handlebar. Further personalisation options come in the form of 3 maps that regulate the suspension in different ways.
Winning form
The latest model sees a dramatic change to its swingarm, now lighter and with a reinforced lower brace. Inspired by the Aprilia RS-GP used in MotoGP, this innovation reduces masses and increases the stability of the rear end during acceleration.
Daytime Running Lights
In keeping with Aprilia's lighting approach on sport bikes, the RSV4 is equipped with a triple LED front headlight unit, featuring perimeter DRLs and "bending lights" function, where the auxiliary lights increase visibility when cornering by illuminating the inside of a turn.
An engine without rival
The first mass-produced, high-performance narrow V4, this represents the most revolutionary and powerful engine ever built by Aprilia. While it meets Euro 5 emissions criteria, this doesn't come at the cost of performance, with increased torque and an exceptional maximum power level of 217 HP, the result of smart modifications such as a new exhaust system and increased effective engine displacement, now 1099 cc compared to the previous 1077 cc.
217 horsepower, zero compromise
The RSV4 has always sought to deliver an authentic experience that is as close as possible to Aprilia's racing bikes, with no compromises or half measures, the RSV4 Factory is no exception. Maintaining a mighty 217 horsepower, but moving from 122 Nm at 11000 rpm to 125 Nm at 10500 rpm, this Euro 5-compliant bike is not just a superbike, but a superstar.
2022 Aprilia RSV4 Factory – Totalmotorcycle.com USA Specifications/Technical Details
US MSRP Price: $ USD
Canada MSRP Price: $ CDN
Europe/UK MSRP Price: £ GBP (On The Road inc 20% Vat)
ENGINE TYPE Aprilia 4 longitudinal 65° V4 cylinder, 4-strokes, liquid cooling system, double overhead camshaft (DOHC), four valves per cylinder
BORE AND STROKE 81 x 53.32 mm
TOTAL ENGINE CAPACITY 1,099 cc
COMPRESSION RATIO 13.6:1
MAXIMUM POWER AT
CRANKSHAFT
217 HP (159.5 kW) at 13,000 rpm
MAXIMUM TORQUE AT
CRANKSHAFT
125 Nm at 10,500 rpm
POWER SUPPLY Airbox with front dynamic air intakes. 4 Marelli 48-mm throttle bodies with 8 injectors and Ride-By-Wire engine management.
TRANSMISSION 6-speed cassette type gearbox
Gear lever with Aprilia Quick Shift electronic system (AQS)
CLUTCH Multi plate wet clutch with mechanical slipper system
PRIMARY DRIVE Straight cut gears and integrated flexible coupling, drive ratio: 73/44 (1,659)
SECONDARY DRIVE Chain: Drive ratio: 41/16 (2,562)
CONTROLS MANAGEMENT
APRC system (Aprilia Performance Ride Control) that includes engine maps (AEM), engine brake control (AEB), traction control (ATC), wheelie control (AWC), launch control (ALC), cruise control (ACC), speed limiter (APT). 6 riding modes (3 Road, 3 Track)
CHASSIS Aluminium dual beam chassis with pressed and cast sheet elements Available adjustments: headstock position and angle, engine height, swingarm pin height
Smart EC 2.0 electronically managed Öhlins steering damper
FRONT SUSPENSION Smart EC 2.0 electronically managed Öhlins NIX fork.  43 mm stanchions, with
TIN surface treatment Aluminium radial calliper mounts, adjustable in hydraulic compression and rebound damping and spring pre-load, 125 mm travel
REAR SUSPENSION Upside-down double braced aluminium swingarm;
Öhlins TTX monoshock with Smart EC 2.0 electronically managed piggy-back, fully adjustable in: spring pre-load, wheelbase and hydraulic compression and rebound damping. 115 mm travel
BRAKES Front: Dual 330-mm diameter floating stainless steel disc with lightweight stainless steel rotor and aluminium flange with 6 pins. Brembo Stylema® monobloc radial callipers with 4  30 mm opposing pistons. Sintered pads. Radial pump and metal braided brake hose
Rear: 220 mm diameter disc; Brembo calliper with two  32 mm separate pistons.
Sintered pads. Pump with integrated tank and metal braided hose
Bosch ABS with cornering function and 3 map settings, equipped with RLM (Rear wheel Lift-up Mitigation) strategy
WHEELS Forged aluminium alloy wheels, completely machined, with 5 split spoke design.
Front: 3.5"x17"
Rear: 6"x17"
TYRES Radial tubeless.
front: 120/70 ZR 17
rear: 200/55 ZR 17 (alternative: 190/50 ZR 17; 190/55 ZR 17)
DIMENSIONS Wheelbase: 1435.8 mm
Length: 2055 mm
Width: 735 mm
Saddle height: 845 mm
Headstock angle: 24.6°
Trail: 104.5 mm
KERB WEIGHT 202 kg (90% fuel)
EMISSIONS COMPLIANCE Euro 5
CONSUMPTION 6.90 litres/100 km
CO2 EMISSIONS 160 g/km
FUEL TANK CAPACITY 17.9 litres (including 4-litre reserve)
COLOUR RANGE Lava Red, Aprilia Black
Manufacturer Specifications and appearance are subject to change without prior notice on Total Motorcycle (TMW).