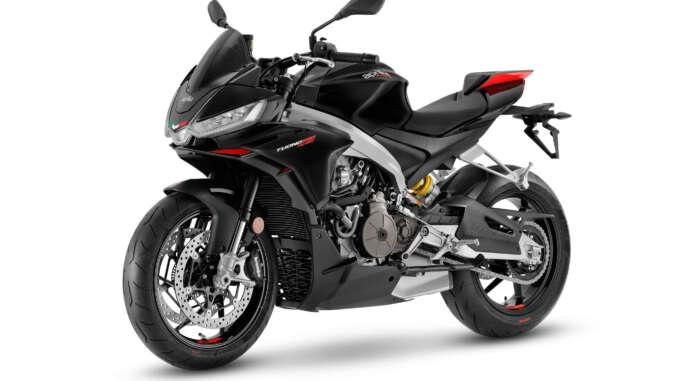 2022 Aprilia Tuono 660 Factory: EXTRAORDINARY BIKE.
Introducing the new 2022 Aprilia Tuono 660 Factory…
The Factory versions of Aprilia sports bikes have always been flagship products, dedicated to the most demanding and skilled riders, who can appreciate the quality of the most sophisticated outfitting.
And now, the Factory trim is also available for the Tuono 660, which makes for a Tuono with unparalleled dynamic qualities, the most efficient and fun to use on the road and a true generator of emotions, accessible to everyone. All this, while respecting the Aprilia 660 project that promises bikes with a sensational weight/power ratio that are lightweight, high-performance, and built around the brand-new latest generation Aprilia parallel twin.
2022 Aprilia Tuono 660 Factory Totalmotorcycle.com Key Features
TUONO 660 FACTORY DESCENDS DIRECTLY FROM TUONO V4 FACTORY AND INHERITS ITS KEY VALUES, BOASTING CONSIDERABLE EQUIPMENT AND PERFORMANCE
 EVERY APRILIA FACTORY IS AN EXTRAORDINARY BIKE. TUONO 660 IS DEDICATED TO THE NEW GENERATION OF MOTORCYCLISTS WHO DEMAND MAXIMUM RIDING ENJOYMENT
 181 KG FOR 100 HP: TUONO 660 FACTORY IS LIGHTER, MORE SOPHISTICATED, AND FLAUNTS FIRST-RATE EQUIPMENT
As powerful as thunder, as light as a cloud
Two universes collide… The legendary Tuona V4 1100 meets the advanced technology of the RS 660 to create the TUONO 660, a motorbike destined to shake up the way you look at the world.
2022 Aprilia Tuono 660 Factory Totalmotorcycle.com Features and Benefits
With respect to Tuono 660, already widely recognized and appreciated by the public and critics for its outstanding chassis qualities, Tuono 660 Factory boasts more sophisticated suspension, better suited to sport riding. The Kayaba fork with 41mm stanchions is fully adjustable in its compression and rebound damping and spring pre-load, while the Sachs shock with separate reservoir is also adjustable in its compression and rebound damping and spring pre-load.
There is an even better weight/power ratio, one of the main goals for all new Aprilia 660 models and already outstanding on the Tuono 660, thanks to the adoption of a light lithium battery that contributes to reducing the overall weight by roughly 2 kg (the curb weight is now 181 kg) and better engine performance.
A compact and lightweight latest-generation engine, the 660cc forward-facing twin with DOHC timing and four valves per cylinder is the result of experience gained with the very powerful engine that equips RSV4, from which the construction philosophy and basic concepts derive. The engine has a load-bearing function and houses the aluminum swingarm in its rear section. Combustion is asymmetric and offset by 270° to obtain irregular combustion which translates into performance and sound like that of a V-twin. The engine boasts even more drive-in acceleration, thanks to the use of a shorter final drive, with a 16-tooth pinion gear, one less than Tuono 660. The maximum torque remains unchanged, with 67 Nm at 8500 rpm, 80% of which is available from 4000 rpm, or 90% on reaching 6250 rpm.
Tuono 660 Factory offers a full suite of APRC electronic controls with a Ride-by-Wire electronic accelerator and six-axis inertial platform as standard. The latter, thanks to the accelerometers and gyroscopes it contains, can recognize the bike's condition with respect to the road, measuring and processing the inputs that result from riding and sending the data to a control unit that intervenes to optimize the control parameters. The Tuono 660 Factory APRC includes ATC (Aprilia Traction Control), adjustable traction control characterized by high-performance intervention strategies; AWC (Aprilia Wheelie Control), the adjustable wheelie control system; ACC (Aprilia Cruise Control) to maintain a steady speed without using the throttle; AQS (Aprilia Quick Shift), the electronic gearbox that allows for very rapid shifting without closing the throttle or using the clutch. It is also equipped with the downshift function, to allow for clutchless downshifting; AEB (Aprilia Engine Brake), the adjustable system to control engine braking when closing the throttle; AEM (Aprilia Engine Map), with different mappings via which to alter the engine's character and delivery.
Tuono 660 Factory also benefits from multi-map Cornering ABS. With its extremely contained weight and dimensions, the system can optimize braking and ABS intervention through the corners, thanks to a specific algorithm that constantly monitors various parameters such as lateral acceleration, the pressure applied to the front brake lever, and the lean, pitch and yaw angle, modulating the braking action to optimize the ratio between deceleration and stability.
As with the Tuono 660, there are five customizable Riding Modes (three for road use and two for track use) to simplify life on-board. The rider needs only to choose the Riding Mode that best interprets his or her riding needs to automatically obtain the best settings in terms of traction control, wheelie control, engine brake, ABS, and the other managed parameters. Adoption of the inertial platform has also allowed for activation of the "bending lights" function, incorporated into the front LED light cluster complete with perimeter DRL (this pair of additional lights illuminate the entire corner, increasing visibility when leaning).
With its reduced surfaces effectively highlighting a dynamic, sport character, the bike's design stands out for the innovative double fairing that serves as an aerodynamic appendage. The pressure of the air channeled between the two walls contributes to optimizing stability at high speeds and, at the same time, increases rider comfort by protecting against direct air flow, also deflecting the hot air extracted from the engine. The Tuono 660 Factory version is further enhanced with the aggressive and sporty Factory Dark graphics and the presence of the single-seat tail fairing, painted black and red and supplied as standard together with the passenger seat and footpegs. These pegs, like those of the rider, are the same as those of the Aprilia RS 660.
Standard Key Features 
It's what you take away that adds up
Like the RS 660, the Aprilia Tuono 660 boasts an incredible weight to power ratio. Its wet weight of just 403 lbs for 100 HP is a record-breaker in its category and makes for an accessible naked sport bike suitable for any rider both on the road and track.
Shaped by the wind
When it comes to style, the Tuono 660 bears all the hallmarks you would expect of an Aprilia sport bike, with sleek, compact dimensions that highlight its dynamic nature. It has also unashamedly borrowed the RS 660's innovative double fairing for enhanced aerodynamics, the result of rigorous wind tunnel testing.
It all starts with the frame
The Tuono 660's diecast aluminium frame and swingarm make for a truly glorious structure. If that weren't enough, then there is the Kayaba adjustable suspension with dedicated set up, to say nothing of chassis dimensions designed to improve response and handling through a reworked geometry of the steering column.
Master of all roads
With five riding modes, of which three provide road options and two are designated for the track, there's plenty of choice for all riding styles and levels of rider, made even more enjoyable by the customisable and easy-to-use electronic instrument panel.
Inimitable style
Choose from Concept Black, Iridium Grey and the rather special Acid Gold, until now only available on the RS 660, but already setting new standards of style and aesthetics in the motorycling world.
2022 Aprilia Tuono 660 Factory – Totalmotorcycle.com USA Specifications/Technical Details
US MSRP Price: $ USD
Canada MSRP Price: $ CDN
Europe/UK MSRP Price: £ GBP (On The Road inc 20% Vat)
Engine type
Aprilia forward-facing parallel twin-cylinder, four stroke, liquid-cooled with radiator and water-oil heat exchanger, DOHC with silent chain on the right side, four valves per cylinder.
 

Bore and stroke

 

81 x 63.93 mm

 

Engine capacity

 

659 cc

 

Compression ratio

 

13.5:1

 

Maximum power at crankshaft

 

100 HP (73.5 kW) at 10,500 rpm

 

Maximum torque at crankshaft

 

67 Nm (6.83 kgm) at 8500 rpm

 

Fuel system

 

Airbox with front air vent. Two Æ48 mm throttle bodies, Ride-by-wire management

 

Ignition

 

Electrical

 

Lubrication

 

Wet sump

 

Transmission

 

Six gears with Aprilia Quick Shift (AQS) up and down system

 

Clutch

 

Multiplate wet clutch with slipper system

 

Secondary drive

 

Chain, drive ratio 16/43

 

Electronic management

 

6-axis IMU, APRC suite that includes ATC (traction control), AWC (wheelie control), AEB (engine brake) AEM (engine mapping), ACC (cruise control)

5 riding modes (Road and Track, 3 pre-set and 2 customizable)

 

Chassis

 

 

Aluminum dual beam chassis with removable seat-supporting subframe

Front suspension

 

 

KayabaÆ 41 mm upside down fork with top out spring, aluminum pins to fasten radial calipers. Both stanchions allow for rebound, compression and spring pre-load adjustment. Wheel travel: 110 mm
Rear suspension

 

 

Asymmetric aluminum swingarm. Single shock with top out spring and separate reservoir, adjustable in rebound, compression, and spring pre-load. Wheel travel: 130 mm
Front brake

 

 

 

Rear brake

 

 

ABS

320 mm double disc

Brembo radial calipers with fourÆ horizontally opposed 32 mm pistons. Radial pump and metal braided brake hose

220 mm diameter disc; Brembo caliper with twoÆ 34 mm separate pistons. Master cylinder with separate reservoir and metal braided hose

 

 

Multi-map Cornering ABS

 

 

Wheels

 

 

Aluminum alloy, front: 3.5" x 17" rear: 5.5" x 17"

Tires
Radial tubeless, front: 120/70 ZR 17 rear: 180/55 ZR 17 (alternatively 180/60 ZR17)
 

Dimensions

 

 

Wheelbase: 1370 mm

Length: 1995 mm

Width: 805 mm

Saddle height: 820 mm

Headstock angle: 24.1°

Trail: 104.7 mm

 

Weight
181 kg curb weight (169 kg dry weight)
Emissions compliance

 

Consumption

Euro 5

 

4.9 liters/100 km

 

CO2 emissions

 

116 g/km

 

Fuel tank capacity

 

Color range

 

15 liters (including 4-liter reserve)

 

Factory Dark
Manufacturer Specifications and appearance are subject to change without prior notice on Total Motorcycle (TMW).