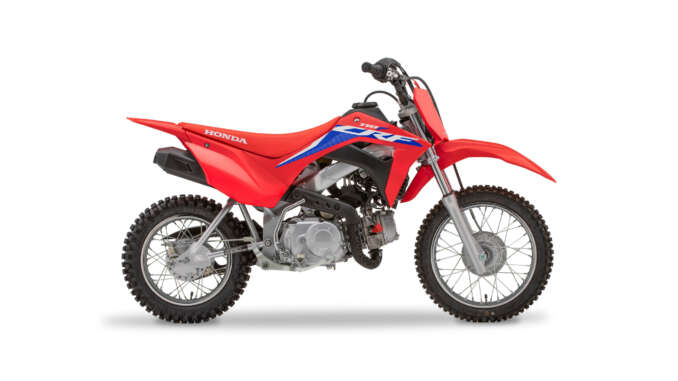 2022 Honda CRF110F: BIG THRILLS IN A SMALL PACKAGE.
Introducing the 2022 Honda CRF110F…
The industry's top-selling dirt bike, the CRF110F continues Honda's proud tradition of offering four-stroke trail machines that open the doors to off-road recreation for generations of new riders. Full-featured but sized perfectly for kids, this model has modern, clean-running Keihin fuel injection that makes it 50-state, year-round off-road legal, while the push-button electric start and clutch-less four-speed semi-automatic transmission keep the focus on having fun. Durable and requiring minimal maintenance, the CRF110F delivers smiles long after riding skills develop.
Every new trail you explore with your young rider is a chance to build lasting memories. The CRF110F is designed to keep the fun going, with big performance, a huge set of features, and new competition-worthy graphics. The durable single-cylinder engine and tough steel frame offer rock-solid reliability. It's combined with a unique four-speed transmission with automatic clutch that allows riders to shift when they want, without stalling. Long suspension travel and a comfortably padded seat help extend how long they can ride. Because the further you travel with your group, the closer you'll feel.
ENGINE / DRIVETRAIN
Air-cooled single-cylinder four-stroke 109cc engine tuned for beginning riders.
Follows technology developments of CRF Performance Line with Keihin electronically controlled fuel-injection system that delivers linear and hesitation-free power, minimizing intimidation for new riders and providing a friendly power delivery for all levels. Fuel-injection system delivers smooth power at all rpm and all throttle openings.
Four-speed gearbox with automatic clutch.
Adjustable throttle-limiter screw allows throttle opening to match rider abilities.
Convenient electric starter with kick-start backup.
CHASSIS / SUSPENSION
Low seat height of only 26.3 inches.
Twin-spar steel frame, inspired by the CRF Performance Line frame architecture, provides the right balance of rigidity and comfort.
Modern frame and suspension let this small bike handle the bigger bumps with good control and minimal bottoming.
1-gallon steel fuel tank with integrated fuel pump incorporates built-in fuel filter and low-fuel indicator on handlebar (lights up at .2 gallons remaining). Frame design shields tank in the event of a fall.
Modern bodywork with CRF Performance Line styling and graphics.
Handlebar-mounted multiple-function handlebar switch incorporates starter button, ignition "key on" indicator, fuel-injection system status, and "low fuel" indicator light (replaces reserve setting on petcock).
Half-waffle grips have a small circumference for a good fit with small hands.
Handlebar pad.
Honda Offers Robust Lineup of Green Sticker-Compliant Dirt Bikes CRF450X, CRF-F trail family are off-road legal in California for 2022
Honda continues to offer a number of dirt bike models that meet the California Air Resources Board's new emissions standards for 2022 model-year and later off-highway vehicles. CARB's updated rules eliminate new Red Sticker vehicle sales for model year 2022 and onward. Model-year 2022 and later off-highway vehicles that are not Green Sticker compliant will not be allowed to operate in California SVRAs.
Announced last March, the 2022 CRF450X continues to be eligible for a Green Sticker and may be legally ridden year-round at SVRAs. Suitable for trail riding, this popular model performs at such a high level that it is also capable in competition, having amassed 14 victories in the Baja 1000, including the last six editions.
In addition, the entire CRF Trail family—the CRF50F, CRF110F, CRF125F and CRF250F—remains Green Sticker compliant. The road-legal CRF450RL may also be legally used in California SVRAs.
"With CARB's changing regulations, we've heard from a number of customers who are concerned about being able to ride their dirt bikes in California public riding areas, but many Honda models are already Green Sticker compliant," said Brandon Wilson, Manager of Sports & Experiential at American Honda. "We've moved our off-road line in this direction over the past several years, enabling us to offer one of the powersports industry's more substantial lineups of Green Sticker-compliant models. Equipping off-highway vehicles with the necessary clean-running technology isn't always easy, but doing so is an important way of protecting the environment and keeping public riding areas beautiful."
Honda's lineup of Green Sticker-compliant powersports products isn't limited to two-wheel models, as many Honda ATVs and side-by-sides can also be used year-round in California's public off-road areas.
2022 Honda CRF110F Totalmotorcycle.com Features and Benefits
PERFORMANCE
FOUR-STROKE ENGINE
The CRF110F's dependable four-stroke single-cylinder engine offers good performance with a broad powerband—perfect for a wide range of riders including beginners. And because it's a Honda, you know it's reliable, too.
HANDLING
AMPLE SUSPENSION TRAVEL
The CRF110F has plenty of rear suspension travel for a smooth ride.
AUTOMATIC CLUTCH
There's no clutch lever for new riders to master, and that means no stalling. In addition, the smooth transmission offers four gear ratios. All you do is shift with your foot.
CONVENIENCE
ELECTRIC STARTER
Push a button and go—that's how easy it is to get going on a CRF110F. Starts after a tip-over are a snap, and the push button means no frustration if a rider accidentally stops the engine.
KEYED IGNITION
You decide who rides and when because you hold the keys. Got your homework done? Good—let's ride!
TOUGH BODYWORK
Riders can be tough on equipment, and taking a spill is a natural part of learning. But the CRF110F can handle it. With tough plastic fenders, tank, and other body parts designed to look like our bigger CRF motocross bikes', the CRF110F is engineered to shrug off the minor dings of the real world.
ENGINEERING
ADJUSTABLE THROTTLE LIMITER
Set the top speed by turning a screw. That helps keep new riders from going too fast, too soon, and lets you match the CRF110F's power output to the rider's skill level.
BACKUP KICK STARTER
Even if the bike's been sitting all winter, you still can get going with the CRF110F's kick starter. It's easy for you to use, and it helps ensure that your day of fun doesn't stop.
CLEAN-RUNNING ENGINE
Another benefit of fitting the CRF110F with fuel injection? Now it even meets California's stringent CARB emissions standards for off-road motorcycles—good news for everyone.
FUEL INJECTION
Fuel injection means the CRF110F starts right up, even in cold weather. Compared to a carbureted bike, it also helps reduce emissions and enhance performance and fuel efficiency. And say goodbye to clogged pilot jets when you put this bike away for storage.
STEEL FRAME & SWINGARM
Less experienced riders are hard on equipment, especially when they're just starting out. That's why we gave the CRF110F a strong, twin-spar-type steel frame and swingarm that are built to handle the bumps and dings of off-road riding.
COMFORT
HALF-WAFFLE GRIPS
Just like the pros use, the CRF110F gets upgraded, half-waffle pattern grips. Might as well start them off right!
LOW SEAT HEIGHT
It's important to have a bike that's sized right for your rider. The CRF110F's low seat height helps build confidence right from the start. Its seat height fits nicely between the CRF50F and CRF125F.
2022 Honda CRF110F – Totalmotorcycle.com USA Specifications/Technical Details
US MSRP Price: from $2499 USD
Canada MSRP Price: $3349 CDN
Europe/UK MSRP Price: £2349 GBP (On The Road inc 20% Vat)
| | |
| --- | --- |
| ENGINE |   |
| Type | 109.2cc air-cooled 80º single-cylinder four-stroke |
| Valve Train | SOHC; 2 valves |
| Bore x Stroke | 50.0 mm x 55.6 mm |
| Compression Ratio | 9.0:1 |
| Induction | Fuel-injection system; 19 mm throttle bore |
| Ignition | Full transistorized |
| Starter | Push-button electric starter / kick |
| Transmission | Constant-mesh 4-speed return; semi-auto |
| Clutch | Automatic centrifugal |
| Final Drive | #420 chain; 14T/38T |
| SUSPENSION |   |
| Front | 31 mm conventional telescopic coil-spring fork; 4.3 in. stroke |
| Rear | Single shock; 3.8 in. travel |
| BRAKES |   |
| Front | Mechanical; single 95 mm leading trail drum |
| Rear | Mechanical; single 95 mm leading trail drum |
| TIRES |   |
| Front | 70/100-14 w/ tube |
| Rear | 80/100-12 w/ tube |
| MEASUREMENTS |   |
| Rake (Caster Angle) | 25.17° |
| Trail | 53 mm |
| Length | 60.7 in. |
| Width | 26.7 in. |
| Height | 36.3 in. |
| Ground Clearance | 6.7 in. |
| Seat Height | 25.9 in. |
| Wheelbase | 41.9 in. |
| Fuel Capacity | 1.0 gal. |
| Color | Red |
| Curb Weight* | 169 lbs. |
2022 Honda CRF110F – Totalmotorcycle.com Canada Specifications/Technical Details
Engine & Drivetrain
Engine type Air-cooled single-cylinder
Displacement 109 cc
Bore & stroke 50 mm x 55.6 mm
Compression ratio 9.0:1
Valve train SOHC, two valves
Fuel delivery PGM-FI electronic fuel injection with 22 mm throttle body
Transmission Four-speed with automatic clutch
Final drive #420 chain; 14T/38T
Chassis & Suspension
Front suspension 31 mm leading-axle Showa fork; 100 mm (3.9 in.) travel
Rear suspension Pro-Link® Showa single shock; 97 mm (3.8 in.) travel
Dimensions & Additional Information
Tires Front: 70/100-14
Rear: 80/100-12
Brakes Front: drum
Rear: drum
Ground clearance 175 mm (6.9 in.)
Seat height 658 mm (25.9 in.)
Wheelbase 1,065 mm (41.9 in.)
Curb weight 77 kg (170 lb.) including required fluids and full tank of gas—ready to ride
Fuel capacity 3.7 litres, including 0.7 litre reserve
Colour Extreme Red
Warranty 6 months, unlimited mileage, freely transferable warranty; extended coverage available with Honda Plus
2022 Honda CRF110F – Totalmotorcycle.com European Specifications/Technical Details
Engine
Bore × Stroke (mm) 50.0mm x 55.6mm
Carburation Fuel-injection, 19mm throttle bore
Compression Ratio 9.0:1
Engine Displacement (cc) 109cc
Engine Type Air-cooled single-cylinder four-stroke
Wheels
Brakes Front Drum
Brakes Rear Drum
Suspension Front 31.0mm telescopic fork; 10cm of travel
Suspension Rear Single-shock; 9.5cm of travel
Tyre Size Front 70/100-14
Tyre Size Rear 80/100-12
Dimensions and Weights
Caster Angle 25°10′
Fuel Tank Capacity (Litres) 4.55 Litres
Ground Clearance (mm) 17cm
Seat Height (mm) 65cm
Trail (mm) 53mm
Weight (kg) 77kg
Wheelbase (mm) 106.5cm
Transmission
Clutch Operation Automatic
Final Drive #420 Chain
Gearbox Four-speed with automatic clutch
Ignition System Full Transistorized
Manufacturer Specifications and appearance are subject to change without prior notice on Total Motorcycle (TMW).