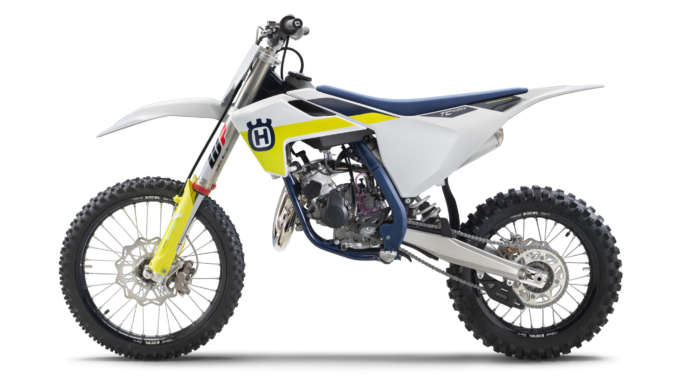 2022 Husqvarna TC85 17/14: YOUNG BLOOD.
Introducing the 2022 Husqvarna TC85 17/14…
The 85cc class bridges the gap between the junior ranks and full-sized motocross, taking emerging riders one step closer to the big leagues. As such, the advanced hardware featured on the larger Husqvarna range is found on the TC 85. Featuring the latests engine and chassis technology, the TC 85 ensures young riders have the confidence to push harder, while maintaining maximum composure on track.
2022 Husqvarna TC85 17/14 Totalmotorcycle.com Key Features
Victory doesn't just happen by chance
It is a sport of absolutes, requiring exceptional courage, phenomenal fitness, razor-sharp skills, meticulous preparation and unwavering determination – facts that cannot be escaped once the gate drops. The key to a long, enjoyable and successful personal motocross career is taking a wider view and knowing what must be done for continued success. Our range rewards riders who are prepared to look ahead and progress beyond their limitations. Always crafting their skills, refining their technique and preparing wisely, with smart attention to detail. In this sport, one can never stop learning, because when you stop progressing, you might as well stop riding.
The Early Days of Moto
In the 1950s, Husqvarna's ultra lightweight and compact 'Silverpilen' street model was the first choice for riders wanting to build offroad-capable self-modified bikes.
The first official European Motocross Championship was held in 1952, with the first World Championship running in 1957.
Husqvarna's first motocross championship titles came in 1959 (Rolf Tibblin's European 250 cc title) and 1960 (Bill Nilsson's 500 cc world title).
In both 1962 and 1963 Husqvarna swept the 250 cc and 500 cc world titles in a single season with Rolf Tibblin and Torsten Hallman.
The first production motocross competition models arrived in 1963 with a production run of 100 replicas of Hallman's championship bike.
Thanks to cross-Atlantic exploits to introduce the sport to the USA by riders like Torsten Hallman, the sport exploded in popularity in the late '60s and '70s.
By 1979 Husqvarna Motorcycles had clinched 13 motocross world titles, 9 Baja 1000 wins and multiple victories in the US nationals and legendary Trans-AMA series.
RIDE SMARTER WITH HUSQVARNA MOTORCYCLES 2022 MOTOCROSS MODELS
SUBTLE REFINEMENTS AND STRIKING NEW LOOK FOR ALL FULL-SIZED COMPETITION-FOCUSED TC AND FC MOTOCROSS MACHINES
Delivering true motocross performance and adorned with Swedish-inspired dark blue and white graphics for a striking new look, Husqvarna Motorcycles is pleased to announce the launch of the nine-motorcycle strong, competition-focused 2-stroke and 4-stroke line-up. Developed to create superior riding experiences for racers of all ages, all models provide uncompromised power-to-weight performance, together with leading ergonomics and aesthetics, and exceptional handling.
Husqvarna Motorcycles is proud to offer a full range of minicycles that provides youth-specific ergonomics and user-friendly operation for aspiring future champions. Allowing youngsters to develop their skills in readiness for the full-sized machines, the TC 50, TC 65, TC 85 and EE 5 deliver incredible performance and serious motocross fun.
Technical Highlights 2022 minicycles:
Unrivalled engine performance and rideability
WP XACT forks with AER technology – optimal performance and light weight
Confidence-instilling ergonomics thanks to a broad, flat seat and one-piece airbox cover
High-grip seat cover for comfort
Roller actuated throttle assembly for TC 85 – smoother throttle motion and improved durability
Formula brake calipers, clutch and brake assemblies for TC 85 and TC 65 – excellent stopping power and improved reliability
NEKEN tapered diameter aluminum handlebars offer optimized ergonomics
Ensuring comfort, protection and style, the Functional Off-road Apparel Collection provides a range of performance-focused apparel, for riders of all ages and abilities. With each product incorporating the latest material and construction technologies, the line-up also delivers protective equipment for both adults and kids.
The Husqvarna Motorcycles Technical Accessories range includes an extensive selection of engine and chassis upgrade options, for both 2-stroke and 4-stroke machines. With exhausts, suspension, brakes, graphics and many other products, the performance of the TC and FC motocross and TX and FX cross-country models can be further enhanced to meet the needs of all riders.
The 2022 motocross and cross-country range will be available this May at all authorized Husqvarna Motorcycles dealers.
2022 Husqvarna TC85 17/14 Totalmotorcycle.com Features and Benefits
Chassis
FRAME
Crafted to provide precise feedback to young riders, the chromium molybdenum steel frame is made using advanced robot welding and hydroformed tubes.
Technology
AIRBOX
The TWIN AIR filter can be easily accessed without tools by simply removing the left side panel for quick maintenance. The airbox design allows optimum airflow and maximum filter protection.
Performance
ENGINE
Using the latest 2-stroke technology, the TC 85 motor delivers unrivalled performance in the competitive 85cc class. With a lively but controllable power delivery, the motor delivers unrivalled performance and rideability across the RPM range.
Components
ODI LOCK-ON GRIPS
The TC 85 is fitted with high quality ODI lock on grips as standard. The system includes a vulcanized grip on the throttle grip while the lock-on grip on the left does not require any glue or wire to secure it to the handlebar.
2022 Husqvarna TC85 17/14 – Totalmotorcycle.com Specifications/Technical Details
US MSRP Price: $ USD
Canada MSRP Price: $ CDN
Europe/UK MSRP Price: £ See Dealer for Pricing in GBP (On The Road inc 20% Vat)
ENGINE
TRANSMISSION 6-speed
STARTER Kickstarter
STROKE 48.95 mm
BORE 47 mm
CLUTCH Wet, multi-disc clutch, Formula hydraulics
DISPLACEMENT 84.9 cm³
EMS MEDJ digital
DESIGN 1-cylinder, 2-stroke engine
CHASSIS
WEIGHT (WITHOUT FUEL) 67 kg
TANK CAPACITY (APPROX.) 5.2 l
FRONT BRAKE DISC DIAMETER 240 mm
REAR BRAKE DISC DIAMETER 220 mm
FRONT BRAKE Disc brake
REAR BRAKE Disc brake
CHAIN 1/2 x 5/16″
FRAME DESIGN Central double-cradle-type 25CrMo4 steel
FRONT SUSPENSION XACT 43 WP Upside-Down fork, Ø 43 mm
GROUND CLEARANCE 336 mm
REAR SUSPENSION XACT WP PDS mono shock
SEAT HEIGHT 850 mm
STEERING HEAD ANGLE 66 °
SUSPENSION TRAVEL (FRONT) 278 mm
SUSPENSION TRAVEL (REAR) 305 mm
Manufacturer Specifications and appearance are subject to change without prior notice on Total Motorcycle (TMW).