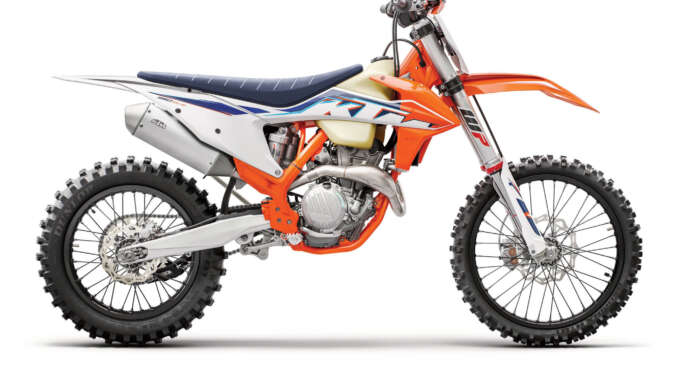 2022 KTM 350 XC-F : NO COMPROMISE.
Introducing the 2022 KTM 350 XC-F…
The KTM 350 XC-F merges an aggressive motocross personality, with a refined and forgiving chassis setup. That results in a machine that feels like a 250 but kicks up dust like a 450 – with the handling characteristics of an out-and-out racer. In short, it's one of the most complete offroad weapons in the KTM arsenal.
THE COMPLETE PACKAGE – CLASS LEADING 2-STROKE MACHINES
KTM's 2021 EXC range includes the most potent and capable 2-stroke enduro weapons available on the market. Refined through years of valuable KTM factory rider feedback, these extreme machines are a result of KTM's unwavering commitment to constant progression. Apart from a dynamic handling chassis, all 2-strokes feature revolutionary TPI (Transfer Port Injection) technology, delivering unrivaled power throughout the entire rev range no matter what the conditions.
OFFROAD POWERHOUSE – CUTTING-EDGE 4-STROKES
KTM refuse to knock down a gear in its mission to make the EXC-F models the most competitive 4-stroke machines on the market today. Low weight, unbeatable torque, efficient engine management, sensitive delivery and even more reliability have been KTM development priorities over the last years. Developed for riders of any skill range, the 2021 KTM EXC-F models are highly-capable race-winning machines across all offroad racing disciplines.
CONQUER THE TRAIL
There has never been a better time to get onto a 2021 KTM ENDURO motorcycle. With a range of models to cater to every experience level, as well as proven pre- and after-sales products, your journey to new extremes starts here.
2022 KTM 350 XC-F Totalmotorcycle.com Features and Benefits
Engine & Exhaust
When it comes to power delivery and performance, the exhaust on all 4-stroke models plays a key role and packs a punch that is hard to beat. It features a model-specific header pipe with an advanced resonator called FDH (Flow Design Header), which is a small chamber around the pipe. The design allows the exhaust to be disassembled without removing the shock absorber and also provides better access to the shock. The aluminum sleeve, end cap and internal design of the silencer allow for slimmer ergonomics, making the bike feel narrower, without compromise to regulatory noise limits.
Engine
The engine of the KTM 350 XC-F features a compact and very light (60 lbs) construction. Its DOHC (double overheard camshaft) design with lightweight titanium valves and DLC coated cam followers allows for lively but strong engine characteristics. Fitted with the latest electronic fuel injection system and an E-starter, it has an extremely wide usable speed range, high performance and incredibly efficient rideability. The KTM 350 XC-F engine shares the same layout as the 250 XC-F, resulting in playful handling that is similar to a 250 machine.
Cylinder head
The cylinder head features two overhead camshafts with friction-optimized cam followers boasting a DLC coating and high-flow ports. Four lightweight titanium valves maximize the flow rate for an optimal power band and outstanding performance across the seemingly endless rev range of 13,400 RPM. Lateral brackets made of aluminum allow an efficient fixation of the engine to the frame and contribute to the bike's featherweight feel.
Crankshaft
The KTM 350 XC-F's crankshaft utilizes a short connecting rod, which makes for an overall compact and lightweight engine with a snappy power delivery. A plain big (bottom) end bearing with two force-fitted bearing shells runs directly on the crank pin. The necessary oil feed for this bearing is ensured by the engine's pressurized lubrication. This design is a decisive benefit in terms of the crankshaft service interval, which can be lengthened due to the plain bearing. So just pin it, all day long.
Crankcases and engine covers
The design of the die-cast crankcases allows for minimal weight and a very centralized shaft configuration. This makes the engine short and compact, while contributing to an efficient centralization of masses. The engine covers also feature a solid surface structure, which reduces the wear caused by the rider's boots. This way, your XC-F will keep looking better longer.
Transmission
The engine is fitted with a smooth 6-speed semi-close PANKL transmission made of new and stronger materials. An advanced ´No Dirt´ gear shift lever design prevents mud and sand from blocking the joint of the lever and guarantees trouble-free shifting. All 4-stroke engines are fitted with a gear position sensor, giving the option of different engine characteristics for each gear. The transmission shaft features a C4 bearing that has a bigger overlap and guarantees better reliability even at extremely tough operating conditions.
Engine management system
The state-of-the-art Keihin engine management system with electronic fuel injection features a 44 mm throttle body. Thanks to its unique injector position, the engine's response is instantaneous. And to make life even easier, separate systems for cold starts and idle adjustment await you. The lightweight control unit features a unique traction and launch control system for lightning-quick response when the gate drops.
Cylinder and piston
Inside the short cylinder, with a bore of 88 mm, thumps a box-type piston made by CP. Its crown geometry is adapted perfectly to the high-compression combustion chamber (14.2:1), where its rigid structure and low weight shine. Thanks to the low oscillating masses, the engine is both snappy and strong.
Balancer shaft
To balance the mass-forces, the KTM 350 XC-F engine uses a multifunctional balancer shaft, which at the same time drives the water pump and timing chain.
Clutch
The DS (diaphragm steel) clutch literally puts the control back in the hands of the rider. It features a durable, one-piece clutch basket and primary gear, made of high-strength billet steel, guaranteeing unbeatable reliability. It is fitted with extremely heat-resistant steel carrier friction discs, which are pre-tensioned by means of a diaphragm spring, ensuring the most effective disengagement of the clutch. This design substantially reduces the operating force required to pull the clutch and is made even easier with the hydraulic Brembo system.
E-Starter
The KTM 350 XC-F is fitted with a unique E-starter as standard, which is a clear advantage when it comes to crunch time in the heat of battle. A strong starter motor made by Mitsuba will fire time and time again at the push of a button. Even under extreme conditions, thanks to its more heat resistant O-ring.
Cooling
KTM's proven cooling system routes the coolant from the cylinder head through the frame triangle, directly to aluminum radiators. Thanks to flow optimized internal circulation and CFD-calculated ventilation, the system is superbly efficient. In addition, radiator protections improve heat dissipation. Especially in the mud. They are also integrated into the front part of the shrouds to protect the radiators from impact.
Chassis
Airbox
The airbox on the KTM 350 XC-F ensures optimal flow dynamics, and together with the intake snorkels, results in optimal power and throttle response. Despite the obvious performance enhancements, the design also offers maximum protection against soiling of the air filter. The large Twin-Air air filter is mounted on a cleverly designed stiff cage that minimizes incorrect installation. As found on previous models, filter maintenance is quick and easy and does not require tools – a standard, original feature from KTM.
Frame
The high-tech, lightweight chrome-moly steel frame has a knack for easy handling, outlandish rideability, precise cornering and excellent stability. You can also count on precisely calculated stiffness of the frame. This results in better absorption of the energy created from the front and rear suspension, sucking up jumps and bumps. In short: more comfort and less rider fatigue. Laterally attached, lightweight aluminum engine head stays (the connection between cylinder head and frame) contribute to more precise cornering and a reduced vibration level. The engineers were able to pull off all that, while making their frame 2.2 pounds lighter than that of the lightest competitor on the market. In addition, it is easier to maintain, easier to work on and supplies more space for the tank and other components. The bike also features an extra-light subframe made of aluminum, which tips the scales at less than 2 pounds.
Swingarm
The cast aluminum design offers low weight and a perfect flex behavior. The single-component casting process eliminates any inconsistencies and inherent weak points created by welding. It's better looking too.
Wheels
The KTM 350 XC-F is fitted with lightweight, CNC-machined hubs, high-end Giant rims and black spokes with lightweight aluminum nipples providing maximum stability at minimum weight. The latest Dunlop Geomax AT81 tires guarantee perfect traction and outstanding performance.
Front suspension
The lightweight WP XACT front fork with AER technology, a 48 mm USD air-sprung fork developed by WP in close collaboration with KTM, is a split fork with separate functions for each leg. That means damping functions are on the right side, whereas the air spring is in the left. This left leg features a 2-chamber system with a capsuled air cartridge to prevent loss of air pressure. Should the outer seal start to leak, the internal cartridge pressure will keep the bike in position. The air spring is easy to adjust to any rider weight via a single air valve. No extra special tools are required; the fork air pump is supplied with the bike. The right fork leg integrates a damping cartridge that tailors to all your damping needs. It can be adjusted to the track conditions and the rider's preferences with a twist of a dial (compression from the top, rebound from the bottom, 30 clicks each). Right off the dealer floor, this fork (with reworked damping characteristics and new piston) is more comfortable and more sensitive than ever. But you can still hammer the hell out of it.
Rear suspension
The WP XACT shock absorber has been developed with the entire frame and swingarm architecture in mind, including the linkage system and the WP XACT front forks. It features machined and anodized components and is a valuable, high-end product compared to roughcast reservoirs. A new, confidence inspiring setting with improved damping characteristics perfectly matches the front-end set-up and its WP color scheme lets everyone know you have excellent taste in suspension.
Triple clamp
Top quality, CNC machined triple clamps have been a KTM trademark for years to ensure precise handling. The rubber damped handlebar fixation allows for two positions and an hourmeter is fitted in order to let the rider know it's time for a service.
Brakes
These high-tech Brembo babies are combined with lightweight Wave brake discs. You couldn't brake any harder, better, faster or stronger.
Fuel tank
All XC-F models have lightweight polyethylene tanks fitted with an integrated fuel pump system and capacity of 2.25 gallons. Inside threads on the filler cap make for an easy and reliable closure. Manufactured using see‐through plastic, you will always be able to see how much fuel remains at a glance.
Ergonomics & Comfort
Seat
Ergonomically perfect, the seat has a high foam volume, which offers great comfort and durability, while keeping the weight low.
Handlebar
All KTM XC models are equipped with the same high-strength aluminum tapered NEKEN handlebar. The handlebar allows for four different positions. The handlebars come standard with an ODI vulcanized grip on the right side and a comfortable ODI lock-on grip, which does not require any wire or glue, on the left. Additionally, the bike is fitted with a map-select switch on the handlebar for selecting alternative engine maps. The rider also has the option to activate TRACTION CONTROL from this switch; a unique feature which guarantees more efficient traction, especially in slippery conditions, and can be activated with the push of a button during riding.
Footpegs
Sophisticated ´No Dirt´ footpegs prevent clogging of the footpeg pivot, even when digging in deep ruts. Looking for a higher riding position? Then just mount the footpegs of the EXC models, which are 6 mm higher than the XC versions.
Bodywork & Graphics
Decals
Simply riding a KTM 350 XC-F attracts the attention of onlookers, but the new inlay graphics definitely make them turn for a second look.
Software & Electronics
HANDLEBAR MAP SELECT SWITCH
With one touch of a button, the map switch gives the rider the chance to select between a standard map setting and a more aggressive map for loamy, high grip dirt conditions. This is particularly useful for changing track conditions or for a rider that is looking for more control as he begins to get tired.
Battery & wiring harness
A strong lithium ion battery breathes life into the engine and contributes to low vehicle weight. The lightweight battery and wiring harness are centralized in a compartment above the air filter box, allowing the mechanic to remove the subframe without moving the electronics. A happy mechanic is a good mechanic.
TRACTION CONTROL
TRACTION CONTROL is a highly beneficial feature that guarantees more efficient traction and better control of the bike when accelerating on wet or slippery hard pack surfaces. It can be activated by the handlebar map switch during riding.
2022 KTM 350 XC-F – Totalmotorcycle.com International Specifications/Technical Details
US MSRP Price: $10,799 USD
Canada MSRP Price: $11,949 CDN
Europe/UK MSRP Price: £9049 (On The Road inc 20% Vat)
ENGINE
TRANSMISSION 6-speed
STARTER Electric starter
STROKE 57.5 mm
BORE 88 mm
CLUTCH Wet multi-disc DS clutch, Brembo hydraulics
DISPLACEMENT 349.7 cm³
EMS Keihin EMS
DESIGN 1-cylinder, 4-stroke engine
CHASSIS
WEIGHT (WITHOUT FUEL) 100.5 kg
TANK CAPACITY (APPROX.) 8.5 l
FRONT BRAKE DISC DIAMETER 260 mm
REAR BRAKE DISC DIAMETER 220 mm
FRONT BRAKE Disc brake
REAR BRAKE Disc brake
CHAIN 5/8 x 1/4″
FRAME DESIGN Central double-cradle-type 25CrMo4 steel
FRONT SUSPENSION WP XACT-USD, Ø 48 mm
GROUND CLEARANCE 370 mm
REAR SUSPENSION WP XACT Monoshock with linkage
SEAT HEIGHT 950 mm
STEERING HEAD ANGLE 63.9 °
SUSPENSION TRAVEL (FRONT) 310 mm
SUSPENSION TRAVEL (REAR) 300 mm
Manufacturer Specifications and appearance are subject to change without prior notice on Total Motorcycle (TMW).