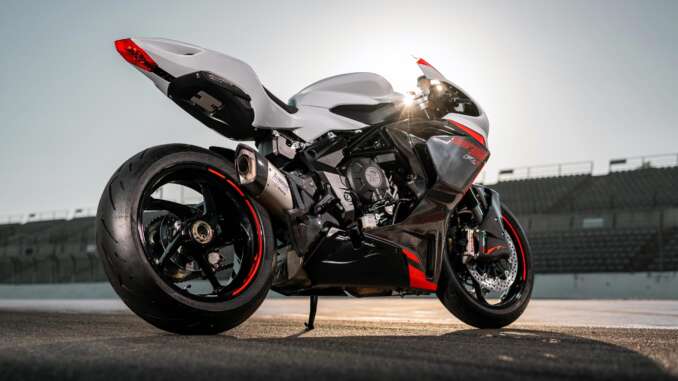 2022 MV Agusta F3RR: THE UNRIVALLED.
Introducing the 2022 MV Agusta F3RR…
The RR undoubtedly represents the icing on the cake of the F3 range, the pinnacle of performance, fitting and technological evolution. Whether it is a matter of mechanics, chassis or aerodynamics every single detail of the MV Agusta F3 RR has been conceived to offer class-leading performance. That's why this bike plays the role of a unique interpreter of the supersport segment.
• DEDICATED AERODYNAMICS
• LOW-FRICTION, EURO 5 COMPLIANT ENGINE
• HIGH PRESSURE INJECTORS
• BI-DIRECTIONAL RADIATOR
• NEWLY DESIGNED EXHAUST SYSTEM – AKRAPOVIC OPTIONAL
• NEW 6-AXIS IMU INERTIAL PLATFORM
• CONTINENTAL ABS WITH CORNERING FUNCTION
• NEW SUSPENSION SETTING
• NEW REAR RIM
• 5.5" TFT SCREEN
MECHANICAL AND ELECTRONIC REVOLUTION
All the three-cylinder engines of the 2021 MV range have received many technical updates. Those on the F3 RR, in particular, have been concentrated on achieving the best performance ever.
The lap time, that's its focus, has been achieved also counting on the valuable experience MV engineers honed on Moto2 World Championship, a specific challenging scenario characterized by an obsessive attention to aerodynamic details and chassis excellence. All this, of course, without forgetting the pleasure of road riding, which has been among the core values of the entire three-cylinder range for 2021. The sporty thrill takes however a great prominence. To be precise, its performance has been further improved thanks to the meticulous aerodynamic study as well as to the addition of functional technical elements, which help to set the bar in terms of maximum efficiency.
CHASSIS: EXCELLENCE GETS EVEN BETTER
The world-renowned chassis, recognized since its début as the best in the segment, consistently remains a reference point. But that's not enough.
F3 RR
The F3 RR goes even further. The redesign of the frame plates, with particular focus on the swingarm area, has led to an increase in torsional and longitudinal rigidity, a solution that have not only contributed of enhancing riding precision, but also increased the rider's feeling. The suspension setting is specifically conceived for this new RR and has been adapted to the new rigidity to maximize the effectiveness for both excellent on-track performance and outstanding on-road ridability. The new rear rim features a specific design and has been obtained through an innovative casting
process with a weight saving of 7% and, consequently, a reduction in inertia of 10%. The result? Lower unsprung weight, for a more rewarding riding experience.
ENGINE: EVEN MORE ADVANCED
The "Trepistoni" engine has undergone a constant development activity which has led to a significant improvement by reducing internal friction and increasing the smoothness of riding without, however, sacrificing its intense character.
Despite full compliance with Euro 5 regulations, the overall refreshment led to confirm its 147hp engine among the most powerful not only within its category but also in the 800s. All this is the result of a careful fine-tuning work on the timing system by adopting new valve guides and DLC treatment for the tappets.
The titanium valves allow to reach very high rotation speeds, while the newly designed main bearings reduce inertia and friction and further enhance reliability. The exhaust system has been entirely revamped, from the manifold to the silencer, to satisfy the power curves. Torque and power are now more generous at all revs, without however sacrificing the proverbial MV Agusta's threecylinder acceleration as well as its unmistakable tune. The engine is still very powerful yet even more affordable. The new injectors are now capable of managing an increased injection pressure of 0.5 bar. ECU firmware, management logics and the engine control algorithms were also renewed, all this helping the rider to take advantage of an even more precise and refined throttle management. Additionally, to improve cooling, a new dual-flow oil radiator has been adopted with a consequently enhanced efficiency of 5%.
SHIFT: MORE PRECISE AND FASTER
Even the clutch has undergone some changes. It in fact features a reinforced hub, which has been improved in terms of manageability and reduced noise. The Quick-Shift EAS 3.0 with bidirectional function is in its third generation and enhances the quality of shifting, now smoother and more precise courtesy of new sensor.
ELECTRONICS: MORE COMPLETE THAN EVER
From the dashboard to the ABS as well as the controls and the firmware of the control unit:electronics of the F3 entire family marks a clear breakthrough compared to the past.
The début of a brand-new IMU inertial platform – designed and developed in Italy by the Milan-based e-Novia exclusively for MV Agusta – allows for extremely precise management of all controls according to the lean angle by reading the position of the motorcycle in space. The new ABS by Continental features cornering function while the traction control can operate more precisely, also taking into account the inclination of the bike. Also
thanks to the IMU, the renewed FLC front lift control takes the wheelie under control instead of entirely preventing it. Everything is managed by a 5.5" TFT dashboard, able to communicate with the MVRide App. This latter (available for IOS and Android) not only allows to record and share journeys through the main social platforms, but also offers the opportunity to personalize the bike in every aspect (engine settings included), directly from the smartphone. Thanks to the mirroring function it is thus possible to navigate turn by turn, a further function to the recording and sharing of the route. Lastly, the handlebar controls features a new right-hand block with launch control button and a left-hand block with a practical joystick for browsing through several dashboard menus.
SUPERSTRUCTURE
The F3 RR has undergone specific in-depth study and tests in the wind tunnel which led to the integration of some aerodynamic elements into the fairings. These interventions serve a dual purpose: enhancing performance and also increasing engine efficiency.
The appendages, positioned on the side of the fairing and made of forged carbon, for example, are capable of producing a load of 8 kg on the front end at 240 km/h. These components are part of an aerodynamic package, which also includes higher windshield, new carbon fairing sides and new mudguard which, among other things, also improves the airflow to the radiator. The latter elements have been designed to further improve CX coefficient, thus fully compensating for the greater resistance to advancement caused by the winglets. In brief, the F3 RR did not lose in maximum
speed but gained in front end load, also reviving impressive feeling and cornering performance. This is another example of how on the F3 RR every technical detail has been designed exclusively to increase performance. The new footpegs, characterized by a further dose of grip, and the new anti-slip coating for the saddle are still part of the revolution.
THE RACING KIT
MV Agusta F3 RR is an extremely complete and performing bike. Since everything can be improved, the customer is therefore offered the opportunity to embellish and transform the stock MV Agusta F3 RR into a unique bike with a special kit that includes additional CNC machined components (such as fuel cap, brake and clutch levers) along with a seat cover that turns the bike into a single-seater. The real gem of the kit, however, is the Akrapovič titanium exhaust – road approved -, supplied with a dedicated control unit, which boosts the power up to 155hp and reduces the weight from 173 to 165 kg (dry).
2022 MV Agusta F3RR Totalmotorcycle.com Features and Benefits
CHASSIS
FRAME PLATES REDESIGNED TO INCREASE TORSIONAL AND LONGITUDINAL STIFFNESS
• NEW TWIN-FLOW OIL RADIATOR WITH MORE THAN 5% EFFICIENCY INCREASE
• NEW LIGHTER REAR WHEEL RIM
• NEW CARBON FIBER SIDE FAIRINGS, CONSISTING OF AN EXTERNAL FAIRING AND AN INTERNAL SHELL WITH AERODYNAMIC WINGS
• NEW CARBON FIBER SPOILER FOR COCKPIT
• NEW CARBON FIBER FRONT MUDGUARD
• NEW LEATHER AND ALCANTARA RIDER SEAT
• NEW CNC FOOTPEGS
RACING KIT (OPTIONAL)
• CNC FUEL CAP
• BRAKE LEVER AND CNC CLUTCH
• FIBERGLASS PASSENGER SEAT COVER
• AKRAPOVIC EXHAUST SILENCER
• CONTROL UNIT WITH RACING MAP
• CARBON FIBER SILENCER COVER
ENGINE
COUNTER-ROTATING CRANKSHAFT
• NEW SINTERED VALVE GUIDES AND DLC COATED TAPPETS TO REDUCE FRICTION
• TITANIUM VALVES
• NEW CRANKSHAFT MAIN BEARINGS, PISTON ROD BEARINGS AND COUNTERSHAFT BEARINGS TO REDUCE FRICTION AND TO INCREASE RELIABILITY
• MODIFIED EXHAUST COLLECTOR TO IMPROVE ENGINE TUNING AND OPTIMISE POWER/TORQUE CURVES
• NEWLY DESIGNED EXHAUST SILENCER
• NEW CLUTCH BASKET OPTIMISED TO IMPROVE ENGAGEMENT
ADVANTAGES:
BETTER OPERATION AND RELIABILITY, IN FULL COMPLIANCE WITH EURO 5 REGULATIONS
ELECTRONICS
NEW ABS MK100 CONTINENTAL MODULE WITH CORNERING FUNCTION FOR CONSTANT SAFETY EVEN IN CURVES
• NEW INERTIAL PLATFORM
• NEW COLOUR 5.5" TFT DASHBOARD
• MOBISAT TRACKER
• GPS AND BLUETOOTH
• MV RIDE APP
• NAVIGATOR INTEGRATED IN THE DASH-BOARD
• FRONT LIFT CONTROL
• NEW HANDLEBAR CONTROLS WITH LAUNCH CONTROL
• NEW EAS 3.0 ELECTRONIC GEAR SENSOR
• NEW ENGINE MANAGEMENT ALGORITHMS FOR A DIRECT CONNECTION BETWEEN THROTTLE AND REAR WHEEL
• CRUISE CONTROL
ADVANTAGES:
A BETTER FEELING RIDE. THE ADVANCED ELECTRONICS MAKES RIDING EASIER, MORE INTUITIVE AND SAFER
GP AERODYNAMICS
The F3 RR was the subject of a careful study in the wind tunnel, which led to the integration of some aerodynamic elements in the fairing. The objective? To improve performance and increase the efficiency of the engine. The appendages on the sides of the fairing are made of forged carbon fiber and are able to generate a load of 8 kg on the front end at a speed of 240 km/h.
FEEL THE POWER OF SOUND
The "Trepistoni" engine has been further developed, reducing internal friction and increasing driveability. With its 147 horsepower engine, it is one of the most powerful in its category, the absolutely most powerful of all bikes in the 800 displacement. The titanium valves allow the bike to reach very high rotation speeds. Crankshaft main bearings are new, redesigned to reduce inertia and friction.
TECHNOLOGY
SMARTPHONE ENABLED
The bike-rider interface is the instrumentation with 5.5″ TFT panel, capable of communicating with the MV Ride app. Record and share trips, customize the bike directly from the smartphone, take advantage of turn-by-turn navigation: everything is within smartphone reach. And on the handlebars, a convenient joystick allows you to move between the configuration menus.
From the dashboard to the ABS, passing through the controls and the ECU firmware. The electronics of the F3 RR take a clear step forward. The arrival of a new IMU inertial platform, designed and built exclusively for MV Agusta, reads the position of the bike in space and thus allows the precise management of all the controls according to the lean angle.
SAFETY
GO FOR IT!
The ABS, supplied by Continental, is equipped with the very useful cornering function, a safety device; the traction control TC can intervene more precisely, because it also takes into account the inclination of the bike. Thanks to the IMU, the renewed front lift control FLC is able to manage a controlled wheelie, for the benefit of fun and performance.
2022 MV Agusta F3RR – Totalmotorcycle.com Specifications/Technical Details
US MSRP Price: $ See Dealer for Pricing in USD
Canada MSRP Price: $ See Dealer for Pricing in CDN
Europe/UK MSRP Price: €21900 Euro
Type Three cylinder, 4 stroke, 12 valve
Timing system "D.O.H.C" with mechanical chain tensioner
and DLC tappet
Total displacement 798 cm3 (48.7 cu. in.)
Compression ratio 13.3:1
Starting Electric
Bore x stroke 79 mm x 54.3 mm (3.1 in. x 2.1 in.)
Max. power – r.p.m. (at the crankshaft) 108 kW (147 hp) at 13.000 r.p.m.
114 kW (155 hp) at 13.250 r.p.m.**
Max. torque – r.p.m. 88 Nm (8.98 kgm) at 10.100 r.p.m.
Cooling system Cooling with separated liquid and oil radiators
Engine management system Integrated ignition – injection system MVICS 2.1
(Motor & Vehicle Integrated Control System) with six injectors. Engine control unit Eldor
Nemo 2.1, throttle body bore 50 mm diameters full ride by wire Mikuni, pencil-coil with ion-
sensing technology, control of detonation and
misfire. Torque control with four maps.
Traction Control with eight levels of intervention
Electronic quick shift MV EAS 3.0 (Electronically Assisted Shift
Up & Down)
Clutch Wet, multi-disc slipper clutch
Transmission Cassette style; six speed, constant mesh
Primary drive 22/41
Gear ratio
First gear 13/37
Second gear 16/34
Third gear 18/32
Fourth gear 19/30
Fifth gear 21/30
Sixth gear 22/29
Final drive ratio 17/43
ELECTRICAL EQUIPMENT
Voltage 12 V
Alternator 350 W at 5.000 r.p.m.
Battery 12 V – 8.6 Ah
DIMENSIONS AND WEIGHT
Wheelbase 1.380 mm (54.33 in.)
Overall length 2.030 mm (79.92 in.)
Overall width 730 mm (28.74 in.)
Saddle height 830 mm (32.68 in.)
Min. ground clearance 120 mm (4.72 in.)
Trail 99 mm (3.89 in.)
Dry weight 173 kg (381.4 lbs.) – 165 kg (363,8 lbs.)**
Fuel tank capacity 16,5 l (4.36 U.S. gal.)
PERFORMANCE
Maximum speed* 240.0 km/h (149.1 mph)
FRAME
Type ALS Steel tubular trellis
Rear swing arm pivot plates material Aluminium alloy
FRONT SUSPENSION
Type Marzocchi "UPSIDE DOWN" telescopic
hydraulic fork with rebound-compression
damping and spring preload external and
separate adjustment
Fork dia. 43 mm (1.69 in.)
Fork travel 125 mm (4.92 in.)
REAR SUSPENSION
Type Progressive Sachs, single shock absorber with rebound and compression damping and spring preload adjustment
Single sided swing arm material Aluminium alloy
Wheel travel 130 mm (5.12 in.)
BRAKES
Front brake Double floating disc with Ø 320 mm (Ø 12.6 in.)
diameter, with steel braking disc and flange
Front brake caliper Brembo radial-type monobloc, with 4 pistons Ø 34 mm (Ø 1.34 in.)
Rear brake Single steel disc with Ø 220 mm (Ø 8.66 in.) dia. Rear brake caliper Brembo with 2 pistons – Ø 34 mm (Ø 1.34 in.)
ABS System Continental MK100 with RLM (Rear Wheel Lift-up Mitigation) and with cornering function
WHEELS
Front: Material/size Alluminium alloy 3.50" x 17"
Rear: Material/size Alluminium alloy 5.50" x 17"
TYRES
Front 120/70 – ZR 17 M/C (58 W)
Rear 180/55 – ZR 17 M/C (73 W)
FAIRING
Material Thermoplastic – Carbon fiber
Aluminium belly-pan
CONTENTS
Titanium components Intake and exhaust valves
Exclusive content Dashboard TFT 5.5"color display – Cruise control Launch control – Bluetooth – GPS – MV Ride App for navigation mirroring, app-controlled
engine, rider aids setup – Mobisat tracker
Additional CNC rider footpegs (supplied)
F3 RR_RACING KIT
CNC fuel tank cap – CNC brake and clutch lever – Fiberglass Passenger seat cover Akrapovic exaust system – Carbon fiber
silencer cover – ECU with racing map
OPTIONAL
The full Special Parts range is available on the MV Agusta website
EMISSIONS
Environmental Standard Euro 5
Combined fuel consumption 6.1 l/100 km
CO2 Emissions 139 g/km
Manufacturer Specifications and appearance are subject to change without prior notice on Total Motorcycle (TMW).